These vegan birthday cake recipes are also cake ideas that are perfect for any special event!
By Lora O'Brien
Like most people, birthdays for me are always a nostalgic affair. I remember how every year when I was growing up, my mum would disappear into the kitchen during my party, and when she re-appeared, the lights would be dimmed and a chorus of Happy Birthday to You would begin. Blowing out the candles felt magical, like anything was really possible, and still to this day I close my eyes when I make a wish.
But what makes a cake a birthday cake? Mine were usually vanilla, but the flavour doesn't really matter. It's all about multiple layers, tons of icing, and sometimes, melted (vegan) ice cream blending in with the cake crumbs to make a kind of unique dessert of its own.
Of course, a vegan birthday cake should also be beautifully decorated, be it with sprinkles, icing rosettes, berries or cherries, the birthday girl or boy's name spelled out in gooey letters, and obviously, candles.
Here, I've found 30 gorgeous vegan birthday cake recipes – ranging from raw and gluten free to ridiculously calorie-and-sugar packed – that will make any birthday celebration a seriously memorable one.
The Best Vegan Birthday Cake Ideas, Ever!
1. Gluten Free Vegan Vanilla Birthday Cake
For me, a birthday cake will always be vanilla sponge with lashings and lashings of delicious (though not necessarily healthy) icing. It's reminiscent of so many childhood birthdays that it feels wrong to have anything else – in my household, anyway! This cake is gluten free, and uses almond flour instead of wheat. It's super moist, and also boasts a vegan buttercream frosting. Throw on some berries, sprinkles and a candle, and you're good to go!
Get the recipe here.
2. Vegan Nutella Cake
Love the rich combination of chocolate and hazelnut? Then you'll love this Nutella inspired vegan birthday cake recipe. It's so rich and decadent, you'll struggle to find a vegan (and non-vegan) chocoholic who doesn't go wild for it! The roasted nuts on the top work super well against the moist cake, too. And if you feel lazy,  you can purchase some ready made vegan 'nutella' like this instead of making your own. Plus, this is rather a small cake. Not quite muffin-small, but just enough for say, two, to celebrate.
Get the recipe here.
3. Cookie Dough Brownie Cake
This cookie dough brownie cake may sound insanely decadent, but it's actually the perfect birthday cake to whip up if you're catering for people with allergies – it's gluten-free, dairy-free, egg-free, soy-free, peanut-free and vegan. Not to mention there's about 4 mouth-watering layers to this bad boy. Drooling? I am, too.
Get the recipe here.
4. Chocolate, Peanut Butter & Salted Caramel Cake
I'm not surprised that this cake is called epic, because it's exactly that! Especially for anyone who's a fan of that classic combo of peanut butter, chocolate and caramel. Basically, think Snickers bar in cake form. Layers of moist, fudgy chocolate cake topped with peanut butter icing, drizzled with sticky salted caramel and topped with shards of peanut toffee praline…need I go on?
Get the recipe here.
5. 3 Layer Bourbon Caramel Chocolate Cookie Cake
This chocolate layered cake isn't really kid-friendly, since it's soaked with homemade bourbon caramel, and then coated in a thin layer of vanilla buttercream frosting. It's then decorated with not one – but two – types of cookies. The end result? A cookie-cake masterpiece with a hint of booziness.
Get the recipe here.
6. Vegan Funfetti Birthday Cake
Looking for a cake that will cater to all ages? This funfetti birthday cake (also seen in the main pic to this article) will go down a treat with children as well as adults. It's a classic cake that's sweet, moist, and light and then topped with fluffy icing and scattered with rainbow sprinkles – though I think I'd add some edible rose 'funfetti' instead!
Get the recipe here.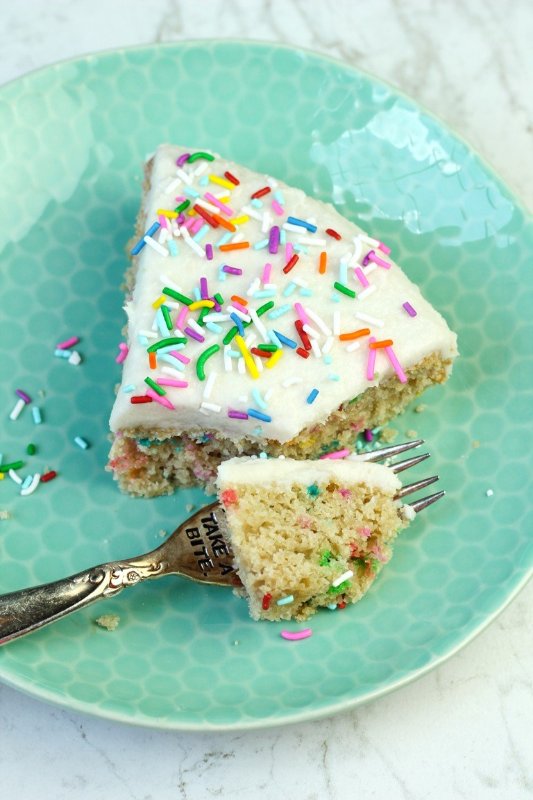 7. Berry & Banana Ice Cream Cake
Who said birthday cake couldn't be raw and made of ice cream? This delicious fruit-based cake is perfect for anyone who has a summer birthday and is looking for a refreshing way to celebrate it. Not to mention that this is made using minimal ingredients, requires no cooking, and is pretty darn healthy. Help yourself to seconds!
Get the recipe here.
8. Vegan Black Forest Cake
Back in the day, there was nothing fancier than a Black Forest Cake. This classic concoction is super moist thanks to loads of fresh cherries and cherry juice, as well as lashings of vegan cream. Each bite is pure indulgence, and brings with it the winning combination of rich chocolate, sweet cherries and cream.
Get the recipe here.
9. Vegan Vanilla Cake w/ Strawberry Icing
Vegan birthday cake recipes don't get more gorgeous than this! How incredible is the pink hue and drippy, sweet icing on this cake? Vanilla meets strawberries and layers of vegan buttercream to make this one of the prettiest vegan layer cakes I've ever seen. Wouldn't this also make a beautiful vegan wedding cake?
Get the recipe here.
10. Vegan Strawberry Cheesecake
Believe it or not, not everyone is a fan of traditional birthday cake, and that's cool. So, if you don't like sponge but are looking for killer vegan birthday cake recipes, why not make a strawberry cheesecake instead? Not only does it look fabulous, it's creamy, smooth, fragrant and is so pretty, it will make anyone receiving it feel super special!
Get the recipe here.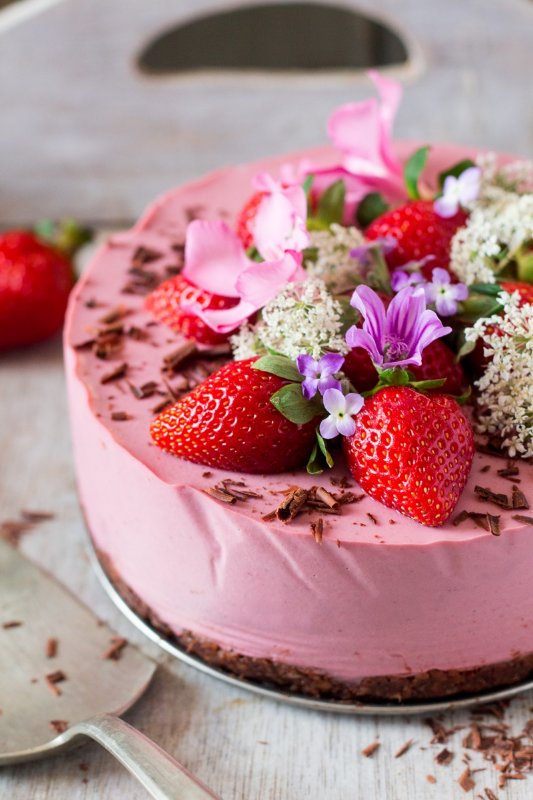 11. Vegan Cotton Candy Ice Cream Cake
Kids will go nuts for this cotton candy inspired ice cream cake! The creamy layers are made using Cocowhip, but if you can't find any, you could always use a commercial vegan whipped cream like this.
Wondering how this cake gets its delightful pink hue? Dragon fruit! But you will need some food colouring, too. Sure, the ingredients may not be the easiest to find, but the payoff is a cake that's worthy of a unicorn-and-rainbows themed kids' party.
Get the recipe here.
12. Vegan Vanilla Cake with Whipped Coconut Cream
This vanilla cake with whipped coconut cream is perfect for birthdays and celebrations, and it's super easy to make. You could leave this as it is, or use it as a base recipe for a fancier cake design, or even cupcakes. I love it because it's super minimalistic – the perfect cake for your no-nonsense friends and family members!
Get the recipe here.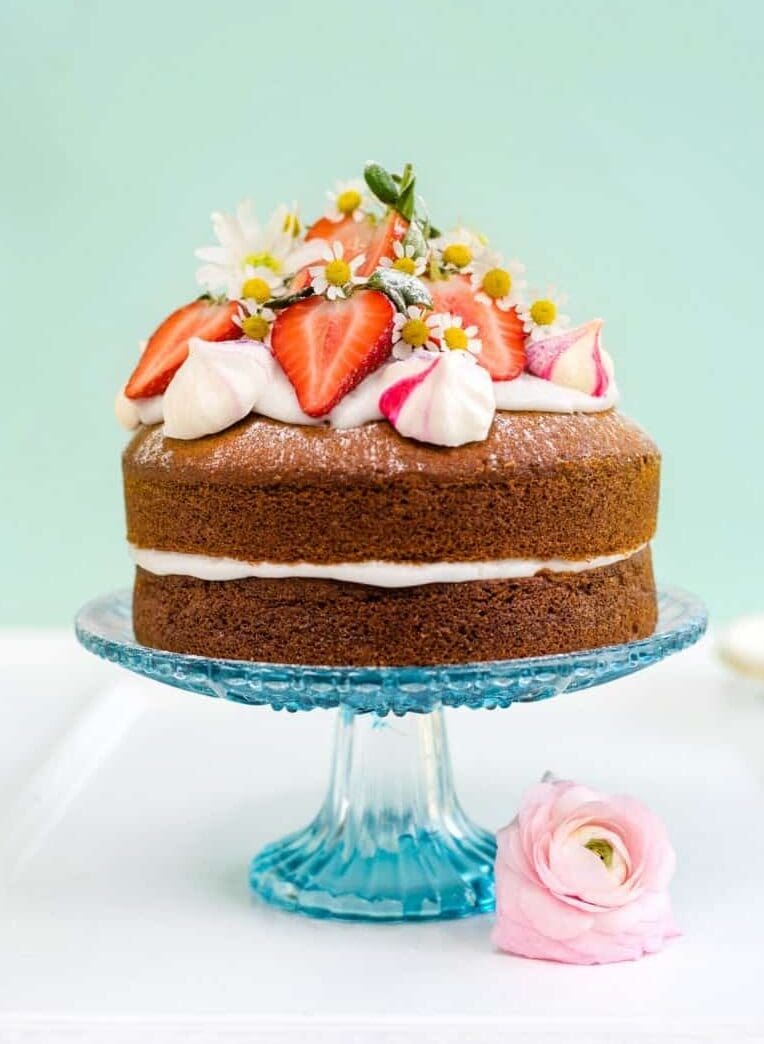 13. Vegan Unicorn Cake
Why have a boring vegan birthday cake when you can have a unicorn cake?! Forget paying a fortune to a cake maker to create you a masterpiece; make it yourself at home for a fraction of the cost – and a whole lot more fun! You'll need some weird ingredients for this, like edible gold glitter, vegan food colouring and of course, a gold unicorn horn (though an ice cream cone could do in a pinch!) And of all the vegan birthday cake recipes here, this is the one that kids will likely adore the most! Why not add a bunch of fun unicorn-themed stuff like headbands and an eco-friendly paper unicorn piñata?
Get the recipe here.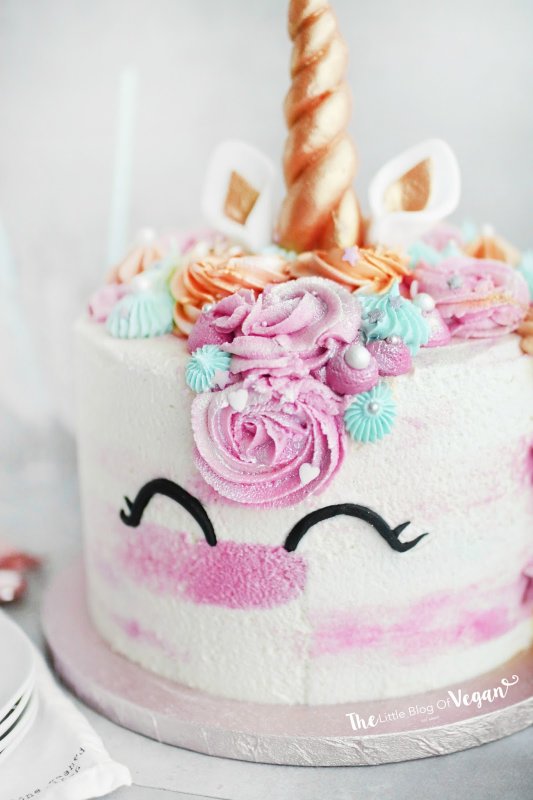 14. Rhubarb & Raspberry Crumble Cake
Know someone with a spring birthday? What better cake to make them than this birthday cake inspired by the very season. This sweet pink cake is swirled with roasted rhubarb and raspberry puree, and inside is a hidden layer of crunchy crumble. Thanks to its pretty hue, I'd say this is the best vegan birthday cake recipe for loads of occasions, from 1st birthday parties to bridal showers.
Get the recipe here.
15. Elderflower Cake w/ Lemon Curd & White Chocolate Icing
Would you believe me if I told you that there's mashed potato in this cake? No? Well, it's true! But you would never in a million years have been able to detect it if I hadn't told you! Using potato allows the sponge to be wonderfully soft and fluffy, whilst eliminating the need for sugar. Want to cut preparation time down on this? Buy a commercial lemon curd instead of making your own.
Get the recipe here.
16. Blackberry Plant Based Birthday Cake
When you think of birthday cake, you probably don't think of ingredients such as beetroot and carrots. But this cake is made using a whole load of plant based ingredients, and the end result is spectacular! I just love the deep purple hue of this, and the coconut yogurt frosting is to die for! It's probably one of the healthiest vegan birthday cake recipes here. And I'd say it's even pretty enough for a wedding, too!
Get the recipe here.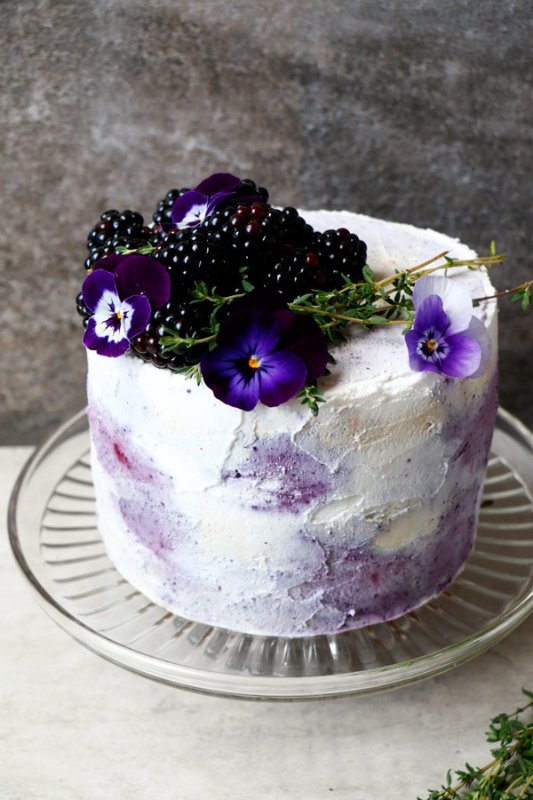 17. Pink Ombre Birthday Cake
How gorgeous and girly does this vegan birthday cake look? This may take a little time to make but it'll be worth it once you step back and admire your handiwork. Chocolate ganache is layered between chocolate cakes, all topped off with a buttercream icing.
Get the recipe here.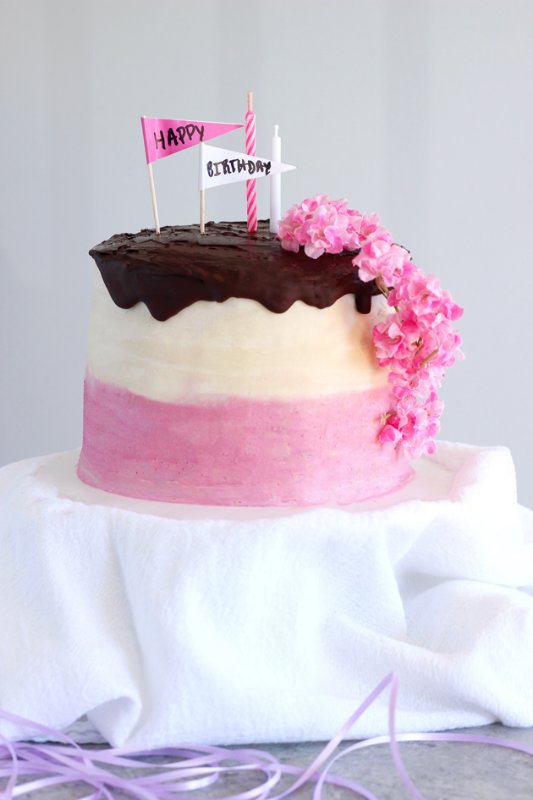 18. Chocolate Caramel Popcorn Cake
Healthy? With chocolate cake layers topped off with caramel sauce and caramelised popcorn, uh, probably not. Worth it? 100% YES! After all, it's a celebration, right? Calories don't count when it's served as a birthday cake, obviously! This one's great for the cinema addict in your life.
Get the recipe here.
19. Vegan Apple Spice Cake with Maple Buttercream
Fall may be well behind us, but that doesn't mean you don't miss the warming scent of cinnamon and apples. Well, now you can turn those delicious aromas into a vegan cake recipe that combines fresh apple, cinnamon, allspice, ginger, molasses and brown sugar, topped off with a sweet maple syrup buttercream frosting. It's like a hug in cake form!
Get the recipe here.
20. Easy Vegan Lemon Cake
Here, the refreshingly zesty flavour of lemon gets transformed into a vegan birthday cake! This birthday treat may look super-fancy, but it's far easier to make than you'd think. You can also modify the recipe slightly to make it orange or lime flavoured instead.
Get the recipe here.
21. Vegan Chocolate Gingerbread Layer Cake
Somehow, the subtle flavours of gingerbread married with chocolate says 'sophistication' in my book. And the three layered cake is super-elegant with ginger thins decorating the top, along with some gold stars. Personally? I would add a sprinkling of these edible gold stars on this gorgeous torte, too! And if you're a huge chocolate lover, just click here for more mouth-watering chocolate recipes!
Get the recipe here.
22. Rich Chocolate Birthday Cake
This is one of those delicious cakes that's like having a slice of childhood nostalgia. This is simple to make with easy to find ingredients, most of which you likely already have on hand. Perfect for last minute celebrations, this is probably the least fancy – but most desired – of all the vegan birthday cake recipes here. Don't forget the sprinkles, or it's just not a birthday cake!
Get the recipe here.
23. Caramel Mocha Cake
I love anything that has coffee in it, so a coffee birthday cake? Yes, please! Obviously, this is a great choice for the java addict in your life. You can easily make this gluten-free by swapping out the flour to a GF option, and if you don't have an icing piper to make the rosette decorations on top, scatter some coffee beans on there instead.
Get the recipe here.
24. Vegan Red Velvet Cake
Think that a red velvet cake is simply a cake that has been dyed red? Well, it's a little more than that. It's a mixture of subtle flavours. Namely: vanilla, chocolate and buttermilk. Paired with a lemon buttercream frosting and some maraschino cherries, this cake is both glorious in its colour and taste. (P.S. Make sure when buying food dye that you opt for a vegan brand).
Get the recipe here.
25. Maple Walnut Cake
Maple syrup and walnuts go so well together, it's no wonder they're used in so many recipes, from brittles and granola bars to pancakes. And of course, in this vegan birthday cake recipe. Sponge layers are sandwiched together with a creamy maple infused frosting and topped with more walnuts. Not only is this cake dairy-free, it's also egg and oil-free, too.
Get the recipe here.
26. Vegan Apple & Raspberry Layer Cake
This vegan layer cake can easily be made without any added sugar. Simply replace 100ml of the apple sauce with one banana to give it some extra sweetness naturally. The filling is made with coconut whipped cream, which is a great way to add sweetness without any actual sugar being needed.
Get the recipe here.
27. Chai Spice Cake with Vanilla Bean Buttercream
Ah, chai! Cardamom, cinnamon, ginger…all the spices that make the tea a favourite are in this winning vegan birthday cake recipe, too. The cake itself is fluffy and sweet with delicate spices from the chai tea, whilst the vanilla buttercream provides the perfect amount of sweetness to compliment the chai spices.
Get the recipe here.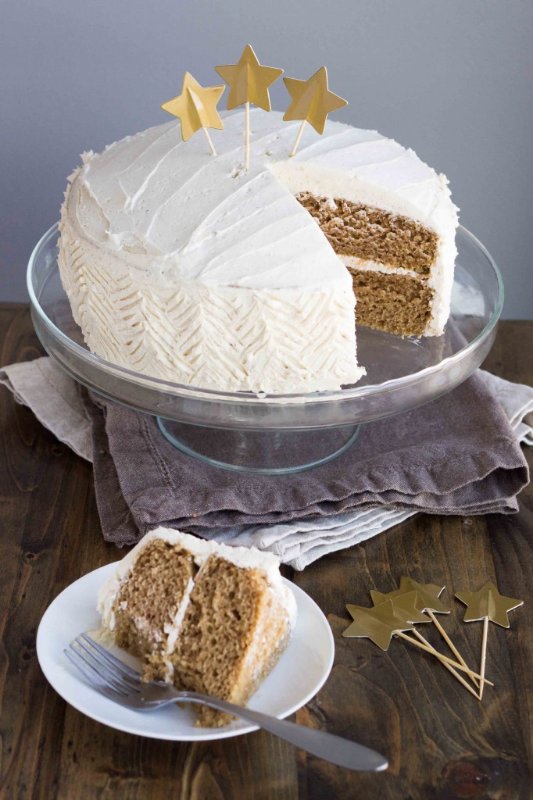 Latest posts by Lora O'Brien
(see all)