Yeah, we know. Japanese food uses soooo much fish. But it's still possible to make loads of vegan Japanese recipes. Read on!
By Lora O'Brien
Sure, our movements may have been limited for the past year. But that doesn't mean our taste buds can't still travel the globe. And one of our very favourite cuisines has got to be Japanese!
Given the fact that many dishes from this small island nation rely heavily on meat and fish, you may be wondering how on earth we can make these vegan. I mean, after all, we've all been there – at a Japanese restaurant with friends, stuck eating cucumber maki for dinner because there was no other vegan choice. Well, the truth is, many staples within Japanese cuisine are naturally vegan!
Pantry staples such as rice, seaweed, mushrooms, tofu, sesame seeds and a whole array of vegetables are called on to make many of the dishes below, and they're all damn tasty! Those that do usually call for meat are easy to give a vegan makeover, thanks to mock meats and fermented foods such as tofu.
Japanese Pantry Essentials
If you're experienced with Japanese cuisine, then no doubt your kitchen will already cater to the essentials needed to whip up a range of their delicious delicacies! But if this is new territory for you, you may want to grab a notepad and make a lift of pantry essentials to stock up on so you're not caught off guard.
Here's what you should have on hand:
Adzuki (azuki) beans: Many dishes below call for azuki beans or the red bean paste made from mashing them, so you'll want to make sure you have them on hand!
Noodles: Make sure you grab yourself some noodles to make some of the delicious dishes below. Soba, some and udon noodles are some popular kinds to stock.
Soy sauce: Also known as shoyu, soy sauce is another vital condiment in Japanese cooking. There are various types to buy so be sure you're buying the dark variety. If you're allergic to gluten, you can grab some tamari instead as it's made without wheat and has a similar taste and texture.
Miso: You can't make Japanese food without miso! It's one of the most importantly staples for Japanese cooking, and it's a paste that is used for seasoning. It's used in all kinds of dishes from oatmeal to miso soup and marinades.
Toasted sesame oil: This oil is golden and fragrant and made from sesame seeds. It's used for flavouring as opposed to cooking oil and will be used for all kinds of dishes from dressings, marinates, noodle dishes and stir-frys.
Kombu: Kombu is a type of sea kelp that has been dried, and is famously used to flavour dashi broth. Rich in umami flavour, this will add depth to many recipes below.
Sushi rice: This is a short grained rice that's different from most rice in the West. Don't try to sub in something different!
Genmai Su: Brown rice vinegar is made from fermented rice and is much less acidic than Western vinegar, and is used for making sushi rice. It's also a great addition to making a delicious Teriyaki dressing.
Goma: is simply the Japanese name for sesame seeds. Both black and white seeds are used in Japanese cooking or to garnish both sweet and savoury dishes. Toasting both of these seeds will bring out their flavour and aroma.
Sansho: This powder is an all-purpose seasoning golden spice that is often used in Japanese dishes. It has a citrusy, minty aroma and will even give a tongue-tingling effect.
Panko: Sure, you could use any old breadcrumbs but for recipes like tofu katsu, panko (Japanese bread crumbs) are better. They're coarse, airy and made from crustless bread. Adding the breadcrumb will also help to absorb less grease during the frying process.
Nori: This refers to sheets of dried seaweed; a must for sushi.
Mirin: This is a sweetened rice wine, made from fermenting glutinous rice with scochu, a Japanese distilled spirit. Mirin will add sweetness and subtle sake-like flavour to all kinds of sauce and glazes.
Ready to get cooking?
30 Vegan Japanese Recipes
1. Vegan Dorayaki
Dorayaki is another breakfast option enjoyed amongst Japanese people. Two golden pancakes are filled with sweet red bean paste and are simply delicious. Enjoy them for breakfast or a dessert!
Get the recipe here.
2. Vegan Tamagoyaki (Rolled Omelette)
Tamagoyaki is a famous Japanese rolled omelette, and can easily be made vegan thanks to chickpea (garbanzo) flour and whipped aquafaba (chickpea brine). Layers of 'egg' are rolled into a thick, folded omelette and is then served with dashi and soy sauce for a breakfast dish.
Get the recipe here.
3. Vegan Miso Soup
Miso soup is actually a common breakfast in Japan. But it's not usually vegan, thanks to the fish stock mixed in with the miso. But this bowl features a few Western flavours and zero fish, making for a tasty – and for us, surprising – start to the day.
Get the recipe here.
4. Miso Breakfast Oats
Not all breakfast recipes have to be sweet, as this miso breakfast oat bowl proves. The savoury oatmeal is packed with delicious umami flavour and loaded with nutrients! This recipe for miso oatmeal with kale and avocado is the perfect way to start your day!
Get the recipe here.
5. Vegan Zaru Soba
Zaru Soba is a really simple, soothing and delicious Japanese meal to make. Buckwheat noodles are dipped in a chilled, savoury smoky broth with shredded daikon radish, green onion, and fresh ginger. Naturally relaxing and filling, the dish takes only 15 minutes to make – bonus!
Get the recipe here.
6. Vegan Gyoza
Vegan Japanese recipes don't get tastier than this! Packed with veggies and a spicy punch, no wonder these Japanese potstickers are favourite with adults and kids alike. Boil them or fry them – they're delicious every way!
Get the recipe here.
7. Vegan Okonomiyaki
Vegan Okonomiyaki is a savoury Japanese pancake that is made with yamaimo, rice flour, cabbage and tenkasu and is then topped with a delicious okonomiyaki sauce and Japanese mayonnaise. This is real Japanese street food – in your own kitchen!
Get the recipe here.
8. Vegan Omurice
Omurice is a popular home-cooked meal in Japan and one that is made with tomato fried rice that is then tucked into an omelette parcel. This recipe has been veganised, and can be switched up to include whatever veggies you fancy adding!
Get the recipe here.
9. Vegan Air-Fryer Korokke
Short on time? Grab your air-fryer and use it to make the ultimate, guilt-free comfort food! All you'll need to make this Japanese classic is 8 basic ingredients and less than an hour and then you'll be biting into these addictive crispy potato balls!
Get the recipe here.
10. Agedashi Tofu
If you hate tofu or know someone that isn't a fan, you gotta make this dish! It will convert even the most passionate tofu-hater! It's silky and subtle and delicious. It does require a little prep work, but let me tell you – it's so worth it!
Get the recipe here.
11. Japanese-Style Katsudon Rice Bowls
This vegan recipe is a take on the popular Katusdon, which is basically katsu over rice. The dish includes crispy coated pieces of tofu katsu that are cooked down with a sweet sauce with onions and mushrooms. It is then served over short-grain rice for a perfectly hearty meal.
Get the recipe here.
12. Vegan Japanese Potato Salad
Who doesn't love a potato salad? Reinvent your usual dish with this Japanese version. You roughly mash the potatoes before adding the other ingredients, before mixing in a Japanese-style vegan mayo which is tangier, sweeter and creamier than conventional American mayo. The traditional dish calls for an egg, but you'll keep it vegan and get the eggy flavour by adding in some kala namak (Indian black salt) which has a distinct egg-like scent and taste.
Get the recipe here.
13. Vegan Seared 'Tuna' Tataki
Tuna Tataki is a Japanese dish that combines delicate, gently-seared tuna with a citrus-soy sauce and a ginger kick! It's easy to make and serves up as a great appetizer. Looking to make this recipe for a vegan crowd? Use this recipe that sears watermelon in place of tuna, and add the Japanese dressing to recreate this dish perfectly!
Get the recipe here.
14. Vegan Soba Noodle Soup
This soba noodle soup is loaded with fresh spring veggies, crispy tofu, bamboo shoots and mushrooms that is submerged in a smoky, savoury broth with added buckwheat noodles. Refreshing and hearty, it's a slurpable and soothing one-bowl meal!
Get the recipe here.
15. Tonyuu Zosui (Japanese Rice Soup)
Zosui is a nourishing Japanese rice soup that is cooked in a delicious dashi broth and has added vegetables and tofu. It may look complicated, but it takes under 20 minutes to make, and the end dish is hearty, satisfying and the perfect Japanese comfort meal.
Get the recipe here.
16. Onigirazu (Sushi Sandwich)
Love sushi? Why not turn it into a yummy sandwich? As the name suggests, Onigirazu is pretty much a western sandwich joining forces with a Japanese sushi roll. It's easy to make, travels well and is naturally gluten-free. Plus, it's pretty filling, too!
Get the recipe here.
17. Takikomi Gohan (Japanese Mixed Rice)
I love rice, but it can get a little boring, so why don't spruce it up with a Japanese infusion? This vegan takikomi gohan is rice mixed with the traditional flavours of kombu dashi, soy sauce, mushrooms, vegetables and tofu. And the best part is it can be cooked in the rice cooker, so there's minimal mess!
Get the recipe here.
18. Tofu Pizza
Forget a wheat base. This recipe makes pizza from tofu! Using the fermented soybean as its dough, this Japanese version of tofu pizza uses crispy pan-fried tofu and is then topped with mushrooms, tomato slices and basil leaves. Note: This recipe calls for mozzarella, but can be made vegan by using your dairy-free cheese and loading up on more veggies! Also – this is obviously not a traditional Japanese food 😉
Get the recipe here.
19. Vegan Japanese Curry Bread Buns (Kare Pan)
Looking to make your next picnic Japanese inspired? Forget the soggy sausage roll and make some of these crunchy Japanese curry bread buns, yum! The curry is encased in a delicious doughy bread, covered in panko breadcrumbs and then deep-fried until it's gorgeous, golden and with the perfect bite!
Get the recipe here.
20. Vegan Mapo Tofu
Mapo tofu is technically a Chinese dish, but one that is super popular in Japan, too. And it sounded too delicious to not be included! Consisting of tofu set in a spicy sauce, it's delicious served with jasmine rice and a refreshing cucumber salad.
Get the recipe here.
21. Vegan Yakitori
Make Yakitori – a Japanese skewered chicken dish – vegan-friendly! It's easy thanks to the use of tofu and mushrooms. The texture is super meaty and will appease even those non-vegans. It's the perfect Japanese kebab to have on hand for the upcoming BBQ season.
Get the recipe here.
22. Sesame Spiced Edamame
Edamame is a popular bar snack in Japan, and it's one of the easiest vegan Japanese recipes to make. The pods are blanched and then served with seasoning. This particular recipe sprinkles sesame oil and Japanese seven-spice to give a delicious twist to the classic soybean!
Get the recipe here.
23. Vegan Curry Udon
This curry udon is one of the easiest vegan Japanese recipes to make. It's wonderfully warming, comforting and super satisfying! Quick and easy to make, the dish is thick and chewy slurpable noodles that are swimming in a rich, flavoursome curry sauce. Yum!
Get the recipe here.
24. Vegan Japanese Eggplant No-Meatballs
Looking for vegan Japanese recipes with a meaty flare? These delicious Japanese eggplant meat-free meatballs are plant-based, savoury and hugely satisfying. Not to mention they're covered in a mouth-watering homemade teriyaki sauce.
Get the recipe here.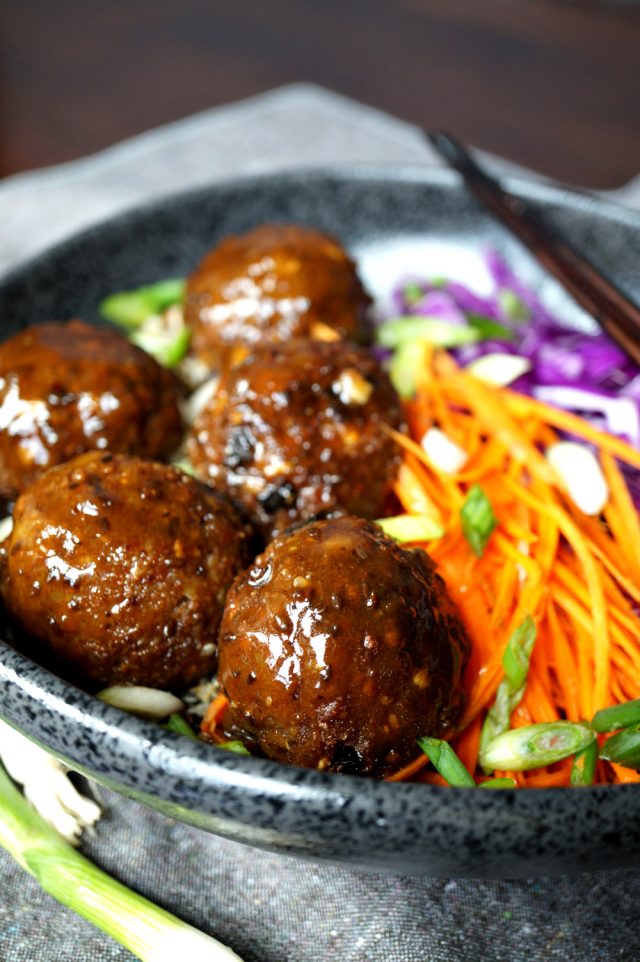 25. Vegan Katsu Curry
Katsu curry has always been one of my favourite of all the vegan Japanese recipes. I love the creamy curry sauce with its subtle hint of spiciness, paired with the crispy battered veggies.
The Japanese dish is super easy to make at home, and there are a few ways in which you can veganise it. Mainly tofu! But if you're not a fan of tofu, you could use something else. My favourite sub? Sweet potatoes!
Get the recipe here.
26. Sakura Mochi
Vegan Japanese recipes include desserts, too! Experience the beautiful taste of cherry blossom season in Japan by making these super adorable pink Sakura mochi from your own kitchen. This sweet is chewy with a red bean paste filling and looks almost too pretty to be eaten.
Get the recipe here.
27. Chocolate Mochi
Mochi is a Japanese rice cake that is made from mochigome, short-grain glutinous rice, and is mixed with other ingredients such as water, sugar and cornstarch. The rice is pounded down into a mouldable paste and then shaped. This recipe infuses the Japanese recipe with creamy chocolate ganache – super yum!
Get the recipe here.
28. Coconut Kinako Dango
Dango is a Japanese sweet dumpling that is made using mochi (rice flour) and is a popular dessert in Japan. If you visit, you'll find stores selling dango in a range of flavours and colours that will change with each passing season.
Get the recipe here.
29. Matcha Ice Cream
You may not automatically think of matcha green tea when salivating over ice cream, but honestly, it's so refreshing and I'm a huge fan! The soaked cashews help to make it decadent and creamy while matcha powder gives the sweet treat its excellent green hue!
Get the recipe here.
30. Japanese Cheesecake
Traditional Japanese cheesecake is basically a cross between a sponge cake and a New York cheesecake. It's so rich and creamy but also really light and fluffy inside. Usually made with egg whites, this vegan Japanese dessert is made without any eggs or dairy!
Get the recipe here.
31. Crispy Tempura Ice Cream
Ever felt like your ice cream needed a little something crunchy? If so, you'll go wild for those tempura ice cream. It's the perfect balance between hot and cold with frozen ice cream balls covered in a deep-fried tempura batter. It's a sweet treat that dates back to the 60's in Japan, and is still hugely popular today.
Get the recipe here.
32. Fuwa Fuwa Pancake (Souffle Pancake)
Anyone on social media will likely have seen the latest trend being shared: Japanese souffle pancakes! The 'Fuwa Fuwa' translates to 'fluffy fluffy' and once you've seen the thickness of these pancakes, you can understand why! Usually drizzled in maply syrup and scattered with berries, many in Japan will queue round the block to taste these!
Get the recipe here.
Latest posts by Chere Di Boscio
(see all)