Vegans, vegetarians, even carnivores. Everyone will want to try these vegan BBQ ideas!
By Lora O'Brien
Some of my fondest memories of summer are of family and friends coming together for a good, old-fashioned garden barbie. There's something about great food, warm evenings and fantastic company that just seems to be the pinnacle of a perfect summer's night.
But if you're vegan or have recently ditched the meat, the smell of searing flesh probably puts you right off. And if that doesn, the nasty, pre-packaged, chemical ridden 'vegan burgers' slapped on the grill just might.
Well, don't sweat it this year, because BBQs don't have to center around meaty dishes, real or fake. There are lots of ways to enjoy a delicious summer BBQ – from savoury salads to scrummy desserts and vegan burgers to smoky, grilled veggies. In fact, there are so many delish vegan BBQ ideas, even the most devoted carnivore will be happy to indulge in non-meaty dishes.
Now, fire up the grill, pop open a bottle of white wine, and let's make this summer awesome with these great vegan BBQ ideas!
25 Sizzling Vegan BBQ Ideas
1. Balsamic Roasted New Potatoes with Asparagus
Vegan vegan BBQ ideas should include season veggies. And is there any veggie that feels more summery than asparagus? I think we all adore it simply because its growing season is so short – you really do appreciate something when you know it won't be around long! Here, the delicate veg makes the perfect partner to tender new potatoes.
Get the recipe here.
2. Asian Style Vegan Barbeque Coleslaw
For me a BBQ isn't a real shindig until I see a bowl of coleslaw. But unlike the creamy store-bought containers we usually opt for, pack full of calorific mayonnaise and god only knows what else, why not add a little something special  to your slaw this summer? This one is packed full of crunchy veg and then seasoned with a tangy miso and ginger based dressing.
Get the recipe here.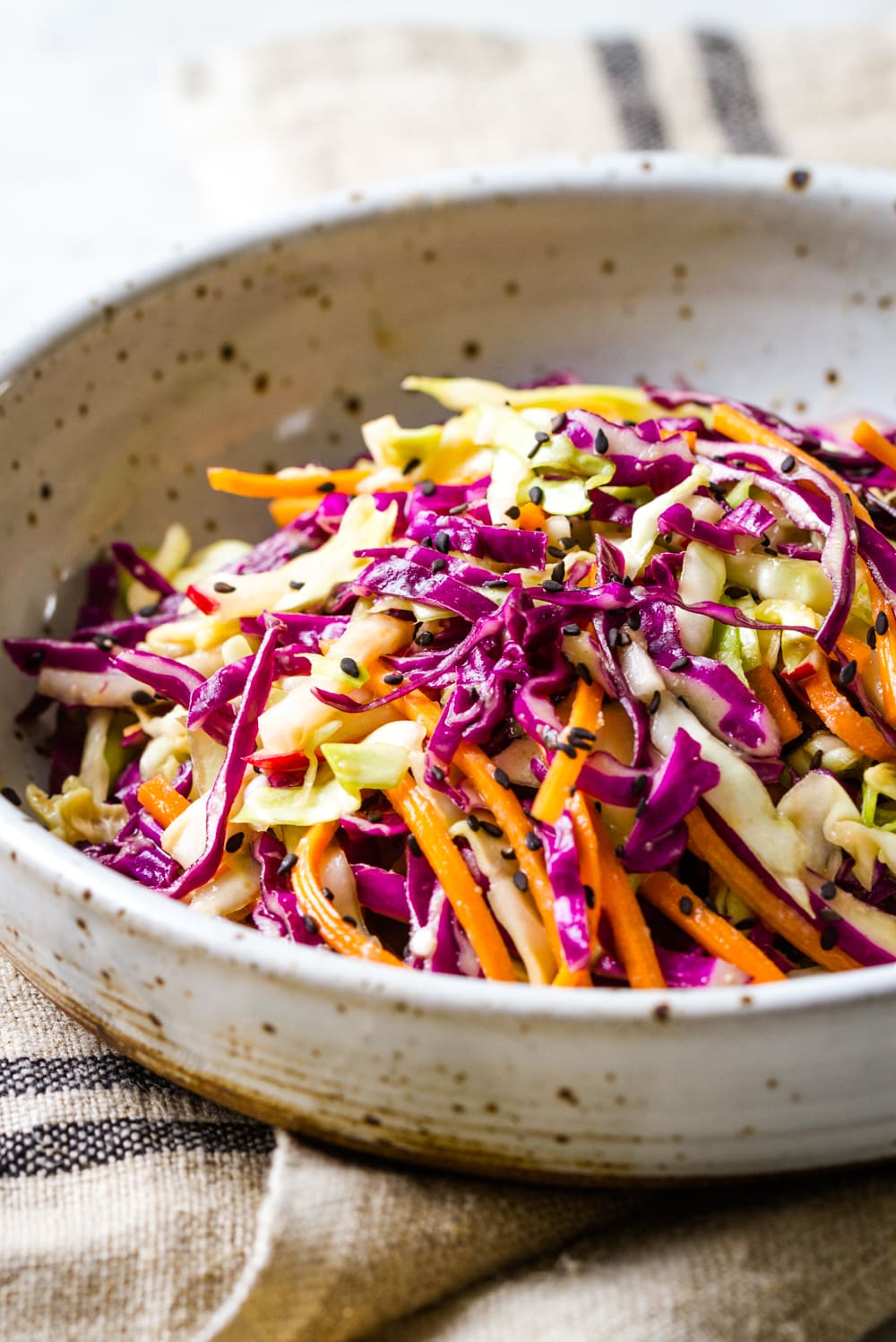 3. Herbed Red Potato Salad
A list of vegan BBQ ideas wouldn't be complete with a potato salad. But as with coleslaw, the dressing usually consists of mayonnaise – why? Why? There's really no need, as this recipe that features Dijon mustard and herbs on the spuds, proves beyond a doubt. Oh, plus with the lack of mayo in this vegan potato salad, you're far less likely to get food poisoning, no matter how long this is out in the heat!
Get the recipe here.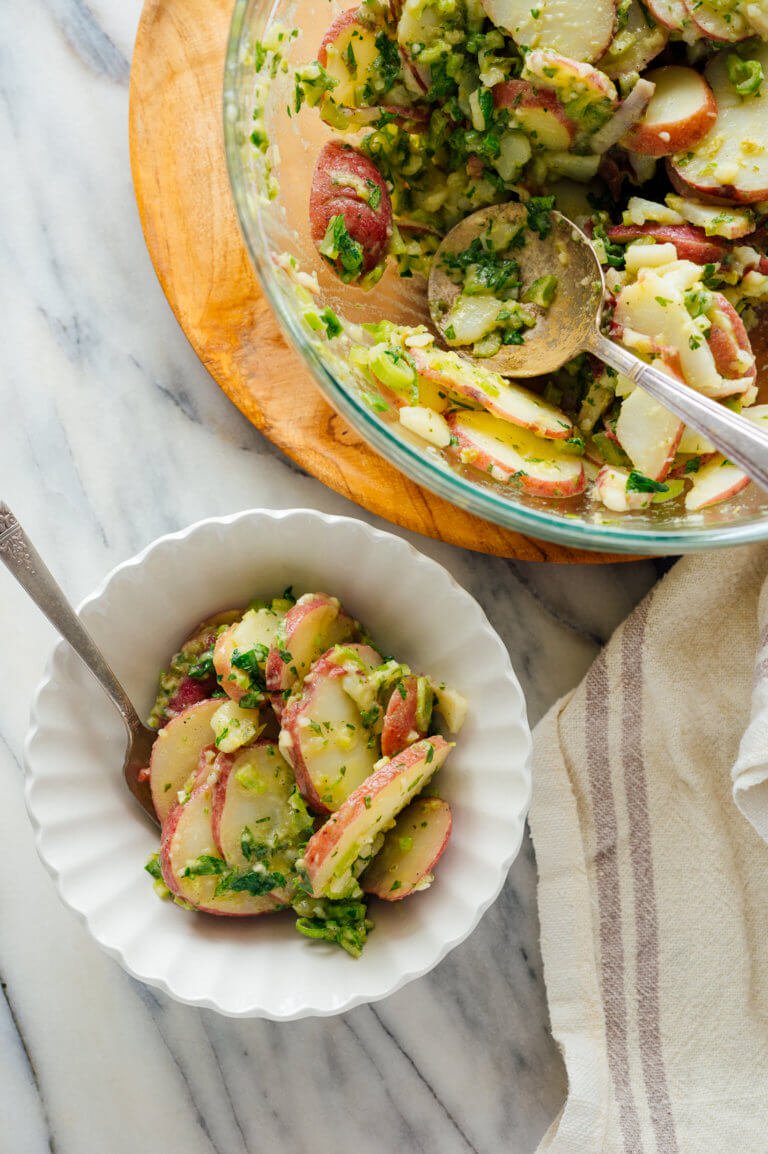 4. Caramelized Onion Hummus
Who doesn't love a dip at a BBQ? Vegan barbecue ideas just have to include a bunch of dips, and for me,  something magical happens when I smear tortilla chips with sauces and dips, like this caramelized onion hummus. Everything around me just kind of fades away as I enjoy the tangy, creamy, and INSANELY good flavours!
Get the recipe here.
5. Beetroot & Tahini Dip
This mixture of beetroot, tahini and garlic is topped with crunchy nuts and yogurt, but just sub in a vegan version to make this dish 100% cruelty-free. It goes beautifully with crudites, tortilla chips, toasted wholemeal pitta triangles – anything, really!
Get the recipe here.
6. Vegan Mac 'n' Cheese
Vegan barbecue ideas usually include a cold macaroni salad. Ho hum, right? But when you realise that mac 'n' cheese is just as good warm as it is hot, that salad can be replaced by the M&C, no problem! It's all about maintaining the heat – you can actually put this in tin foil and wrap it up to heat on the grill, or enjoy it warm instead of hot, as I do.
Get the recipe here.
7. Middle Eastern Cauliflower Rice Salad
Rice salads are pretty popular at any vegan barbeque, but the truth is, they're often left uneaten because they can be damn boring. The Lazy Cat Kitchen knows this full well, and turned the entire rice salad concept upside down by making cauliflower the 'rice' and infusing it with Arabic flavours. Game. Changer!
Get the recipe here.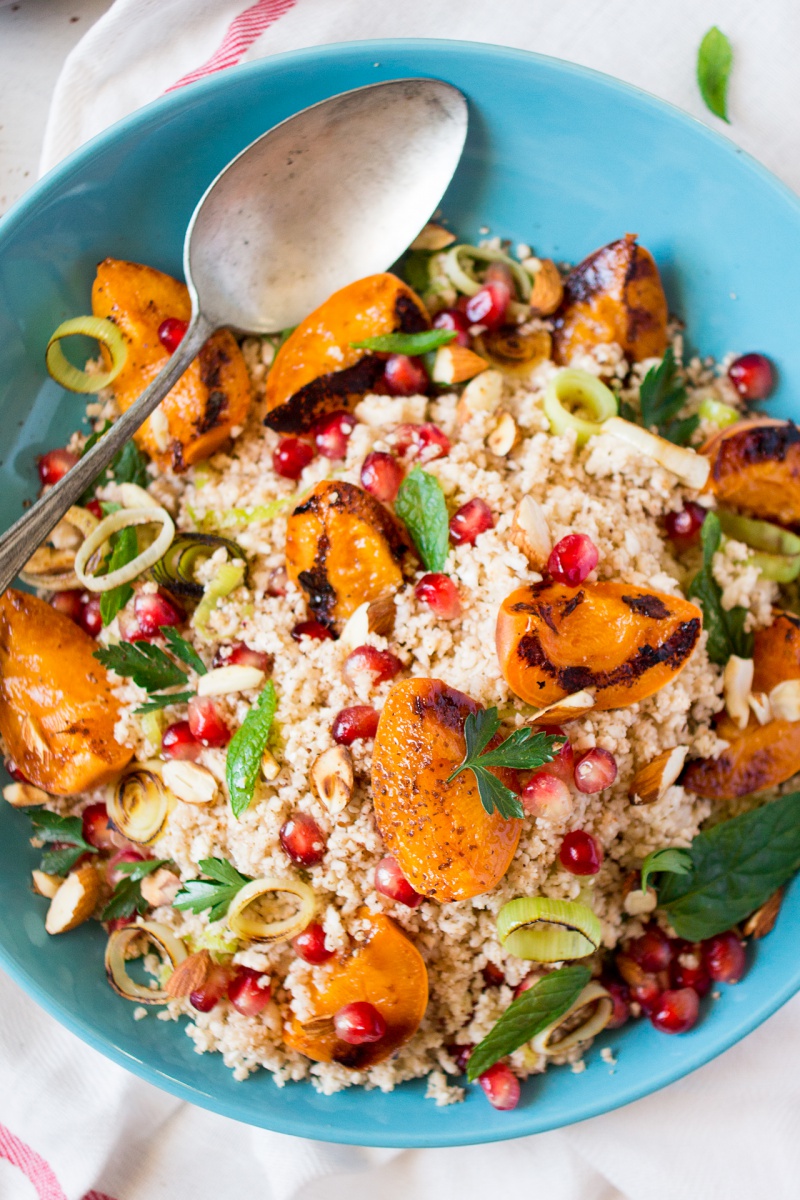 8. Harissa Grilled Corn
Of all the vegan BBQ ideas, this may be the simplest, but there are so many ways to dress it up. For example, this harissa and mint concoction has North African flavour that's guaranteed to take your tastebuds to another dimension! Not sure where to buy harissa spices? You can easily get them online here.
9. Quinoa Kale Stuffed Sweet Potatoes
I swear, if I go to another BBQ where the vegan 'meal' is simply some zucchini and potatoes slapped on the same grill that meat has been on, I may just lose my sh*t. Especially when so many other incredible possibilities exist. I mean, just look at these sweet potatoes! They've got protein (quinoa) and greens and tons of flavour. All it takes is a bit of creativity, right?
Get the recipe here.
10. Chipotle Lime Fries
Just when I thought vegan BBQ ideas couldn't get any better, I find this recipe! Seriously, who wouldn't devour a plate of these chipotle and lime fries? Make a large batch and serve them to your guests and  I guarantee they'll be gone in minutes (The fries. Not the guests.)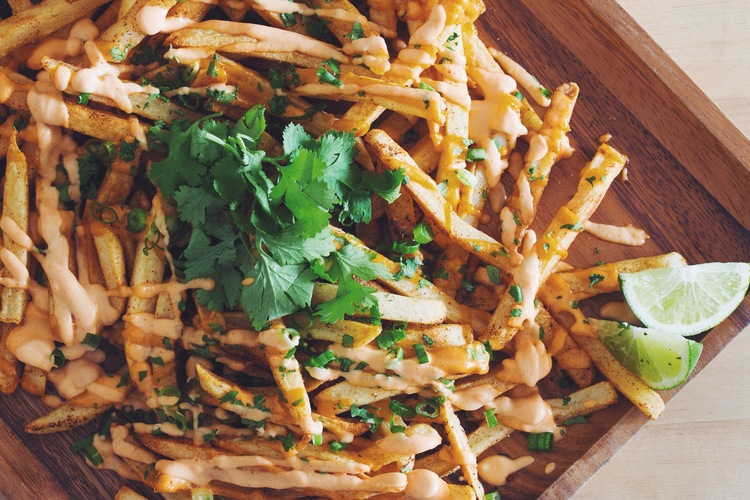 11. Cauliflower Buffalo Wings
It seems cauliflower is having its moment in the sun. I'm seeing in everything from pizza crusts to tacos, and of course, they also make the perfect 'chicken' wings! If you really coat them well before baking them, they have a deliciously spicy 'skin'. It's also one of the best vegan BBQ ideas for sharing.
12. Smoky Grilled Sweet Potato Sliders with Cilantro
A successful BBQ is all about the side dishes, and when it's a vegan BBQ, it's best to have lots of tasty and filling dishes for your guests to try. And this one is both tasty and filling, and oh so easy to make! It's all about the spices and that char-grilling, people.
13. The Big Taco Salad
There's always a bowl of salad at a BBQ, but let's face it, it's usually pretty dull and ends up kind of half-eaten. So why not make a salad people will actually enjoy eating, like this taco one? It's a little bit like a deconstructed taco and features a tangy, refreshing cilantro cream dressing. This is also one of the best vegan BBQ ideas for sharing.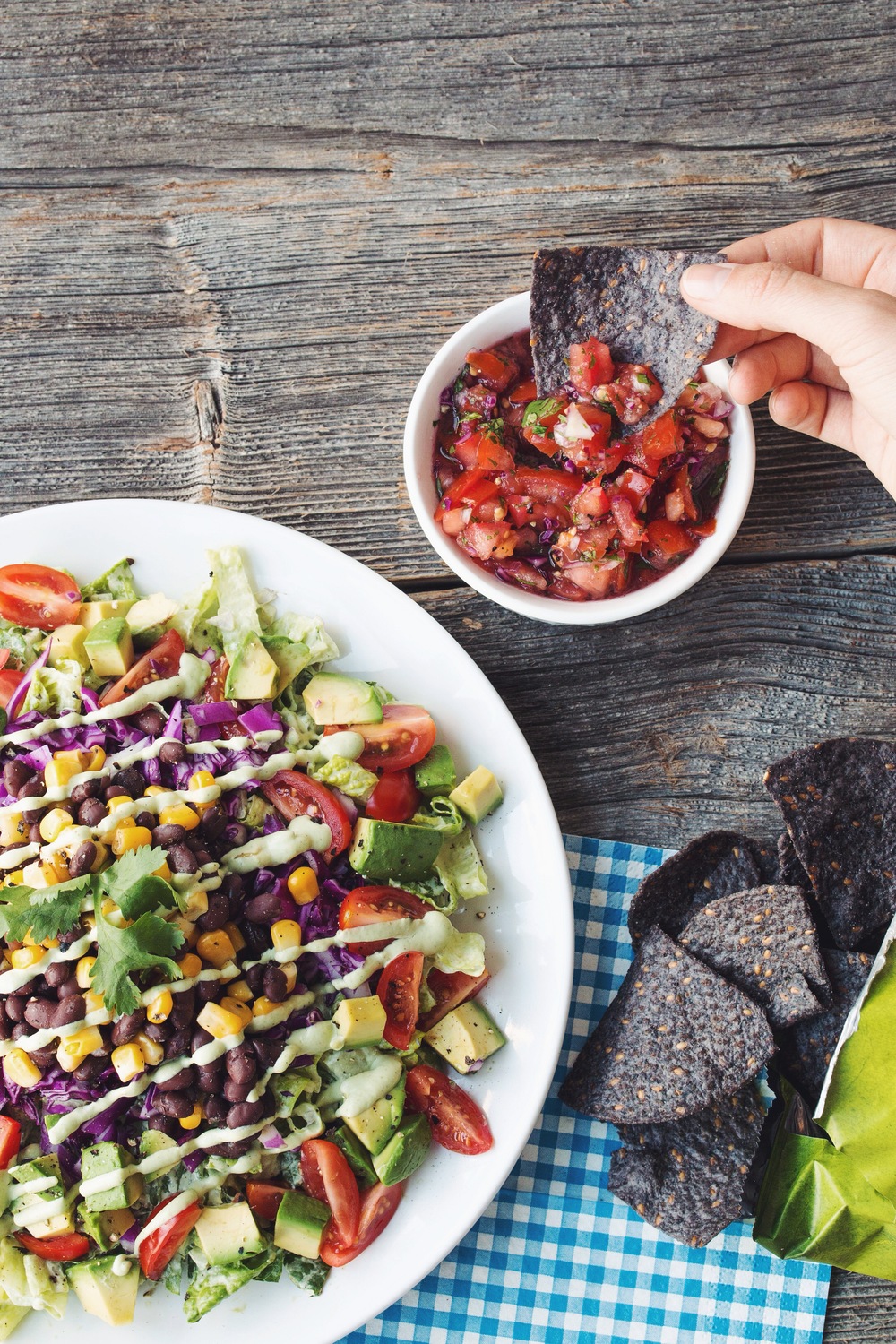 14. Sweet Chili Tofu Kebabs
Turn up the heat on that tofu! It can be flavoured so easily, and sweet chili has such a strong, spicy taste that it's perfect for giving tofu a new lease of life this summer. Plus, vegan BBQ ideas need a good kebab, right? You could serve these up with a salad, or even a rice dish.
Get the recipe here.
15. The Vegan Gutbuster Sausage
Carnivores always seem to want sausages at BBQs, which is a mystery to me, since they're literally made with slaughterhouse garbage. Who would want to eat that? Make your own vegan versions and prove to the carnies once and for all that veganism is the better path.  The base of these bad boys is beans, and they're bursting with flavour from the garlic, sweet paprika, oregano, pepper flakes and parsley. One of the best vegan BBQ ideas for serious meat lovers, for sure!
16. Vegan Chorizo Sausages
I never knew it was even possible to make vegan chorizo, so I HAD to include this in my vegan BBQ ideas! For those of you that have never tasted it, chorizo is a spicy Spanish sausage that uses the bodies of pigs to make it. Um, no thanks. Instead, try this firmly textured, beautifully spiced vegan barbeque staple that proves anything meat can do,veg can do better!
Get the recipe here.
17. Crispy Breaded Tofu
Hands up if you thought I'd snuck a chicken recipe in here after seeing this? Okay, well I was so convinced this was chicken and not tofu, I checked the recipe twice to be sure. You can reduce the calories in this recipe by skipping the bread crumb crust and just using the homemade BBQ sauce to cover the 'steaks. But personally, I love the crispness that comes with the crumb coating.
Get the recipe here.
18. Roasted Carrot Hot Dogs
One of my favourite vegan BBQ ideas is a vegan hot dog loaded with onions and ketchup with a little yellow mustard. But most vegan 'dogs are filled with crap – artificial ingredients, processed wheat, GMO soya, etc. So I was thrilled to find that you can make hot dogs from one of your five-a-days – carrots! They have the same texture as a hot dog, and once they're smothered in condiments, you'll barely notice these are carrots.
Get the recipe here.
19. Spicy Miso Portobello Burgers
What would a list of vegan BBQ ideas be without vegan burgers? Portobello mushrooms are often used in replacement of meat because of their meaty texture and perfect size for a vegan burger bun, but when grilled on a smoky BBQ and smothered in a spicy miso marinade, you'll wonder why these burgers aren't as ubiquitous as that nasty ass, not-really-vegan-friendly Impossible Burger.
Get the recipe here.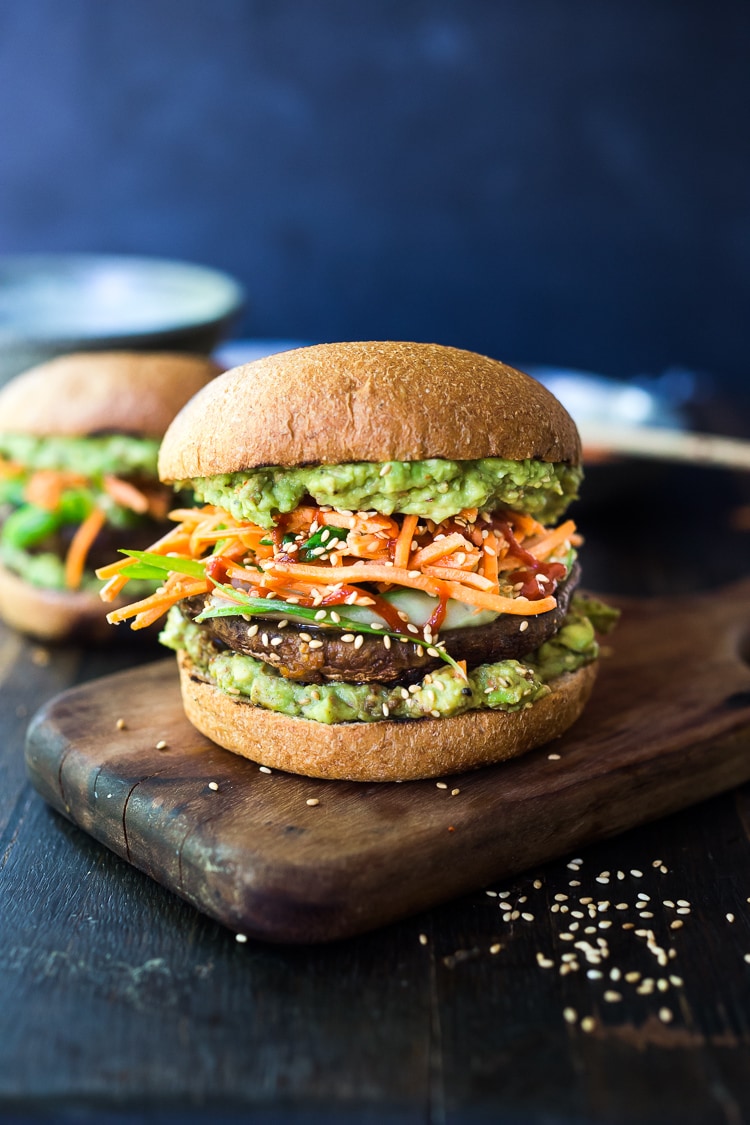 20. Jackfruit Pulled 'Pork' Burger
If you don't happen to live in a tropical location such as Hawaii where Jackfruit is readily available, don't worry. This burger recipe calls for tinned jackfruit, which can easily be sourced online here. The result is a meatily textured, slightly sweet sarnie. It's one of the best vegan BBQ ideas out there!
Get the recipe here.
21. Chocolate Peanut Butter Ice Cream
Vegan BBQ ideas need desserts, too – and what's better than ice cream? If you're wondering how to make a vegan ice cream that's even better than the dairy classic, in my humble opinion, you need to use coconut milk as the base. This recipe does, and I can tell you – it may not be a dieter's best friend, but it is rich, thick and tasty as sin!
Get the recipe here.
22. Grain Free Mixed Berry Crumble
Barbeques are all about sharing; slapping food on the grill that's for everyone to dig into. They're kinda democratic that way. So it's nice to have a dessert you can also whip up and put on the grill in the pan, as it is, then plunk down in the centre of the picnic table for everyone to help themselves to. This one is deceptively healthy – it's gluten free and full of summer berries. Yum!
Get the recipe here.

23. Coconut Milk Fudgesicles
These may look as chocolately and creamy as the classic ice-cream truck favourite- and they are! But these fudgesicles are 100% vegan friendly, using coconut milk as their base.
Get the recipe here.
24. Mini Berry Cheesecakes
Sweetened with the delicate flavor of pure maple syrup and loaded with juicy berries, these cute little desserts are going to be snapped up in minutes by guests at your vegan barbeque, guaranteed! You can use whatever fresh berries you have on hand, too.
Get the recipe here.
Main image: Veggie Jackfruit Nachos. Get the recipe here. See second image credit and more vegan barbecue ideas here.
Latest posts by Lora O'Brien
(see all)