Want to get a bargain on the world's healthiest sports bra? Read on!
By Diane Small
Sometimes, it feels like sports companies just don't understand what women really need.
For example? Most make sports bras from nasty plasticky materials. Which are often dyed with highly toxic colourants. Or, some, like Nike, have literal men with zero mammary glands and breast tissue modelling women's sports bras. Um, no thanks.
Luckily, there is one company that knows what women really want.
Meet Tripulse. It's a sportswear brand that gets you.
What Women Want
They make leggings, shorts and shirts from eucalyptus based fibres. Oh, and everything is naturally dyed, too!
Tripulse's garments are ethically made in Portugal, and are all Climate Neutral Certified.
But that's not all. The brand tries to reduce waste by keeping their garments with minor blemishes, prototypes, or returned and refreshed clothing in circulation. They do this to give (new) life and love to clothes that would "normally" go to waste, to extend product life, and to achieve zero waste in their supply chain.
Plus, you can grab great bargains!
When asked why she started the brand, founder Franziska said:
"As a training enthusiast who basically lives in activewear, I never felt truly good in these plastic-y feeling clothes, they were itchy and I had to wash them after almost every use. And I realized I wasn't the only one, turns out that almost everyone I spoke to felt the same way.
In search of a better solution, I realized that conventional activewear is mostly made from polyester, a plastic commonly derived from crude oil, that has harmful effects both on our planet and health. Since nothing was available, I decided to create the solution myself. One that is good for our bodies and planet: A new generation of activewear that is made from innovative natural materials instead of plastic, free from toxins, and with an ethical supply chain."
Let's Talk Bras
Tripulse understands that when we're working out, we need to feel good. To have clothing that fits properly. Especially sports bras!
That's why they've created what's possibly the world's healthiest sports bra.
It's double layered fabric and durable elastic band (made from natural rubber) ensure your breasts stay firm when you work out.
The race back style allows you to wear this bra alone, or under any kind of top. And of course, like all of Tripulse's clothing, it comes in a size to fit you. Choose from XS to XXXL, in natural black or khaki hues.
Natural fabrics and dyes really do matter! Especially when they're right next to your breasts. Click here for more information about why.
A Special Offer
Want to try the world's healthiest sports bra with 20% off? Click here to get one in your favourite colour and size now. These bras are being supported on Kickstarter, the only place where this can be had! There's free shipping worldwide, too.
THIS WAS A PAID PARTNERSHIP WITH TRIPULSE.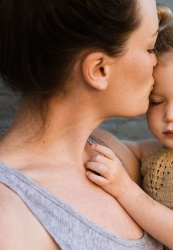 Latest posts by Diane Small
(see all)