Elephants have no better friend than Dame Daphne Sheldrick. Here, she tells us her fascinating life story
By Lauren Kearney
You can't help but be in awe of the extraordinary Dame Daphne Sheldrick. Compassionate, courageous and a devoted caregiver, her kindness towards the wild animals of Africa has led to some unbelievable milestones.
It all began in 1955, when she married the Head Warden of Kenya's largest national park, Tsavo, at 21. She started opening her doors to Tsavo's orphaned and injured animals, from antelopes to warthogs. By the 1960s, following years of trial and error, she created the first milk formula for rhino infants. Not many years after, she also perfected a baby formula for orphaned elephants.
Together with her husband David, Dame Daphne Sheldrick spent over two decades raising and rehabilitating many wild species. After her husband's death in 1977, Daphne established the David Sheldrick Wildlife Trust, in memory of the man who'd taught her so much about the wonders of wild animals and in a bid to raise funds to help more species in Kenya.
In 1989, she was decorated by the Queen with an MBE for her remarkable work in this field. Today, at 82 years of age, Sheldrick is no less passionate about her cause than she was at 21.
In this exclusive interview, she talks to me about the upcoming 40th year anniversary of the DSWT, staying positive, ivory poaching and the new luxury camp that's open to everybody.
Meet Dame Daphne Sheldrick, The Elephant Lady
Next year marks the 40

th

year anniversary of the David Sheldrick Wildlife Trust. How does that make you feel and how do you plan to commemorate it?
I am extremely proud of what the DSWT has been able to achieve, and I know that David, my late husband, would be as well.   However, we have never really had the inclination to celebrate anniversaries because each day for us is busy with elephants in the Nursery, many of who are suffering from poaching related disabilities and all fragile and grieving for the lost elephant family.   We live alongside them and feel that sorrow which inhibits celebratory events.   That said forty years is significant, and we have many amazing foster parents around the world whose generous steadfast support has enabled us to achieve what we have and this would be a good time to celebrate those successes.    
What have been the greatest milestones?
There have been many important milestones relating to the challenges we have had to face but perhaps the greatest has been able to overcome those who have tried to destroy us and our work, motivated by jealously of our success.  
From the moment you began, you were dealing with the crippling wildlife poaching crisis. Were there times when you felt hopeless and if so, how did you stay positive through those times?
I have always turned to the elephants for inspiration in the face of adversity.   They suffer loss and heartbreak on an almost daily basis, they grieve and mourn the loss of loved ones just as deeply as us, but they turn the page to focus on the living, and I try to emulate that.  
What was the best lesson your husband David Sheldrick taught you about animals?
The best lesson taught to me by David as well as by my parents has been that orphaned wild animals never 'belong.' They are only on load for the dependent years and that the greatest gift you can give them is freedom to lead a natural wild life as dictated by nature, motivated by their genetic memory.
How do you feel we've progressed in terms of combating ivory poaching?
In relation to helping stem the poaching menace, the Trust has always done its very best according to the resources at our disposal, and we are always extremely mindful that we owe our success to the incredible global support we have enjoyed.   Our motto has always been that you 'reap what you sow' and if one does a good job, recognition and support follows.  Money, corruption,  greed and ignorance motivates the evil ivory and rhino horn trade, and throughout the decades we have seen the threat before, but a total ivory ban relieved things for fifteen years.  
An affluent China and Far East and their thirst for ivory is definitely putting Africa's elephant populations into a very precarious position once again. But we do feel a more positive shift in recent months, and our field efforts have seen a 50% decline in Tsavo of poaching deaths.  
That is not to say the threat does not remain, but it does indicate how effective anti-poaching efforts, aerial surveillance and veterinary teams can be in thwarting poaching and saving individual lives.  
Our Veterinary team in Tsavo alone saved over 80 elephant's lives who would have died due to poisoned arrow, spear and bullet wounds, that could be saved thanks to early treatment. These elephants are first sighted from the air in most cases as Tsavo is a vast place, bigger than some countries.  
Despite the fact that the Asian elephant and many other species are endangered, many people still do not care. Poachers don't care. Why do you think that is?
Money, corruption,  greed and ignorance motivates the evil ivory and rhino horn trade.
How can we get people to care more?
The internet and our fostering programme which has proved amazingly popular has played a great part in educating the global public and demonstrating that elephants are emotionally 'human' and better than us humans in terms of caring and forgiveness.  
You've just hired some dogs!  

Tell us about the Canine Unit you'll be launching this year to help in the fight against ivory poaching.
Our Canine Unit follows in the footsteps our aim to undertake whatever is necessary to protect wildlife employing pioneering and effective solutions. The three carefully selected and fully trained dogs will work alongside six trained handlers, accommodated in our specially built kennels that also have an onsite laboratory.
The Unit will work alongside the Kenya Wildlife Service, our Aerial Unit and our Anti-Poaching Teams, and will track poison arrow poachers and wildlife offenders; coordinating with our aircraft, so we can provide a more rapid response in any area.
Could you tell our readers about the luxury camp the DSWT opened last year and why people should go?
Our luxury camp is the latest addition to our eco-lodges and is the second camp to be built by our Ithumba Reintegration Centre. Here, the focus for the orphans is learning how to live a wildlife and the two camps afford a glimpse into the world of these elephants and the stunning surroundings.
Opened in 2015, the luxury self-catering retreat, Ithumba Hill, has been created to offer increased luxury for guests exploring Tsavo East's remote northern area whilst enjoying visits to the Trust's Ithumba elephant orphans. From its elevated position halfway up Ithumba Hill, this private luxury tented camp enjoys breathtaking views across Tsavo's vast landscape. And like our two other properties, it has been designed for the more intrepid traveller who relishes being off the beaten track.
 

What can people do to help the wildlife poaching crisis?
Kenya and Africa stands at a crossroads for its wildlife. Everyone can do something by raising awareness of the poaching crisis, and by raising funds to help those who are able to make even a small difference at the field level to protect and preserve the elephants. Otherwise, elephants could be extinct in the wild within the next 15 years.
Raising awareness of the poaching crisis is something that anyone can do – through signing our ivory petition and calling for a ban on all ivory at: www.iworry.org, or following us on Facebook or Instagram and sharing our posts.
Fostering an orphaned elephant in our care at www.sheldrickwildlifetrust.org, receiving their monthly email updates and becoming a part of our foster family provides vital funds for the care of the elephants and our wider Anti-Poaching and Veterinary projects. It also makes a great gift for children!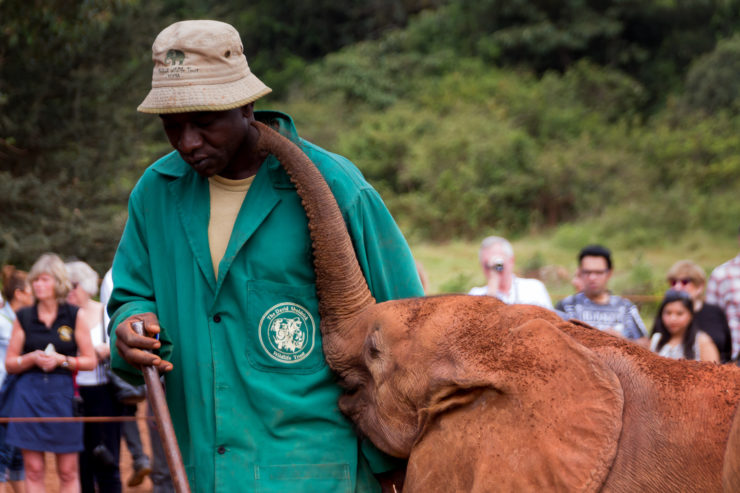 If you could send a message to the world, what would it be?
The message to the world would be that we humans are in fact in terms of Nature also 'animals'. The world is home to all animals and all in fact contribute to the wellbeing of the whole.   We have just one home and mankind cannot exist in isolation of nature. Destroy the natural world and its wild denizens and we are in fact destroying ourselves.  
My late husband always maintained that in reality mankind is the most endangered species because we have done the most damage to the earth and will one day pay the price. 
All images courtesy Sheldrick Wildlife Trust except image 2 (Pexels). For more info on Dame Daphne Sheldrick and to support her work with elephants, please see: www.sheldrickwildlifetrust.org
Latest posts by Chere Di Boscio
(see all)