What's on the BBQ for you this weekend? Why not try one of these vegan burger recipes?
By Lora O'Brien
Ah, summer! It's the perfect time for chowing down in the great outdoors. It's when BBQs fire up, picnics are planned, and….vegans are often left out in the cold. 
Yep, that's right. Whilst your carnivorous friends and family stuff themselves with dead animals, you're probably usually stuck eating, oh I dunno – a baked potato or something. For many, it seems the whole concept of 'vegan burgers' is a bit of an oxymoron, but trust me, it's not. Burgers are just patties of condensed, smushed together foods. They can be made of pretty much anything, from beans, rice, tofu and chickpeas, or…yeah, meat. 
Why you should choose homemade vegan burgers
Whether your a vegan or not, there are loads of benefits to eating vegan burgers. They're not only packed with healthy ingredients, but are easy to make, and they can be frozen for later. And needless to say, they're not full of saturated fat, growth hormones, antibiotics and other toxins you find in meat.
But those toxins are not just in meat. Unfortunately, they're also now in loads of commercial vegan burgers. Especially those which contain lab grown ingredients, like the Impossible Burger. Avoid those at all costs! They're full of chemicals, GMOs and god only knows what else. There's really no need to buy those when there are so many delicious homemade veggie burger recipes you can make!
As with most burgers, you can choose to fry, bake or BBQ these babies. You can also sneak in some superfoods to make them ultra-healthy. For example, why not add a few tablespoons of chia seeds, flax seeds, nutritional yeast, or even unsweetened protein powder to add to their nutritional value? 
To get the texture right, it will be really helpful to have a great hand blender or food processor at hand. But if you don't have either of these, you'll still do alright if you manage to chop everything superfine and blend the heck out of the mixture with a fork or beater.
Any way you make them, you're going to love these 30+ vegan burger recipes for summer…and beyond!
30 Vegan Burger Recipes For Summer
1.  The Green Warrior Burger
This Green Warrior burger is not only good for you, but will put a spring in your step, too! It's super nutritious, thanks to all the greens, of course. But it also packs 20g of protein per burger. #Vegangains!
Get the recipe here.
2. Vegan Bunless Falafel Burger
Love falafels? This is the best of the vegan burger recipes for you! It's not only rich and tasty, but it's gluten free, too. That's because instead of a bun, this uses Portobello mushrooms instead.
Get the recipe here.
3. Vegan 'Big Mac'
I couldn't do a list of vegan burger recipes without including one that mimics the 'king' of burgers: the Big Mac! The sauce on this is SO good! And this is perfect for an American celebration like the 4th of July.
Get the recipe here.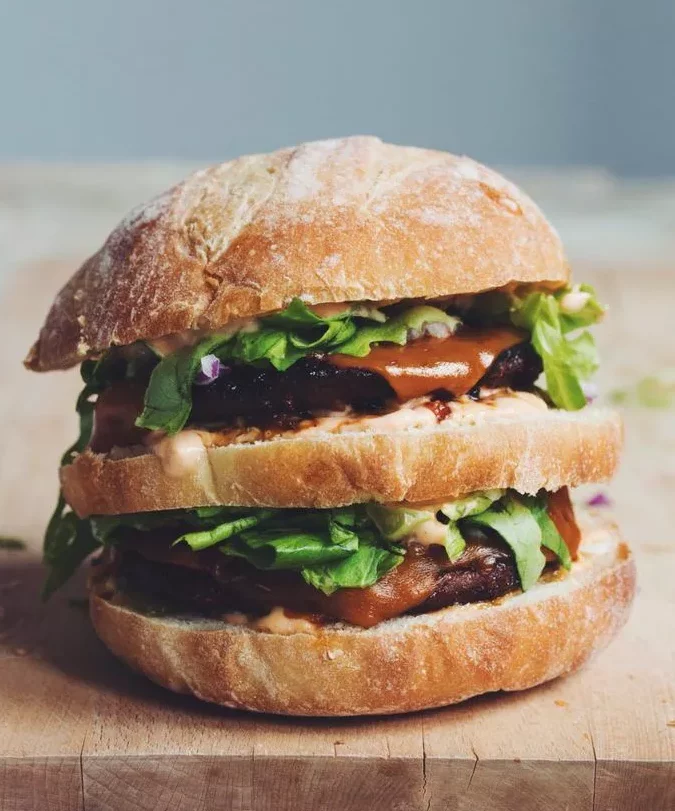 4. Green Goddess Pesto Burger
Like your vegan burger recipes loaded with flavour and supergreens? These giant patties are literally bursting with a flavour explosion and bite thanks to the basil, garlic and chickpeas!
Get the recipe here.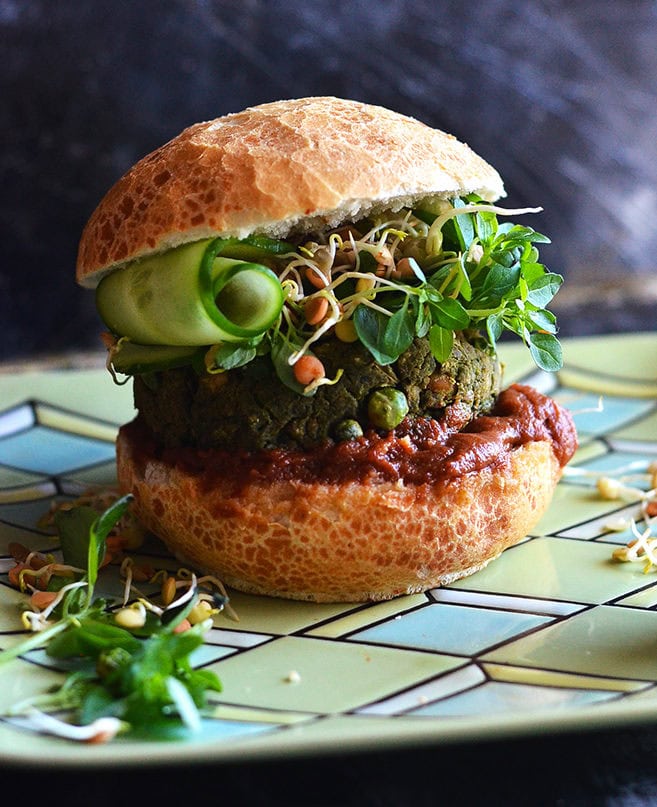 5. Vegan Lentil Burger
Vegan burgers needn't be a fancy affair, neither do they require lots of ingredients. In fact, this lentil burger has just FOUR ingredients; lentils, raisins, crushed walnuts and bread crumbs. The flavours are the perfect balance between sweet and spicy. The creamy mustard sauce with maple syrup totally finishes it off perfectly.
Get the recipe here.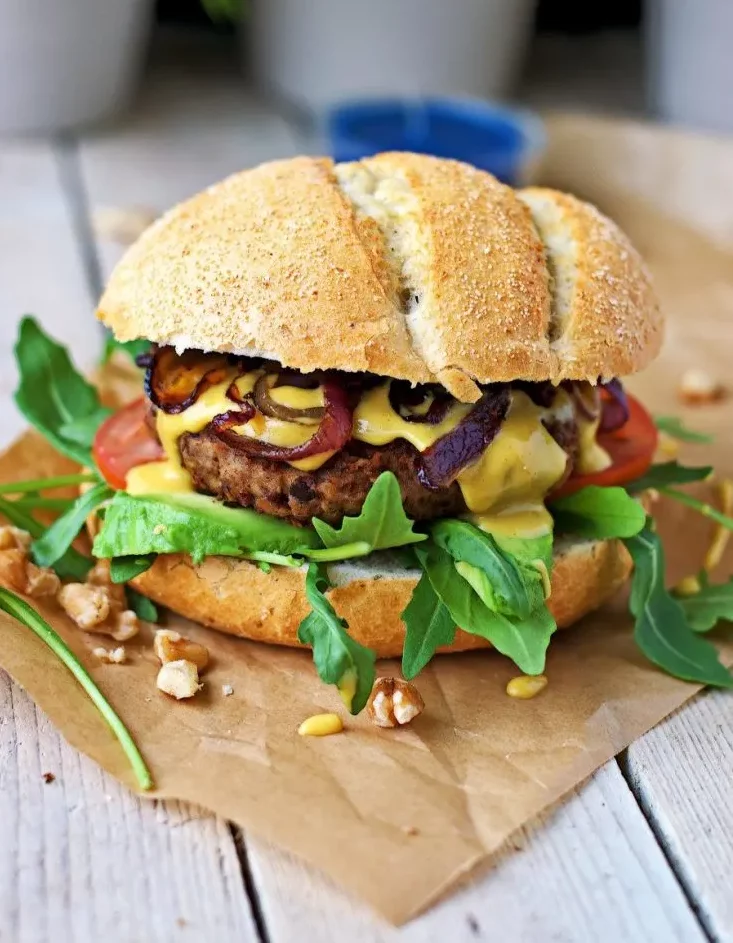 6. Easy Bean Burger with Mustard Mayo
This burger may look pretty fancy, but it's probably the easiest of all the vegan burger recipes here. Within 15 minutes you could be chowing down on this yumminess! Refried beans are used as a base, and no wonder: they're packed with flavour and the perfect texture for a burger. The best part is you can keep it plain or add a little spice, depending on your taste.
Get the recipe here.
7. Black Bean Walnut Burgers with Sweet Onions
Of all the vegan burger recipes here, this one may be the most, well, 'burger-y'. It's packed with nourishing goodness, with just a little bit of a kick! Topped with saucy, sweet onions you'll devour this burger in seconds. You could even whip up more than you can handle and pop them in the freezer to always have on hand.
Get the recipe here.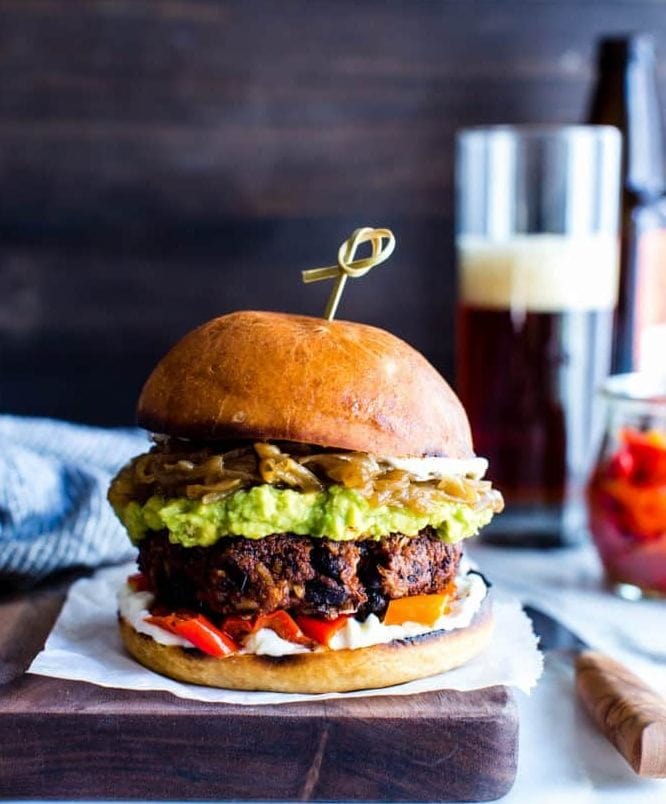 8. Hawaiian Chickpea Veggie Burgers
If you love your burgers with a bit of sweetness – think, ketchup or chutney sauce – you'll love this recipe. Not only are the burger patties made from super healthy ingredients like chickpeas and veggies, they're really satisfying, too. Topped with grilled pineapple and BBQ sauce, the sweet/savoury combination is perfection.
Get the recipe here.
9. Sun-Dried Tomato Chickpea Burgers
Do you ever find you have sundried tomatoes on hand and never quite know what to do with them? Well, now you can turn them into a tasty AF burger! This recipe combines chickpeas with fresh basil, sun-dried tomatoes and ground almonds to make a super healthy yet wholesome burger recipe.
Get the recipe here.
10. Peanut Carrot White Bean Burgers
Beans are a common ingredient in vegan burger recipes. Once they're blended down, they help combine the burger perfectly, and keep it from falling apart. These patties are made using white beans, carrots and peanuts with an infusion of Thai flavours. Serve it in a burger bun, or turn it into a deconstructed burger-bowl. Either way, it's the perfect supper!
Get the recipe here.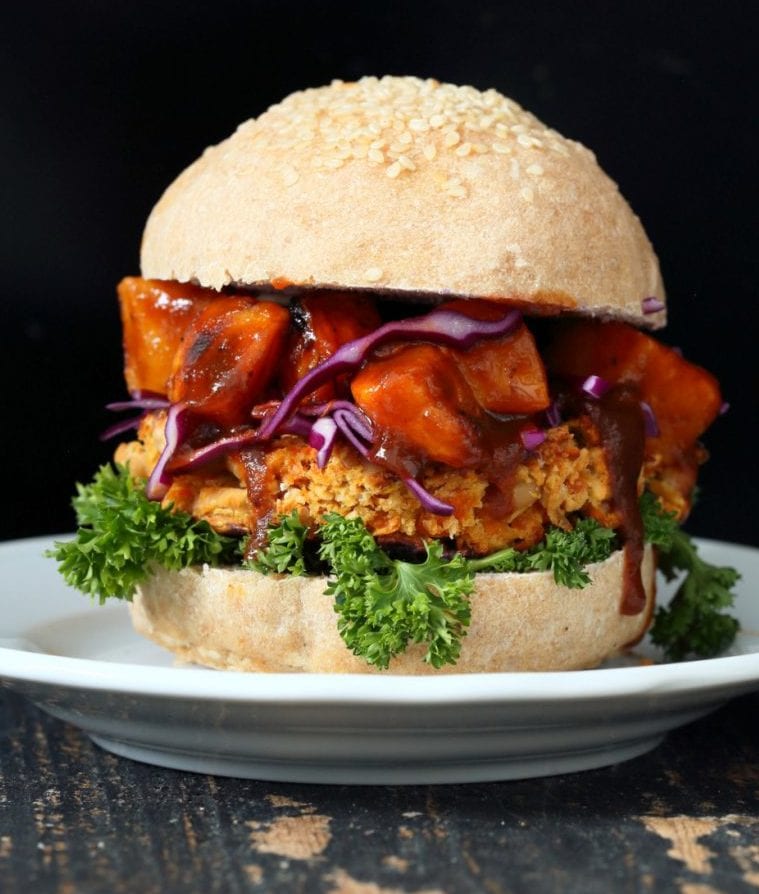 11. Roasted Beet-Tofu Burgers
Looking to add some vibrancy to your burger? Beetroot will turn your patties a glorious shade of pink. The beetroot is roasted alongside garlic to give a naturally smoky flavour. Flax seeds are used to bind these burgers,. They're also freezer-friendly, in case you have any leftovers and want to enjoy their goodness another night.
Get the recipe here.
13. Rainbow Sushi Burgers
Who the heck said vegan burger recipes needed to be traditional? I'm a huge fan of this sushi burger. It's healthy, it's loaded with veggies and it has a bun made of rice…like, am I dreaming? Plus, the delicious sauciness comes from sriracha mayo, and it finishes off this burger recipe perfectly.
Get the recipe here.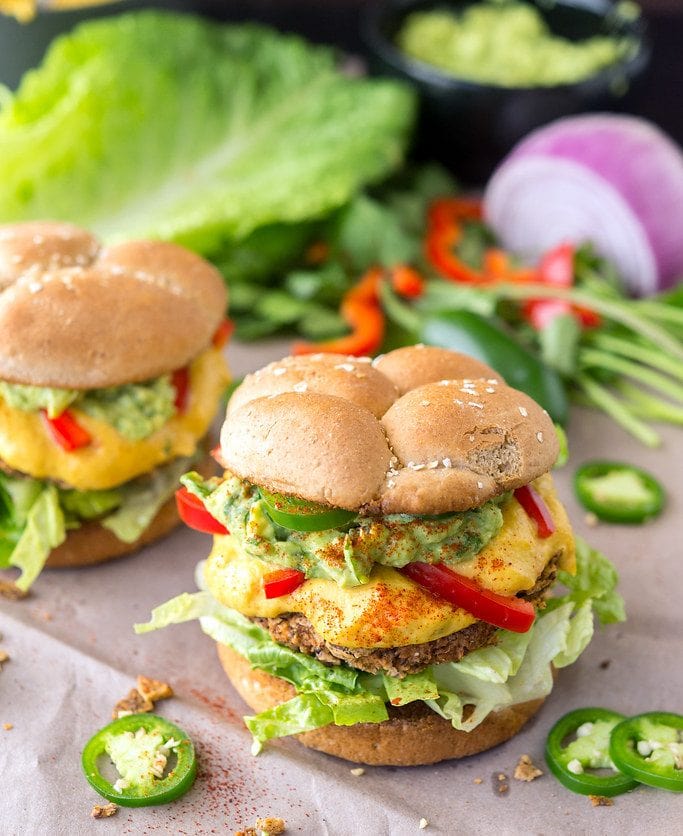 14. Easy Vegan BBQ Jackfruit Burgers
If you've yet to try a jackfruit burger, you need to do so ASAP! Jackfruit is my go-to for meat replacements simply because the texture is similar to that of pulled pork, just a helluva lot tastier than dead, decaying animal flesh! (just sayin'). It shreds super easily, and when combined with a vegan BBQ sauce it's literally what foodie dreams are made of.
Get the recipe here.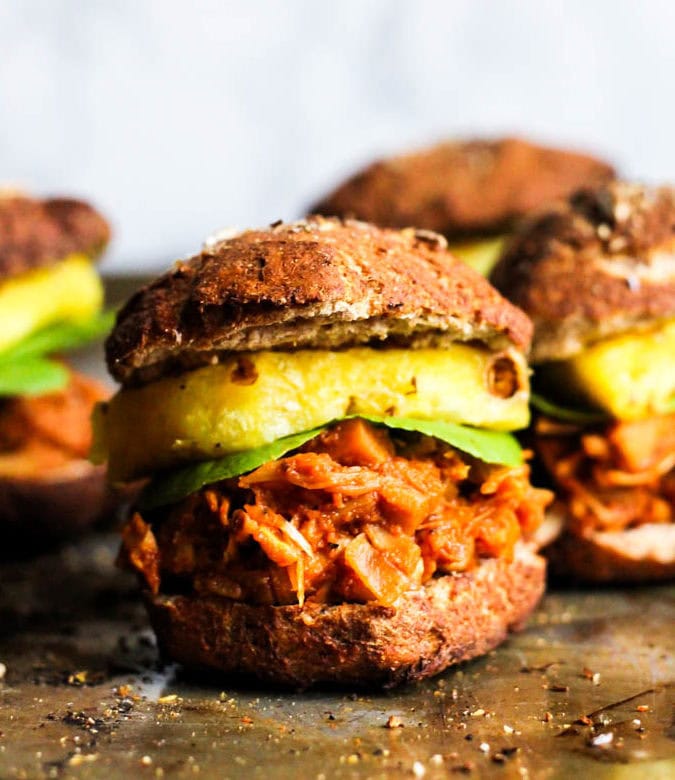 15. Chipotle Maple Glazed Tofu Burgers
Firm tofu is the perfect base for any veggie burger. When you press the tofu to remove excess water, you're left with a meaty texture and tons of flavour. You can choose to bake or pan-fry these tofu patties, but if you choose to pan-fry them you'll get a stronger caramelized flavour which is perfect. Once cooked, they're easy to throw together; just bun them up, and add in some guac, crispy red onions, lettuce and tomato. Simple yet delish!
Get the recipe here.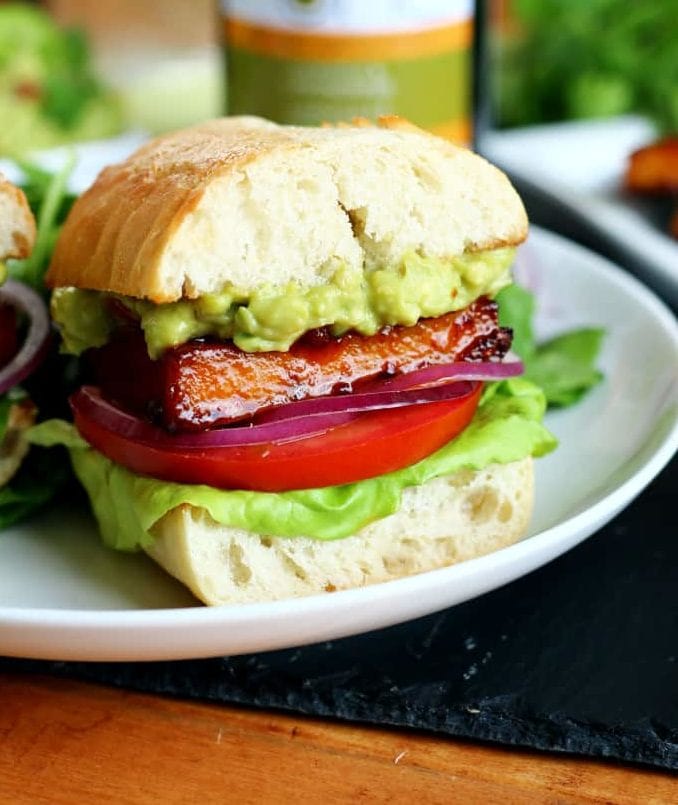 16. Smoky Barbecue Sweet Potato Chickpea Burgers
I love BBQ sauce, so throw in some sweet potato chickpea burger patties and I'm pretty much in food heaven. Not everyone is keen on the taste of chickpeas, though. If you're someone, this is one of the best vegan burger recipes for you. The sweet potato and smoky barbecue sauce will pretty much be all you'll taste. Who can argue with that?!
Get the recipe here.
17. Down Home Vegan BBQ Burger
You may want to get the napkins ready, because things are about to get super messy with this stacked burger recipe! It's simply dripping in BBQ sauce (hell yes!) with burger patties made from brown rice, black beans and potato. Serve in a posh burger bun, add in some grilled onion rings, lettuce and tomato and more lashings of BBQ sauce. But whatever you do, don't wear white when eating this!
Get the recipe here.
18. Soyrizo Guacamole Burger
Never heard of soyrizo? It's is basically a vegan chorizo and it works so well in this burger recipe. If you can't find soyrizo, any vegan sausage will do, really. In this recipe, black bean burgers are topped with spicy guacamole, vegan chorizo and lots of grilled veggies. Why not leave this burger topless, and just enjoy more glorious lashings of guac?
Get the recipe here.
19. Portobello Burgers with Greens & Guacamole
Vegan burger recipes don't need to be slathered in grease and high in calories. In fact, this recipe is perfect for anyone wanting to enjoy comfort food without the guilt! Portobello mushrooms are a great meat substitute as they have the same meaty texture when cooked, whilst being full of savoury flavour. The burgers are sandwiched between collard greens instead of burger buns and are then topped with creamy guacamole.
Get the recipe here.
20. Vegan French Onion Burgers
Of all the vegan burger recipes here, this one is most reminiscent of my childhood – I remember passing by the burger van on the beach, and the smell of cooked onions would tantalise my taste buds. These French onion burgers feature savoury caramelised onion and lentil patties, and are topped with yet more glorious caramelised onions and a herbed cashew cheese – yum!
Get the recipe here.
21. Ultimate Veggie Burger
Who the hell needs to eat meat when vegan burger recipes like this exist?! It's absolutely loaded with vegan cheese, veggie bacon slices and avocado – basically, it will fill your belly up to the top with its sweet vegan yumminess.
Get the recipe here.
22. Black Bean & Quinoa Burgers
Ready for a major protein fix? Of all the vegan burger recipes here, this one may well have the most protein! To make the recipe fully vegan, just avoid the yogurt sauce and maybe replace it with some salsa, since there are loads of Mexican flavours in here that would go perfectly with it!
Get the recipe here.
23. Lentil Panini Burgers
Not a huge fan of burger buns? Why not use pita bread as a wrap instead? It works super well and you can easily load your burger up with veggies and sauces so that every bite is loaded with goodness.
Get the recipe here.
24. Lentil, Walnut & Beet Burgers
As far as burger recipes go, this one is pretty darn fancy! The bright beetroot burgers are topped with pickled fennel, some fresh lettuce and a generous dollop of sunflower seed aioli which adds the perfect amount of garlicky goodness. Serve it with or without the bun!
Get the recipe here.
25. Kentucky Fried Chick'n Burger
How insanely delicious does this burger look?! Inspired by KFC – minus the cruelty – this chick'n burger will well and truly hit the spot. Deliciously crispy tofu 'chicken' is coated in a seasoned batter, and then topped in sub rolls with rainbow slaw and sriracha sauce. It's fully loaded and would be the perfect recipe to enjoy alongside a cold beer.
Get the recipe here.
26. Vegan Coleslaw Falafel Burger
Get a protein hit without even trying! This falafel burger is are piled high with a rainbow slaw, juicy mushrooms and crisp lettuce. The end result is a burger that is crispy, crunchy and spicy – yum!
Get the recipe here.
27. Korean Barbecue Tofu Burgers
Not sure what to do with kimchi? Throw it in a burger! This Korean inspired burger is made using tofu burgers that have been coated in sesame seeds and grilled to absolute perfection. They're then topped with a spicy Korean BBQ sauce and then stuffed with kimchi. The different textures and flavours all combine to make each mouthful exotic, spicy and exciting.
Get the recipe here.
28. The Perfect Vegan Burger
This black bean based recipe from Oh She Glows claims to be 'perfect'. Is it? Well, with loads of tangy herbs, crunchy seeds and crispy (gluten free) bread crumbs added into the mix, I'll just say this: it is pretty damn tasty, and boasts not only a symphony of flavours, but loads of different textures, too.
Get the recipe here.
29. Grillable Veggie Burgers
I must admit – not all vegan burger recipes are great on the grill. Without egg, they tend to fall apart – but this recipe uses brown rice, walnuts and Panko bread crumbs to ensure everything stays together on the BBQ.
Get the recipe here.
30. Buffalo Chickpea Burger
If you like your burgers hot'n'spicy, this is the one for you! The addition of hot sauce into the mix will set your tastebuds aflame, in a good way, of course!
Get the recipe here.
Main image: The Ultimate Veggie (not vegan, though) Burger. Get the recipe here.
Latest posts by Lora O'Brien
(see all)