Not sure what to eat every day? Stuck for lunch and dinner ideas? These healthy vegan meal ideas will make your life a lot easier!
By Lora O'Brien
The truth is: we all get bored of eating the same thing, but it's easy to fall into a routine when it comes to meals. We tend to cook what's easiest and most convenient for us. What's even worse – we'll buy prepared, processed foods when we're really busy. I know I'm guilty of doing that for almost every workday lunch.
Sure, I can do better. But it can be hard to come up with creative dishes for every meal, every day. And if you're a newbie vegan, you might not have a clue about what you can make for breakfast, lunch and dinner.
If you're looking for healthy vegan meal ideas for every day, I've tried to make that super simple.
Just scroll down the list for some tasty breakfast, lunch and dinner recipes. Mix and match them throughout the week. Eventually, you'll be comfortable enough making them, you'll be able to riff on the recipe, and play around with altering the ingredients.
And who knows? You might be inspired to invent your own improved version of a dish!
Healthy Vegan Meal Ideas For Every Day
HEALTHY VEGAN BREAKFAST RECIPES
The first meal of the day is an important one. It can be simple, such as smashed avo on toast; a piece or two of fruit, one of the juices below, or some granola and vegan yogurt. Or, you could make something a bit heartier, like the pancakes, below.
1. Citrus Dream Detox Juice
One of the best healthy vegan meal ideas? Drinking your vitamins in the morning! This is a great way to reap the rewards of plant based goodness. Here, this juice is packed with fruit. It's perfect for warding off colds and flu that you may come down with when your system is overloaded with toxins.
Get the recipe here.
2. Jumbo Chickpea Pancake
Prefer something savoury in the morning? This dense and filling  chickpea pancake is packed with protein and fibre. Feel free to change up the mix-ins and toppings based on what you have in your fridge.
Get the recipe here.
3. Mango Raspberry Chia Pudding
This is one of those healthy vegan meal ideas that's multifunctional! Serve this up for breakfast, dessert or a snack. No matter when you eat it, you're going to benefit from loads of vitamins and fibre.
Get the recipe here.
4. Tofu Scramble
This is one of my favourite healthy vegan meal ideas, because it's so versatile! The vegetables can be shuffled around a bit, for example – potatoes are really good in this, as is any green leafy vegetable or member of the squash family. Add whatever veggies you like, in fact. Great for lunches as well!
Get the recipe here.
5. Smoothie Bowl
Thick, creamy, and full of nutrition. There's really nothing more yummy to get your day started than a vegan smoothie bowl! Add fruit, berries, nuts…pretty much anything you have on hand, and love!
Get the recipe here.
HEALTHY VEGAN LUNCHES
The middle meal of the day shouldn't make you feel heavy and weighed down. These healthy vegan meal ideas for mid-day are all easy to make, and to take to work, as well – just put the soups in a Mason jar and reheat in the office microwave.
6. Buffalo Chickpea Wraps
This is a great, quick lunch to make. It's not only tasty and light, but it's one of the best healthy vegan meal ideas for offices, as it's totally packable for work, too. The chickpeas and lettuce add some fibre, but the real detox stars here are the apple cider vinegar, garlic and lemon juice.
Get the recipe here.
7. Healthy Chickpea Burgers
If whilst detoxing your body your cravings strike for something naughty like a burger, don't reach for the takeaway menu. Just make your own, healthy versions! This burger definitely won't leave you with the guilt that plagues after a greasy takeaway. For added detoxing, nix the bun!
Get the recipe here.
8. Super Simple Detox Salad
As you probably guessed, one of the best healthy vegan meal ideas is salad. But they don't have to be boring! With the super detoxifying beetroot, kale, and apple, there's a lot of crunch in this salad and it's going to leave you feeling amazing. But remember: the whole beauty of salads if that you can put whatever you like in them, so if there's some ingredient you'd prefer, switch it up, girl.
Get the recipe here.
9. Sweet Potato Detox Soup
Another of the best healthy vegan meal ideas is simply to make a soup. Not only is this one packed with vitamin A and lots of fibre, it's just damn right delicious. The sweet spud blends well with the flavours of carrot, parsnips  and onion, then it's lightly seasoned with a range of flavours. Oh, and it has that most serious of detoxing ingredients; garlic! Make a double amount and take it with you to work all week.
Get the recipe here.
10. Detox Veggie Rolls with Peanut Sauce
Who doesn't love a good spring roll? Or should I say 'fresh roll', since spring rolls are normally fried. Not so these detox rolls, which are packed with veggies and come with a tasty peanut sauce for dipping. My only alteration to this concoction would be the addition of loads of cilantro, thanks to its seriously detoxifying properties – it basically leaches out heavy metals from the body.
Get the recipe here.
HEALTHY VEGAN DINNER IDEAS
It's easy to make hearty, detoxifying meals. The key to a banging dinner is variety – and that's why I added a bunch of bowls here. By definition, the 'Buddha Bowl' is packed with a number of different tastes and textures. But here too are some super healthy vegan burgers you could serve with one of the salads or soups above.
11. Black Bean & Quinoa Chilli
Whilst cleansing, it's vital to keep your body running on foods that provide some energy. Cleansing is in no way about starvation – it's more about giving your body a little break from processed foods. This black bean chilli soup is a really fab recipe for creating a healthy yet filling dinner with zero processed crap.
Get the recipe here.
12. Detox Thai Curry
This spicy, flavourful curry dish is one of my favourite healthy vegan meal ideas for nearly every day. It's packed with several detoxifying spices like lime, ginger and tamari, as well as fibrous, nutrition dense veggies, and black rice. Can't find that? Sub in brown rice instead.
Get the recipe here.
13. Sweet Potato, Quinoa & Avocado Bowl
As I've said before, one of my favourite healthy vegan meal ideas is simple to make a Buddha bowl. And this one is so good! The smoky and slightly spicy sweet potatoes go so well with the salad, beans and avocado sauce. With so many flavours and textures, this recipe just goes to show how delicious a plant based diet can be.
Get the recipe here.
14. Quinoa Mushroom 'Risotto'
Are you starving? Like, really hungry? Good! Detoxing doesn't have to mean suffering. Eat loads – just eat clean. This quinoa mushroom risotto is super filling, fully vegan, and rich in protein. You can serve it up as it is, or hollow out some squashes and stuff them with this to make a truly satisfying meal.
Get the recipe here.
15. Sweet Potato Shepherd's Pie
It almost goes without saying that any recipe here won't have meat. So, you ask, how can you make a shepherd's pie without it? It's actually pretty easy: with a variety of garden veggies and lentils, all topped off with a creamy sweet potato mash. Yum!
Get the recipe here.
15. Spicy Tofu Veg Kababs
Creamy, spicy, healthy. This recipe has it all. Whilst the winter vegetables are quite filling and the spicy baked tofu adds some protein, I would personally love to serve this up with some brown rice, moistened with a bit of the extra vegan sauce and a dash of lemon juice. Oh, and some extra coriander. You know I love that stuff!
Get the recipe here.
HEALTHY VEGAN DESSERT IDEAS
Hey, we all need a little nibble every now and then! But they don't need to be bad for you, right? Here are some healthy vegan dessert ideas to enjoy! Just click here to get more great vegan desserts to try.
16. Insanely Healthy Oatmeal Cookies
Gluten free, vegan, and containing only six ingredients. What's not to love about these cookies? They'll satisfy your sweet tooth, AND bring you a good serving of potassium, fibre and B vitamins.
Get the recipe here.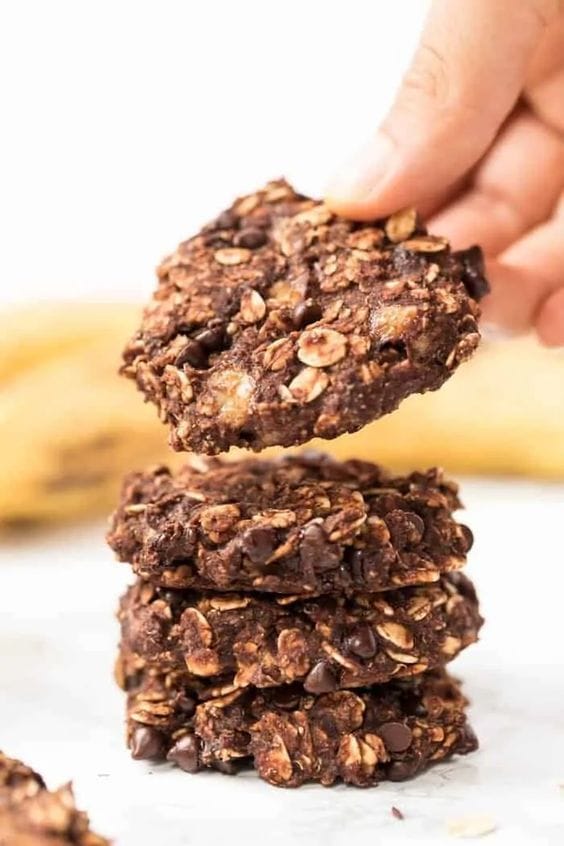 17. Easy Lemon Cake
A slice of very moist and zingy lemon drizzle cake is an absolute treat! Add a nice cup of tea, and you've got yourself the perfect afternoon break. This cake features a lemony icing which drips beautifully down the sides, and looks stunning topped with lemon zest. Perfect if you're after a bit more of a 'showstopper' dessert for a special occasion!
Get the recipe here.
18. Chocolate Avo Mousse
For me, healthy vegan meal ideas include dessert: every day! That's right: satisfying your sweet tooth doesn't have to be toxic. These little pots of chocolate mousse are full of good fats, vitamins – and even fibre!
Get the recipe here.
Latest posts by Lora O'Brien
(see all)