Looking for vegan accessories that aren't made of plastics? Here are some of the best cork handbags. A sustainable fashion solution!
By Diane Small
Of all the plant based vegan leathers, maybe cork is the best. It's got a lovely natural grain like wood, and using cork isn't just eco-friendly in terms of biodegradability, it's also a means of helping to preserve the ancient oak forests around the world by giving them a monetary value beyond lumber.
In case you didn't know, cork comes from the bark of the cork oak tree, and can thus be harvested repeatedly, as the bark re-grows easily, without damaging the tree.
However, as with all things that are sold to consumers as being 'sustainable', there is the possibility for greenwashing with cork. For example, some vegan cork leathers are actually made with around 90% polyester and only 10% cork. Often, there's plastic in between layers of the bag's fabric, all sealed off with chemical glues.
In short, not all cork handbags are totally eco-friendly, and not all cork leather products are actually eco-friendly. And surprisingly, some aren't even vegan friendly. Namely, if the glue contains animal parts, which it often does. Or if the handles are leather, of course.
So, how to tell what's what?
Here, we've found a few of the best cork handbags that were selected for their style. But not all are created equal. Some are greener and more vegan friendly than others. Be sure to check our ratings for each of the cork handbags we selected, below!
Ethical Cork Handbags That Totally POP
This has long been one of our favourite vegan bag brands, and now even more so, since they're offering more and more styles in cork! One of our faves is the Gemma Backpack, which transforms into a purse when the back straps are removed. But we wouldn't say no to any of their totes or cross body bags, pictured below, either!
The company is 100% vegan friendly, but we gave it a sustainability score of 8 as they also make bags from PU, which isn't quite as easy on the planet as cork.
Sustainability score: 8/10
Vegan friendly rating: 10/10
On occasion, the Queen of Vegan Bags will use cork to create her latest accessory collections. A few years ago, her coppery cork shoulder bag sold out in hours. And no wonder! It was one of the best cork handbags we'd ever seen!
This season, she's all about the colourpop cork with her Beckett Bag. The interior boasts midnight-blue faux suede lining and neatly folded sides that expand to create extra room.
We love when Stella uses this material, and would love to see her use it more! Since she continues to use PU for most of her vegan bags, we gave her an 8 for sustainability. She also gets an 8 for vegan friendliness, since she also uses recycled wool and cashmere in some collections.
Sustainability score: 8/10
Vegan friendly rating: 8/10
Fully vegan and eco friendly, this well-known and much-loved sustainable accessories brand has recently launched a cork collection. Featuring a darker cork than most brands, the bags also boast fully recycled nylon interiors and vegan leather detailing.
Best of all? The bags are fully treated, ensuring that the cork exteriors won't change colour after years of handling, which can sometimes happen with other cork bags due to the natural oils on our skin.
We couldn't find any information about the other materials that blend to form Matt and Nat's cork, but as their products are normally highly eco-conscious, we rated this one a 9 (would have been higher if we could only get that info…).
Sustainability score: 7/10
Vegan friendly rating: 10/10
ONO Creations founder Bernadette Bodenmueller was inspired by the beauty of the nature that surrounded her when she lived and worked in Bali, back in 2013.
Grounding herself in the typically Balinese philosophy of 'do no harm', she decided to launch a brand that would combine  beauty, elegance, art, nature, quality, and sustainability – and ONO Creations was born.
Aware that many 'eco friendly' cork textiles are actually made with a high polyester content, Bodenmueller developed her own cork Tencel blend with a Portuguese partner who doesn't use any polyester or plastic at all. Plant based perfection!
Sustainability score: 10/10
Vegan friendly rating: 10/10
Portuguese cork handbags by Pelcor are seriously stylish and are also fully sustainable, thanks to their strong dedication to the renewal of the Portuguese cork oak forests. Each of their items – whether they're bags, umbrellas, caps or other accessories – combine cork as a base material with other textiles the brand claims are eco-friendly, and that are all locally sourced and manufactured.
Like everything in nature, with their different grains and shades, no two Pelcor pieces are exactly alike, and we rate them high in the style stakes – but take note that this brand isn't fully vegan friendly as they do use upcycled leather scraps for detailing in some of their models.
Sustainability score: 8/10
Vegan friendly rating: 5/10 – though some models are 100% vegan friendly.
Canadian based brand Eve makes fully vegan products ethically from cork which is carefully extracted from the bark of cork oak trees in Portugal,  benefiting both the preservation of oak forests and the local Portuguese economy.
Specialising in colourful cork bags, Eve says it is committed to ensuring that high ecological integrity and superior ethics are in included at every step in the creation of their accessories. We couldn't find any information about what they use to dye their bags with, nor do we know what's mixed into the cork to give it flexibility, but from what we could see the colours do look vegetable derived.
The brand is also PETA certified as being 100% vegan friendly, so top marks there.
Sustainability score: 10/10
Vegan friendly rating: 10/10
You may know JORD for their stunning range of wood watches. But the brand has now released a range of sustainable handbags – and we're obsessed!
JORD is not only challenging the belief that vegan fashion can be sustainable, too, but they've gone one further and made their own brand of cork-based leather. It's called Suberhide.
This is an innovative fusion of Portuguese cork & woven fabric. It's resistant to scratches and tearing, is water-resistant, and 100% sustainable.
We love the classic beauty of the cork handbags. We also love how their natural colours make these the perfect accessories, for work and play.
Sustainability score: 8/10
Vegan friendly rating: 10/10
The mother and daughter team behind Spicer Bags bought the bag brand from a friend, who had run it for 13 years before having to sell due to a battle with cancer. Since then, the duo have been experimenting with cork to add to their range of ethically sourced, made-in-America bags.
We love the fun prints, patterns and metallic textures that the brand adds to their cork styles, but it's a shame they're using nylon (not upcycled or anything) for the lining and leather for some of their straps though.
Sustainability score: 6/10
Vegan friendly rating: 5/10
This French vegan brand exploded on the scene with a Kickstarter project that ended up raising millions! And no wonder: Bobobark's backpack/tote is one of the best designed cork handbags we've ever seen!
They've basically thought of everything! There's a zip to ensure you can charge your phone easily, even while it's in your bag. There is a padded area for your laptop, and the washable, black-tinted cork is durable and beautiful.
The backpack straps can be removed and another strap added to turn this into a tote. We love the vibrant orange cotton interior and sturdy brass hardware, too!
Sustainability score: 10/10
Vegan friendly rating: 10/10
There are plenty of vegan bag brands out there. Formal and informal. Luxurious, and everyday. Small, and well known. But amongst these, Murmali really stands out as being one of the most luxurious vegan brands on the planet.
Why? Because this chic brand manages to transform the humble bark of trees into magnificently chic, luxurious handbags that will last for a lifetime.
Sustainability score: 10/10
Vegan friendly rating: 10/10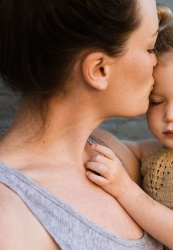 Latest posts by Diane Small
(see all)