Forget about plastic junk and polyester clothes. These are 15 of the most luxurious vegan brands EVER!
By Diane Small
Luxury vegan fashion doesn't usually ring a bell for most fashionistas. The term doesn't usually inspire images of chic women walking their dogs in Paris, hitting the nightclubs of New York or click-clacking in stilettos across the malls of Dubai.
But the fact is, luxurious vegan brands have improved so much! In fact, that plush handbag you're admiring or those chic shoes you covet could well be cruelty-free.
Indeed, the luxury vegan fashion market is booming today. But how can you sort the trash from the treasure?
What to look for in luxurious vegan clothing
Today, the best luxurious vegan brands are better designed than ever before. Not only that, they're also using noble materials that are far more eco-friendly than previous 'vegan leathers'. Which were basically just the worst forms of plastic.
So yes – when it comes to defining 'luxury' here, materials DO count.
Plant based textiles are always best. Think: organic cotton, cactus leather, Piñatex, or even 'the' most sustainable luxury vegan fabric of them all, lotus fibre.
But how these materials are put together will also tell you if an item is truly luxurious. There should be no loose threads on the garment, and seams and stitching should be barely noticeable (unless they're intended to stand out).
Zippers should move as though oiled, and buttons should consist of natural, quality materials, and should be sewn on firmly.
How to spot luxury vegan fashion accessories
As mentioned above, materials matter.
While some brands still insist on using not-so-eco-friendly PU 'leather', others are using more innovative materials. Look for cactus leather, apple leather, cork and waxed organic cotton canvas, for example.
For luxury vegan bags, look for even, tight stitching – especially at pressure points. The lining should be made of a smooth material that perfectly follows the line of the bag, with no sagging. Heavy hardware and little details, like metallic stud 'feet' on the bag, are also a mark of quality.
Shoes should be like sculptures!
As regard to shoes, each piece should look as though it's seamlessly part of the whole. That means the sole should be tightly stitched to the upper. Or better yet, stitched to a welt as opposed to the upper directly.
Shoes and bags that are put together with glue alone will almost always fall apart quickly. Since they can't be repaired, these cheaper shoes will have to be binned instead of resoled.
It's really important that shoes are made solidly. If you detect any wobble, looseness or stitching gaps in the store, give them a pass.
Here, we've found some of the most luxurious vegan brands from around the world, all of which are bound to change your view of vegan fashion forever.
From high end, cruelty-free shoes and bags, and even watches, you'll find them in our list.
Luxury Vegan Fashion Labels To Die For
Of all the luxurious vegan fashion brands here, this is probably the best known, since Stella was one of the original designers to insist on animal-friendly ethics in her creations.
But the truth is: this is NOT a fully vegan label. McCartney uses recycled cashmere and ethically sourced wool (often from her own farms) in her creations. So – why is she even on this list, you may be asking? Well, that's for one main reason: this designer put vegan friendly 'it' bags on the map! If it weren't for McCartney, it would be unlikely that a vegan bag could ever convey status.
Yep, I'm referring to that iconic Falabella bag. But as you can see below, she offers plenty of different luxury vegan handbag styles, as well as shoes and clothing, of course.
And that's not all: we love this designer because she strives to ensure that her entire production process for every item is as transparent and sustainable as can be. You can read more about her policies and approach to using animal based fabrics here.
Best for: Luxury designer vegan bags and wallets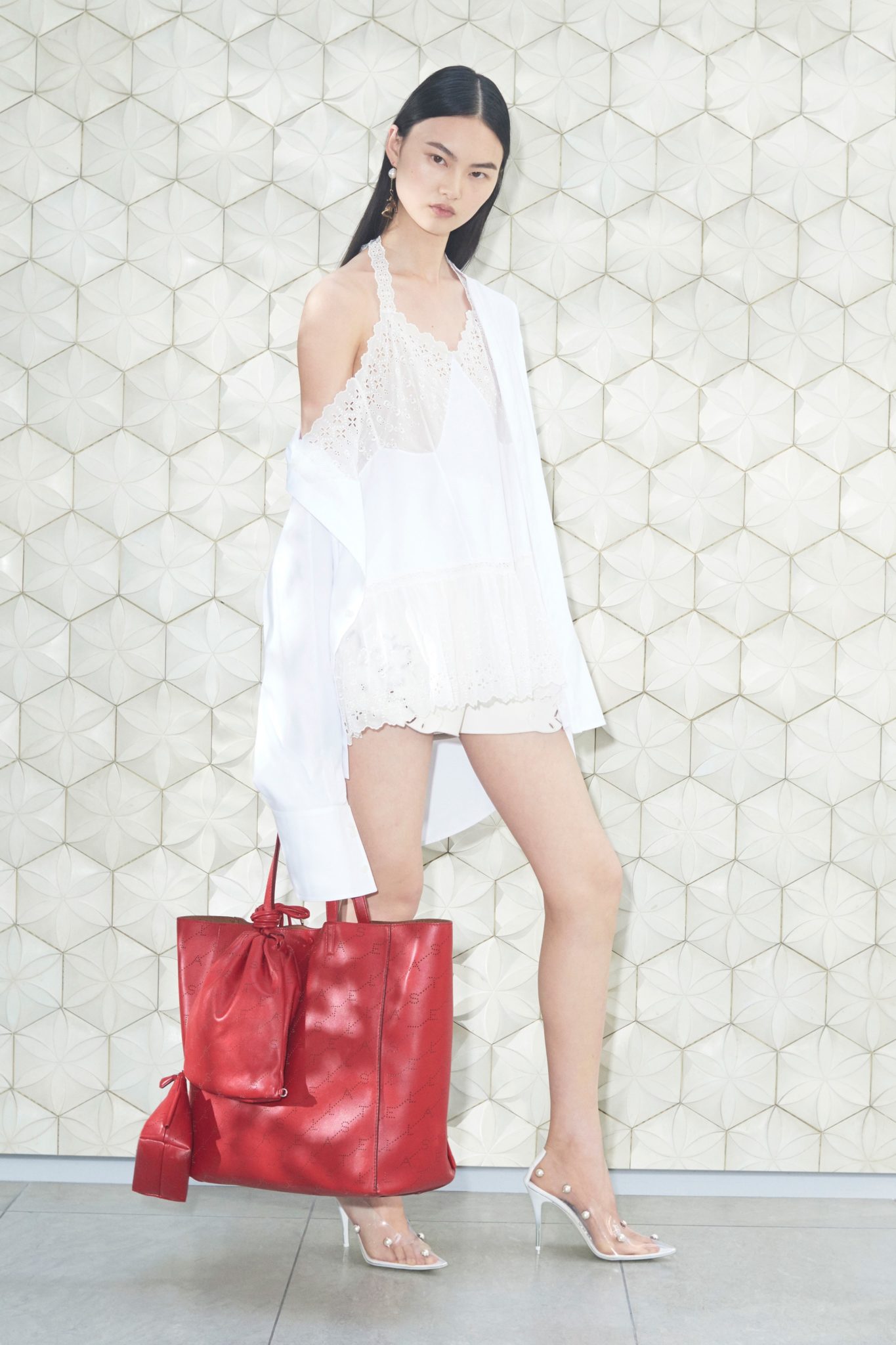 From the Upper East Side in New York to Saint Germain in Paris and Primrose Hill in London, there's one vegan bag brand all the uptown girls want: Alexandra K.
With a commitment to creativity and sustainability, Alexandra K's values are evident in each piece they craft. The brand's unique use of materials like apple, pineapple, corn, and grape fabrics sets them apart in the market, offering a truly sustainable option for fashion-conscious consumers.
By sourcing and manufacturing its products locally, Alexandra K reduces its carbon footprint and supports local economies. Moreover, their use of 100% organic cotton liners and dust bags eliminates the need for toxic pesticides, further reducing the brand's environmental footprint.
Best for: Stunning luxurious vegan handbag fashions.
This is a luxury footwear brand – but without a footprint! Aera makes all kinds of classic shoes and boots, from gold disco platforms and knee-high python print boots to elegant ballet flats and classic pumps. Each style is made by artisans in Veneto, Italy from certified vegan materials. And we love the soft, plush quilted fabric that lines some of their styles. It makes you feel like you're walking on air!
Not only is this brand animal friendly – they're planet friendly, too. Aera scientifically measures and offsets their environmental impact by 110%.
Best for: Elegant, cruelty free high heels and boots.
Sadly, it's true that vegan shoes can look a bit cheap. But Bebe Mehr, founder of cruelty-free shoe brand Cult of Coquette, set out to change that once and for all.
In 2014, Mehr created a stunning luxury vegan fashion brand called Cult of Coquette. The vegan shoe label shuns typically toxic 'vegan leather' for the most eco-friendly materials available. The result? Handmade shoes are for bold, stylish women who aren't afraid to rock a heel.
They come in two main styles: the 'Azar', a classic pump with a 4.75" heel which comes in 10 vibrant colours, and a limited edition line, the 'Muse', a slightly modified version of 'Azar' pump, reminiscent of Christian Louboutin's style. But there are plenty more to choose from, too!
Of all the luxurious vegan fashion brands, we're perhaps the most grateful to this one. We can now have chic vegan stilettos at last!
Best for: Super sexy vegan heels!
From vegan leather trousers and skirts to luxury, cruelty free bags and shoes, Nanushka has it all.
The label was founded by London College of Fashion graduate Sandra Sandor in 2005, it bears her childhood nickname. She believes that if a garment is designed to function well, it will by definition be beautiful. And of course she holds that that no animals ever need to be killed to make gorgeous fashion!
Based in Budapest, this European brand creates wardrobe staples that are sophisticated and feminine. They feature unexpected details, like unusual cutouts or wood buttons. But what we love most is that this is one of the few luxurious vegan brands that specialises in imitating animal textures. From mock-croc bags, faux lizard skin belts and snakeskin printed blouses, you'll find it here!
Best for: Vegan clothing and accessories of all kinds: dresses, pants, shorts, you name it!
My editor and I have one of these gorgeous bags, and we both get constantly stopped in the street! People love the somewhat retro look to La Flore Paris's bags, and they want to know where they can get one. Like, NOW!
I confess this is one of my favourite luxurious vegan brands. The design is so well thought out. For example?
In the Bobobark model, there's a padded pocket for your laptop, a zipped pocket for your money, an inner zipped compartment for other valuables, like car keys, sunglasses and your phone, and even a place for pens.
All LaFlore bags are flexible, with removable straps that can make it into a backpack, tote or purse. And of course, these bags are simply beautiful, too! I adore their slightly vintage vibe.
A washable, all-cork exterior, tangerine hued cotton lined interior, and each bag with three styles. What's not to love?
Best for: Cruelty free, French girl chic!
There can be no doubt that leather, fur and feathers make for some stunning fashion. But if you love animals more than yourself, you'll shun those fabrics, no matter how beautiful they make you look.
Luckily, Chloe Mandel, the designer behind the luxury vegan fashion label, Maison Atia, has come up with innovative ways to imitate those materials.
The result is one of the most incredibly luxurious vegan brands around. Here, you'll find a chic range of faux fur coats, jackets and even homeware.
And the best part? The design house uses Koba, an eco-friendly fabric made from upcycled materials.
Best for: Lush, faux furs made from eco friendly materials
Wonder what a sambar is? It's an endangered deer that luxury vegan fashion brand pays homage to with the antlers on their signature gold closure clasp. In fact, each of their handbags bear the name of a different endangered species.
Sambar makes high quality, ecologically responsible accessories from sustainable materials. These include organic cotton, upcycled marine plastic and post-consumer recycled polyester yarns, amongst others. Sambar is proud that ultimately, their handbags leave no carbon footprint on our planet.
But Sambar doesn't just care about animals and the earth: of course, they're concerned about people, too! And that's why they ensure all of their accessories are made by fair-paid people in safe factories.
Best for: Ultra-luxurious vegan bags, card holders and wallets
While we think it's great that American based designer Angela Roi creates luxurious vegan handbags from what she calls EPUL (Excellent Polyurethane Leather), what makes this label stand out.
"In the long term, we would like to be recognized as the most innovative, ethical fashion brand. We're constantly looking for new, advanced materials to apply to create our handbags. Whenever we find new materials, we test them to create sample handbags. Currently, we're deeply interested in finding 'more' eco-friendly options in addition to being vegan. We will see if we can introduce even more earth-friendly collection in the future," states the designer.
Apart from Angela Roi's high quality materials and craftsmanship and her clean, chic designs, the brand is also outstanding due to the fact that they donate a portion of each sale to the ASPCA. Animals win all round!
Best for: Vegan bags and wallets whose style is made for the ages
This PETA approved designer studied for four years at the prestigious Willem de Kooning design academy. And it shows! She used what she learned to apply her skills to a stunning, minimalist influenced range of luxury vegan bags.
Today, her eponymous luxury vegan fashion brand uses sustainable, high tech materials to create accessories that are the perfect companion to any wardrobe. Available in a range of subtle, tasteful shades, her bags are as practical as they are gorgeous.
Best for: Luxurious vegan fashion accessories of all shapes, sizes and colours.
Imagine if Gucci got really ethical and nixed all animal products from its line. Imagine they used GOTS certified organic cotton and other easily biodegradable fabrics. The result, in our opinion, would look something like one of the best luxurious vegan brands ever: Benedetti! The company has PETA's seal of approval – unlike Gucci, of course.
We love three things about this brand. One: their kindness to animals. Two: the fact that their garments are ethically made in Europe. And three: their incredibly artistic prints!
Each one is digitally made with eco-friendly, water-based dyes. Digital printing reduces water use because the fabric doesn't need as many wash/rinse cycles. Additionally, there are no screens or colourant baths that require cleaning.
And just look at the results! Each jacket, skirt, tee and dress is a unique piece of art. No wonder Benedetti Life is the proud holder of an Eluxe Award! This is not only one of the most luxurious vegan brands, but also one of the most luxurious sustainable fashion brands in general.
Best for: Italian designer clothing that's pure vegan
Cheap stainless steel watches were once the main offerings for vegans looking for a timepiece. But thanks to 100% vegan company Votch, our options have broadened significantly!
Straps come in a wide array of colours in mesh, Piñatex or vegan leather materials, and frame minimalistic, unisex, slightly oversized watch faces.
The British luxury vegan fashion company donates 10% of all sales to a different charity each month. Founder Laura and her husband Rolo have stated that they want to reshape perceptions about using animal skins in fashion. Apparently, they became big on animal welfare after watching horrific documentaries on the leather industry. Which means this is one of the best luxurious vegan brands for true animal lovers. Who like to be on time!
Best for: Elegant timepieces for him and her that are 100% cruelty free
A longstanding favourite of ours due to their commitment to classical styles and high quality Italian manufacturing, Jill Milan is one of the best luxurious vegan brands.
Their luxe vegan handbags have often been seen not only in top restaurants, clubs and hotels around Europe, but also on the red carpets of Cannes and LA.
Plenty of celebs are fans, including Anne Hathaway, who raves about these bags. She even wore one of her Jill Milan bags to the Oceans 8 premiere!
Best for: Chic vegan bags.
O2 Monde is a luxury accessories brand that delivers sophisticated, sustainable and impeccably crafted footwear. Their designs are 100% handmade in Italy, and include sustainable materials such as cactus leather, Bio Polyurethane, and recycled (and recyclable) rubbers and other fabrics.
The brand specialises in shoes and boots that are chunky, comfy and bold.
For example? Their Flor vegan slides, below. They're a bit like those furry Gucci slides that were a huge thing a while ago. But, y'know…without your feet constantly stood on the skin of a dead animal.
Best for: Chunkier vegan boots, mules, moccasins and slides, made from sustainable materials.
All you need is one. One perfect bag that matches everything in your wardrobe. And Frida Rome has it!
Their Week/End bag is not only 3 bags in 1! Just swap the straps of the crossbody to transform it into a purse or a shoulder bag. But get this: it's also collapsable! Yep, that's right. This baby can fold flat into. your suitcase, making it the perfect travelling companion.
Of course, every part of the bag -including the adhesives – is animal free. And the bags are made ethically in the UK by skilled craftsmen.
We also love that this luxury vegan fashion label incorporates eco-friendly cactus leather into their designs. No wonder this is one of our favourite new luxurious vegan bag brands!
Best for: Female designed vegan handbags, backpacks and totes
Which is your favourite of all these luxurious vegan fashion brands? Let us know in the comments, below!
All images courtesy of the brands. Main and second image: Stella McCartney.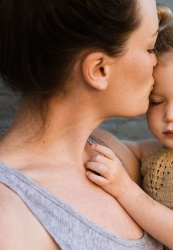 Latest posts by Diane Small
(see all)