Gucci? Prada? Nope. These luxurious sustainable fashion brands are way more beautiful – and ethical!
By Amma Aburam
Luxurious sustainable fashion brands used to be something of an oxymoron. I mean, remember when 'sustainable fashion' meant loose, multi-coloured hippy pants and scratchy sweaters? Those days are well and truly over, as the most renowned designers across the fashion industry are producing eco-friendlier and more sustainable collections season after season.
But here's something that might surprise you: just because you're paying more for a so-called 'luxury' garment, it doesn't mean the workers who made it are better paid.
In fact, some luxury fashion products are made in the very same factories as high street brands! And labels that are firmly associated with Italian-made luxury, such as Prada, Dolce & Gabbana and Armani, are very likely made by low-paid workers in China today.
So, what should you look for in sustainable luxury fashion items? How can you tell a brand is truly 'luxurious' – and ethical? I have a few answers to those questions.
What to look for in sustainable luxury fashion
1. Attention to detail
The ultimate in luxurious, slow fashion has to be haute couture. And couture is pretty much defined by attention to detail. That means:
hand-sewn details, such as beads and embroidery, as opposed to glued-on, for example
strictly aligned stitches, made with thread that integrates perfectly in the design
well paid, well trained, specialised workers (called petit mains in the industry)
the preservation of artisanal, traditional garment making techniques. Sustainable luxury fashion shouldn't be made by machines!
That attention to detail means your clothing isn't just beautiful, but it's durable, too.
2. Natural and/or innovative materials
Covetable raw materials such as fur, silk and exotic skins, were once associated with luxury. Thank heavens, that's all changing! Due to popular demand, major luxury players are quickly dropping animal based products like fur. Instead, they're beginning to experiment with more high-tech sustainable textiles and techniques.
In that sense, Burberry and Kering are leading the way with the development of new technologies like lab-grown leather and 3D printing, for example. But that being said, truly sustainable luxury fashion brands use fine, natural fabrics like alpaca, linen and lotus silk instead of polyester, nylon or acrylic.
3. Extraordinary aesthetics
Part of what you're paying for with luxurious sustainable fashion brands is their design. The aesthetics of any given item should reflect the brand's signature style, and it should be fairly unique. It's basically the opposite of cookie-cutter fast-fashion designs!
Additionally, ethical luxury brands will avoid passing trends. Their designs will be classics, looking chic for years to come.
4. Excellent customer care
If you've ever frequented a luxury fashion store, you'll have experienced incredible customer care. The salesperson will learn your name. They'll also help you select the perfect item, and ensure it fits your body perfectly. Lost or gained weight? Adjustments can be made if necessary. Should something rip, tear or break, they will be more than happy to help you repair it.
The takeaway here? Sustainable luxury fashion labels make garments to last. And they'll do their very best to ensure whatever you purchase stays in your closet for the longest time possible.
5. High prices
Obviously, ethical luxury fashion houses will never make their products in countries with poor human rights records by people earning slave or near slave wages. So, if you're wearing artisan-made clothing crafted from the world's most sumptuous fabrics, prices will be higher. And that's a good thing! It means that all throughout the supply chain, those involved in making your clothing were well paid. 
Wondering where you can shop ethical luxury clothing?
Here below, we've found some sustainable luxury fashion brands that are dedicated to constructing gorgeous garments made by skilled hands, from natural, luxe and innovative materials.
Remember: anything you buy should last a lifetime! #buylessbuybetter
Sustainable Luxury Fashion Brands We Love
With a feminine, boho feel, Zimmerman is known for their beautiful, handmade details. Think: ornate broderie-anglaise embellishments to delicate ribbon trims. This, as well as their lush fabrics and feminine prints, makes Zimmerman's pieces instantly recognisable.
What we love most from this label is their airy blouses, free-flowing maxi dresses and high-waisted jeans. That being said, they also make wonderful swimwear from ECONYL, too.
One of the best sustainable luxury brands for: Flowing, feminine fashion
If you've seen more covetable clothing on the red carpets these days, it's probably because more celebs are being dressed by Amur. Of all the luxurious sustainable fashion brands here, this glamorous label has become a top favourite with A listers. These include: Gigi Hadid, Elizabeth Hurley, Nicole Richie and many others. They praise not only Amur's incredible draping and feminine frills, but the cupro, hemp, linen and organic cotton fabrics, too.
One of the best sustainable luxury brands for: Red carpet outfits that make a serious statement.
Some may not realise that this well-known designer has gone full on ethical and sustainable. After all, she's been creating collections for almost two decades.
But in recent years, Mara Hoffman has transitioned her label to be as eco-friendly and ethical as possible. She does this by crafting each collection in socially responsible conditions using ethically sourced natural and recycled fabrics. As if that weren't enough, all of her collections are now fully vegan, too.
Given her incredible design talent and the high quality of textiles she uses, it's no wonder Hoffman made it to the top of our list of luxurious sustainable fashion brands.
One of the best sustainable luxury brands for: Swimwear with an edge; flowing, refreshing summer styles.
This sustainable fashion brand appeals to women who care about the planet's finite resources. By repurposing high quality textile excess into raw material, 3WLABEL ensures their fabrics retain the highest possible value and avoid landfills.
3WLABEL releases individually numbered garments in limited series. They are sold online and on-demand to prevent unnecessary overstock. Each garment is a classic with a twist, presented in contemporary hues and enhanced by practicalities such as pockets.
One of the best sustainable luxury brands for: Statement pieces designed for effortless transitions from work to play to travel.
Looking for luxuriously casual, rich girl fashion you can wear almost anywhere? Look no further! Ninety Percent is a relatively new label that uses materials like 100%  organic cotton, Tencel and hemp to make leisure wear that's so comfortable, you can practically live in it!
So…why is it called Ninety Percent when it's collections are 100% sustainable, you may ask? Well, that's because a whopping 90% of its profits go to charities around the globe. What's not to love?
One of the best sustainable luxury brands for: Comfortable casual wear with a luxurious edge.
This luxurious sustainable fashion brand has gone from strength to strength for several reasons. Not only has it been called the 'American Hermes' due to its superior quality garments, but it has also gained a plethora of celebrity fans. These include Nicole Kidman, Brie Larson and Demi Moore (amongst many others). They love the label for its all natural fibres, bioplastic packaging, and female artisans, who help to hand-make many of the garments.
Gabriela Hearst is also an innovator when it comes to merging tech and fashion. For example, she protects her customers from mobile phone and mast radiation by using an anti-radiation fabric. This innovation actually shields against these harmful frequencies! Her previous resort collections even introduced an aloe-treated linen that actually moisturises the skin. Wow, right?
One of the best sustainable luxury brands for: Innovative, interesting sustainable luxury fashion that A-listers love.
Silk, organic cotton, linen and hemp are just some of the eco-friendly fabrics this sustainable luxury fashion brand loves to use. Their style is easy, breezy and beachy, with billowy sleeves, loose waist-lines and flowing, feminine ruffles featuring heavily in their latest collection.
Loup Charmant (which is French for 'charming wolf') also makes organic cotton and silk sleepwear that's almost gorgeous enough to wear outside!
One of the best sustainable luxury brands for: Feminine, flirty styles with French flair
Stella McCartney is a shining example of how a high-end luxury fashion brand can successfully build an empire based on ethical practices. As the first 100% vegetarian fashion company committed to 0% animal cruelty, the brand has spent years coming up with the best leather alternatives. They've done a great job incorporating these into their collections.
Stella herself takes on a realistic approach to sustainable luxury fashion. She understands how achieving full sustainability is a continuous journey that envelops all aspects of the supply chain. As a result, she aims not only to include eco-friendly textiles in her collections, but also to reduce energy use in her stores, factories, warehouses and offices.
One of the best sustainable luxury brands for: Perfect tailoring; sustainable luxury vegan fashion
This is one of my favourite luxurious sustainable fashion brands! Every time I see their collections, I can't help but think of what Serena and Blair would wear in Gossip Girl. These tops, trousers and dresses wouldn't at all look out of place on the Upper-East Side in New York, or in the bistros of Paris.
Made by well-paid craftsmen around the world, these garments feature gorgeous attention to detail. Think: perfect draping; stand-out cuffs and generous frills. And get this: flor et. al's collections give back socially, too! They've partnered with NEST, a non-profit that connects artisans and designers all over the globe.
One of the best sustainable luxury brands for: Wonderfully designed dresses that are the next best thing to couture
Talk about girl power! Zero + Maria Cornejo is a company owned and operated by women. Chilean born Maria Cornejo founded the brand in 1998 by turning a space in New York city into a personal atelier.
From its inception, the brand has aimed at developing special collaborations with women artisans from around the world to help lift them out of poverty.
One of the best sustainable luxury brands for: Edgy, urban styles for seriously cutting edge, feminist fashionistas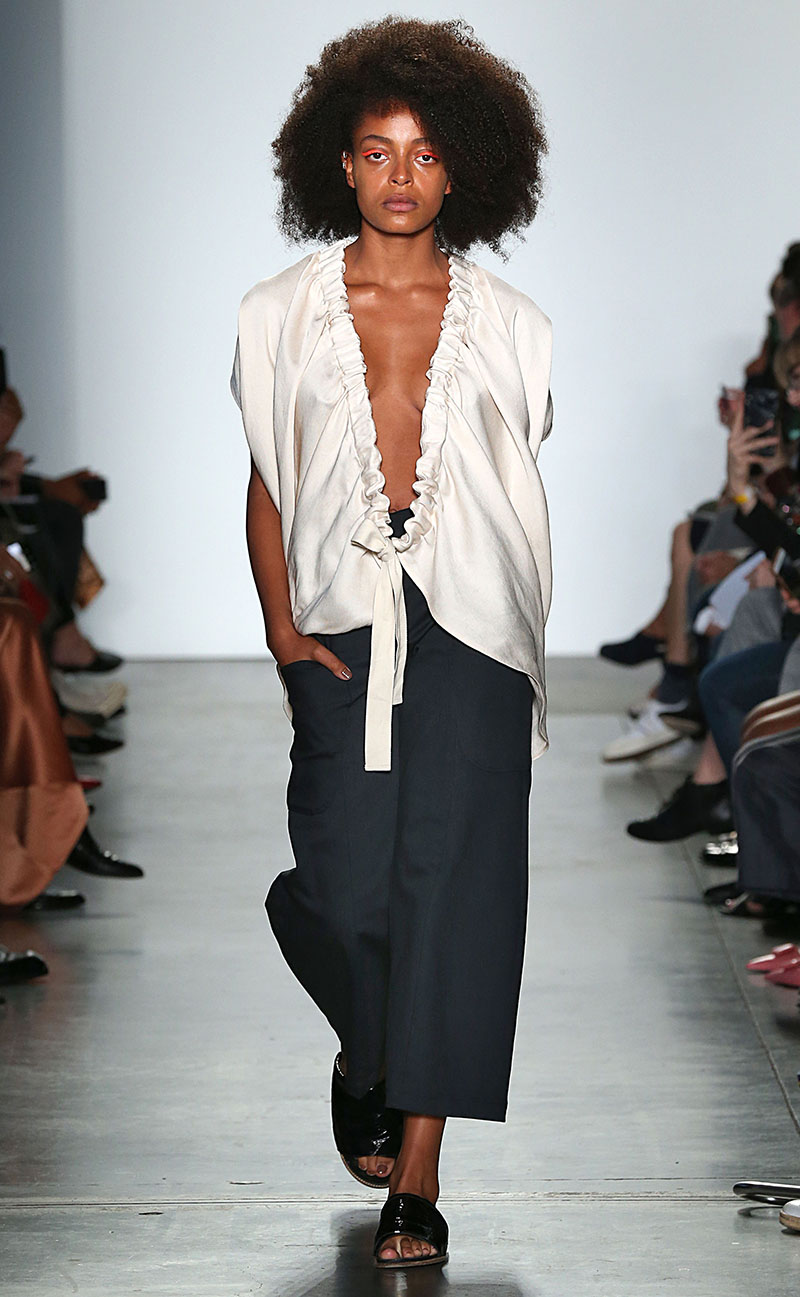 This recently-launched British luxurious sustainable fashion brand features elegant tailoring of high tech, sustainable fabrics, such as Italian sourced Sensitive Fabrics. Their raw materials are Oeko-Tex and/or REACH certified whenever possible, too.
In addition to working with these eco-friendly textiles, the brand is also socially ethical. They've partnered with Dress for Success Greater London, for example. This is a chapter of the global non-profit organisation that sartorially helps women in need of employment.
One of the best sustainable luxury brands for: Impeccable tailoring; innovative materials
VOZ creates modern heirlooms by working with Chilean artisans to co-design their luxurious sustainable fashion pieces. This partnership provides a sustainable livelihood and free professional educational programs to Mapuche women in Chile.
The brand prides itself on using biodegradable materials such as baby alpaca, pima cotton, and silk. By marrying traditional Latin styles with Western tastes, they create a universal, human connection in their garments.
One of the best sustainable luxury brands for: Sustainable luxury fashion with a Latin touch.
Which is your favourite luxurious sustainable fashion brand? Let us know in the comments, below!
All images courtesy the brands. First image: Stella McCartney
Latest posts by Amma Aburam
(see all)