These ethical summer dresses are must-haves for any woman's closet! We found dresses to fit all budgets, too
By Katy Caric
Ethical dresses for summer are must-haves in any woman's closet. After all, the perfect summer frock is a marvellous thing. It's easy to wear – you needn't worry about matching tops and bottoms, or sometimes, even underwear – and easy to accessorise: hoop earrings, a great bag and sandals are all you need.
A summer dress is also versatile; casual enough for daytime, light and comfortable enough for the weather, and cute enough to make you feel beautiful, even when you can barely keep your head up for the heat.
But…how much are you willing to spend? On the one hand, these dresses can be worn year after year without looking dated. On the other hand, depending on where you live, you may only have a few months of weather good enough to allow you to rock your look, so you might not want to spend much on your summer wardrobe.
Here, I've rounded up some of the cutest ethical summer dresses – and there's something for you, no matter what your budget.
Ethical Summer Dresses For Summer 2023
Dresses Under $150
Any body size. All complexions. All ages. This is one of those ethical summer dresses that doesn't discriminate. It looks fab on anyone! It's made of 100% breathable, eco-friendly linen. By Everlane, it comes in 3 different neutral hues and patterns, too.
This is the perfect garment for when it's so damn hot, you just don't want to wear anything that clings to your body in any way. It's also the perfect frock for those on a budget!
Price: Around $148
Fabric: 100% Linen
Summer is all about dresses that are easy to style, comfortable, and above all else, pretty. Tentree's Tiered Cami dress is a must-have for summer for all of the above reasons!
Made with naturally UV-resistant hemp fibres, this will keep you cool and protected during summer. Perfect for all your summertime social gatherings.
Price: Around $108
Fabric: Hemp and TENCEL
I just love the simplicity of this ethical summer dress! Namely, the side tie, flattering V neck and cap sleeves. It's also a super-versatile style that can easily be dressed up or down for endless, different occasions. Of course, it comes from a highly responsible brand – Amour Vert – which ensures its production is fully ethical.
One of the simplest – and sweetest – ethical summer dresses for 2023!
Price: $138
Fabric: Organic cotton blend
This dress comes from one of the pioneers in the sustainable fashion field – People Tree. Their in-house knit dress is made from eco-friendly organic cotton. You can rest assured that ethical practices were followed every step of the way to create this fun, light summer dress!
I love the fact that you can wear this summer dress different ways: belted, with sneakers or heels, belted or unbelted, for example. You could even toss a cardi or jacket over it, and pair it with boots in fall.  Yep, you'll be able to wear this all year long, if you accessorise correctly! And priced at just $115, this is a great sustainable summer dress for those on a budget.
Price: $115
Fabric: Certified organic cotton
Ethical summer dresses from $150-$250
Made from sustainably sourced viscose (a fibre made from wood pulp), this is one of the best ethical summer dresses for work. Its midi-length skirt goes well with any height of heel, and the fitted bodice looks professionally tailored. It also has a sweet diamond cutout at the back, which can be covered up with a blazer for the office.
Not a fan of conservative navy blue? There are 9 fabrics to choose from for this vegan style, including plenty of fun, summery floral prints!
Price: $218
Fabric: Sustainably sourced viscose
Looking for ethical summer dresses with some French Girl Chic for 2023? Look no further! This dress has serious Emily in Paris vibes, and it's as chic as it is timeless. The wide shirt collar and puffed sleeves offer a girly overhaul of a classic style dress, while the cinched waist and full, flirty mini skirt add a modern flare.
Though this dress has a classic charm, it can really be styled differently depending on your footwear. Fancy something casual? Throw on some Converses! Grunge? Boots! Feminine and flirty? A stylish block heel.
Price: Around $250
Fabric: Upcycled fabric
What's not to love about a classic slip dress? They can emulate 90s grunge chic when paired with some sliders. Or, you can dress it up and make it the perfect wedding guest outfit with some heels!
This dress is for sure a wardrobe staple. With shoestring straps, a v-neckline and its mid length style falling just above the knee, this can be worn simply as it is or styled with layering pieces. Think denim jacket in the daytime and some gorgeous strappy sandals in the evening.
Price: $265
Fabric: 100% peace silk
Sure, linen is a dream to wear. It's comfy and breathable, but sometimes it can be a bit shapeless. So, that's why we're loving this Frieda mini dress! Its fitted bodice and relaxed A-line skirt are causal, feminine, and frankly, sexy. Not to mention the thick, stunning crisis cross straps, which make the dress fit beautifully.
Price: Around $248
Fabric: 100% linen
Channel your inner Laura Ingles with this pretty, ethical summer dress by Christy Dawn! The boho style stress is super feminine and will have you not only looking but feeling beautiful while wearing it.
The poet sleeves with elastic and ruffles are flattering for many body shapes. The ruched bodice hugs your natural curves giving you shape as well as comfort. Paired with the ankle length hem, the Brooklyn will provide the perfect silhouette.
Price: Around $248
Fabric: 100% regenerative cotton
Over $250
If you're looking for an ethical summer dress with a hippy chic touch, then this is the one! Named after the Fleetwood Mac singer, the Nicks dress is a holy grail capsule wardrobe addition. Its layered skirt with a ruffled hem and double shoulder strap will make you look stunning during those hazy summer days.
We love all the layers!
Price: $298
Fabric: Upcycled white floral deadstock fabric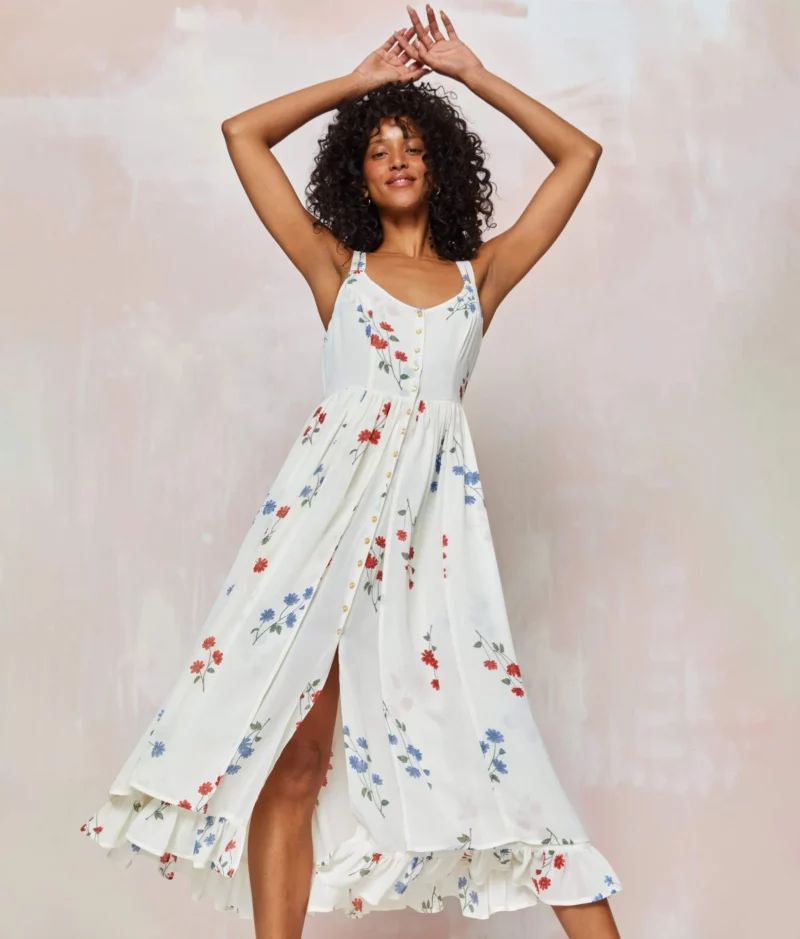 Feeling cute? This ruffled, periwinkle dress by Muzungu sisters is for you! Both the interesting pattern and the multiple ruffles just scream 'sweet'!
The print and the colour palette were inspired by Indian folk art and Madhubani wall paintings. These often depict Indian rituals such as marriage or festivals like Holi. Cool, right?
Price: Around $400
Fabric: 100% cotton
If looking like a Grecian goddess is your vibe, this is one of the best ethical summer dresses for you! Honestly, you won't even want to take it off, it's that gorgeous.
There is so much to love about this dress: its long pleated skirt adds to its feminine aesthetic. The white monochrome is fresh and summery, even more so against sun-kissed skin.
It elegantly hugs the waist, while the short sleeves make it especially cool and comfortable to wear on those tropical summer days.
Price: Around $950
Fabric: GOTS-certified organic cotton
Beach vibes coming your way! This Sosu dress is the perfect outfit for wearing at resorts. Whether it's heading to dinner or cocktails, this dress will have heads turning, that's for sure!
Its open back design adds an elegant sensuality, while the close fitting top and petticoat hug the silhouette before falling along and brushing to the floor. Effortlessly chic, feminine and sexy.
Price: Around $1700
Fabric: GOTS certified organic satin
Which is your favourite ethical summer dress? Let us know in the comments, below!
Latest posts by Katy Carik
(see all)