By Diane Small
What do most people in the world eat? Beef? Bread? Pasta? Nope. The most commonly consumed food in the world is…fish. From Asia to Antarctica, people of all cultures eat the ocean's creatures, and despite overfishing and water pollution, there seems to be no end to this reality.
Aware of the incredible amounts of waste that result from the fishing industry, Khogy, a fish-leather based fashion business, was created by two cousins, Jenny and Caroline Al.
The Khogy fashion brand takes its name from los Kogis, an indigenous tribe who live on the isolated mountain in the  Sierra Nevada de Santa Marta  in  Colombia.  Their understanding of human destruction of the Earth and the connection of all things is grounded in an ancient knowledge they've held dear for centuries.
In an impassioned plea in this    BBC documentary, the Kogi people begged 'modernised' societies to stop destroying the Earth, for its sake and the sake of all those living on this planet. After watching the program, Jenny and Caroline were certainly moved to act, and have been transforming what would be wasted fish skins into chic bags and clothes ever since.
It is surprising indeed that more brands don't use these skins: they may be delicate, but they are beautiful, with a python-esque finish. They can be easily dyed, reducing the need for toxic chemicals, and are pliable, so can be sewn into comfortable jackets, gloves, shoes and even shirts. The cousins learned how to naturally dye fish skins themselves, and then created a collection called Fish for my Unborn Children, which salvaged skins from Sri Lanka's fishing industry, and which features soft, natural sandals and shoes, as well as gently draped jackets and shirts.
Whilst we understand vegan's concerns for the well being of animals, given that fish is, and is likely to continue to be, the world's most common form of dietary protein, we'd say wearing fish leather brands like Khogy's are a much more eco-friendly bet than wearing toxic, plastic 'vegan leathers'.
As the girls at Khogy say: 'animals are slaughtered daily for leather to be shipped half way around the globe, drenched in chemicals and sold for throwaway fashion. At the same time millions of tonnes of fish skins are chucked daily by the fish filleting business. At Khogy we see it as an opportunity for a shift in practises and the possibility to create an environmentally sound product.'
For more information, please click here.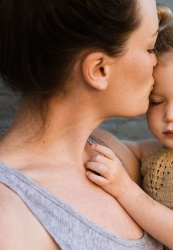 Latest posts by Diane Small
(see all)