Eco leather brand Duende is showing us how 'waste not, want not' translates into fashion
By Diane Small
Here's a little Spanish lesson for you.
Duende, (n.) To a higher degree than the muse or the angel, the duende seizes not only the performer but also the audience, creating conditions where art can be understood spontaneously with little, if any, conscious effort.
Basically, it's that feeling of flow that comes when you experience art, be it as the audience/viewer or creator. I suppose the brains behind Duende,  Lynsey Johnson, chose this name for a reason. Namely, the sense that she gets when she creates her handcrafted leather pieces. After all, they are each unique pieces of art.
Eco Leather With A Hippy Twist
Duende's bags are crafted from free range cattle hides. They feature one of a kind hand marbled patterns created with Eco-Flo leather dye. They are tanned using eco-friendly vegetable extracts and adorned with solid brass hardware.
The patterns on the bags are inspired by microbiology – a true celebration of life. In fact, each marbled pattern mimics many microscopic life forms and cell structures.
Whilst the word duende may hold a special meaning to the Spanish only, the beauty of the microbiology can be understood across all cultural boundaries. The brand is also happy to customise designs to make each bag match the personality of its wearer perfectly.
Is This Leather Eco Friendly?
On ethical grounds, some may argue against using animal skins for fashion. But eco leather brand Duende strongly argues that their production methods are more ethical and eco-friendly than many vegan leather handbag brands. One of the main reasons is that they use leather that is a byproduct of the food industry. This isn't usually the case for most typical leather.
Typical leather also often uses hazardous chemical processes and byproducts of the petroleum industry to preserve it. The same could be said for many synthetic "pleathers" a.k.a. vegan leathers. These are sometimes made from nothing but harmful chemicals.
In addition, unlike other fashion brands that select only the most flawless pieces of hide, Duende uses every scrap to create all kinds of other products, from pet collars and earrings to guitar straps and cell phone cases. Not one bit is ever wasted!
We're particularly fond of the simple, marbled leather clutches. They make a statement on their own, are big enough to hold all your essentials, and look great with jeans or a LBD.
It's also exciting that Duende has now ventured into creating footwear – it's hard to find a quality leather shoe you can feel good about wearing!
Eco-friendly, hand dyed leather is a rare commodity in the handbag industry at this time, but Duende has plans to revitalize the quality leather goods of the past, while maintaining true to the eco-friendly values of the today.
For more information, please click here.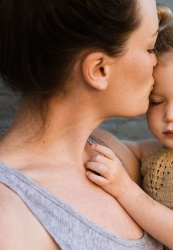 Latest posts by Diane Small
(see all)