Looking for personalised beauty regimen? Why not try some natural Ayurvedic beauty brands?
By Supriya Talupuru
After enjoying 5000 years of popularity in the East, Ayurveda is finally becoming a big beauty trend in the West.  
A system of natural healing that originated in India, Ayurveda is designed to balance the body through the correct diet, exercise and skincare. The concept of Ayurveda is based on your constitutional type, or 'dosha'.
Don't know your dosha? Find out here whether you're vata, pitta, or kapha – or a combination of more than one. Once you've determined that, you'll be better equipped to find the foods, plants and routines that will work best for you.
But Ayurveda is more than approach to health! The English translation of this Sanskrit word is the "Science of Life"or "Knowledge of Life." Ayurvedic beliefs hold that every part of a plant is of sacred medicinal value. The basic ideology is: while nature has a solution, your own body already knows the answer.
Here's a bit about the way the system works. Every part of a plant has immense potential as a medicine. If a plant can be of such great value, imagine the true potential of your own incredible body to heal itself! And when your body is healthy, your hair, skin and nails more beautiful.
Why Ayurvedic Skin Care Is Better
Like any machine, every aspect of our being comes together to achieve a higher good. But it is important that all the ingredients we put into our bodies are 100% natural.
A true Ayurvedic beauty brand will never use synthetic chemicals of any kind.
Another element of what makes natural Ayurvedic beauty brands so wonderful is that all of the ingredients should literally be pure enough to eat. This is truly an 'inside out' approach to beauty.
Some manufacturers will tell you their products are literally alive, thriving with cosmic energy.
Remember, though, that another important element of Ayurveda is balancing  your dosha. So it's super important to learn which you are, which I've mentioned above.
How Ayurvedic Beauty Brands Follow Nature
Also: seasons follow Ayurveda, too!
The season that starts at the end of summer and extends until true winter cold sets in is Vata.
"This is a transitional period that can cause increasing unbalance and angst. Meditation, soothing baths, a bit of yoga and establishing soothing routines can help navigate Vata energy at this time of year," says beauty expert Lauren Boxwood.
There's another caveat, too. Milk, honey and beeswax are sometimes used in Ayurvedic medicine and products. So if you're vegan, check to see which of the Ayurvedic beauty brands below are suitable for you.
No matter what your needs and preferences, there's definitely an Ayurvedic beauty brand below that you'll love!
Oh, and if you want to know how to apply these products with ancient techniques that have maximum effect to stop sagging skin, click here!
10+ Great Natural Ayurvedic Beauty Brands To Try
No matter if you're seeking Ayurvedic beauty brands to improve your skin, hair or face, the Ayurveda Experience has what you're looking for!
Each product is housed in a recyclable brown bottle. Not only to be sustainable, but also to protect the natural ingredients within from the sun's rays. The brand uses only the most holistic extracts, such as almond oil, rose extract and lavender, in their formulations. And of course, their website provides a quiz so you can learn which products best suit your personal dosha
Delivery: Internationally
Vegan friendly? Yes
Best for: A one stop shop for all your beauty needs
"We all know the value of looking after our minds and bodies with exercise, nutritious food and meditation, and Mauli's anointing rituals complete the circle of wellbeing," says Anita Kaushal of the philosophy behind Mauli Rituals.
This luxurious Ayurvedic beauty products range includes body oils, serums, masks, and healing salts. Their best selling hair nourishing oil is comprised of 15 potent ingredients. These include: smoothing moringa oil, thickening bhringraj, soothing Himalayan cedarwood and intensely conditioning argan, sesame and coconut oils.
But that's not all! Indian gooseberry works hard to strengthen follicles and promote hair growth. It can also minimise split ends and dandruff. When used overnight, it can even help reduce stress and improve sleep!
Of course, there are lots of other Ayurvedic beauty products you can choose from with Mauli Rituals. Think: serums, skin oils, and cleansers.
Delivery: Internationally
Vegan friendly? Yes
Best for: Their hair growth and anti-ageing products
This is a company that believes not only in Ayurvedic principles, but also that what comes around goes around. For that reason, all of their products are ethically sourced from non-GMO, plant-based ingredients, In addition, all of their packaging is recyclable, and all of their bottles are made out of post-consumer recycled plastic.
Expect to find all your everyday skincare basics here, including cleaners, toners, moisturisers, scrubs and body washes.
Delivery: Free international delivery for all orders over $15
Vegan friendly? Yes
Best for: All your showering needs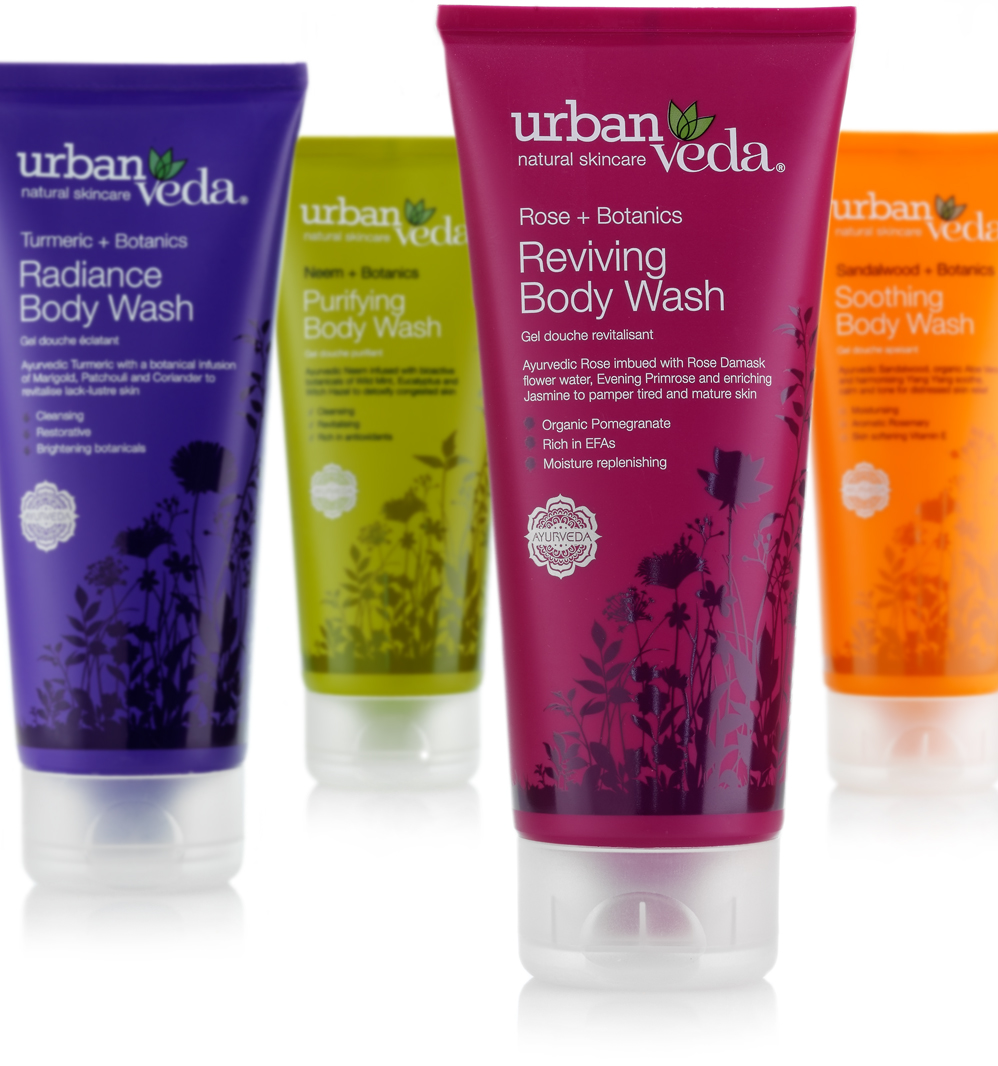 Launched in 2002, this company represents top of the line luxurious Ayurvedic care. I've seen it move from being available only in some of the fanciest Indian shops to becoming more available worldwide.
They offer the usual skincare products made from pure, Indian-sourced ingredients. But they also have a killer package that involves a complete care regime that's to be used for three months prior to a wedding.
This special kit consists of Bringadi Intensive Hair Treatment, Kumkumadi Brightening Ayurvedic Scrub, and the Nalpamaradi Tailam Skin Brightening Treatment. It makes the perfect bridal shower gift!
But Kama Ayurveda has much more than bridal treatments, of course. You can choose from kits that improve hair health, skin tone and texture, new mother and baby products. There are many items specifically designed for men, too.
Delivery: Internationally from New Delhi. Shipping prices vary depending on the country
Vegan friendly? No
Best for: Brides, weddings and Indian authenticity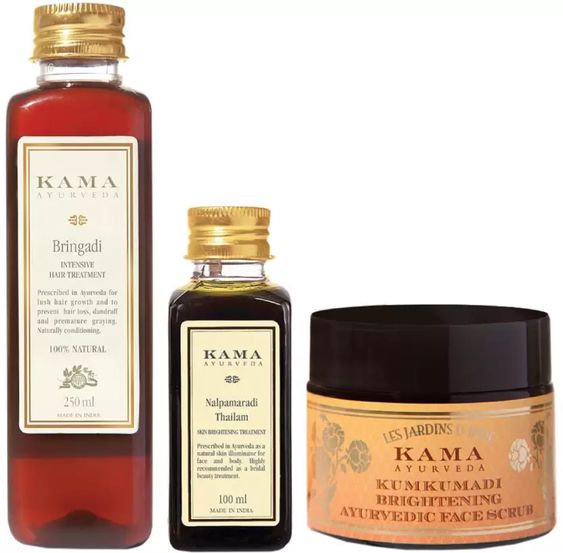 Sundari's skincare collection combines traditional botanical ingredients from Ayurveda into formulas that address specific skincare concerns. They design their products specifically to restore balance to the skin tissue for beautiful results.
To fully meet the needs of the skin, the brand has created four distinctive lines of products to address specific issues. These are: firming, toning, healing and supplifying.
Sundari intersects ancient dermatological healing practices and top-notch Western science. They create formulas that are as soothing and calming on the skin as they are healthy. Their extensive range includes products from supplements, night creams, eye oils, cleansers, serums and more.
Delivery: International
Vegan friendly? Yes
Best for: Anti-ageing, and those with skin diseases and issues
This Aussie company is one of those Ayurvedic beauty brands that focuses on original formulas. The ingredients for their products were described in various traditional Ayurvedic texts.
Here, old school recipes (which are never animal tested) meet gorgeous package design. The result? Products that look great in the bathroom and feel great on your skin.
For example, the OmVeda Mahanarayana Tailam massage oil is made of a blend of a whopping 58 herbs! Not only does it smooth the skin, but it eases joint pain, too. Traditionally, this oil is also used as part of an effective anti-aging ritual.
In addition, the brand offers skin toners, moisturisers, body oils, face masks, hair care and much more. You can determine the best products for you based on your dosha by checking their guide here.
Delivery: Internationally from Australia. Shipping costs will vary depending on the country
Vegan friendly? No
Best for: Health and beauty issues both
I love this brand for their part in combining two dynamic sciences: Ayurveda and Aromatherapy. Look good, smell good and ergo, feel good is their philosophy. Subtle Energies' collections include only the finest, richest, rarest of oils, which counter itchy, dry skin and fight stretch marks.
Their lush woody and headily floral fragrances are completely based on natural oils. Believe me: just a whiff of these will make your day! Our editor says she's obsessed with their Mogra and Rose Gold Moisturiser, which she said calmed the redness in her skin right down. And yes, she says it also smells divine!
Delivery: They do deliver internationally, but it may be a better bet to check the stocklists in the various fine spas that stock Subtle Energies around the world. Click here to see a list.
Vegan friendly? Yes
Best for: High quality, gorgeously scented Ayurvedic beauty products of all kinds
Spa based beauty brand Pratima has generated rave reviews from customers. That's especially true for their sun care products, which, like all their offerings, are aimed at your dosha.
Another of the biggest winners from this brand is their humble remedial Neem Healing Oil. Neem is fantastic for sensitive skin and skin that's growing intolerant because of pollution (personal experience shout out!).
This oil infuses neem with other caring ingredients like lavender, sandalwood, and basil. You can use it for multiple issues, like treating a prickly heat problem and soothing inflammation of the skin. One bottle has multiple uses – but there are plenty of other great products in this Ayurvedic beauty range to try!
Delivers: Internationally
Vegan friendly? Most products, yes
Best for: Protecting your skin from the sun and pollution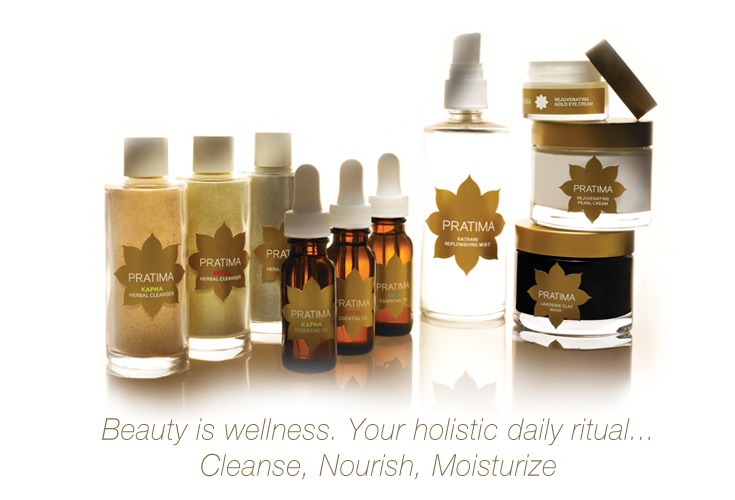 Sundara Holistic aims to heal the body and mind. The brand does so through a strongly spiritual element. In fact, the owner even creates all her products in small batches, by hand, and chants  ancient Vedic mantras while doing so.
These products are gentle and natural, of course. But Sundara mainly prides itself on being able to heal problematic skins, such as rosacea, acne and eczema. They do so through the power of traditional Ayurvedic herbal remedies that have been tried and tested to help such issues.
Delivers: Free on USA orders over $75. For other countries, delivery charges will be added at checkout.
Vegan friendly? No, but cruelty-free
Best for: Spiritual Ayurvedic products aimed at curing various skin issues.
After traditional beauty products ruined  her skin, Sonia Lloyd was inspired to start one of the best Ayurvedic beauty brands. Rasasara was designed to help heal her own complexion. But today, her line is comprised of a variety of products for both the skin and hair.
The natural ingredients she uses include rose water, green clay, neem oil, jasmine essential oil and more.
Delivery: Australia only. Free delivery for orders over $150
Vegan friendly? Yes
Best for: Vegan Ayurvedic hair and skin care
Jiva Apoha means 'healing' in Sanskrit. Although this Ayurvedic beauty brand was inspired by India, it's actually from New York.
The brainchild of Brooklynite Angela Shore, the range consists solely of Ayurvedic quality oil blends for both the face and body. Once you answer their online questionnaire, you'll get your own personalised skincare routine for your Dosha. That being said, most customers start out with the balancing and replenishing Sundara Face Oil.
Delivers: USA only
Vegan friendly? Yes, this is a very vegan friendly beauty line.
Best for: All your face and body skin care needs
The secret behind good health and a radiant beauty is to identify and to balance your specific doshas. Ayurveda Pura help you to determine your unique doshas here.
The brand boasts a comprehensive range of skincare, Holistic Essentials. It's a fab line for those with sensitive skin, since which British experts use gentle, natural ingredients to make each product. No matter what you choose, it will be free of SLS, artificial perfume, parabens and animal products.
Delivery: Worldwide from the UK
Vegan friendly? Yes
Best for: Having a wide range of products for every dosha.
By far one of the most popular brands in India, we simply had to add this brand due to popular request!
The label offers beautifully packaged facial, body and hair care for all doshas, aimed at both men and women. They're wonderfully aromatic, thanks to the use of natural ingredients like sugar, honey, oud, patchouli, jasmine and many other flowers and plant oils, and there's even a range for mothers and babies.
This is the best of Indian Ayurveda, straight out of – you guessed it – India! Which means it's also one of the most authentic ayurvedic beauty brands.
Delivers: To most countries around the world
Vegan friendly? No, just cruelty free
Best for: Travelling. The brand features a set of travel sized products you can take anywhere.