An easy update to your holiday look? Change your nail shapes & shades for summer!
By Chiara Spagnoli Gabardi
If there's one thing we've missed this past year, it's getting our nails done. Right, girls? Nails are the perfect accessory. And if you've had to skip your last mani-pedi, you're likely hiding your hands in horror!
But don't sweat it. Summer is upon us, and it's time to pamper ourselves at the nail salon. And if there's one thing I know about this season's nail trends it's this: they're pretty bold!
Whether your choice of shape is the almond, ballerina, stiletto or squoval, it's time to step out of your comfort zone and really go big this summer.
The Perfect Summer Nail Shapes & Shades
Wondering what nail art, colours, and shapes are worth trying out as the new season arrives? Here's what we know: dark colours are out! Summer nails are all about vibrancy or soft, feminine shades. Mint green and yellow are among the daring shades on trend this summer, but timeless classics like pink and grey are still in.
Courtney Fuhr, Brand Manager of South Africa's biggest beauty brand, Sorbet Salons shared her expert advice with Eluxe to help you nail it when it comes to shapes and shades this summer. Of course, all the 5-free or more polishes recommended here are:
nature-based
cruelty-free
gluten-free
fragrance free
toxin free
paraben free and phthalate-free.
Protect Your Nails From Yellowing
Though it's fabulous that our nails are going to be as high as our spirits this summer, you'll want to be sure your bold shade doesn't discolour your nails! If your polish does make your tips the colour of dog pee, use a hydrogen peroxide solution, lemon juice, baking soda paste, or whitening toothpaste are ideal to safely whiten them.  
Using an acetone nail polish remover is a known culprit in exacerbating the yellow tint, so always opt for a non-acetone nail polish remover like this Zao Nail Polish Remover when taking off your colour, and don't forget that often, staining from colour polishes is caused by not using a clear base coat, so don't forget to use one. Zao Nail Polish Duo Top & Base Coat is perfect to have on hand.
Main Image: @nolas.nails on Instagram
The Best Nail Shapes & Shades for Summer 2022
The Almond  
A top pick for celebrities such as Kylie Jenner and Selena Gomez, the Almond shape is slender on the side, wide at the cuticle and finishes with a soft oval at the nail tip. Courtney says:
"This is a flattering shape for the hands as it elongates the fingers creating a very feminine finish. If you have weak nails, but desire long nails then this is the shape for you! The Almond is easier to achieve with natural nails as the rounded edges provide less impact to the sides of the nails, preventing any splitting or damage. Remember to start short though, long nails require care and attention!"
The Perfect Shades for the Shape: A trend-setter with a feminine edge, pastel shades complement the almond shape well. Wanting to make a statement? The almond shape suit lots of creative nail trends this summer, from diamante nails to whimsical daisies.
1. Abstract Nails
If you've been following nail shapes & shades for summer, one look you will have seen all over Instagram is the abstract nail trend. And the best part? There is no wrong way to do it! If you like curly lines, go for it. If you want to incorporate some dots, go ahead. The whole point of abstract nails is to make a really unique set of nails.
Image: @amyle.nails on Instagram
2. Daisy Chain Nails
Who doesn't appreciate a pretty daisy? And thanks to celebs like Dua Lipa and Bella Hadid, retro florals are a nail trend that will still be swinging this summer. There are plenty of ways to do the daisies but I think they look gorgeous on these white nails with a touch of gold. This style also looks great on long or short nails.
Image: @nolas.nails on Instagram
3. Euphoria Nails
Euphoria has already been a trendsetter in the make-up realm. And now it's inspiring our nail game for summer! Think long, bold and blingy. And it's super easy to do: get a basic mani and go wild with the diamante!
Image: @brianaeontiveros on Instagram
The Stiletto  
Love it or hate it, the stiletto has well and truly confirmed its presence in the nail industry. Harsh and strong, the stiletto shape requires intense filing on either side of the nail to create a sharp and drastic point.
"This is not a shape that can be achieved without the help of acrylic tips as our natural nails just don't have the strength to hold the point." Says Courtney. Acrylic tips aren't exactly eco-friendly, so we'd recommend rounding the tip off a bit if you want to do this with your own nails instead. You'll also need to have pretty long nails to do this right. Here are few tips on how to grow your nails fast:
The Perfect Shade for the Shape: Loud and proud, the stiletto nail is not shy, so why hold back on your colour choice?  This style is all about making a statement.
1. Glazed Donut Nails
I mean, when I first read that glazed donuts were on trend, I was already sold! But unlike the sweet treat, this is a nail trend that is truly beautiful. Inspired by Hailey Bieber, it's minimalist and chic and so easy to replicate with your favourite glittery nail shade.
Image: @sapphirebeautyloungue_ on Instagram
2. Coral Reds
If you're looking to go bright and bold with your nail shapes & shades for summer, then you'll love the coral red trend. Red nails are a classic, but this brighter shade is perfect for the warmer weather. This year is all about coral red and it's perfect for everything from beach visits to cocktail parties.
Why not match your lippy to this mani? It's a shade that suits most!
Image: @gelovenechtylilien on Instagram
3. Marble Nails
Marble nails aren't a new trend. But they are one that has gotten bigger and bigger! And what's not to love about the elegant nail trend? The best part is that it can suit any nail shape and style for an outlandish or more subtle vibe. I also love adorning a nail look like this with stacked rings.
Image: @lavaabeauty on Instagram
The Coffin 
A  similar shape to the stiletto, but here the tip of the nail is squared off in a shape that is reminiscent of a, ahem, coffin. But a cuter name for the style is ballet slipper. The coffin is an edgy style and great for those looking for something a little different. It has the bold appearance of the stiletto yet is a bit understated with its square tip, giving it that edgy and on-trend look. Also referred to as the 'bullet' shape, this one is a lot more life-friendly than the stiletto as it is less likely to catch on pieces of clothing.
The Perfect Shade for the Shape: A feminine, high fashion and pristinely polished nail shape, the coffin shape looks great with pastel shades but even better with bright and bold styles! This style has previously worked great for pastel shades, but summer 2021 is about being bright and beautiful.
1. Nude & White Nails
Is it even summer if you don't paint your nails white at least once? Especially when you're rocking a tan, it's such a fresh colour to choose for your nails. And the timeless and classic white is still trendy this summer. A white nail is pretty universal in that it suits everyone and every nail shape. So you can't go wrong at all!
Kure Bazaar's French White Nail is a real crisp white which would work well with this style. If you're doing your own nails, it's easy to make them looks professional with this polish.
Image: @toledonails on Instagram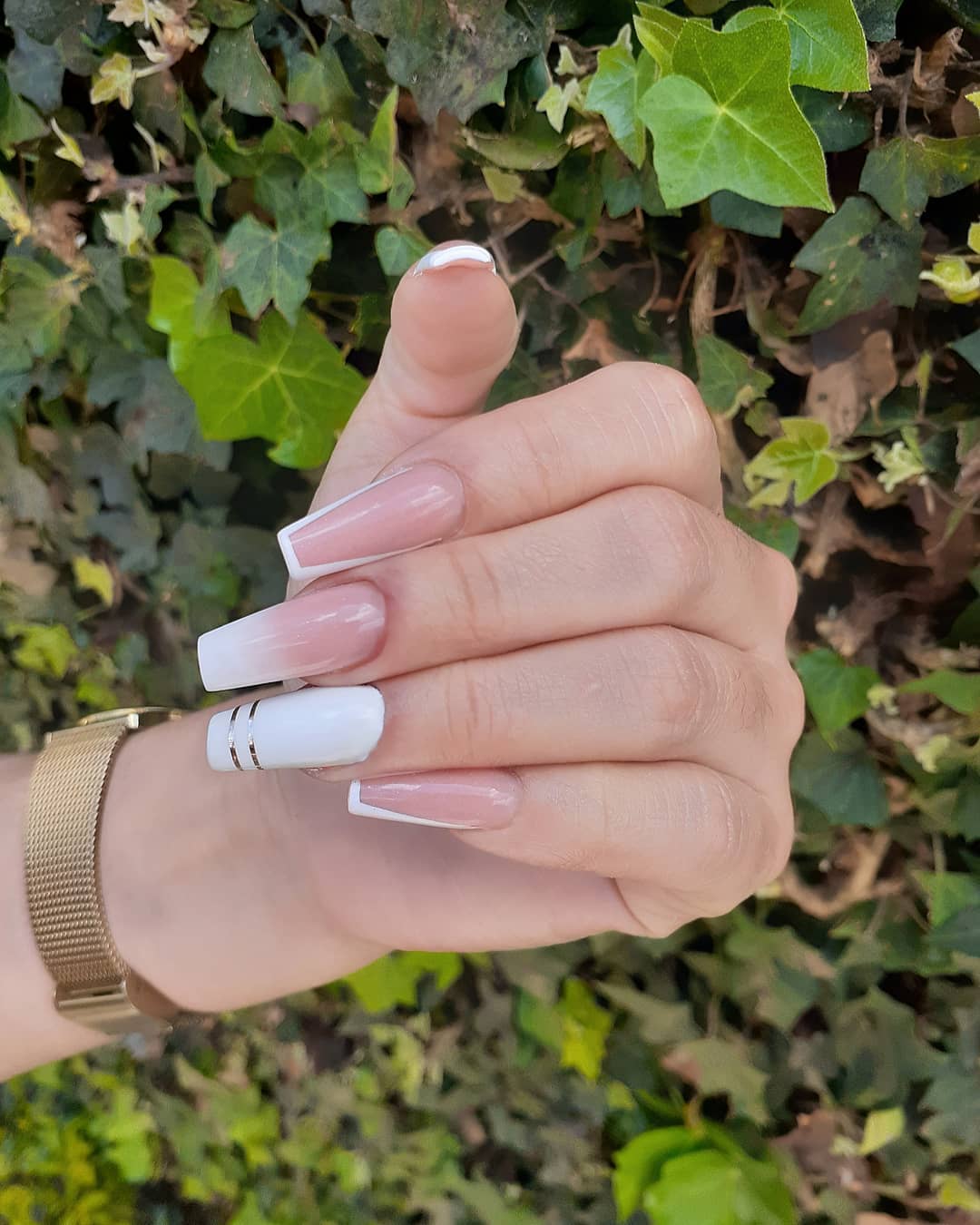 2. Gold Flakes
Pastel nails on coffin shapes is still one of the hottest nail shapes & shades for summer. But if you're wanting a subtle yet stylish decal for your mani, add some gold flakes. Definitely don't go overboard, but this look can be stunning! These flakes suit a nude, white or soft pink nail best.
Image: @thi.beautybox on Instagram
3. Shades Of Blue
Love blue but can't decide which shade to go for? Wear them all! A trend that is big this summer is wearing multiple shades of one colour. This trend is flattering on every fingernail shape and length and is flattering for all skin tones. It's not restricted to blue, either. You can pretty much wear any colour you like.
Mavala has so many perfect shades of blue, they're fab for re-creating this look. For your darker blues, Trinidad, Cobalt Blue, and Blue Mountain work perfectly. And for lighter shades, you can't go wrong with Sky Blue and Blue Siesta.
Image: @nailsbyjazmynn on Instagram 
The Squoval  
A more natural and feminine shape, the squoval puts a rounded touch on the traditional square-shaped manicure.
"With softer edges, the squoval is a great shape to maintain on shorter nails which suffer with weakness. The squoval is also a very convenient and sensible shape for those who work in an office environment or are still at school. You can't go wrong with this classic!"
The Perfect Shade for the Shape: Understated and practical, the Squoval provides the perfect shape for just about any colour. You can keep it neutral with earthy tones and matte finishes or you can encapsulate the summer trends and go brighter.
1. Mint Nails
Granted, green isn't a colour we all love. But spearmint is a shade I think we can all agree is lovely! It's a real fresh shade that is flattering for all skin tones – and it looks great with a tan!
Orly's Happy Camper is the perfect subtle shade for minty nails. Want a deeper green? Côte's No. 63
Mint Green Nail Polish is bang on-trend.
Image: @trendnailsbybella on Instagram
2. Skittle Nails
Skittle nails are pretty much everything at once! Because honestly, why pick just one colour when you can have them all? This trend is great because it's really easy to do at home. Just grab five of your favourite pastel or neon shades and get painting!
Mavala's Pastel Fiesta range of nail polishes are the perfect candy hues for this trend. This set includes 6 minis of their pastel shades. Perfect for trying out this trend from the comfort of your own home.
Image: @opi_nordic on Instagram
3. Sunshine Yellow Nails
When it comes to colours that can really make you stand out, it doesn't get more vibrant than yellow. It's easily the most luminous shade to wear on your nails, and I think it's very poignant for the past year to be wearing such a sunny colour.
Looking for a lemony yellow? Mavala's Lemon Drop Nail Polish is perfect! Looking for more of a sunny shade? NailKind's Flip Flop is a sunny yellow that will really pop.
Image: @french_e_manis on Instagram
4. Alt French Manicures
One of the most classic nail shapes & shades for summer is the French manicure. But now, instead of the traditional white tips, multicolour tips are a fun twist on this nail trend. Choose one colour for the tips are go for a rainbow effect.
If you can get your hands on some nail pens for this trend, it'll make it easy to create statement tips for your set of nails. But if you can't find any, don't despair. Simply paint the tips freehand (just don't drink too much coffee beforehand!)
Hands not so steady? Use nail tape to get a perfect line. When dry simply peel away and you've got a perfect mani!
Image: @nail.by.eliza on Instagram
What's your favourite of these nail shapes & shades for summer? Let us know in the comments below! Oh, and make sure you paint your nails perfectly, like a pro! It may be something you've been doing since you were a kid, but you could always brush up your technique, right?
Latest posts by Chiara Spagnoli Gabardi
(see all)