These arty nail ideas for spring are bang on trend – and look sweet with summer dresses!
By Diane Small
A new season for most of us means a new look. Gone are the heavy sweaters and black vegan leather bags. Instead, we dust off our spring dresses, straw bags, and sandals.
Our makeup should also match that look. It should be lighter, brighter – and that goes for our manicures, too.
Having a great manicure – done with non-toxic nail polish brands, of course – is an easy way to update your look without spending a fortune. And it's also a great way to stay on trend, without killing the planet.
This season, it's all about the arty nail ideas for spring. Yep, I'm talking about tiny, weeny drawings of rainbows and flowers; splashes of abstract colours in unexpected places, and creative twists on the classic French manicure.
I hit Instagram to find the hottest, most arty nail ideas for spring 2022. Check out the best of what I found, below. 
Main image: Instagram: @oliveandjune Image below: @thehotblend. 
10 Arty Nail Ideas For Spring 2022
1. Powdery Pastels
Can we have spring nails without pastels? They're pretty much a seasonal staple! And this season's shades are even softer and dreamier. Have the same hue across your whole manicure, or use various shades to make a statement, as in the pic below. And if you want to create arty nail ideas for spring based on pastels, simply add some decals!
Get the look: When it comes to finding the perfect polish, Nailtopia has so many earth-friendly hues! For example? Nailtopa's What The Health? is a gorgeous pastel, sky blue shade, whereas Uptown Girl is a candy pink and Thats Pastellar is the perfect lilac.
Instagram: @thehotblend. 
2. Flirty Floral Decals
What better way to embrace arty nail ideas for spring 2022 than with floral decals? Use them to decorate each finger, or just make a few statement nails. Not a fan of decals? You can create these flowers yourself, using a bobby pin, a nail pen and a steady hand. Slick some gloss over the top to seal them in place, and voila! 
Get the look: Ella + Mila's In a Rush Top Coat is perfect for slicking over nails in a rush, thanks to its quick-dry formula.
Instagram: @mydumbnails. 
3. Golden Hour Nails
Who doesn't love the golden hour? Whether it's dawn or dusk, it's the perfect lighting to take the most stunning photos. And now using those shimmery sky colours is one of the best arty nail ideas for spring 2022! Go for a sunny rose gold, a brilliant golden shimmer, or a more subtle white gold.
Get the look: When it comes to this trend, Kure Bazaar has lots of lovely shades to try. For example? Their Or Pur with a pearlescent shimmer, or  Or Rose for a shade that's like pink twilight skies.
Instagram: @kimsbeautyhouse_.
4. Matte, Minimalist Manis 
The matte, minimalist mani is a design you'll be seeing lots of this spring. Start off with a neutral base, and then add tiny designs in a contrasting colour. Use a hairpin to paint on whatever motif you like. You could also use decals if your hand isn't that steady. Mini details such as hearts, stars and moons are perfect, because they're easy to do, and look super adorbs! Cover it all up with a solid topcoat or two.
Get the look: Not feeling creative? Can't be bothered to paint? Try sticking on some decals instead. Super easy!
Instagram: @eekabeauty. 
5. Smoky Lilac Nails 
Lilac nails have been a popular trend for some time, but it's now being given a smoky makeover! Unlike the pastel hues we've all become fans of, arty nail ideas for spring 2022 will feature richer, darker variations of lilac. Elegant and gorgeous!
Get the look: When it comes to smoky lilac, there are so many shades to try. Zoya has lots of varying shades. Prefer a lighter purple? Zoya's Presley is the perfect subtle hue. Looking for a brighter shade? Zoya's Trudith is gorgeous. Want to go really bold? Zoya's Ripley is the best.
Instagram: @nailpromagazine.
6. Off-White Nails
Looking for a basis for your arty nail ideas for spring 2022? Off white is the new nude. Already seen on the likes of Selena Gomez and Lady Gaga, this eggshell white is a lot less harsh than white nails and provides a great background for decals or nail art of all kinds.
Get the look: Inglot Natural Origin Nail Polish's Fresh Start is a perfect off-white polish.
Instagram: @efis.nails.
7. Periwinkle Accents 
The ideal shade for your spring mani? Periwinkle! It's Pantone's Colour of 2022, and we predict the gorgeous blue hue is going to be huge this year. Use the shade on your whole nail or accent the tips with this on-trend shade.
Get the look: Looking for the perfect polish to adopt this trend? Zoya's Saint is a metallic periwinkle shade. It's as pretty as it is clean, yay!
Instagram: @glossnails_by_angela.
8. Confetti Nails 
It's always party time when you're wearing confetti nails! This is one of the most fun arty nail ideas for spring 2022  What's not to love? And there are so many ways to adopt this trend. Create confetti tips; use one confetti on a statement nail, or go all out and have them on every finger! 
Get the look: You'll need a good top coat to keep the confetti in place. As you probably know by now, I recommend Ella + Mila's In a Rush Top Coat.
Instagram: @naomininastudios.
9. Multi-Toned Frenchies 
The two-toned French manicure has reigned nail trends for awhile. But for 2022, the focus is on pairing as many contrasting colours as you can! It is a fun way to give the classic French mani a freshen up. 
Get the look: Zoya's Hannah is a gorgeous cherry red shade for your tips. Why not contrast with Nailtopia's Sol Glow? It's a sunny, yellow hue.
Instagram: @riri_moon.
10. Nail Tip Accents
Nail tip accents are another of the best arty nail ideas for spring 2022! This is gorgeous way of updating your mani without going too bold.  It's a super fun and easy way to freshen up your manicure for spring, and it can be done in so many ways. I personally love these cute heart accents. Sweet!
Get the look: Olivia and June have everything for your nail art needs!
Instagram: @cuticleclub.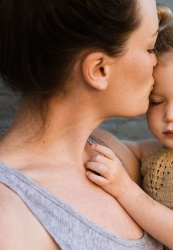 Latest posts by Diane Small
(see all)