These sustainable holiday ideas for animal lovers are guaranteed to make you a bunch of furry new friends!
By Diane Small
After living in frantic, gray cities where the only sign of wildlife may be a pigeon, one of the best things about going on holiday is further contact with nature. While it's lovely to be sat on a beach, hearing the birds and swimming with the fishes, some of us crave a little more contact with all things furry and feathered. But we have to be careful – some forms of animal tourism, such as visiting tiger sanctuaries, riding elephants or watching them paint, or swimming with dolphins in pools, are actually extremely cruel – yet animal lovers often fall into the trap of believing these help the animals (they don't – see why here).
Luckily, we've found 8 sustainable holiday ideas for animal lovers that not only benefit the beasties, but they also focus on that rather spiritual connection we have with the other living creatures with whom we share this planet.
Sustainable Holiday Ideas For Animal Lovers
1. Safari in

South Africa

at  Karkloof Safari Spa
Passionate about the conservation of South Africa's natural wildlife? Hate the idea of people hunting big game? Keep them safe for eco tourists instead by visiting the stunning Karkloof Safari Spa, where you will encounter stunning wildlife living within a 3,500 hectare reserve. Get up close and personal with South Africa's stunning wildest beasties, including white rhinos, hippos, giraffes, zebras, wildebeests and monkeys, whilst satisfying your need for nature by spotting flocks of ostriches and hearing the inspiring songs of the African fish eagle. This spot is also ideal for a luxury holiday, as there are plenty of opportunities to relax and unwind after an exhilarating day with unlimited treatments in the award-winning spa.
2.

Tropical Wildlife

 At Lomas Del Volcan in Costa Rica  
Tropical Costa Rica is one of the most bio-diverse places in the world, and is the ideal destination for anyone keen to spot howler monkeys, iguanas, toucans, sloths, butterflies and hummingbirds and so much more. To ensure you see all the wildlife that's hiding amongst the foliage, take  a guided jungle safari or rain forest park tour  of the famous Veragua reserve.  After all that trekking, you can revive at the Lomas del Volcan's hot springs and enjoy a unique and healthy dinner with a dramatic view of the glowing volcano.
3. Horse Riding at  

Red Mountain Resort

 in Utah
Interested in a taste of the American 'Wild West'? Then there's nothing better than exploring the sublime views of Utah's natural Red Mountain range on horseback. Enrich your health and fitness as you follow your love of horse riding by traversing through the scenic Snow Canyon State Park on magnificent pedigree horses. Out of the saddle, keep active with daily hikes and a variety of fitness activities, from rock climbing to boot camp training and kayaking to kickboxing. Soothe aching muscles after a busy day with yoga or Tai Chi, before indulging with a rejuvenating spa massage.    
4. Spotting Spectacled Bears in Peru at Inkaterra
The incredible eco-resort Inkaterra Machu Picchu Pueblo is not only as sustainable as hotels get, but it's also a mecca for animal lovers. It boasts a wonderful rescue centre for the Andean or Spectacled Bear, the only bear species native to South America. Inkaterra has five bears located in captivity and semi-captivity on the grounds of its hotel, and visitors are welcome to visit with a guide to learn more about this rare creature. The bears have been rescued from private homes and circuses, where they were maltreated.
Without even leaving the hotel grounds, you can also spot dozens of other animals, including rare birds, butterflies and more, with or without the help of the highly knowledgeable, friendly staff at the eco centre. This is definitely one of the best sustainable holiday ideas for animal lovers!
5. Helping

Rescued Animals

with

WFFT

in Thailand  
This humbling holiday experience will introduce you to over 400 rescued animals at the WFFT Wildlife Rescue Centre in Thailand. From orphaned baby monkeys to injured lorises and civets, you can make this holiday one full of compassion and love by helping animals in need. Give a rescued elephant a shower, feed a monkey a banana or just learn how the work of the trust is helping Thailand's most beautiful and endangered creatures.
This is much, much better than visiting one of Thailand's 'tiger sanctuaries', which actually act as a front for breeding tigers for their skins and other body parts, or one of the country's many 'Elephant ride' parks, where the animals are often abused in order to 'train' them, and where they are injured in the long run due to having weight they were not meant to carry on their backs.
Of course,  exploring Thailand's cultural surroundings  on a temple tour or visiting the  Damnern Saduak Floating Market  are also essential 'must do's' while you're visiting 'the land of smiles,' and if you decide to head to the country's famous beaches, there are plenty of amazing eco-hotels to choose from, including  the  Sarojin Khao Lak, which we love!
6. Volunteering at the
Lilongwe Wildlife Centre, Malawi
With its vast landscapes, welcoming people, the glorious sandy beaches of Lake Malawi and plenty of incredible wildlife, Malawi makes the perfect exotic holiday destination. Rather than just lounging on the beach reading a paperback, you could make your holiday experience all the more worthwhile by combining your visit with a stay at the award-winning Lilongwe Wildlife Centre. Volunteer holidays at the LWC range from two weeks to three months, and with great weather all year round, you'll be enjoying the great outdoors every day.
7.
Gorilla Gazing in Rwanda at Mountain Gorilla View Lodge
They're one of our closest relatives, and are sadly highly endangered, thanks to poaching, the bush meat trade and humans encroaching on their territory. So there's really no better time to support the survival of the mountain gorilla than now, and one of the best ways to do so is to stay at one of the eco-lodges that encourage locals to take tourists to see these noble giants, rather than hunting them for meat, sport or zoos.
Mountain Gorilla View Lodge is located in Kinigi in northern Rwanda and on the edge of the Volcanoes National Park,  just at the foothills of  Mount Karisimbi, one of the volcanic mountains that make up the Virunga Massif. The lodge is about 10 minutes' drive to the main entrance of the Volcanoes National Park where gorilla trekking starts.
In addition to exploring the local cuisine and customs, you can also see loads of other wildlife in the forest, ranging from exotic birds to tiny monkeys, and as for the gorillas, there's the option to shoot these intelligent creatures–with a camera only, of course–with one of the photography courses on offer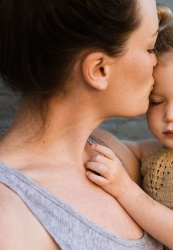 Latest posts by Diane Small
(see all)