Don't waste your money and time! Check out our reviews of tried and tested vegan lipsticks before you buy
By Sruti Raman
If there's one makeup item every woman needs, it's a lipstick. With this one little stick of colour, you can completely transform your look and style. A bold red lip signifies power and strength, whereas a pretty pink shade is more feminine and subtle. Black lippie screams 'Goth' while corals are perfect for sunny summer holidays. Lipstick helps us feel empowered, completes our outfit, connects us to our femininity, and of course, hydrates our lips, too!
But there are a lot of caveats when it comes to this cosmetic. Lippies can be pretty toxic. And if you're vegan, you may be horrified to know that they can contain everything from crushed insects and animal fat to honey. Of course, there are also some brands that are better than others, too – they go on more smoothly, last longer, and are more highly pigmented.
For hygiene reasons, many makeup brands won't accept returns on lipstick. So how are you to know what's the best brand to buy? I'm happy to help! I've tried and tested vegan lipsticks for you, not only to let you know which brands are clean, vegan and cruelty free, but also to show you what they look like, how they feel, wear, and even smell! I've even modelled them for you myself. Which ones would you like to try?
10 Tried And Tested Vegan Lipsticks
Founded in a Napa, California farmhouse in 2005, 100% Pure is an organic cosmetics brand that's completely free of all harmful toxins. It's one of the healthiest, purest lines of makeup and skincare in the world, thanks to their use of planet and vegetable based ingredients. I absolutely love that this brand has zero synthetic chemicals, chemical preservatives, artificial fragrances or artificial colours in their award winning products.
What I tried: Their 'Poppy' lippie shade is absolutely stunning! It's the perfect  bright, blood red for all skin tones. Thanks to the use of pomegranate oil, this lipstick is anti-ageing and super moisturising. It left my lips feeling soft and hydrated all day. The pigments are derived from plums, raspberries, and grapes to create high intensity shades, as you can see in the picture below. I love how this shade makes monochrome outfits really pop, and I can attest that the colour lasts all day long (if you don't eat, drink and kiss too much!) My only complaint is that the colour doesn't really go on evenly upon the first application.
Ere Perez is a skincare and beauty brand based in Bondi Beach, Sydney. They create unique natural skin and makeup products that are focused on boosting healthy, radiant skin. This brand believes in using nourishing botanical ingredients to transform and nourish your complexion. I really love how affordable their products are, too – despite the fact that they look and feel so luxurious!
What I tried: The Wild Pansy Tinted Lipbar in Hope is a berry-hued tint that feels really light and sheer. This is not a full-on colour, it is more of a tint to enhance your natural lips. Perfect to wear everyday don't you think? This lipstick has wild pansy extract, which has healing and nourishing properties, and is full of antioxidants. The organic rosehip oil in the lipstick helped moisturise my lips throughout the day. But what I loved most about this product was the fact that it also has SPF 15. That meant I could go outside confidently knowing my lips were protected from the sun. If you're looking for a more dramatic hue, no worries – Ere Perez has a whole rainbow of colours, as you can see from the pic on the left.
Ilia Beauty is a clean beauty brand that provides luxurious, professional quality makeup that's all ethical and sustainably made. Their vision is unique because they infuse their makeup with skincare, too. For example, they combine botanical and organic ingredients that nourish your complexion in their foundations, lipsticks, concealers and colour pencils.
What I tried: Ilia's natural 'Color Block' lipstick delivers full coverage without having to keep reapplying it. It's a dense, highly pigmented lipstick, and what I noticed was that after just one application, the colour was already rich and beautiful. This soft-pink 'Rosette' shade is formulated with a blend of nourishing vitamins, such as Mango Seed Butter and Apricot Oil to hydrate, soften and plump your lips. As I mentioned, the lipstick is ethically made and the pigments are milled by hand. There is sunflower seed wax to hydrate and seal in moisture. The verdict? This was one of my favourite tried and tested vegan lipsticks! I am now so in love with ' Rosette'! It's always in my handbag!
Lily Lolo is a British brand offering a range of high-performance, high quality mineral makeup. Their products really help you achieve flawless natural beauty. It was launched in 2005 by founder Vikki Khan, because she wanted to create a line of cosmetics which didn't feel heavy on the skin, and which would be affordable for every woman. Today, Lily Lolo is a range of 100% natural mineral cosmetics.
What I tried: Pink and nude hues are combined to create this beautiful shade. The nude pink shade is designed to flatter all skin tones and personally, I find that it's a MUST HAVE because of how versatile the shade is. In my experience, this lipstick also has incredible staying power, and I really loved how hydrated my lips felt after using it. Warning: not all of Lily Lolo's lipsticks are vegan, because some contain beeswax. But of course, their Vegan Nude Collection, which Includes six nude lipstick shades, are all completely vegan. I've tried and tested vegan lipsticks for years, and I would highly recommend you try at least one shade in the Vegan Nude Collection!
ZAO products are all housed in refillable, eco friendly bamboo cases. I really love this unique concept, and haven't come across another beauty/makeup brand that is doing this yet. ZAO provides 100% natural makeup formulas enriched with active organic ingredients to enhance your skin's natural beauty. They're a certified organic brand, too – which means, of course, their products are free from all toxic chemicals including parabens, phenoxyethanol and mineral oil.
What I tried: Zao Matte Lipstick has a smooth, velvety texture with a comfortable, non-drying finish. This shade, 'Dark Red,' is a muted brownish red colour. I love red lipsticks that have an undertone of brown, as it gives a beautiful warm earthy tone to olive skin tones like mine. This organic formulation provided long lasting colour, which I would expect from a matte lippy. Precious oils and plant extracts left my lips soft and smooth, which is something I rarely find in a matte texture.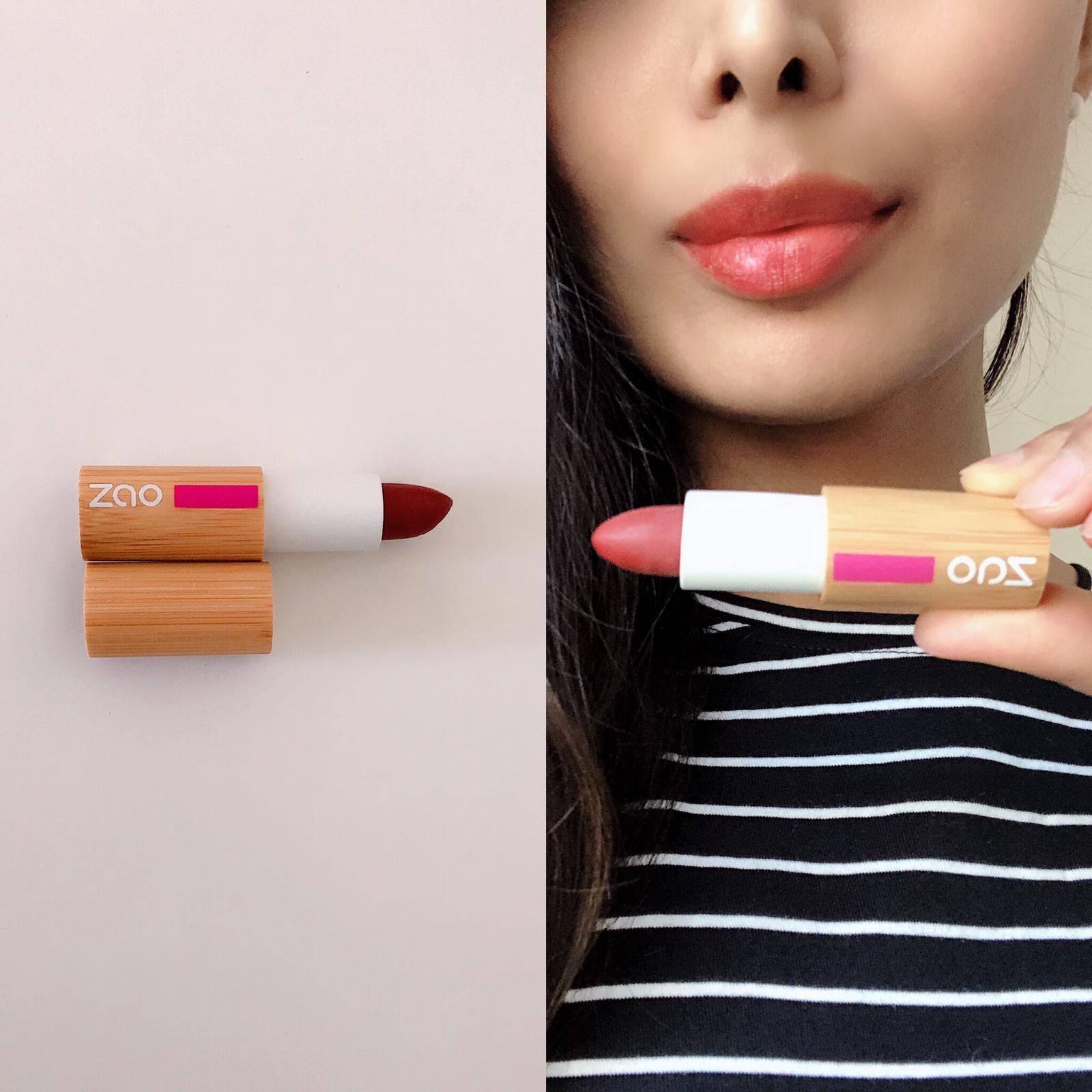 PHB Beauty is a wonderful, ethical beauty brand that gives back. They donate 20% of profits to charities that improve the lives of people and animals in the United Kingdom and around the world. The brand only uses 100% naturally derived ingredients, and also blends an incredible array of organic superfoods into their healthy, conscious creations! All PHB cosmetics are free from alcohol, animal ingredients, palm oil and harmful chemicals.
What I tried: PHB Pure Organic Lipstick in shade Petal is definitely one of my favourite Tried And Tested Vegan Lipsticks! It's a natural dusky pink rose hue that complements all skin tones. No wonder it's a bestseller! The lipsticks are all handmade using food grade ingredients that are ethically sourced. This shade was so creamy, I didn't expect it to last for hours and hours – but it did! The combination of Organic Rosehip Oil, Jojoba oil & Vitamin E are very hydrating and keep your lips soft. The shea butter that's used in PHB's lipsticks is fair trade and sourced from a Women's Co-operative in West Africa, so I feel good about using this product. I am so in love with 'Petal'! I feel it's really soft and feminine. It's definitely one of my new everyday go-to shades.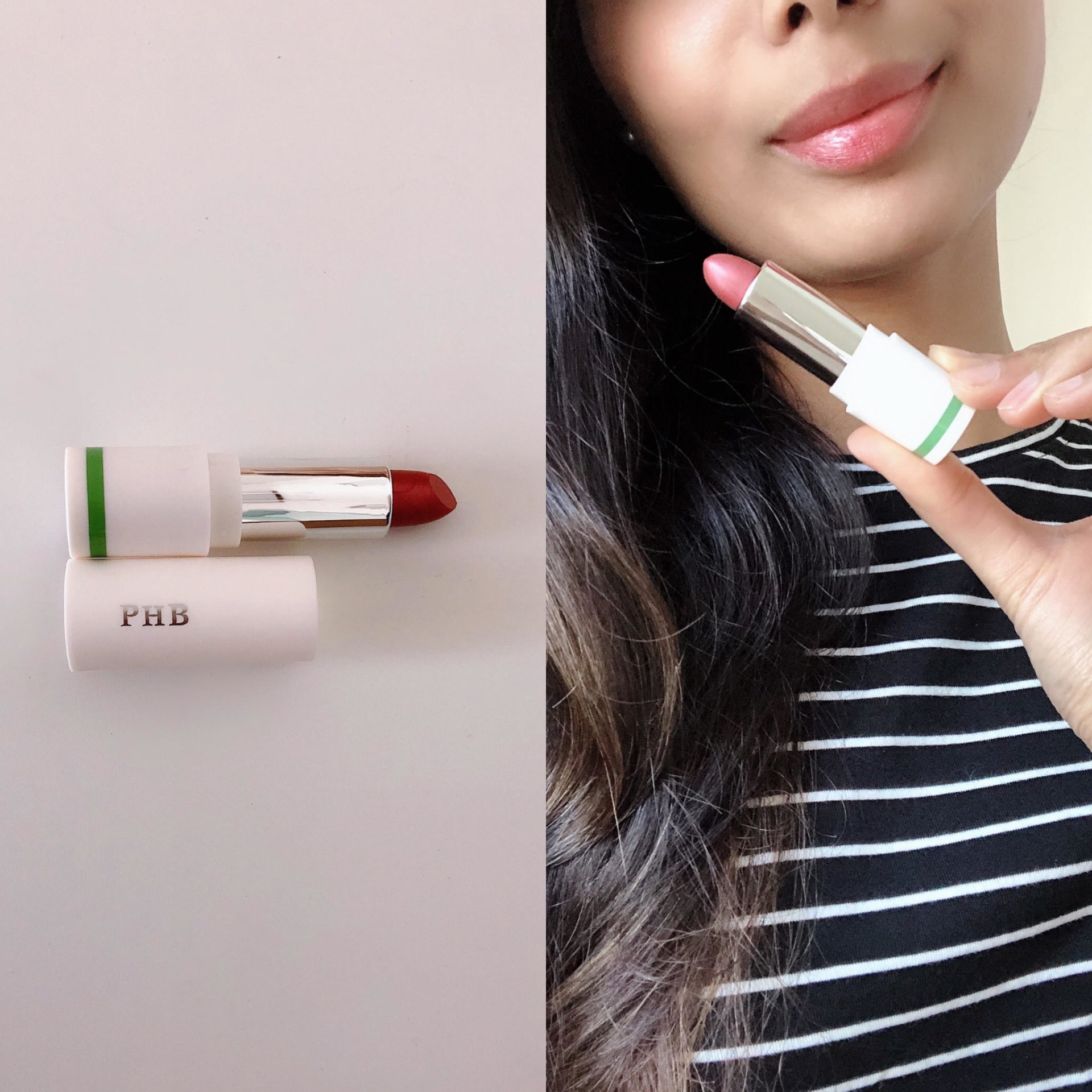 Pacifica is one of my top Tried And Tested Vegan Lipsticks brands. It offers loads of fresh, fun beauty products that smell absolutely AMAZING! In fact, the first thing I noticed when I used this lipstick was the beautiful smell of coconut. Pacifica have some of the best vegan perfumes and vegan makeup on the market. They are 100% cruelty free and packed with natural goodness, not only do these products make you look and smell amazing, they also care for your skin. I also love how affordable their range of products are.
What I tried: Rebel Sol is a flattering coral hue which would suit every skin tone. I loved the peachy undertones in this lipstick, and feel it's a youthful and fresh colour, perfect for using everyday without being too bold. This lipstick is a full pigment and glides on smoothly. Its formula contains vitamin E, jojoba oil and shea butter, all which are deeply moisturising and nourishing. If you're looking for a really clean lipstick that smells (and tastes) a bit like coconuts, provides creamy hydration and highly pigmented colour, you NEED this one in your handbag!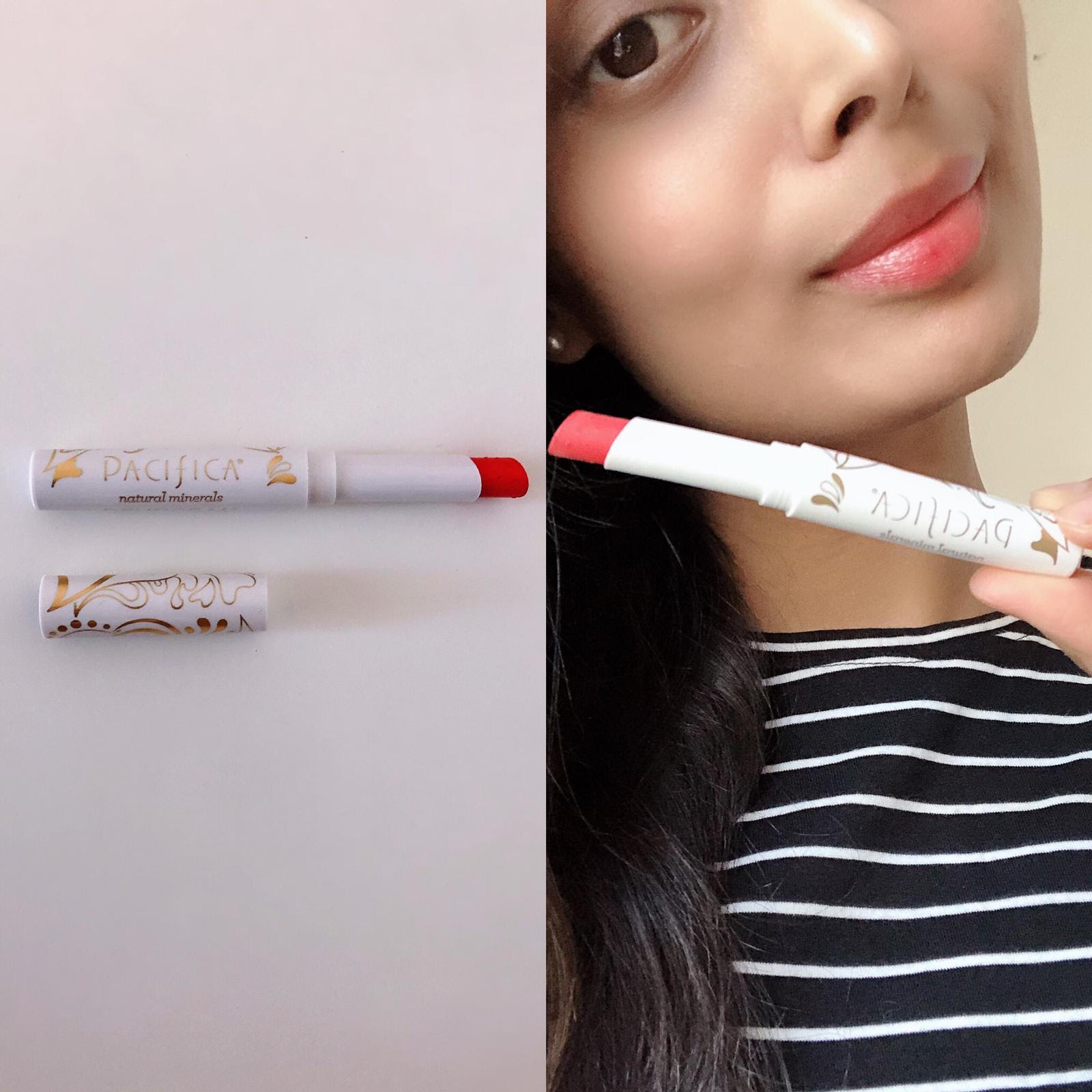 I discovered NUI Cosmetics last summer when I tried their foundation. I completely fell in love with the brand! NUI Cosmetics create nourishing makeup that respects your skin, the planet and its animals. It's 100% natural, vegan, and gluten-free. Oh, and 70% of the ingredients used are even organically grown.
What I tried: I decided to try their vegan lipstick in 'Pania'. Just as I expected, it was amazing! This lipstick has a delicate texture and felt really soft and easy to apply. It has a melting texture with a surprisingly matte finish. The colour is a soft nude tone, which is beautiful and feminine. Of all the Tried And Tested Vegan Lipsticks I experimented with, I can honestly say this shade really compliments darker skin tones. Fair people may find they look a bit ghostly. With nourishing ingredients like coconut oil, I found that my lips were left soft and hydrated all day.
Hynt Beauty is a brand that I recently discovered on Eluxe Exclusives, and I was really impressed by how luxurious the lipstick feels. It was formulated for women who believe in natural beauty without compromising on quality. It's totally vegan friendly, and their Aria Pure Lipsticks feature a GMO-free, plant-based formula proven to boost water absorption and hydration levels by +25%, so you can be sure that your lips will stay moist all day.
What I tried: Aria Lipstick in Shiraz is one of my favourite Tried And Tested Vegan Lipsticks. It has a beautiful creamy texture, and the colour is a deep burgundy red. This rich colour is a classic must have for your lipstick collection! As promised, the lipstick did indeed keep my lips moist all day, and the colour was long lasting, so long as I didn't eat or drink anything. I also love the luxurious packaging these lippies come in. I would highly recommend this brand and the Shiraz shade for any skin tone.
Axiology is an innovative, fresh makeup brand that is the first to create lipsticks with only ten ingredients. This clean makeup brand wanted to create the most ethical lipstick that is not just safe for the people who wear it but safe for animals, the planet and the people who make it. How amazing is that? And what's more: Axiology believes in giving back, donates a percentage of their profits to the Orangutan Foundation.
What I tried: Another of my favourite Tried And Tested Vegan Lipsticks is 'Philosophy'. This is a soft pink with nude undertones, which is fine on olive or darker skin tones, but may wash out anyone who is fairer. Axiology's formulas are silky and smooth, and their lipsticks smell and taste a bit like orange oil. The consistency of this shade is light, and it has a beautiful sheer look when you apply it. Just some of its nourishing ingredients include castor oil, coconut oil and avocado oil. I felt completely safe using this lipstick because it only has ten ingredients, and I love the brand's luxurious gold pop-up tubes!
Latest posts by Sruti Raman
(see all)