We're loving these cruelty free beauty brands by celebrities! Which one is your favourite?
The celebrity beauty brand is nothing new. Way back in the 80s, pop princess Debbie Gibson launched her Electric Youth perfume, Gisele launched Sejaa Beauty back in the naughties, and Paris Hilton launched many beauty brands, from perfume to ProDNA skincare, over a decade ago.
It kind of makes sense: with so many celebs known for their perfect skin, silky hair, and killer style, it's no wonder many stars decide to put their names and faces on beauty brands. But a few are also stamping their beauty products with their ethics by making them cruelty-free and sometimes, even vegan.
You may already know of a few of the biggest cruelty free beauty brands by celebrities, such as those owned by influencer Jeffree Star. But here are 10 you may not have heard of yet – namely because some of them are brand new!
10 Awesome Cruelty Free Beauty Brands By Celebrities
Who: Lady Gaga
What: Haus Laboratories colour makeup – many of the products are meant to be multi-functional. Lipsticks can also be eyeshadows; glosses can also be highlighters, etc.
Vegan? Yes! Yay!
The vibe: Gender-neutral, individualistic
With her flamboyant style and unusual beauty, we'd say it was only a matter of time before Lady Gaga came up with a makeup line. Her fabulous Haus Laboratories finally launched on Amazon and fans went, well, 'gaga' for this cruelty-free and vegan cosmetics collection.
She kicked it all off with three core products — a liquid eye shadow, lip liner, and lip gloss — all in half a dozen shades. There are now also individual products for sale, as well as specially curated collections. However, it must be said that given Amazon's poor human rights and ethics record, some fans were disappointed with Gaga's choice to launch her line with them. But at least the animal ethics behind the makeup is solid, right?
Who: Pop sensation Ke$ha
What: A brightly coloured cosmetics line
Vegan? Yes, 100 percent
The vibe: Offbeat, bright, unconventional
After much anticipation and a few delays, the troubled singer-songwriter has unveiled her animal-friendly cosmetics line, Kesha Rose Beauty.
Working in partnership with HipDot, KeSha has created a vibrantly hued collection of essential makeup items that includes a 12-pan eyeshadow palette, a dual-ended liquid eyeliner set and a lipstick and lip gloss combo, which features a hue named after her new single, "Raising Hell." These colours are a lot of fun to play with, and we especially love the Whatever Wands, which can be used not only as eyeliners, but to draw tattoos or scrawl slogans on your body, too.
Who: Tattoo artist, model, musician, author, entrepreneur, and television personality Kat Von D
What: A hugely successful and popular range of colour cosmetics
Vegan? Fully, yes!
The vibe: A little bit of Gothic glam
Passionate vegan and animal activist Kat Von D is committed to creating hyper-performance beauty products that are completely animal-friendly. Rather than using common animal ingredients like beeswax and carmine (a red dye made from crushed beetles) to formulate her makeup, she has found kinder alternatives without ever compromising on quality.
The star insists on being active in every element of product creation, from testing formulae and naming colours to picking out packaging materials and artwork. We love the performance of this brand; it's just a pity that like Ke$ha and Gaga's makeup, it's not really as clean as it could be.
Who: Actress and entrepreneur Jessica Alba
What: A newly revived collection of colour cosmetics and skincare products
Vegan? From what we have seen, it seems to be
The vibe: Fresh faced and feminine
Jessica Alba's Honest Company has been around for almost a decade, and initially sold eco-friendly baby and household products. The actress then added cosmetics and skincare to their offerings, and most recently, has streamlined Honest Beauty to include 45 products – 35 colour cosmetics for lips, cheeks, and eyes, plus 10 skincare products. The star says she did this to include only the products that she personally cannot live without.
Best-sellers include her Everything Primer and Lip Crayons, as well as her Honest Beauty Extreme Length Mascara. What we love most about this brand is that unlike those above, this one is clean – that is to say, no nasty chemicals are used.
Who: Reality TV star Kylie Jenner
What: A vegan skincare range
Vegan? Yes, yes, yes!
The vibe: Clean and minimalistic
Not only is reality star Kylie Jenner's new skincare range cruelty free and vegan, but it's also gluten-free, paraben and sulfate free and suitable for all skin types.
The celeb announced to her 150+ million Instagram followers that after the success of her first brand, Kylie Cosmetics, she will now be focusing on a skincare range that includes products such as cleansers, serums, moisturisers, and eye creams. And the best part? Prices are quite reasonable, and start at $20 for the eye cream to $125 for the full set of products.
Who: Champion skier, entrepreneur and reality TV star Heather Miller, partnering with model Milena Thacker
What: A compact collection of animal friendly colour cosmetics
Vegan? Absolutely!
The vibe: Bold and beautiful
'Small but perfectly formed' is how Heather Mills describes her range of vegan and cruelty-free makeup. Be at One was designed in collaboration with former model Milena Thacker, and it launched online just in time for World Vegan Month last year. It was designed especially for animal lovers to 'ensure that nothing dead is being unintentionally put on their face'.
Longtime vegan Heather was grossed out by the many animal ingredients that are commonly used in makeup, such as shellac, obtained from killing hundreds of thousands of lac bugs, which is used in nail products, or gelatin – which gives products extra elasticity.
Her Be-at-One range, which is available exclusively online, was designed to highlight your features and make you more beautiful, without using any animal based ingredients. And as an added bonus: Heather and Milena have pledged to dedicate 10% of all sales to the celebrated vegan charity Viva!
Who: Former Victoria Secret Model Lindsay Ellingson
What: A unique range of colour cosmetics and skincare products
Vegan? Not fully, but there is a clearly marked vegan beauty section that includes a wide range of colour cosmetics, as well as
The vibe: Pretty, feminine, luxurious
Former Victoria Secret Model Lindsay Ellingson has clear, glowing skin that has inspired many to ask what her 'secret' is. Consequently, she paired up with entrepreneur Divya Gugnani to create Wander Beauty. The duo recognised that modern women seem to be constantly busy, juggling work, friends and family, and aimed to create a line that would allow women to do more with fewer products.
In fact, the brand was named 'Wander' because, as their website states: "Whether you're going from your desk to dinner, doing your skincare routine at the gym, or masking in flight, our multitaskers are made to wander with you so you can stay gorgeous on the go."
Who: Former Victoria's Secret model Miranda Kerr
What: A comprehensive organic skincare line, with a few special colour cosmetics on offer, too
Vegan? Kind of. According to their website, Kora Organics products are free of any animal components and/or by-products and they are classified 'vegan'. However, the following products are NOT vegan friendly:
Vitamin Enhanced Lip Balm (has beeswax)
Noni Glow Face Balm (has beeswax)
Noni Glow Body Balm (has beeswax)
Unscented Cleansing Bar (has goat's milk)
The vibe: Light, fresh, pretty, a little bit spiritual
Kora Organics was one of the first ever cruelty free beauty brands by celebrities to be a big hit, and no wonder! The label only uses the cleanest and most effective of ingredients, such organic rosehip oil, noni and chamomile. Apparently, Miranda Kerr created the skincare brand after she couldn't find pure, natural beauty products that delivered high performance results. Today, the model swears she uses these products – and only these products – on her own glowing skin.
Who: Gen X actress, producer and author Drew Barrymore
What: A low cost line of cruelty free colour cosmetics
Vegan? Unfortunately, no – though they are all cruelty free
The vibe: Hippy chic
Growing up spending many hours in makeup artists' chairs, Drew Barrymore has learned a thing or two about beauty. She developed FLOWER because she says she believes that 'women everywhere deserve the best quality, most efficient beauty products at a price everyone can afford.'
The result is a fun, inexpensive collection of colour cosmetics, but be warned – there are some nasty ingredients in these, such as aluminium powder and Red and Yellow Lake dyes, which are quite toxic. It seems that when it comes to makeup, you often get what you pay for!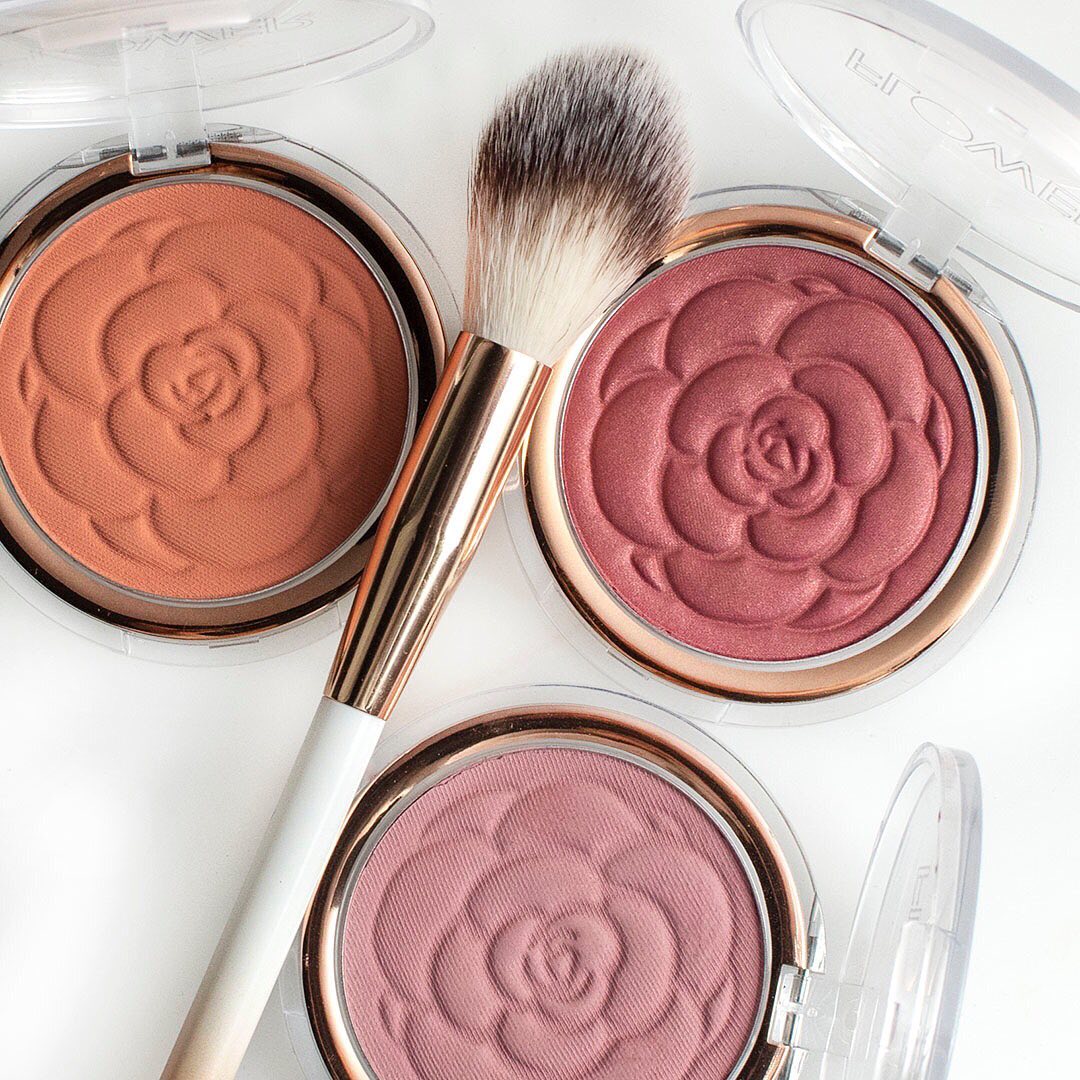 What's your favourite of these vegan beauty brand by celebrities? Did we miss any? Let us know in the comments!
Latest posts by Chere Di Boscio
(see all)