Just gone vegan? Got very little time on your hands? These easy vegan recipes for beginners are for you!
By Lora O'Brien
Spoiler alert: vegan food can be basic and still be delicious!
If you've just gone vegan, you've probably followed influencers who make veganism seem like a science experiment. From seitan that requires loads of ingredients to dishes like vegan cheesecakes that seem to take days to prepare, it's no wonder some may be daunted by the prospect of vegan cooking. But the truth is, there are plenty of easy vegan recipes for beginners out there!
And that's not really surprising. After all, a vegan diet is basically just based on plants. And unlike meat, you don't need to season and cook them much to make them delicious! In fact, you can throw together some nourishing and easy meals with next to no effort. The only problem? Coming up with fresh ideas, really!
Looking for a little inspiration? I've gathered some really delicious dishes that even newbie cooks can make. In fact, some of these easy vegan recipes are even suitable for kids to give a go!
These dishes have few ingredients, need little prep, and can be ready in minutes.
Let's get cooking!
Easy Vegan Recipes For Newbies & Beyond
1. 3-Ingredient Vegan Pancakes
Love pancakes but wondering how you're going to make a fluffy stack without the use of eggs? What if I told you you only need three holy grail ingredients: oats, plant milk and spotty bananas! Yep, whip together and you'll have a delicious drool-worthy stack in minutes.
Get the recipe here.
2. Peanut Butter Overnight Oats
Looking for vegan recipes for beginners for breakfast? You can never go wrong with overnight oats! Prep them the night before or in the morning before work (overnight is best though) and they're ready to grab and go! You can top them with whatever you have on hand so they never get boring. My go-to combo? Peanut butter and banana – yum!
Get the recipe here.
3. Soft Silken Tofu 'Egg' Scramble
Got a block of tofu but not sure what to do with it? Crumble it into a bowl and turn it into this yummy tofu scramble. It takes minimal ingredients and this can be the base for so many dishes. Serve it up with a vegan fry-up, turn it into a vegan egg-mayo sandwich filler or just enjoy it across warm, buttery toast. Mmm!
Get the recipe here.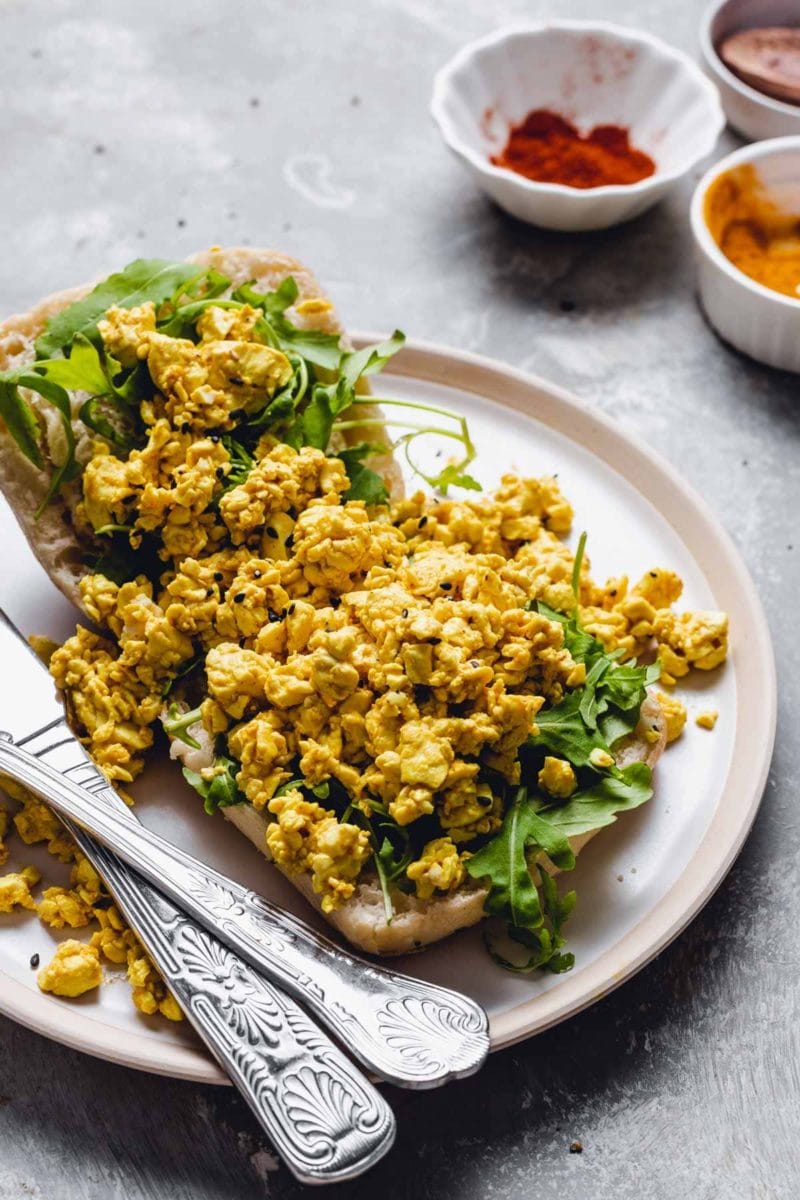 4. Sweet Potato 'Toast'
Out of bread and time? Eating gluten free? Slice up a sweet potato and pop it under the grill. It turns into the most amazing toast, which is only made even more amazing once topped. Got a sweet tooth? A PB and banana combo is easy and hits the spot every time. Prefer more savoury dishes? Smash some avocado and top with bagel seasoning (recipe below) for a creamy bite.
Get the recipe here.
5. Homemade 'Everything But the Bagel' Seasoning
If you've logged onto Instagram in the last year then you'll know that social media is obsessed with this popular bagel seasoning. But you cou can make your own at home! It's simply poppy seeds, sesame seeds, dried garlic, dried onion and sea salt. Honestly, this will become your BFF. This mix will elevate any meal! Soup, sandwiches, grilled veggies – you name it!
Get the recipe here.
6. Vegan Cauliflower Soup
If you're looking for vegan recipes for beginners to make, you can never go wrong with soup. Throw some ingredients into a saucepan with some water and cook and in around half-hour you have yourself a seriously yummy meal. Why not add the seasoning above to this?
Get the recipe here.
7. Lemon Pepper Tofu Sheet Pan Meal
You gotta love tofu! Not only is it super affordable, but it is also so versatile, too! On its own it can be bland. But if you marinade it, it can be revived in seconds. This easy sheet pan dinner tosses lemon, pepper tofu and asparagus onto a tray to bake and serve up – it's really that simple!
Get the recipe here.
8. Creamy Garlic Mushrooms
Want easy vegan recipes to whip up in a flash? These creamy garlic mushrooms can be ready in under 30 minutes. The recipe calls for minimal base ingredients: mushrooms, onion and garlic. Serve atop some pasta or rice, or enjoy by itself with a leafy salad.
Get the recipe here.
9. Easy Vegan Gluten-Free Pizza Crust
This is one of those easy vegan recipes kids would love to help with! Whether you keep it simple with a tomato base and some vegan cheese or you get a little fancier, the crust is easy to make and can be thrown together in next to no time. Pizza tonight, anyone?
Get the recipe here.
10. Santa Fe Black Bean Burger
Forget buying those overpriced mock-meat burger patties and make your own! Made using black beans, these burgers are loaded with protein, fiber and heaps of Mexican-inspired flavour! Ready in minutes, you can toss then in a burger bun or enjoy them naked.
Get the recipe here.
11. Simple Lemon Pasta
It really doesn't get easier than this lemony pasta dish: pasta, vegan butter, garlic, red pepper flakes, lemon and parsley. The tender pasta is coated in a buttery, garlic-lemon sauce and makes the perfect lunch or dinner dish. This is one of those vegan recipes for beginners that looks and tastes fancier than it is!
Get the recipe here.
12. Easy Vegan Taquitos
These taquitos are super easy to make and you'll be so glad you did! Stuffed with a hearty veggie mixture and gooey vegan cheese, they're soft yet crispy at the same time. Totally addictive, they make a great snack, dinner or side dish.
Get the recipe here.
13. 5 Ingredient Vegan Vodka Pasta
Vodka pasta was doing the rounds on social media. And now, it has been given a vegan makeover. The pasta is tossed in a creamy, tangy, indulgent sauce. This is one of those vegan recipes for beginners you can whip up in 15-minutes using a handful of pantry staples. Bon appetit!
Get the recipe here.
14. Sheet Pan Herbed Potato, Asparagus & Chickpeas
A sheet pan is a super easy way to meal prep. Honestly, you just toss a handful of ingredients and seasonings onto a tray and roast them. This is a real easy way to enjoy your veggies, and you can turn it into a meal by adding some healthy fats on the side, such as avocados.
Get the recipe here.
15. Vegan Burritos
Burritos are another of our super easy, affordable vegan recipes for beginners. This burrito is brimming with goodness such as brown rice, black beans, corn, vegan sour cream and guac! The ultimate comfort food, they're easy to whip together and are perfect any time of the day.
Get the recipe here.
16. Vegan Corn Fritters
Almost like a savoury pancake, fritters are super yum. They require a batter and the star of this recipe is the flax-egg which is made using milled flax seed and water. Throw in your favourite veggies, and then fry these up in some oil. They also keep well as leftovers, so you can take them for lunch the next day.
Get the recipe here.
17. Easy Vegan Potato Curry
Curry is another of those vegan recipes for beginners everyone can do. It's made in one pot, which means minimal mess to clean up and you can pretty much leave it to do its thing. This comforting dish is made with potatoes and flavoursome tomatoes and served on a bed of rice.
Get the recipe here.
18. Spicy Tahini Pasta
Every vegan kitchen needs a jar of tahini! This spicy tahini pasta sauce uses just 4 ingredients to make this gluten-free sauce. It elevates pasta to another level, alongside the thrown in mushrooms and peas. The hardest part will be trying not to eat this sauce before the pasta cooks!
Get the recipe here.
19. Lentil Bolognese
This hearty lentil bolognese is a fabulous dish to have on hand. You can either enjoy it with pasta or use it as a topping for a jacket potato. Definitely one of those vegan recipes for beginners everyone should try. And kids love it, too!
Get the recipe here.
20. Easy No-Bake Protein Balls (4 Ways)
I couldn't do a list of vegan recipes for beginners without some sweets! Using ingredients such as peanut butter, tahini, chocolate chips, cinnamon, raisins and almonds, these take only around 10 minutes to make and are the perfect protein bites to enjoy throughout the week.
Get the recipe here.
21. 3-Ingredient Oat Cookies
This is one of my go-to vegan recipes for beginners! These cookies are gluten-free and naturally sweetened with the bananas. The best part? They take just 5 minutes of prep and 20 minutes in the oven they're done in 25 minutes!
Get the recipe here.
22. Raw Avocado Chocolate Pudding
Does anyone else love finding raw recipes because it means no cooking time? Yay! But if you think this simple pudding recipe is lacking in flavour, you'd better think again! It's rich and super decadent thanks to the avocado, banana and cacao. It's also healthy, too!
Get the recipe here.
23. Chocolate Covered Banana Pops
Looking for a healthy treat? This is another of those easy vegan recipes for beginners that's easy enough for kids to make. The banana pops are dipped in chocolate, topped with nuts and then frozen. Enjoy as you would an ice lolly or just when you fancy something sweet.
Get the recipe here.
Latest posts by Chere Di Boscio
(see all)