Investing in a vintage designer handbag can actually make more money than investing in gold. Truth! 
By Noa Ben Moshe
Handbags are a little bit magic. When you find one you love, it becomes a part of you – you can't leave the house without it, it shares great times and goes to great places with you, and people even associate you with it. So choosing the perfect handbag is an important task.
Of course, you can go for a super eco-friendly vegan model, such as those made from apple leather by Nuwaii, or the adjustable cork models from Svala. But another sustainable choice is choosing to invest in a vintage designer handbag. They may be a bit more pricey, but it's well worth the investment. Here's why.
Why you should invest in a vintage designer handbag
Research by HEWI London (formerly Hardly Ever Worn It London) has found that vintage luxury bags can be an excellent investment. In fact, popular designer bags have increased in resale value more so than houses and cars over the past 10 years. And the value of Chanel Medium Classic Flap bags and Hermes Birkin bags predicted to only increase further.
HEWI London's study discovered that:
Hermes Birkins have increased over 153% in the last 10 years. Based on its current rate of increase, the value will be almost a whopping £50,000 by 2028.
Chanel's Medium Classic Flap bag value has increased by almost 10% annually; 92% in the last 10 years

. It is predicted to cost a minimum of £7,000 by 2028.
In comparison, the value of a Rolls Royce Phantom has only increased 4.4% annually. A detached house in London has increased by 6% annually. This means purchasing a used Birkin bag gives you nearly 6 times a better return on your investment! 
Another reason why you should invest in a vintage designer bag is because it's an ethical investment. You're basically contributing to the circular economy, right? And after all, when you put money into any kind of communal funds or even just into a normal bank, you're likely helping to fund the weapons, biotech, pharma and oil industries. And given the true cost of fashion, it's always better to buy pre-loved fashion rather than new.
Which brand is best?
But it's not just vintage Chanel and Hermes that have seen such strong growth in value over the last decade. If you invest in a vintage designer handbag by other designers such as Valentino, Gucci, Dior and Balenciaga you can also rake in some cash.
Founder of HEWI London, Sharon Wolter-Ferguson says:
'Chanel and Hermes bags have never lost their value, and I don't see how they ever will. They give a girl the feeling she's made it." They make you smile, look gorgeous, and they will never, ever end up as landfill. In fact, if you take care of your bag, you'll always get your money back at the very least. If not more. Especially if the style is rare and in demand by collectors.'
'Someone is always going to want your Chanel or Hermes bag. It'll never struggle to find a new home, if well cared for and at the right price,' she states.
But how should you go about choosing the right vintage handbag to sink your money into?
We've asked HEWI and Chanel and Hermes expert Catherine Benier for some tips.
How to invest in a vintage designer handbag
Lately, markets have been super volatile, especially since the pandemic hit. Inflation is increasing. Bitcoin fluctuates like Dr Fauci's views on wearing masks. And who really knows what's going to happen with the crypto markets, anyway?
But two places money can really be made today are in the art markets, and perhaps surprisingly, by those who invest in a vintage designer handbag.
According to
Catherine Bernier
,
"the craze for all kinds of vintage clothing and accessories – especially bags – is increasing. Purchasing rare luxury bags in particular is always a good investment. For example, in 2010, I bought a Kelly bag for 2000 Euro. Today, I could easily sell it for double that price."
Indeed, Catherine does sell her bags. That's how she makes her living! She finds most of her stock at auctions. And you can too!
In addition to bags, you can also invest in vintage jewelry, antique furniture and artworks.
The reason such investments are always lucrative, Catherine explains, is this:
'Even while the middle and lower classes may be suffering, the wealthy only grow richer. And when they grow richer, they seek out interesting pieces for their collections. That's as true for vintage bags as it is for classical art."
Our best tips for buying vintage designer bags
1. Don't buy a bag that doesn't suit your (life)style
What do you want to invest in a vintage designer handbag? Is it for yourself to use, then resell? Will it be at your side every day, or is it just for special occasions? Are you a tee shirt and jeans kinda gal, or are you more likely to be out and about in designer gear and heels? Asking yourself these questions will determine the size and style of the bag you should choose.
Also ask yourself: what's the one colour that would match most of your outfits? Black, grey, nude and tan are great hues to stick to when buying a vintage designer handbag. These can be easily worn with pretty much everything.
But that being said, if you are thinking about selling the bag on later, you should know that some unusual colours can grab more resale cash.
For example, the 8th most expensive handbag in the world was a rare fuchsia Hermes bag. The unusual colour was the selling point. It fetched a whopping $222,000 at an auction of Christie's in Hong Kong back in 2015. It's probably worth more today!
2. Take good care
Be VERY careful with your purchase. The value of your bag will continue to rise, IF you keep it in good condition. Beware exploding pens and cosmetics in the interior, and clean the outside of the bag regularly with an appropriate product.
To keep your bag looking great for years, Catherine B. suggests you follow these tips:
Store your bag properly. Most luxury handbags come with a dustbag for a reason- it's meant to protect the exterior from fading in the sun, excess moisture and dust, and heat. When not in use, keep your bag in a cool, dry place.
Keep the bag's shape. To do so, stuff the handbag with old newspaper or clothes when not in use. Be sure not to stack other accessories or clothing on top of it in your closet.
Don't place overly heavy items in your bag. This will damage the shape of the bag and/or its handles.
Take it back to the brand. If your bag breaks or suffers damage for some reason, fix it at the brand's retail outlet, even if you didn't buy it there. They may charge more, but they're experts in the bags they produce. They'll be much more meticulous at repairing it than the shoe repair guy on the corner.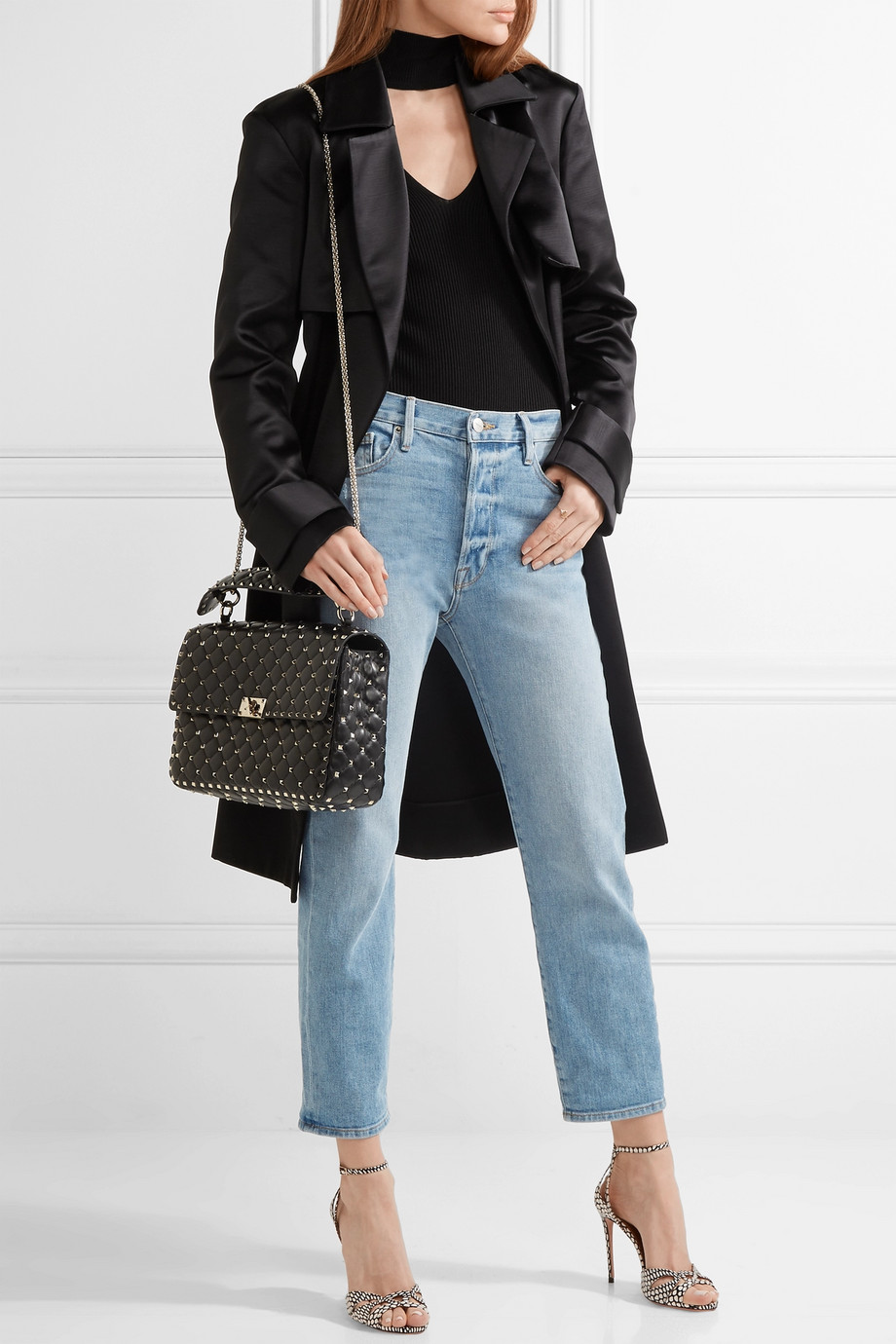 3. Consider supply & demand
If there's a limited edition bag you see for sale in the vintage shop, snap it up! Catherine Benier has done so, and now owns several unique Chanel bags, such as the 'supermarket' series and even some flap bags made from denim, which are now worth a fortune! If supply is low, demand is high.
That being said, there is always high demand for some of the most common models of vintage designer handbag. The following bags are likely to give you a great return on investment:
Louis Vuitton Speedy
Chanel 2.55
Hermes Birkin Bag
Louis Vuitton Neverfull Tote
Saint Laurent Cabas Chyc Tote
Chloe Paraty Tote
Prada Bowler Bag
Also keep an eye on the media and pop culture to understand what might be valuable in the future. For example, Sex and the City's Carrie Bradshaw made the Dior Saddlebag and Fendi's Baguette bag shoot up in value after she sported them on the show. And more recently, Rihanna caused enormous demand for Christian Lacroix cross pendants after she was seen wearing one.
4. Make sure it's authentic
It's easy to be duped by fake brands. Many actually look authentic to the untrained eye, and unless you do your research, you may be charged thousands of dollars for something fake that was cleverly made in China. It's too complicated to explain here how to spot a dupe, and it's also quite brand specific, but you can find some good advice for spotting a faux Louis Vuitton here, a fake Birkin here, or a fake Chanel flap bag here. Those are probably three of the most counterfeited brands.
Additionally, you should know where to shop. As mentioned above, auction houses should be your main go-to. Farfetch, Designer Vintage. and the Vintage Bar are a few other trusted places you can find verified authentic vintage designer handbags online. 
5. Go as high as you can
Sometimes, as the old adage goes, you need to spend money to make money. So save up to invest as much as you can in a vintage designer handbag. If you can afford a Chanel 2.55, go for it! But if you can save up a bit more for a limited edition one, even better.
The best investment, of course, would be a Birkin. But if that is out of your price range, go for a less expensive label like Saint Laurent or Valentino, for example.
Whatever you choose, remember – when you invest in a vintage designer handbag, it can also be a fun new part of your wardrobe. Be sure to truly enjoy rocking your vintage designer handbag before selling it on!
For more info or to shop online, take a look at the Vintage Bar for authentic vintage designer bags. All Louis Vuitton image credits: yoogiscloset.com Image credit 2: Catherine B. Prada image credit 3 here. Valentino image credit 5 here. Saint Laurent image credit 6 here. Final image credit: Catherine B
Latest posts by Noa Ben-Moshe
(see all)