You don't have to live in a fashion capital to hunt for sartorial treasures! Most of the best online designer vintage shops deliver anywhere in the world
From the dawn of time, humans have been creating clothes – from loincloths, togas, and hemp dresses all the way to Victorian bustiers and 60's mini-skirts. So you'd think there'd be enough clothing from the ages to dress everyone in the world a few times over, right?
The fact is, there's an awful lot of clothing out there. So why bother buying new when so much fabulous fashion already exists? A growing number of shops are clueing in to the fact that loads of us want to sell our old stuff and buy others' cast-offs, too. And as a result, there are more and more online designer vintage shops where you can pick up anything from an authentic concert tee to a pair of designer heels you could only dream of buying new.
And yet…some people still have a problem with buying used clothing. They see it as something that only poor people do, or they just prefer to buy new.
But allow me to clear up some FAQs and misconceptions about buying vintage clothing online.
Aren't vintage clothes smelly?
No. All the best online designer vintage shops will only accept clothing and accessories in good to excellent condition
Don't a lot of people dump fake designer goods on these sites?
No. Reputable online designer vintage shops, such as those below, have experts on hand to ensure authenticity of designer goods.
Don't vintage goods look kind of dated?
That depends how you wear them. We are living in a post-trends world: mix and match old and new clothing to create your own style!
What kind of people wear vintage clothes? Isn't it just poor people?
Ha! No, not at all. Everyone from top models like Kate Moss to major influencers like Kristen Leo and Chiara Ferragni are fans of vintage.
Ready to get shopping? Here's our pick of the best online designer vintage shops from around the world. And most deliver internationally, too!
Image below: Peekaboo Vintage. Main pic: Archive Vintage
The Best Online Designer Vintage Shops
This is one of the best known online designer vintage shops. The French e-commerce platform is fully dedicated to selling top of the line, global vintage luxury. Coveted pre-owned premium and designer brands, including Burberry, Celine, Miu Miu, Saint Laurent and more, are all screened for authenticity. You're also able to contact the person consigning the item, which means you can try to negotiate a bit on the price.
Best for: Fun designer vintage shopping. The site is easy to navigate, and has an online magazine, too. We love that many items often go on sale!
Image: Dolce & Gabbana 2018
This London fashion institution is one of the best online designer vintage shops. But Rokit also has their in-store stock online, too. Trawl through vintage looks sorted by decade or style, or just have a browse for what you're looking for more specifically. Who knows? You may find something that's really unique and stylish, like an original Ossie Clark dress, or Mary Quant skirt!
And the best part? They may be based in London, but will deliver your vintage find anywhere in the world!
Best for: Cheap and cheerful vintage, thrifting, finding classic British gems
Delivers: UK
This is maybe one of the quirkiest online vintage stores! It has a very selective process in picking the retro items they put on the market. Only one out of a thousand secondhand garments that are proposed to Beyond Retro actually make it onto their shopping site.
Anything that doesn't quite cut it, but still has potential, is restyled by their talented seamstresses to give it a more contemporary swing.
Best for: This is one of the best online designer vintage shops for groovy 60s and 70s vintage
Delivers: Worldwide
This global online designer vintage shop gathers 400 fashion boutiques within its community, offering a forward-thinking shopping experience. Their independent boutiques, which include designer vintage stores, have been carefully selected for their pioneering attitude and unique approach to merchandising, along with their diversity of brands.
They also sell some very rare vintage clothing indeed: think original YSL smoking jackets, Comme des Garcons dresses from the 80s, and even some original Chanel jewellery. 
Best for: This is one of the best online designer vintage shops for getting truly unique treasures sent anywhere around the world. They deliver anywhere!
Delivers: Worldwide
Love yourself some posh arm candy? Rebagg carries the likes of the European biggies (Chanel, Vuitton, Dior) but also popular  American brands (Tory Burch, Coach). Want to sell a bag of your own? Forget about waiting for decent bids on eBay! Rebagg gives sellers cash for designer handbags based on condition, designer and price. Right up front.
Users can get a free binding offer, then send it to Rebagg with free shipping and get paid within 1-2 days. There's never any waiting for the bag to sell. The site will buy it from you immediately and handle the selling process themselves.
Best for: Definitely one of the best online designer vintage shops for designer bags, of course!
Delivers: Worldwide
Got something to sell? If you don't want to deal with the hassle of shipping out your items, The Real Real will send a professional buyer up to collect your consignment picks. After an authentication team goes over your items, the site claims most will sell within three days. Sellers can consign clothing, shoes, accessories and even artwork. And of course, you can also buy, too!
Best for: This is one of the best online designer vintage shops for convenience. If you live in North America, that is.
Delivers: USA/Canada
This is not only one of the most popular and well known online designer vintage shops, but it's into charity, too. Yep, ThredUp sells second hand designer clothing, shoes, handbags and more. But sellers have the option of donating a portion of their profits to a  charity of their choice. Sweet!
Oh, and by the way – you can be one of those sellers, too. This is one of the growing numbers of online vintage shops that caters to sellers as well as buyers.
Best for: This is one of the best online designer vintage stores for giving back. They also have fantastic, regular sales, unlike many other shops
Delivers: USA/Canada
Our favourite sustainable fashion store how has a vintage section, and we adore! If you're keen on authentic, collector's item concert tees, or real cult vintage labels from the 90s (think: Bebe, Ghost, Pam Hogg…) then this is your store! Everything here is, of course, one of a kind, so if you fancy something, don't delay: snag it while you can!
Best for: This is one of the best online designer vintage shops for visuals. They have a great way of presenting and modelling items, so you can kinda know exactly how you'll look.
Delivers: Worldwide
This buy and sell shop offers two different selling methods. There's direct sale, which allows sellers to have full control of their consignment, and a concierge service, which lets the site takeover the consignment process so you don't have to worry about dealing with buyers or asking prices.
The shopping site also has an app which allows you to handle your sales (and shop other designer steals) straight from your phone.
Best for: This is one of the best online designer vintage shops for cleaning out your closet. And then maybe adding to it a bit!
Delivers: Worldwide, but note: no returns are allowed
Calling all luxury fashion lovers! Snob Swap features strictly luxury consignment and allows users to both buy and sell previously owned designer boutiques. Sellers can list however many items they wish without cost and then earn 85% of any subsequent sales.
From Chanel to Hermes, McQueen and more, the site offers top designer items for up to 90% off the usual retail price. Score!  
Best for: Selling or swapping designer clothing and accessories
Delivers: Worldwide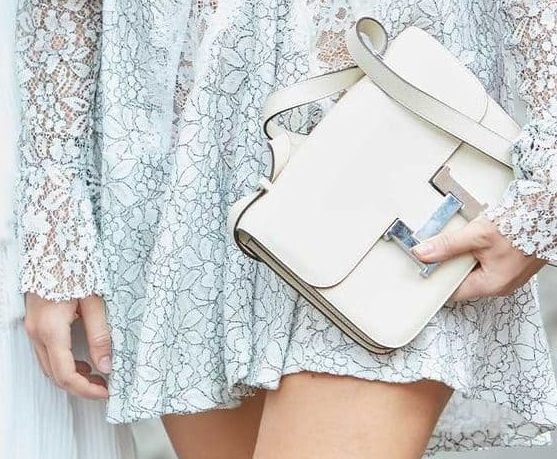 What Goes Around is another one of the best online designer vintage shops. This NYC-based boutique delivers internationally and is a treasure trove of designer finds. Normally, there's a lot of great vintage Chanel stock, including everything from classic 2.55 bags to  chunky '80s jewellery adorned with Chanel trademarks like lion and star motifs, as well as the classic 'double C'.
If Chanel isn't really your thing, don't fret: other classic labels like Dior, Kenzo, Fendi and more are usually available. Be quick!
Best for: A wide variety of rare, luxurious and unique designer stock
Delivers: Worldwide
The brand renowned amongst retro clothing lovers dates back to 1991, when Emily Bothwell and Michael Caunter first launched at Portobello Market London. Two decades later, Peekaboo has become a power in the field of vintage, supplying its outlets across London and online on their website.
Furthermore, Peekaboo works closely with celebrities and stylists, whether it is for photo shoots or premiers it always fulfils its mission: creating unique looks.
Best for: This is one of the best online designer vintage shops for a bit of hippy chic on the cheap
Delivers: Worldwide
This easy-to-navigate shop was was founded in 2006 out of a love for vintage clothing and fashion design. Still today, it gathers exceptional items by luxury brands such as Dior, Chanel, Ossie Clark, Mugler, Miyake, Chloe, Sant Angelo, Gaultier, Yves Saint Laurent and many more. All their designer clothing, shoes, accessories, and home items are 100% authentic and have a history. Some are even deadstock, i.e. never used vintage fabrics.
Best for: Those seeking inspiration. Their lookbooks are incredible, and we love how they organise clothes into collections, like American Made or Japanese inspired
Delivers: Worldwide
This hip, trendy LA based vintage shop is the treasure to divine retro fashion garments that make a strong personal statement. Founded in 2006 by Suzanne Ford Carafano, a stylist and designer, and her husband Vincent, a photographer, Spanish Moss carries rare, cool vintage selections for women, from the Victorian to grunge eras.
Best for: Casual chic with a California twist
Delivers: USA
ASOS pretty much has their fingers in all the fashion pies. They have an outlet, a marketplace, and sell menswear, unique designers and women's clothing. And now we can add a vintage clothing and accessories section, too!
Collected from boutiques around the world (with names like Dirty Disco and Old But Gold), you'll be shopping from small business owners who just pay a percentage to ASOS for hosting their shops. Expect to find everything from Versace jackets to 80s Duran Duran concert tees!
Best for: Those on a budget
Delivers: Worldwide
The name says it all: looking for designer duds that someone maybe wore a few times, then realised they just weren't right for them, but with the tags cut off, the clothes weren't returnable? Look no further. This shop boasts all kinds of designer clothing, for both men and women, as well as accessories and even jewellery. They also have a kid's section, too!
Best for: This is one of the best online designer vintage shops for vintage jewellery. It's rare to find such a great selection of vintage pendants, rings and bracelets.
Delivers: Worldwide
Got a taste for designer brands, but only have the funds for the high street? ShopWorn is the perfect site to be able to help you afford designer goods at a fraction of the retail price! The site sells authentic, unused, unworn luxury products. Their stock is sourced directly from authorized retailers and brands who contact ShopWorn to hand over unsold inventory including jewellery, watches, and luxury accessories.
Items sold are high-quality with minimal blemishes. These blemishes are what makes the products "shop worn" as they're the result of being handled in a shop environment. The name of the brand highlights that items bought have never left the store before, and customers buying from ShopWorn are the first customers to own the items available.
Best for: This is the perfect site if you're hoping to score a designer accessory without paying the full retail.
Delivers: Worldwide
Did we miss any of your favourite online designer vintage shops? Let us know in the comments, below!
Main image: Spanish Moss
Latest posts by Chiara Spagnoli Gabardi
(see all)