Getting sustainable luxury on a budget is easier than you think! Just follow these 5 tips
By Diane Small
We all want the best of what brands have to offer. Whether it's the fastest, sleekest car, the most effective, richest face cream or the best made, most stylish clothing, everyone wants a bit of luxury in their life. And it's not just mere luxury that we want; we want sustainable luxury. Studies show that over 80% of consumers would prefer to support transparent, ethical, and eco-friendly brands. That's a lot of people!
But when it comes to putting our money where our morals are, the reality is that lower costs rather than higher ethics often win consumers over. And that's understandable, especially given that many of us are hurting economically after the Covid crisis. Ethical brands generally are more expensive, for several reasons. For example, they need to pay their staff a living wage; they usually choose materials that cost a bit more, but that don't harm the planet, and sustainable brands are usually smaller and can't take advantage of economies of scale the way that massive producers, like Nike or Gap, can.
So – is it possible to enjoy sustainable luxury if you don't have a lot of cash?
What IS Luxury?
First, we need to define what we mean by 'luxury.'
While the term is rather subjective, I like the definition given by Dr Martina Olbertova, Founder and CEO of Meaning.Global. She says: "the very essence of luxury is based on the inflation of its symbolic value over the functional value of its goods and services."
In other words, the difference between, say, a frying pan and a luxury frying pan is how the latter takes on a status that goes beyond its mere function. This status could be conveyed via a certain brand name, special material, or via a special quality. In that sense, it could be argued that any 'sustainable' product is, almost by definition, a 'luxury' product, because it provides something extra beyond mere functionality.
Others would argue that 'luxury' connotes 'extravagance'. That is to say, a luxury item is one that you don't really need to survive. Following this definition, anything beyond one set of clothing, all jewellery, a car, or home decoration could all be defined as 'luxuries' to some extent.
Personally, my own definition of luxury is: an item whose manufacture and quality go above the standards set as the norm. It doesn't necessarily have anything to do with price; the perfect cookie or a wonderfully preserved antique chest of hand-carved drawers are both luxuries, in my book.
What About Sustainability?
'Sustainable luxury' is even harder to define. You would need to take your chosen interpretation of 'luxury' first, then apply your chosen definition of 'sustainable.' This word, too, is loaded with meaning: some would say it implies something will last; others would say it conveys the notion that biodegradable materials were used in its making.
The dictionary defines the word as: 'the quality of not being harmful to the environment or depleting natural resources'. By combining terms outlined above, 'sustainable luxury' would indicate goods that boast high symbolic value, and that have been made to last, from renewable or recycled materials.
As mentioned, such goods are highly desirable, but they don't usually come cheap. Still, there are ways to get sustainable luxury on a budget; you just need to be a bit innovative.
Here, I've found five ways that can give anyone of modest means a taste of the good life! Here's how to get sustainable luxury on a budget.
5 Ways To Get Sustainable Luxury On A Budget
1. Know Your Brands
The truth is that some sustainable luxury brands are more expensive than others. For example, in terms of cars, most people would love to drive a Tesla, but the cost of a new one is around $64,000. To contrast, The Toyota Prius Prime was voted to be one of the most environmentally friendly rides for 2020, and only costs around $24,000. That's a big savings! But both cars are smooth driving, well-made and eco-friendlier than gas guzzlers.
It's not only ethical car brands that show a huge difference in price – this is also the case for sustainable clothing and beauty brands.
For example, an organic cotton dress by vegan designer Mara Hoffman retails for around $325, but a dress made from the same material by pioneering ethical brand People Tree is around $60. The dresses don't vary that much in style – the true luxury here is the material and naturalness of the dyes, which both brands offer. The main difference is simply in the price, which means if you know which brands retail for less, you can easily get sustainable luxury on a budget.
That's also true for beauty products. Naturally extracted Argan oil branded by Kahina Giving Beauty costs around $36, but you can get pure Argan oil on Amazon from a lesser known brand for just $14!
In short, knowing which brands sell sustainable goods that don't harm the planet, and which boast lower price points, literally pays off.
This is how to get sustainable luxury on a budget:
2. Rent It
One way to get sustainable luxury on a budget is through the rental market. This market, for all consumer goods, has truly exploded in recent years. From wedding gowns and evening wear to handbags, furniture and appliances, you can pretty much rent anything today instead of buying it.
That's great for the planet, as it means fewer goods are produced for more people to use. And it's great for you, since you can not only have access to sustainable luxury items you may not have been able to afford before, but you'll be living a lighter, easier, more minimalist lifestyle.
Rather than being burdened down with stuff, you can use it as you wish, and then, if you decide to move house or change your style, everything just goes back to the original rental store for someone else to use.
No matter where you live, a quick search on the internet will reveal loads of clothing, furniture and accessories rental shops where you can select what you need for a fraction of the ownership cost. For some of the best designer clothing rental sites around the world, just click here.
3. Buy Second Hand
This is the most obvious – and wonderful – way to get incredible sustainable luxury on a budget. Whether it's a designer handbag, a prestigious car, or a fancy sofa, if you're buying it second hand, not only are you giving an item new life and saving it from landfill, but you'll also be saving a ton of cash.
The gently used luxury items you can get are almost endless. They range from beautiful prestige cars to elegant watches by brands like Rolex and Tag Heuer.
While second hand cars like those from reputable dealerships like Beck Evans are guaranteed to offer you the best in quality, showmanship, design and manufacture, you will need to be more careful when buying other used luxury goods.
Specifically, there are many excellent fake designer bags, watches and even shoes that are excellent imitations of the real thing. To be sure you're not buying a faux accessory, purchase them from trusted sites like these.
Looking for antiques or thrifted luxury furnishings? There are plenty of places online to search for these, including eBay, Facebook Marketplace, 1st Dibs, and Craigslist.com. On these sites, you can pretty much furnish your entire house with gently used items.
As for clothing and accessories, there are ever-increasing numbers of online stores that will let you shop for designer vintage or thrifted clothing, at a wee fraction of the original retail price. Follow some excellent second hand shopping tips to ensure you're getting the best bargain possible.
4. Look For Discounts
This one seems obvious, and yet few of us wait for the sales. The likes of Net A Porter, Moda Operandi and Saks Fifth Avenue carry dozens of sustainable luxury brands, such as Mother of Pearl, Stella McCartney, Mara Hoffman, Ninety Percent, St Agni and more. Regular prices for, say, a dress, usually start at around $300. But during the sales, prices can drop as far as 70%! It's definitely worth waiting for those sales, which usually happen in August or January.
If you need something now, you can still bag a bargain. Just visit outlet shops online like the Outnet or Saks Off Fifth to hunt for sustainable luxury on a budget all year round.
For the home, shop for deals at various discount furniture outlets and warehouses. Often you can find killer clearance and discontinued item specials on pieces that have gone out of season or if the company has too much in stock.
Also, shop at antique shops and thrift stores. You might just find a diamond in the rough piece that completely transforms your home!
5. Get Creative
Having something tailored just for you is one of the most luxurious ways to wear clothing. It means your garment is not only fully unique, but fits you like a glove.
Having bespoke clothing made somewhere ultra prestigious – such as on Saville Row in the UK or by a couture designer – will cost a fortune. But there are ways of doing this that are far more frugal, but with wonderful results.
For example, you can buy something off the rack and take it to your local tailor to be better fitted towards your body. Or even better, you can take clothing you no longer wear from your closet, and take it away for a makeover. Cashmere Circle is but one company that takes sweaters that are stretched, holey or stained, and gives them new life, for example. Otherwise, you can take unused clothes to a tailor or a student at a local fashion design school and ask them to create something better from it.
The sartorial possibilities for sustainable luxury on a budget are almost endless! An old pair of trousers could be transformed into a skirt; several old sweaters could be unravelled and re-knitted into one new 'designer' piece; old flared jeans could be taken in to a boot cut, to name just a few examples.
And it's not just clothing that can be customised to your needs: there are several natural beauty brands that are happy to formulate something perfectly tailored to your skincare needs, and they don't even cost as much as most prestigious department store brands.
See? Finding sustainable luxury on a budget isn't that hard! Do you have any of your own tips? We'd love to hear from you in the comments below!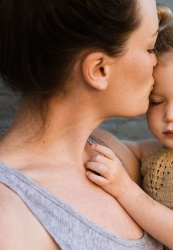 Latest posts by Diane Small
(see all)