These vegan recipes with turmeric taste amazing, and have so many healthy qualities!
By Lora O'Brien
It's a new kind of 'yellow fever' that's spreading around the world of nutrition. It has long roots in India as a spice, in Ayurvedic medicine and even a clothing dye. Its benefits are finally being revealed to us here in the West. What am I talking about? Turmeric, of course!
Yep, this yellowish spice – long  known as the 'golden spice of India', is becoming  increasingly popular with health addicts, food bloggers and even doctors for its vast range of (tasty) health benefits.
For example, turmeric is great for detoxifying the body. Its active compounds have been found to improve liver function, thus reducing toxins in our bodies.
Introducing turmeric into your morning routine is also a great way to kickstart your day, every day. You can try turmeric tea, either homemade or store bought, or  even take turmeric supplements for some powerful daily detoxing.
A Nutritionist's Advice
According to nutritionist Francesca Mastrojanni of the White Crane Clinic in London, another great benefit of the spice is its anti-inflammatory properties.
These have been proven to be so potent, they're rivaling some of the strongest pharmaceuticals for reducing chronic inflammation and pain. Thanks to the active ingredient in the spice (curcumin), Francesca says turmeric can even stop the growth of cancer cells!
And if you suffer from severe menstrual discomfort, adding turmeric into your diet can help. It can not only release cramping, bloating, mood swings and excessive bleeding, but the soothing spice can help us out through menopause.
My Indian friends tell me their moms used to make them drink turmeric honey milk for colds, fevers and sore throats, and no wonder! Francesca says that turmeric has antibacterial qualities, so it is also used to heal cuts and burns. When mixed with some cream, it can take the itch out of insect bites (but be warned – it may stain your skin yellow!).
But that's not all. Mastrojanni tells us turmeric can also lower cholesterol to healthier levels, support balanced blood sugar levels, thus avoiding insulin resistance and type 2 diabetes, and it protects brain and liver function. I mean, this spice is a doctor in a jar!
How To Use Turmeric In Your Diet
Even though it's often the basis for curry powder, for those not enamoured by Asian dishes, the spice may be new to  you, and you may not know how to incorporate it into your meals. But never fear – it's actually easier to use than you think.
Just keep in mind that it goes well with tofu, vegetables, curries, and vegan milks. Simply add a pinch to any dish you're about to eat to profit from turmeric's health benefits. Tip: adding black pepper helps to unlock turmeric's health properties! So put a dash into everything, from smoothies to curries. You won't taste it much!
To make your life even easier, I've found over 30 vegan recipes with turmeric. They range from breakfast to dessert. All use just enough of this Golden Girl to make a serious difference to your health, even if you only indulge in one of these dishes a few times a week.
30 Tasty Vegan Dishes That Use Turmeric
1. 3-Ingredient Ginger Lemon Water
After you've slept, you've essentially fasted during the night. Your body is crying out for rehydration when you first wake up. Personally, I always have warm lemon water first thing in the morning. It's refreshing and great for the skin. Adding in some turmeric and a little ginger only makes a detoxing lemon water into a little potion of greatness. You'll feel hydrated, and ready to take on the day.
Get the recipe here.  
2. Cinnamon Ginger Turmeric Tea
This cinnamon ginger turmeric tea is super speedy to make and is packed with nutrients! Miles better than any store-bought alternatives, this one is truly bursting with fresh flavour. The perfect warming beverage to kick-start any morning.
Get the recipe here.  
3. Vegan Golden Milk Turmeric Latte
This golden milk latte is the quintessential must-make of all the vegan recipes with turmeric. It's packed with immune-boosting antioxidants, nutrients, vitamins and healthy fats. The end result is a beverage that is super creamy, indulgent but 100% healthy. You can even call this your morning medicine!
Get the recipe here.  
4. Pineapple Turmeric Smoothie
A smoothie is a really simple way to kick-start your day with lots of goodness! This 5-minute turmeric pineapple smoothie is loaded with anti-inflammatory benefits and one that will transport you to the tropics in seconds!
Get the recipe here.  
5. Spiced Golden Milk Hot Chocolate
Love chocolate, but not a fan of overly sweet things? This is one of the best vegan recipes with turmeric for you! The dark chocolate adds a rich quality to this drink, whereas the whipped cream adds a touch of sweetness without being overly sweet. Plus, the turmeric gives it that healthy boost!
Get the recipe here.  
6. Turmeric  Glowing Bowl
How pretty is this? Packed with coconut, blueberries, raspberries and other deliciousness, this bowl is the perfect way to start your day. And of course, feel free to throw in whatever you love. For me, that means extra nuts and maybe some goji berries.
Get the recipe here.  
7. Golden Milk Breakfast Bowl w/ Pepita Brittle
Yep, more vegan recipes with turmeric for breakfast. But this one is a bit different. It uses golden milk as a basis that soaks into the oats, making them soft and creamy. And that pumpkin seed brittle gives a deliciously sweet crunch to the soft oats.
Get the recipe here.  
8. Turmeric Breakfast Muffins
Your typical blueberry muffin gets a healthy makeover with this recipe. Remember what the nutritionist told us about how turmeric keeps blood sugar levels stable? That means these muffins will leave you energised for hours. Blueberries out of season? Frozen will do just fine. This is one of those flexible vegan recipes with turmeric. Add whichever fruit you like!
Get the recipe here.  
9. Golden Turmeric Milk Chia Seed Pudding
This vegan golden chia pudding is made with creamy plant-based milk, dairy-free yogurt and maple syrup for sweetness. Leaving it overnight helps the chia seeds to expand and absorb up all of those yummy flavours. The perfect breakfast to grab and go!
Get the recipe here.  
10. Anti Inflammatory Vegan Pancakes
These pancakes are one of the most unique vegan recipes with turmeric. They're fluffy and moist, thanks to the applesauce and plant milk. These can be made in just a few minutes by blending the ingredients together. The result is a stack of anti-inflammatory pancakes that are delicious and golden, thanks to the turmeric.
Get the recipe here.  
11. Healthy Homemade Waffles
When you make your waffles from scratch, you have full control over what goes into them! And these healthy homemade waffles are crispy on the outside, fluffy on the inside with a protein kick from the chickpea flour! Paired with the turmeric and chia seeds, these waffles are full of nutrient-rich and cancer-fighting superfoods.
Get the recipe here.
12. Gluten-Free Turmeric Cracker
I love having crackers on hand. They make a really great snack and alternative to bread if you're looking to dunk something onto a bowl of soup. These GF crackers are crispy and will even be tastier when smeared with some hummus, guacamole, or one of the dip recipes below.
Get the recipe here.  
13. Healthy Turmeric High Protein Bites
I love having bliss balls on hand. They're the perfect healthy treat to power you through the day when your energy gets low. And these healthy, no-bake, high-protein golden milk bites are loaded with superfoods, spices and a dash of turmeric for an extra nutritional boost. Definitely one of the easiest vegan recipes with turmeric to make, too!
Get the recipe here.  
14. Golden Turmeric Cauliflower Hummus
Think hummus is one dimensional? Think again! This golden turmeric cauliflower hummus is one of my favourite vegan recipes with turmeric. It's an easy, tasty vegan and gluten-free dip that's made with a bunch of awesome, wholesome ingredients. It works great as a snack or appetizer and the best part? it's ready in under 10 minutes!
Get the recipe here.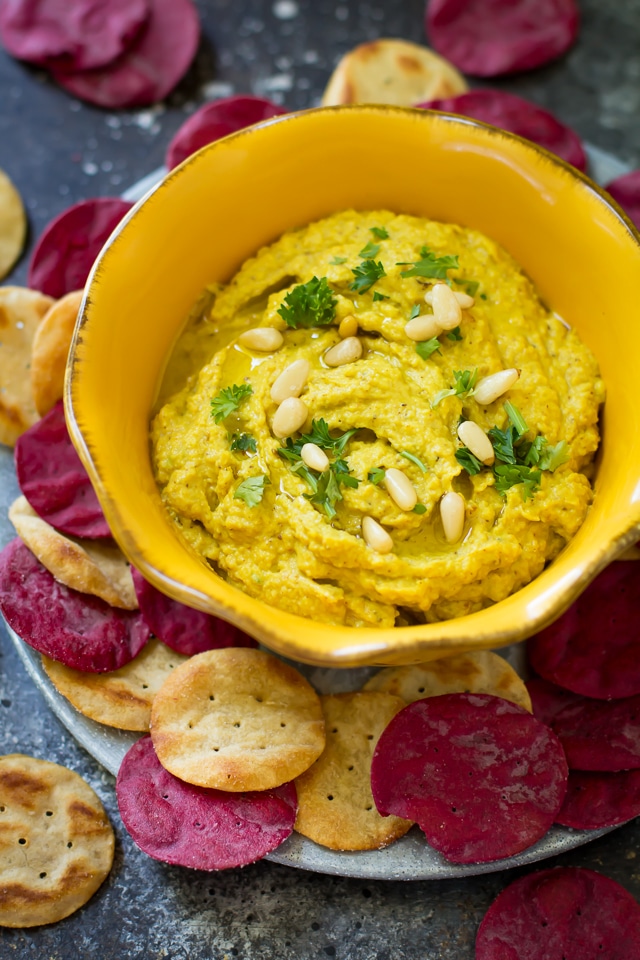 15. Turmeric Cashew Cheese Spread
Not only is turmeric a healing superfood, but its gorgeous yellow hue helps to give a burst of colour to everything it comes into contact with. Like this easy homemade cashew cheese. Flavoured with turmeric and black pepper, the cultured spread is the perfect condiment for dipping or smearing in a sandwich!
Get the recipe here.
16. Crispy Turmeric Roasted Chickpeas
This is one of my favourite vegan recipes with turmeric for snacking. But you can also use these roasted chickpeas in place of croutons. I toss them on top of soup, in a salad – everything!
Get the recipe here.  
17. Turmeric Baked Falafels
A list of vegan recipes with turmeric needs to include something hearty. For me, that would be falafels. I love them! They're easy to make, too. This recipe has just five ingredients and two steps towards making them. These are baked instead of fried, lessening the calorie count, but they still taste moist and fluffy inside. You can either enjoy with a leafy green salad or add some into a wrap with a little tahini.
Get the recipe here.  
18. Fall Harvest Salad w/ Turmeric Dressing
Salads aren't just for summer, they're for all seasons, period! And this fall harvest salad is tossed with a delicious, creamy superfood turmeric dressing that is just divine! You could make this salad super versatile bt switching up the veggies and fruit with whatever is in season at the time.
Get the recipe here.
19. Turmeric Chickpea Cakes w/ Avocado Cream
Want a quick, easy and healthy meal to add to your repertoire? I swear you will never grow tired of these turmeric chickpea cakes. Pair with a salad and the garlicky avocado cream for a super yummy, quick and easy dinner.
Get the recipe here.  
20. Orange Turmeric Roasted Root Vegetables
I love roasting up a bunch of veggies! The roasting makes them crispy yet soft and just addictive. This recipe roasts them with orange zest, turmeric, fresh ginger and dried herbs. It may sound simple, but this combination of flavour will win you over.
Get the recipe here.
21. Roasted Cauliflower Quinoa Salad
Cauliflower and turmeric are like Batman and Robin. They go great together! Um, except they don't wear a mask. And they're not fighting crime. But they are fighting to keeping you healthy! The duo can help to prevent prostate cancer, making this dish more than just tasty!
Get the recipe here.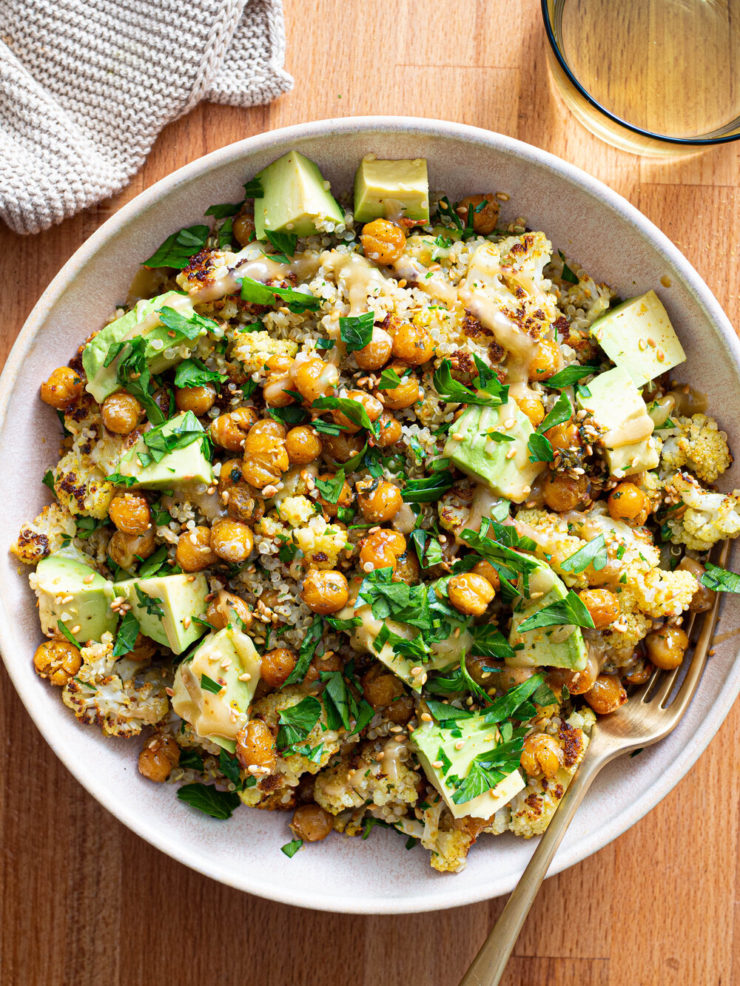 22. Vegan Turmeric Detox Soup
This vegan turmeric detoxing soup is full of warming spices and fresh vegetables to give you lots of healthy goodness in one bowl! It's worth noting that turmeric isn't well absorbed into the body's bloodstream, so in order to get the therapeutic benefit of the spice, try to eat black pepper in conjunction with it to increase its absorbency
Get the recipe here.  
23. Nourishing Carrot, Ginger & Turmeric Soup
The creamy texture here comes from the butternut squash and carrots while the flavour comes from the coconut milk. You could add some extra protein to this soup to make a meal, suck as roasted cashews or roasted chickpeas. Otherwise, it's super yum!
Get the recipe here.  
24. Simple Turmeric Rice Bowls
Looking for a really simple way to add turmeric to your diet? It doesn't come simpler – or tastier – than this rice bowl. The fluffy turmeric rice is topped with zesty pickled onions, chickpeas and spinach and then drizzled with creamy coconut raita. Easy, delicious and nourishing – perfect!
Get the recipe here.  
25. Healing Red Lentil Dahl
The colder weather is all about comfort food. But who wants to spend hours cooking? This quick red lentil dahl is super creamy, comforting and hearty – and takes next to no time to make! It's also one of the best vegan recipes with turmeric for freezing for later use.
Get the recipe here.  
26. Chickpea & Cauliflower Turmeric Curry
We couldn't do a list of vegan recipes with turmeric without a curry! And this delicious creamy chickpea and cauliflower turmeric curry is super easy to make. It's loaded with ground spices, highlighted by the turmeric, and is absolute flavourful and delicious. This is a great way to incorporate vegetables and plant protein into your diet.
Get the recipe here.  
27. Thai Curry Tacos w/ Turmeric Sour Cream
Looking for a unique taco recipe to reinvent Taco Tuesday? These Thai curry tacos are made with ginger, lentils, red curry paste and a turmeric coconut sour cream are exactly what's needed to shake things up.
Get the recipe here.
28. Tofu Scramble
This easy tofu scramble is another of those vegan recipes with turmeric that you'll be making all the time! It can be whipped up in a matter of minutes from a few staple ingredients. Perfect for a high-protein breakfast in a flash!
Get the recipe here.
29. No Bake Golden Milk Cheesecake Bars
What's a list of vegan recipes with turmeric without dessert? This cheesecake is raw, which means no baking, and is also loaded with the anti-inflammatory benefits of turmeric and the warmth and comfort of golden milk. Each square is deliciously spiced, gluten-free and vegan. A great recipe for the repertoire of all you gourmet cooks out there.
Get the recipe here.

29. No-Bake Turmeric Coconut Bites
Looking for a fun way to incorporate turmeric in your diet? These coconut bites are the perfect treat to make and are even better if you're not a huge fan of overly sweet treats. They're sweet, a little spicy and require zero baking! Sold? I sure am!
Get the recipe here.  
30. Vegan Turmeric Rice Pudding
Looking for the perfect sugar-free treat to enjoy come rain or shine? Enjoy this super-light, easy-to-make, healthy and gluten-free vegan turmeric rice pudding. Loaded with the DNA-repairing and anti-inflammatory benefits of turmeric, it's a treat you can literally feel good about eating!
Get the recipe here.
Latest posts by Lora O'Brien
(see all)