Vegans need to watch their B12 intake – and their iron. But it's easy with these iron rich vegan recipes!
By Lora O'Brien
When it comes to the vegan diet, people tend to fixate on protein. After all, are you even vegan if you haven't been met with the infamous but where do you get your protein from? interrogation? Other people are concerned about getting enough B12. But one thing many of us should think about more is iron!
Have you ever felt tired for no reason? Or looked in the mirror and been a similar shade to Morticia Adams? Being deficient in iron presents itself in many ways that can often be overlooked. Iron is super important to our diet. It plays a vital role in our health by making red blood cells, which then carry oxygen around the body. When you're lacking it, you can even become anemic.
It's believed that those who eat a plant-based diet need twice the amount of iron than meat-eaters. And to absorb whatever iron you are eating, you'll need some vitamin C to help you do so.
Tips for getting more iron
There are a few ways to up your iron intake, from the food on your plate to the cookware used to make your meals! Below are a few super easy ways to boost your iron intake to overhaul your health in no time!
Cooking with cast iron
It's no myth that cooking in a cast-iron skillet will help to boost your iron intake. Not only is cast iron one of the healthiest ways to cook your food (ditch your Teflon pans, guys!). But cooking foods, especially high-acid foods that will encourage leaching of iron out of the pan, will give your diet a boost of iron without even trying. This alone won't prevent iron deficiency, but it's a small and easy way to boost your daily intake.
FYI: Make sure the pan you pick is high quality and 100% cast iron. Le Creuset's Cast Iron Skillet is great if you can splurge a little, but if you're on a budget then I recommend this Lodge Cast Iron Skillet.
Eat your iron
f there is one thing vegans are, it's creative. So you best believe that you can eat iron is plentiful of delicious ways. Good plant sources of iron include:
chickpeas
lentils
beans
tofu
cashew nuts
ground flax, hemp, chia and pumpkin seeds
kale
dried apricots
quinoa
fortified breakfast cereals.
Eat vitamin C with meals
If you're eating a food that is rich in iron, it's a good idea to add a healthy source of vitamin C to your plate. This will help your body to absorb the iron. Some essential foods to include are:
peppers
cauliflower
Brussels sprouts
oranges
blueberries and strawberries
pineapple
lemon
Ditch caffeine with meals
Whether it's tea or coffee that is your caffeine vice, you may want to ditch it when eating meals. Why some people dispute whether caffeine actually hinders iron absorption, it can slow down your body's ability to absorb minerals after eating. So it's best to stick to water.
So, now you know how to boost your iron consumption, let's focus on the iron rich vegan recipes that taste yummy and boost your energy levels!
30 Iron Rich Vegan Recipes
1. Kale and Orange Smoothie
This is one of those iron rich vegan recipes you should start each day off with! Kale is a fabulous source of iron, and is a great leafy green to pack into your morning smoothies. Pair with vitamin C like oranges for a nutritional boost. Thus combinations works super well, but you can also add in a banana for sweetness or some nut-butter for a protein hit.
Get the recipe here.
2. Spinach Crepes with Creamy Mushrooms
These light, fluffy and tender crepes are wrapped around the most delicious creamy mushroom mix. Made with a flavoursome mix of garlic, shallot and thyme, they ooze flavour with every bite. The chickpea flour helps to bind these so they don't fall apart in the pan, while the spinach helps to boost the iron intake!
Get the recipe here.
3. Spinach & Tofu Scramble
Tofu scramble is the perfect breakfast dish to make in replacement for eggs. When broken down, the tofu is a great match for eggs, especially thanks to the turmeric added to give it its sunny hue! Throw in some spinach and added iron and vitamin C and you're on your way to consuming more iron.
Get the recipe here.
4. Quinoa Breakfast Cereal
Quinoa is a superfood that is rich in protein, so it makes the perfect breakfast option. Not only will it help to keep you fuller for longer, but you can top it with lots of wholesome ingredients. This recipe does call for the use of honey, but you can use maple syrup to keep it vegan-friendly.
Get the recipe here.
5. Strawberry Quinoa Breakfast Bars
Looking for a quick breakfast option? These simple strawberry quinoa breakfast bars are loaded with protein and whole grains. They're naturally sweetened and the perfect way to boost your energy first thing.
Get the recipe here.
6. Kale Chips with Garlicky Lemon Tahini Dip
Since kale is high in iron, kale chips are one of the best iron rich vegan recipes to make. You can eat them as a snack with an orange to help absorb the iron, or you can simply make this garlicky lemon tahini dip. They're so addictive, and will become your go-to snack, I swear! They're also great for taking on picnics.
Get the recipe here.
7. Simple Vegan Sautéed Greens
The below is one of the easiest iron rich vegan recipes to throw together. It's just sautéed kale and chard with garlic, shallots and lemon. This is a simple healthy side dish that pairs will pair well with any main.
Get the recipe here.
8. Santa Fe Quinoa Stuffed Peppers
Combining quinoa with a food high in vitamin C, such as red bell peppers, helps to improve the non-heme iron absorption by four times! So spice up your peppers with these high iron ingredients. Other good combinations of iron and vitamin C include leafy greens with lemon juice, tempeh with broccoli and lentils with sweet potato.
Get the recipe here.
9. Easy White Beans in Tomato Sauce
When it comes to meal-times, sometimes the less fuss you make, the more delicious the food. And one of our winning combinations? White beans in tomato sauce. Yep, simple and damn tasty! The flavours of the oregano and smoked paprika really elevate the dish.
Get the recipe here.
10. 1 Pot Cheesy Mexican Lentils, Black Beans & Rice
This one-pot dish is perfect for those days when you just don't want to cook but you want to eat something yummy! It's loaded with wholesome goodness and packed with iron from the lentils and the black beans. Cook the whole dish in a cast-iron skillet for extra iron absorption.
Get the recipe here.
11. Teriyaki Tempeh and Broccoli Stir-Fry
I love rustling up a stir-fry! Not only is it delicious, but it's such an easy way to bulk out your meal with lots of yummy vegetables. This teriyaki tempeh and broccoli stir-fry will satiate your hunger pangs any night of the week. Serve alongside some brown rice for a quick and easy meal.
Get the recipe here.
12. Sun-Dried Tomato, Spinach and Quinoa Salad
Spinach and quinoa are two iron-rich sources that can be enjoyed together, and this simple salad is the perfect way to merge them. Full of fresh Mediterranean flavours, including zesty lemon and sun-dried tomatoes, this is the perfect side dish, or main.
Get the recipe here.
13. Dandelion Tea Baked Tofu with Sautéed Greens
Let's get foraging! Did you know dandelions are a great source of vitamin C? They also prove iron, calcium, magnesium and potassium. Throw them with some baked tofu for a delicious meal.
Get the recipe here.
14. Easy Lentil, Sweet Potato & Coconut Curry
If you're daunted by the thought of making a curry, don't be! You can pretty much throw your ingredients into a pot and let it do its thing while you do yours. And in a few hours, it's ready to be served up, and it's oh so tasty and the perfect soul food!
Get the recipe here.
15. Tofu Saag Paneer
Who doesn't love a curry? The blend of tofu and spinach will give your body a dose of iron, while being super tasty, healthy and simple to throw together. This vegan saag paneer has pan-fried tofu cubes that replace the traditional cheese, and is smothered in spicy curried spinach and coconut milk – yum!
Get the recipe here.
16. Mexican Black Bean Chilli
Beans and grains are vegan staples, and it's no wonder why: they provide such a hearty, nourishing range of meals. This vegan bean chilli is great for an iron dose thanks to the beans, quinoa, and blackstrap molasses. It's all blended with lots of yummy veggies!
Get the recipe here.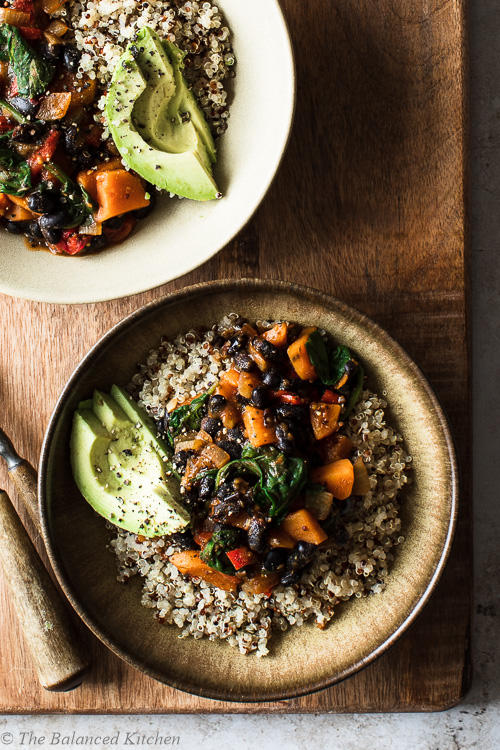 17. Lentils & Brussels Sprouts Skillet
Lentils are high in iron, and Brussels are high in vitamin C. So they're kind of made to go together, don't you think? This recipe is a delicious way of incorporating hearty lentils and healthy veggies into an easy meal.
Get the recipe here.
18. Creamy Lemony Tahini Pasta
This lemon tahini pasta is bursting with so much flavour, and it's simple and healthy – what's not to love? Requiring less than 10 ingredients, it's really in just under 15 minutes and is the perfect creamy dish to cater to your pasta cravings!
Get the recipe here.
19. Crispy Tofu Bowls w/ Sesame Bok Choy
I love bowls of crispy tofu and greens. Honestly, they just go so well together, and it feels like a fakeaway. The bok choy is the real star of the show here, and is seared to perfection. It's supported by the crispy tofu chunks and drizzled with sauce. Keep this vegan by omitting the honey, or use agave!
Get the recipe here.
20. Tofu & Spinach Peanut Butter Stew
This stew is cooked in a light and creamy coconut sauce, all cooked in one-pot and served alongside some brown rice. Finish it off by topping it with chopped coriander, chilli and crunchy peanuts. A straightforward recipe bursting with plant-based goodness.
Get the recipe here.
21. High Iron Veggie Bowl
I love making a Buddha bowl! You pretty much throw lots of goodness into a bowl and chow away! The vibrant turmeric tahini dressing is the star of this veggie bowl. Not only does it add a wonderful golden hue, but the flavour works excellently with the mix of fresh veggies, rice and iron-rich beans. Sprinkle some chia seeds on top for an extra iron boost!
Get the recipe here.
22. Quinoa Fried Rice
Got leftovers sitting in your fridge? This is the perfect dish to throw together to use them all up! This healthy quinoa fried rice is gluten-free and oil-free and made with a bunch of wholesome, plant-based ingredients that will nourish you with every mouthful. The vitamin C in the broccoli will further boost your iron.
Get the recipe here.
23. Broccoli & Red Lentil Soup
No matter the weather, this soup will leave you nourished from the inside out. It also provides 2 portions of veggies per serving, is loaded with antioxidants and anti-inflammatory benefits and will help you to detoxify and be healthy. So, it's pretty much like a bowl of plant-based medicine! Add some seeds on top for even more iron.
Get the recipe here.
24. Gingerbread Protein Balls
These super delicious vegan gingerbread protein balls can be made in 5 minutes with just 6 simple ingredients. They taste like gingerbread cookie dough! The best part? No blending or baking required which means less mess, more yumminess! The flax seeds provide tons of iron. It's a yay from me!
Get the recipe here.
25. Healthy Chocolate Cups
Who doesn't love a chocolate cup? They're deliciously addictive and deceptively healthy! Made with a few ingredients, these iron rich cups are one of my favourite iron rich vegan recipes for dessert. Keep them even healthier by choosing dark chocolate that is at least 85% and avoid using ones with more sugar.
Get the recipe here.
Latest posts by Lora O'Brien
(see all)