For me, these non toxic candy colored nail polishes are a trip down memory lane!
By Chere Di Boscio
Think back to your childhood for a minute. What was your favourite candy?
Personally, my teeth hurt when I think about it, but I loved a few things that I would never even think about putting in my mouth now: black liquorice pipes, for one. You know, those little soft confections that were shaped like a little 'pipe', with red sprinkles as the 'lit' part? I'm pretty sure those are no longer for sale, because, you know – kids and smoking shouldn't mix, even if the 'pipe' is just candy!
But there were all kinds of other things I adored back in the day, too: cotton candy, suckers, Lifesavers sweets, and chocolates of all kinds (OK, yes, I'm still down for those!).
Today, I'd rather remember those sweet days in other ways; namely through nail polish!
Cotton candy pinks, cherry drop reds and sour grape purples are just a few nail polish shades we found that will make your hands look good enough to eat. And you know what else is tasty? Every  brand we picked is at least '5 free', which means they don't include nasty ingredients that can seriously harm your health, namely:
Formaldehyde

Toluene

DBP

Synthetic Camphor

Formaldehyde Resin
But most of these are free of even more toxins, too!
So go ahead and 'Pick 'n' Mix' whichever of these non toxic candy colored nail polishes takes your fancy.
10 Non Toxic Candy Colored Nail Polishes
1. Tangerine Sucker
Your candy hued nail polish collection wouldn't be complete without a stunning tangerine sucker shade! This bold nail polish is called Tiddly, and it's by Butter London, a company that thrives on creating eco-friendly and vibrant nail lacquers. All of their polishes are 8-free, but be warned: they're not vegan friendly, as they use hydrolysed silk in their formulae.
Get it here.
2. Cotton Candy
This gorgeous cotton candy shade will surely evoke memories of funfairs! It's called Riga Red, but it's all pink! This shade is by one of the first ever non toxic nail varnish brands, Mavala, and it's the perfect hue for doing a French Manicure, too! Oh, and did I mention that Mavala's unique formulae deliver microscopic air pockets that allow your nails to breathe?
Get it here.
3. Toffee
Whether it's covering an apple for Hallowe'en, or just sucked on for hours on its own, toffee is a favorite sweet for people of all generations! It also just happens to be a pretty trendy nail shade at the moment.
Sheer Wisdom is a line of non toxic nail varnishes by Butter London, and we particularly love this toffee shade! It contains an innovative Micro Smart Active Technology, which drenches your nails in nourishing ingredients that help to repair and condition them. There's also Vitamin E for antioxidant protection, Keratin for nail strengthening, Tea Tree Oil to combat brittleness, and Arginine to prevent breakage.
Get it here.
4. Black Liquorice
Alright, I know that in terms of candy, this is kind of a Marmite thing: either you love black liquorice or you just hate it! As I mentioned, I'm in the former camp. But what's more, I love black nail polish! It's somehow become a new classic, and this one by Nailberry is one of my faves.
This brand is an award-winning polish that glides on effortlessly to deliver long-wearing, high-shine color. It's also halal and 100% vegan friendly!
Get it here.
5. Sour Grape Suckers
Sour grape candies often seem more sour-grapey than….sour grapes! I loved sour grape gum, suckers and even Lick'n'Dips when I was a kid (remember those? Your tongue would be purple for hours after!). This Mexico shade by Mavala is one of their most popular, and captures the spirit of those sweets perfectly.
Get it here.
6. Red Liquorice
For some reason, it seems red liquorice is more popular than black. And why not? Whether it's those thick, twisted Twizzlers, or skinny, cherry flavored liquorice whips, it's yum!
This Stiletto shade by Kure Bazaar is not only candy-like in its gloss, but is also a classic red that always looks chic, with any outfit. The brand was created by Kartika Luyet. a model and world traveler who was born in Brazil to Balinese and Swiss parents. Like Kim D'Amato of Priti NYC, she was pregnant when she came up with the idea for her non-toxic nail polish company.
Get it here.
7. Purple Smartie
Purple Pastel Cream by NCLA reminds me so much of those purple Smarties!  I have no idea what flavor they were meant to be (purple?) but they were my favourite ones in the whole pack.
If you're not familiar with NCLA polishes, they're 'proudly made with love in California' and are 100% vegan friendly and 7-free.
Get it here.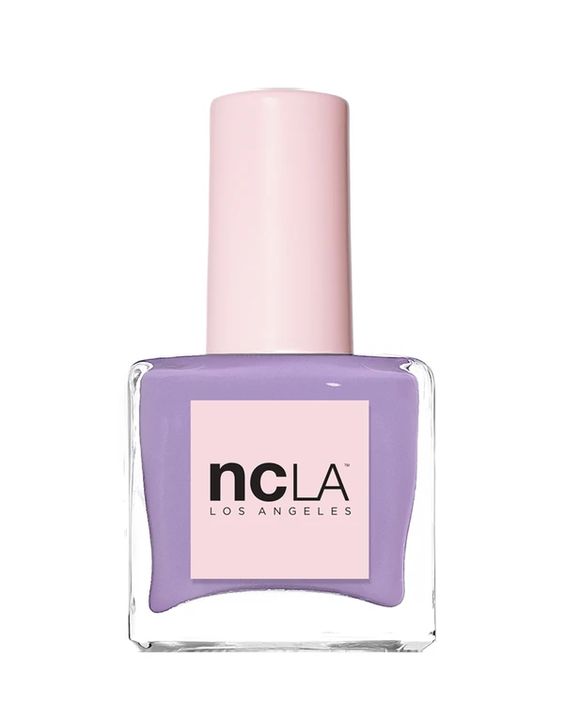 8. Cool Mint Blue
Not many kids love minty flavors – but lots of adults do! This cool mint blue, called 'Bitter Buddhist', is a sophisticated nail polish is a flattering celadon green that looks great against any skin tone, but especially against tanned hands, if you ask me. It's by 5-free brand Smith & Cult, whose bottle design is one of my favorites.
Get it here.
9. Lemon Drop Yellow
Baby Toes Cactus may be the flower that this Priti NYC nail polish is named after, but if you ask me, it's the exact shade of a tasty, tangy lemon drop!
I have a lot of love for this New York based brand, which is 7-free and vegan friendly. It was founded by Kim D'Amato, who wanted a non toxic nail polish she could use whilst pregnant. With a vast array of lovely shades that last and last, no wonder this has become one of the world's leading nail brands.
Get it here.
10. Candy Sprinkles
Ah, sprinkles! Some people just won't eat ice cream or birthday cakes without them!
Looking for something that literally looks as though you've dipped your fingers in sugary sprinkles? Then these press ons by Nice Claws are perfect! These are great for birthday parties especially, and the best part? They can be used again and again.
Get it here.
Latest posts by Chere Di Boscio
(see all)