Last Updated on
By Lora O'Brien
Hallowe'en is a kind of love/hate time for many parents. You want your kids  to have fun dressing up and enjoying the spookily fun  atmosphere as they swing their pumpkin buckets happily knocking on door to door. But all of that cavity-and-ADD-inducing candy  that fills up their buckets? A nightmare.
Vegan mom of two Ellen Fisher has a great suggestion for handling that unwanted, sugary, non-vegan Halloween candy: her kids leave their sweet treats  in their Hallowe'en buckets, and in the middle of the night, she 'magically transforms' what's in the buckets into  healthy treats for them to enjoy the next day. But what to swap it over with, many of you will be asking. Well luckily, we have an abundance of sweet treats for you to choose from. From vegan toffees to caramel apples, you can have fun making these recipes whether  it's Hallowe'en or not.
1.  Vegan Biscoff Coconut Caramel Apples
As a kid, I lived for toffee apples. I would freak out when the bright red candy encased apples would finally be on sale come October. There's something so satisfying about biting into one of these babies, but it's hell on the teeth! I've found that these caramel apples are a little more dental friendly and don't have half as much sugar. If you want to make them a little healthier, skip the sugary toppings and try some shredded coconut or crushed nuts instead.
Get the recipe here.  
2.  Homemade Vegan Toffee
These little toffees are similar to the American Tootsie Roll treats, but made without all the junk. They contain just three ingredients; maple syrup, sunflower butter and a little sea salt. Make them individually and cover them with little wrappers to make an adorable little treat.
Get the recipe here.
3.  Monster Rice Cereal Treats
These little monster treats are a quick and easy way to bring a little fun  to your kitchen. Kids will love decorating these with the googly eyes, wrapping them with gauze, and of course, scoffing them down!
Get the recipe here.  
4. Halloween Apple Bites
These gory apple slices are made with just three ingredients: apple slices, almond slithers and either jam or peanut butter. All you need to do is slice apples into mouths, stick the almond slices into the apple to look like teeth and then smear jam or peanut butter into the center to make it look like a mouth. Super healthy,  especially if you use a sugar-free jam.
Get the recipe here.  
5.  Pistachio Chewy Popcorn Balls
These little popcorn balls are so quick and easy to create, and are  made from  some nutritious ingredients and that have far  less fat and sugar than the popcorn we buy in supermarkets to enjoy at home. Make these popcorn bites without the straws to save the environment from unnecessary plastic!
6. Candy Skull Crushers
These are white chocolate . . . without the white chocolate. But don't worry, they'll taste exactly the same minus all that nasty milk and sugar that makes white chocolate appear to taste so good. These are 100% vegan and even raw! And they're kind of deliciously creepy, too. To keep their texture firm, store in the fridge or the freezer and take them out when you're ready  to scoff them all.
Get the recipe here.  
7.  Pumpkin No Bake Energy Bites
These energy bites are a little jazzier than your standard date balls. These have a real autumnal vibe from the pumpkin and a smattering of nuts and seeds covering them alongside the  cinnamon, nutmeg and ginger spices. Plus, these  should come in handy for a little energy boost for all those parents who are out trick or treating!
Get the recipe here.  
8. Vegan Candy Corn
Is Hallowe'en even Hallowe'en without a little candy corn? If you've never tasted it, you're missing out. Well, on a shed load of sugar, anyway. But making these is much healthier – and is also really fun.
Get the recipe here.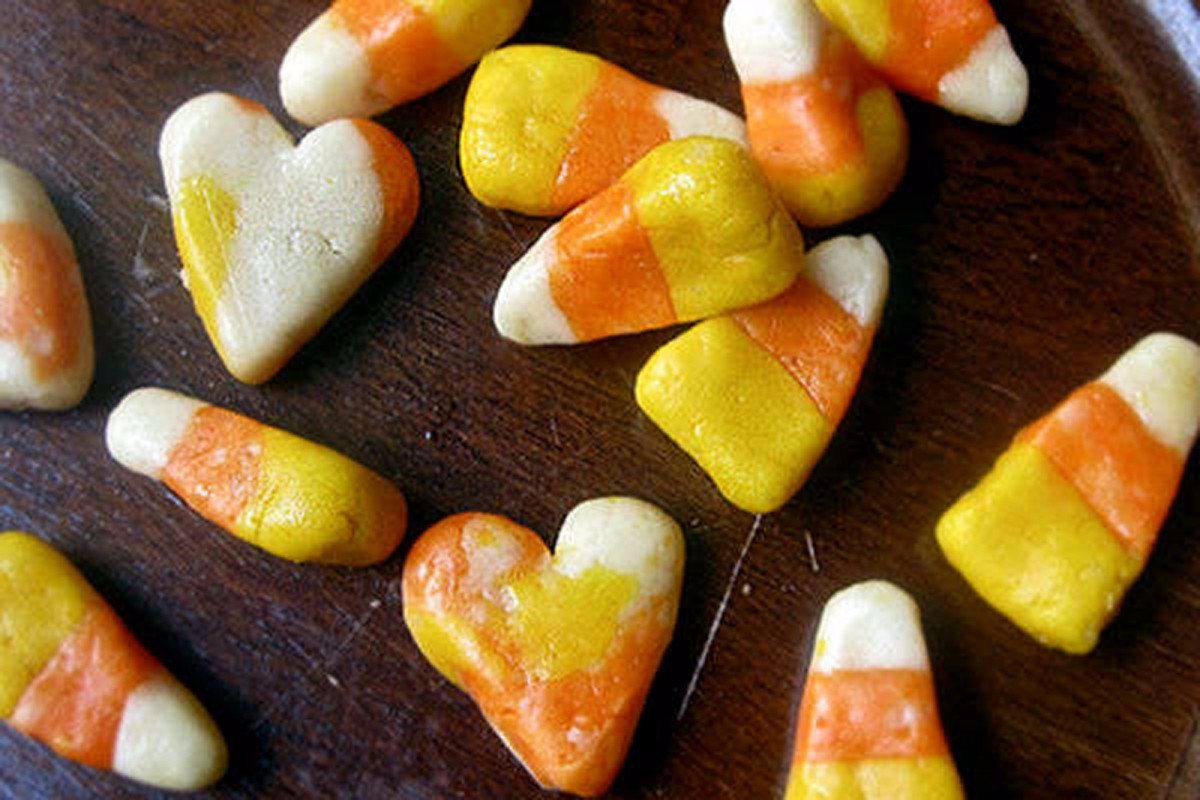 9. Gluten Free No Bake Maple-Pumpkin Coconut Macaroons
Not to be confused with French macarons, macaroons are a coconut based treat which is best described as a mixture between a cookie and a cake. These versions require absolutely no baking, which is great if you're in a rush, but they still hold the taste of autumn from the pumpkin puree and pumpkin spice. Enjoy these curled up on the sofa with a steaming mug of coffee.
Get the recipe here.  
10. Pumpkin Nut Butter Cups
Peanut butter cups with a healthy twist! They're raw (no baking, hurrah!) but also refined sugar free, so you can dig it and not feel guilty afterwards. Make these and see if they last until Halloween…
Get the recipe here.  
11. Salted Dark Chocolate Fruit & Nut Clusters
Whilst this isn't technically a 'vegan' recipe, it's kind of accidentally vegan. Just simply use a dark chocolate and omit out the honey for a natural sweetener like maple syrup and you're good to go.
Get the recipe here.  
12. Broken Glass Candy
Probably not high up on the healthy list, but a treat you can enjoy during holidays like Hallowe'en when you crave something sweet and naughty. These look like the broken shards of a stained glass window. so lovely!  Just a little side note: make sure that your food colouring is 100% vegan before using. I know Amazon sells some vegan friendly food dyes.
Get the recipe here.  
13. Candy Corn Marshmallow People
These candy corn people are SO adorable! They're also easy  to make with vegan marshmallows, and if you can't find a vegan white chocolate (though it is available online here) you could just as easily use melted cacao buttons.
Get the recipe here.  
14. Vegan Fudge
Homemade fudge always seems to be such a quaint, old fashioned favourite. I love my fudge soft and crumbly and incredibly soft and silky in texture, and this recipe delivers exactly that. Hand bunches of this out to the kids, or enjoy it all by yourself whilst you kick it back and watch and spooky film this October. Tip: try the peanut butter variation; it's the best!
Get the recipe here.
15.  Frozen 'Boo' Nana Pops
If you live in warmer climes, these healthy pops are the perfect treat for tricksters, plus they're so healthy, it's scary!  All you'll need is coconut butter, bananas and currants. You can literally throw these together in five minutes and then leave them to set in the freezer. Kids will love to make these, too.
Get the recipe here.  
16.  Vegan Watermelon Jellies
I used to binge on gelatin based sweets such as Haribo and gummy bears until I discovered what gelatin really is, and then I couldn't quite look at those sweets in the same way ever again. Luckily, more and more shops are stocking gelatin-free gummy sweets, but to make them even healthier, why not make your own at home? You could even use a skull or spooky ghost shaped  mold to keep them in theme with Halloween, and instead of watermelon, using orange would look great for pumpkin jellies!
Get the recipe here.  
17. 'Bloody' Choco-Raspberry Cups
Raspberries and chocolate are a marriage made in heaven, and this combo works so well here as  it squishes out like a very tasty and delicious 'blood'. Make sure you put in LOADS of jam here, so it's extra oozy!
Get the recipe here.  
18.  Vegan Peanut Brittle
I don't know why peanut brittle reminds me of cosying  up indoors during winter, but it does. I love the sweet and salty taste of brittle, alongside the crunch of the hard caramel against the chewy  peanuts. Make a tray of this and smash it up into pieces to serve at parties. It also freezes well for later, by the way.
Get the recipe here.  
19. Paleo Chocolate Covered Coconut Stuffed Dates
Such a simple recipe, and yet so delicious. I love medjool dates whether they're stuffed, dipped in chocolate – you name it. They truly are 'nature's candy', and this recipe allows you to jazz them up a little.  In the Arab world, these are often served with coffee. Great idea, if you ask me!
Get the recipe here.  
20. Pumpkin Fudge Bites
Whilst you're out buying pumpkins to carve be sure to save one or two to make some pumpkin puree for these fudge balls. Most of the ingredients are things you probably have deep in your pantry, so they're pretty cost effective, too, and the orange colour makes them perfect for Halloween.
Get the recipe here.  
21. Vegan Halloween Monster Cookies
Ok, so cookies aren't really a 'candy', but  these monster themed cookies are such a great Halloween recipe, and if you have kids, they will absolutely love decorating these. By the way,  Skittles are now vegan friendly, so you  choose those candies to decorate with, no problem.
Get the recipe here.  
22. Vegan Candied Pecans
Because they're so rich and especially delicious warm, pecans are the  perfect treat snack during these colder months, and they make such a great porridge topping or mixed into granola, too. Plus this recipe gets bonus points because it features a YouTube video which makes them even easier!
Get the recipe here.  
23.  'Melted Monster' Halloween Candy Bark
This is a pretty fancily fantastic recipe. It's basically melted vegan white chocolate topped with lots of wonderfully handmade toppings, from vegan googly  eyes to broken pieces of peanut butter cups and homemade 'Oreos'. Once made, you can smash it into bite sized pieces and display on a tray, or leave it to like like a melted puddle of 'monster'.
Get the recipe here.  
24. Coconut Raspberry Monster Eyeballs
What's more gross than serving up a platter of bloody monster eyeballs!? Kids are going to absolutely love these, and the best part if they're made from some pretty natural and great ingredients such as coconut, vanilla extract, raspberries and coconut oil. They're basically soft coconut truffles are stuffed with juicy raspberries and vegan chocolate chips. Ugly but yummy!
Get the recipe here.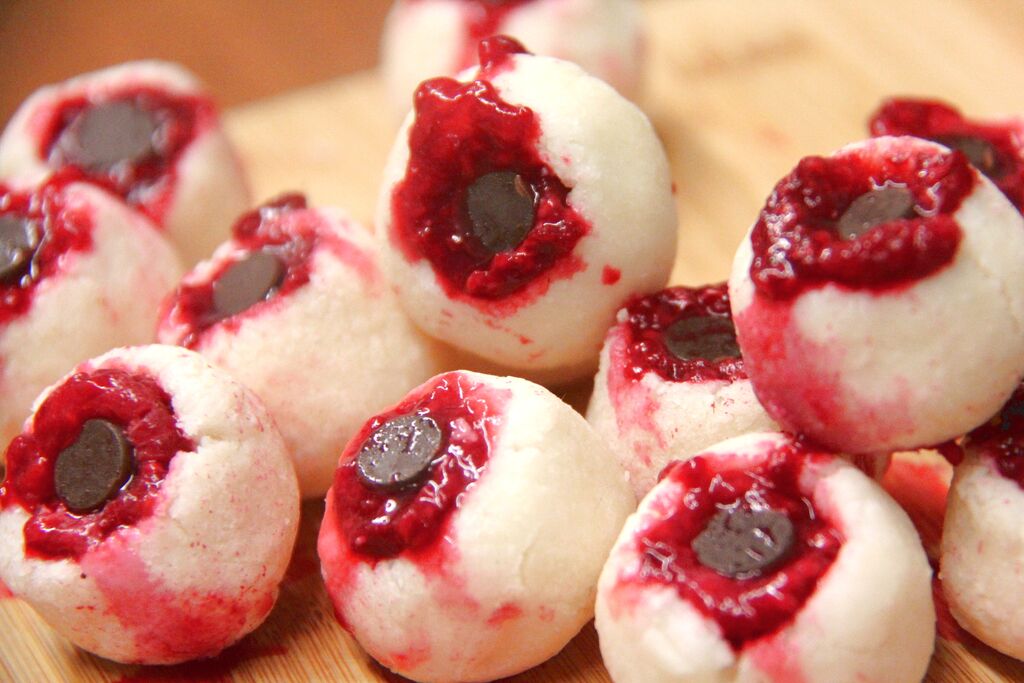 25. Raw Snickers Bars
Did you know that the Snickers Bar was scientifically created to be absolutely delicious due to its combination of crunchy and creamy, sweet and salty? It apparently has one of the best 'mouth feel' factors, meaning people find it just delightful to eat. And these raw, healthy 'Snickers' bars are no different!
Get the recipe here.
Latest posts by Lora O'Brien
(see all)
This site uses affiliate links with brands we trust, and if you make a purchase using a link, we may receive a commission.
Did you enjoy this post? Want to show your gratitude? Please support us on Patreon!