These vegan Halloween candy recipes are perfect for parties, or trick or treaters
By Lora O'Brien
Hallowe'en is a kind of love/hate time for many parents. You want your kids to have fun dressing up and enjoying the spookily fun atmosphere as they swing their pumpkin buckets happily knocking door to door. But all of that cavity-and-ADD-inducing candy that fills up their buckets? A freaking nightmare.
That's especially true if you're a vegan. If you have kids, you don't want them to feel left out by not being able to eat non-vegan candy. And if you don't have kids, you don't want to compromise your values by handing out 'treats' that involved cruelty.
Vegan mom of two Ellen Fisher has a great suggestion for handling that unwanted, sugary, non-vegan Halloween candy. Her kids leave their sweet treats in their Halloween buckets, and in the middle of the night, she 'magically transforms' what's in the buckets into  healthy treats for them to enjoy the next day. (But if she's like me, she probably chows down on all that sugar herself in times of weakness! Another reason for my personal love/hate relationship with the holiday…)
Healthier Halloween Candy Options
But what does she swap it over with? I'm sure many of you will be asking. Well luckily, we have an abundance of sweet treats for you to choose from. From vegan toffees to caramel apples, you can have fun making these recipes – whether it's Halloween or not.
Some of these are ideal for tossing into trick or treating buckets, while others are more suited to giving to kids, friends or guests who pop over to yours for a party or a cuppa. And most of them are so easy, kids can help you make them, too!
No time to make vegan Halloween candy yourself? Click here for some great ready-made vegan sweets! And if you're having an adult party, click here for some great Halloween cocktail ideas!
Get the recipe for the image below here.
25 Fun Vegan Halloween Candy Recipes
1. Vegan Biscoff Coconut Caramel Apples
As a kid, I lived for toffee apples! I would freak out when the bright red treats would finally be on sale come October. There's something so satisfying about biting into one of these babies – but it's hell on the teeth! I've found that these caramel apples are a little more dental friendly and don't have half as much sugar. If you want to make them a little healthier, skip the sugary toppings and try some shredded coconut or crushed nuts instead.
Get the recipe here.  
2. Dairy-Free Caramel Candy
These little toffees are similar to those American Tootsie Roll treats, but they're made without all the junk. They contain just three ingredients; maple syrup, sunflower butter and a little sea salt. Make them individually and cover them with little waxed paper wrappers to make an adorable little treat.
Get the recipe here.  
3. Monster Rice Cereal Treats
These little monster rice crispy treats are a quick and easy way to bring a little fun to your kitchen. Kids will love decorating these with the googly eyes, wrapping them with gauze, and of course, scoffing them down! It's also one of those vegan Halloween candy recipes you can wrap in paper and drop into trick or treat bags.
Get the recipe here.  
4. Dalgona Candy
People, this delicious candy has TWO ingredients. Just two! It's super easy to make, and you can shape it into whatever you fancy. Also known as 'honeycomb' candy, it's comprised basically of baking soda and sugar. Why not carve some ghosts or jack-o-laterns into these?
Get the recipe here.  
5. Tombstone Cupcakes
How impressive are these chocolatey graveyard cupcakes? They have little gingerbread tombstones, cookie dirty, and iced bones to make a seriously spooky sweet treat that is utterly delicious and vegan! Bonus: step by step photos are included to make it easier, woo!
Get the recipe here.

6. Candy Skull Crushers
This is one of the spookiest vegan Halloween candy recipes I know! These skulls are made of white chocolate…without the white chocolate! But don't worry, they'll taste exactly the same minus all that nasty milk and sugar that makes white chocolate taste so good. These are 100% vegan and even raw! And they're kind of deliciously creepy, too. To keep their texture firm, store in the fridge or the freezer and take them out when you're ready  to scoff them all.
Get the recipe here.  
7. Pumpkin No Bake Energy Bites
These energy bites have a real autumnal vibe from the pumpkin and a smattering of nuts and seeds, alongside the cinnamon, nutmeg and ginger spices. Plus, these should come in handy for a little energy boost for all those parents who are out trick or treating!
Get the recipe here.  
8. Vegan Candy Corn
Is Hallowe'en even Hallowe'en without a little candy corn? This is one of the most essential vegan Halloween candy recipes. If you've never tasted candy corn, you're missing out! Making these is much healthier than store bought candy – and is also really easy and fun! Even the kiddies could do it.
Get the recipe here.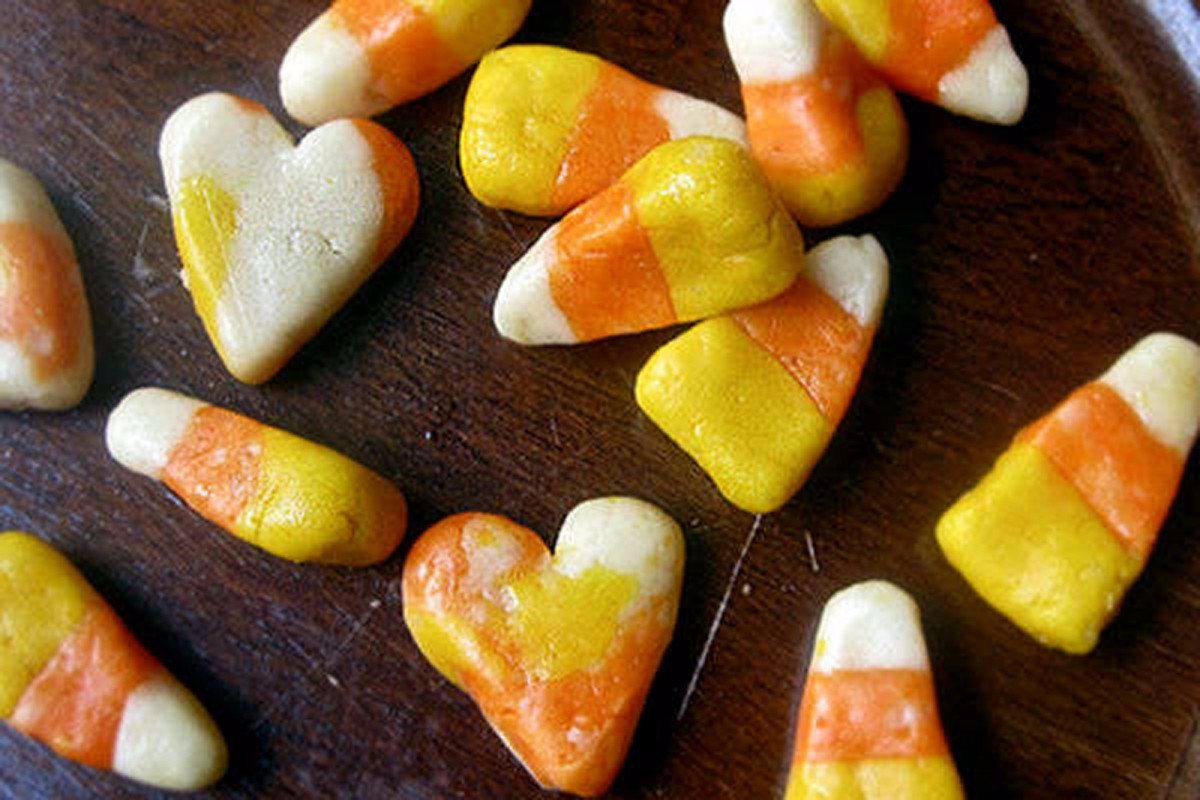 9. Vegan Marshmallow Ghosts
Continuing the candy corn theme, these marshmallow ghosts are the perfect spooky treat! Have fun decorating these with little ones even if things get a little messy! Wanting to give them out to kids? Pop them onto a stick and turn them into marshmallow-pops. This is another of those vegan Halloween candy recipes you can also wrap in paper and give out to trick or treaters!`
Get the recipe here.  
10. Vegan Peanut Butter Cups
Bye bye, Reese's! These are peanut butter cups with a healthy twist! They're raw (no baking, hurrah!) but also refined sugar free, so you can dig in and not feel guilty afterwards. Make these and see if they last until Halloween…
Get the recipe here.  
11. Broken Glass Candy
Probably not high up on the healthy list, but this is a treat you can enjoy during holidays like Hallowe'en when you crave something sweet. These look like the broken shards of a stained glass window. So lovely!  Just a little side note: make sure that your food colouring is 100% vegan before using. I know Amazon sells some vegan friendly food dyes.
Get the recipe here.  
12. Harry Potter Healthy Vegan Treacle Fudge
Who doesn't love vegan Halloween candy recipes? But the real magic is indulging in a sweet treat that is 100% cruelty-free and free from those scary dyes and preservatives, right? Add a little Harry Potter magic, and this fudge is the perfect treat to enjoy this October.
Get the recipe here.
13. 'Boo' Nana Pops
If you live in warmer climes, these healthy pops are the perfect treat for tricksters! Plus they're heaps healthier than cake. Simply use vegan chocolate, coconut oil and peanut butter. You can literally throw these together in five minutes and then leave them to set in the freezer. This is one of those vegan Halloween candy recipes that kids will love to make, too.
Get the recipe here.  
14. 'Bloody' Choco-Raspberry Cups
This is one of those must-make vegan Halloween candy recipes! Raspberries and chocolate are a marriage made in heaven, and this combo works so well here as  it squishes out like a very tasty and delicious 'blood'. Make sure you put in LOADS of jam here, so it's extra oozy!
Get the recipe here.  
15. Paleo Witch Fingers
Ooh, but the kiddies are gonna LOVE being freaked out by these! They're just basically cookies dipped in jam, but if you shape them right, you can practically feel those fingernails crunching…
Get the recipe here.
16. Pastry Voodoo Doll Biscuits
Yep, another idea that doesn't really qualify under vegan Halloween candy recipes. But can you resist these?What would the gingerbread man look like if he were a zombie? The answer can be found in these puffy pastry voodoo dolls! Put XXs for eyes on these, and impale them on little sticks to gently terrify trick or treaters. Bwah ha ha!
Get the recipe here.
17. No Bake Pumpkin Fudge Bites
After you've carved terrifying faces into your pumpkin, be sure to save some of the pulp to make these yummy little fudge balls! Most of the ingredients are things you probably have deep in your pantry, so they're pretty cost effective, too. Of course, the orange colour makes them perfect for Halloween.
Get the recipe here.  
18. Vegan Halloween Monster Donuts
Ok, so donuts don't really qualify as vegan Halloween candy recipes. But these monster themed treats are so much fun! And if you have kids, they will absolutely love decorating these. They're also spookily perfect for serving at a Halloween party.
Get the recipe here.  
19. 'Melted Monster' Halloween Candy Bark
This is one of the cutest, most creative vegan Halloween candy recipes! It's basically melted vegan white chocolate topped with lots of wonderfully handmade toppings, from vegan googly  eyes to broken pieces of peanut butter cups and homemade 'Oreos'. Once made, you can smash it into bite sized pieces and display on a tray, or leave it to like like a melted puddle of 'monster'.
Get the recipe here.  
20. Coconut Raspberry Monster Eyeballs
What's more gross than serving up a platter of bloody monster eyeballs!? Kids are going to absolutely love these, and the best part if they're made from some pretty natural and great ingredients such as coconut, vanilla extract, raspberries and coconut oil. They're basically soft coconut truffles are stuffed with juicy raspberries and vegan chocolate chips. Ugly but yummy, and one of the most fun vegan Halloween candy recipes for kids!
Get the recipe here.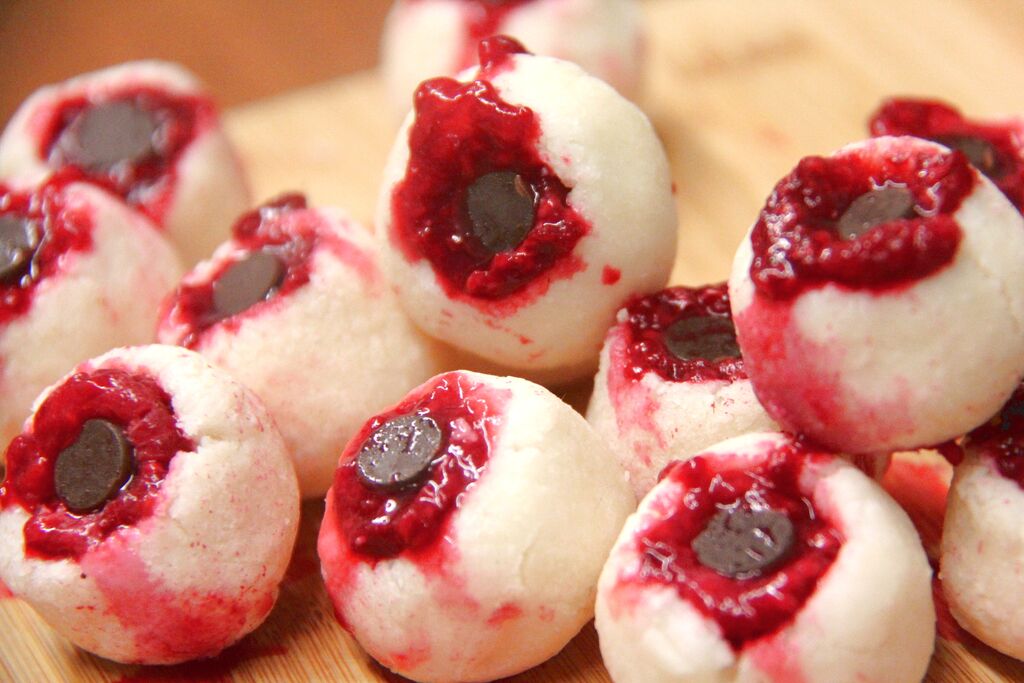 21. Raw Snickers Bars
For me, Hallowe'en is pretty much synonymous with Snickers. And no wonder. Did you know that the Snickers Bar was scientifically created to be absolutely delicious due to its combination of crunchy and creamy, sweet and salty? It apparently has one of the best 'mouth feel' factors, meaning people find it just delightful to eat. But they're not usually vegan, sadly. So I was so happy to find this raw, healthy 'Snickers' recipe! Wrap these up in wax paper to give them out to trick or treaters.
Get the recipe here.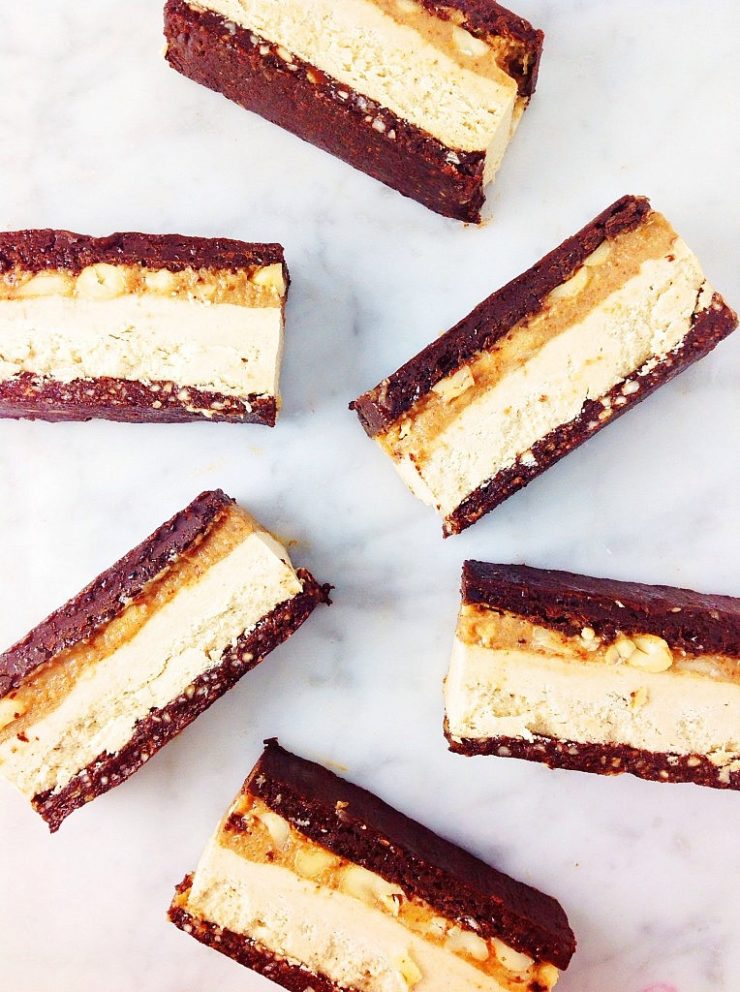 22. Mummy Cake Pops
Looking for a last minute vegan Halloween candy recipes to whip up that is low-effort? These vegan Halloween mummy cake pops are easy to make, fun to eat and perfect for the spooky holiday! Oh, and zero actual baking is required. Yay!
Get the recipe here.  
23. Pumpkin Caramel Chocolates
These pumpkin caramel chocolates are one of the yummiest of all the vegan Halloween candy recipes! They have a short ingredient list, are easy to make and will be the perfect treat for kids and adults alike. You could even package these in waxed paper to give out as Halloween candy!
Get the recipe here.  
24. Vegan Halloween Pinwheel Cookies
The colours black and orange define this holiday, and these pinwheel cookies have them in spades! The most interesting part? The activated charcoal in this recipe will actually detox the kiddies rather than, y'know, 'tox' them!
Get the recipe here.
25. Bat Jellies
You might think these taste of liquorice. But you'd be wrong! These jelly-textured candies are actually pretty fruity, thanks to the presence of blueberries, apples and lime. Yum! One of my favourite vegan Halloween candy recipes for sure.
Get the recipe here.
Latest posts by Lora O'Brien
(see all)