We found some of the best vegan backpacks for work, school…any occasion, really!
We all face the same struggles when the weather gets cold and rainy: trying to carry a handbag and maybe send a text while juggling an umbrella against a strong wind.
Not fun!
But it's not just the colder weather that brings handbag issues. Going to school or work with a tote packed with books and a laptop means one shoulder ends up just killing you in the afternoon.
The solution to all these problems? A backpack!
While some think they're still for kids, I must strongly disagree. These accessories are practical, easy and chic, and allow you to walk around with free hands and a clear mind.
To avoid looking like a schoolgirl on her way to a class excursion, it's simple: choose one of the most sophisticated vegan backpacks you can find!
Keep these things in mind when choosing vegan backpacks
Practicality: Choose your accessories based on your lifestyle and the things you're carrying around with you. As much as you might like the look of a cute, tiny backpack, would it actually fit your needs?  Are you more into a backpack with loads of different compartments, or without? Do you usually carry a laptop with you? If so, find a bag that has a padded compartment for that very purpose.
Functionality: Do you need a backpack for work? Or travelling? Or both? Do you tend to go out after work to events or dinners? Then maybe a vegan backpack with multiple strap options is best for you, so you can swap the bag from a backpack to a tote or a purse later on.
Quality: We all want our accessories to last for a long time, and here at Eluxe, we strongly believe that one bag of quality is better than buying several cheap ones. Always buy the best bag you can afford. And look for signs of quality such as premium zippers; metallic feet on the bottom of a bag; tight stitching; outstanding fabric and heavy hardware.
With these things in mind, here are some of our suggestions for some of the best vegan backpacks around.
The Best Vegan Backpacks For All Occasions
The interior of this Matt and Nat bag is made out of recycled plastic bottles, and the flap has a magnetic closure, making it a great fashion companion with easy access. It's available in ten colours, including Kelly green, black and beige. But our favorite one this vintage orange – such a stunning fall hue! Perfect for matching to your lipstick, too.
Best for: Short days out, strolls in the city
Price: $108
The Rosie was completely handwoven in Luxurious Blue Star Vegan leather made sustainably from recycled materials.
It features a bright red interior, an inside zippered pocket and keys and phone compartments. There are also two detachable adjustable shoulder straps. Using one of those straps can swap this vegan backpack into a shoulder bag, instantly!
Best for: Perfect for transforming from a day backpack into a sophisticated evening handbag.
Price: Around $175
If you're going to do something, do it right.
Frida Roma makes only a handful of vegan bag styles, including their WEEK/DAY backpack, below. The reason their collection is so small is because they only want to offer their customers pure excellence in each design. And this bag has it!
For example? The bag is made from innovative, eco-friendly cactus leather. It features a strap that can transform this model into a shoulder bag, that's perfect for city living. And its spacious, vegan suede interior allows for a a 13" or 15" laptop. We especially love the heavy, high-quality gold hued hardware!
Best for: Minimalist chic.
Price: $490
Want the look of snakeskin leather without having to actually, you know, kill a snake? The Svala Gemma backpack is a stunner, with its embossed snakeskin faux leather exterior. And the best part? This is two bags in one, as well! Just take off the back straps and replace them with the single top strap to transform the backpack into a tote.
Best for: Effortlessly cool girls at the workplace, or away for the weekend
Price: $295
With its Parisian chic and practical style, Bobobark has really conquered all of us here at Eluxe! This cork bag is light as a feather, and can be worn three ways. Not only as a backpack, but also as a shoulder bag, or held as a briefcase/purse. Wow, right?
Much thought has been put into its design, and as a result, it boasts a padded laptop compartment, a place for your phone, and several zips that make accessing your stuff inside easily, without having to dig around. This is definitely one of the most functional and beautiful vegan backpacks we've ever seen!
Perfect for: Hauling laptops around. They (and many other things!) just slip in so easily!
Price: Around $250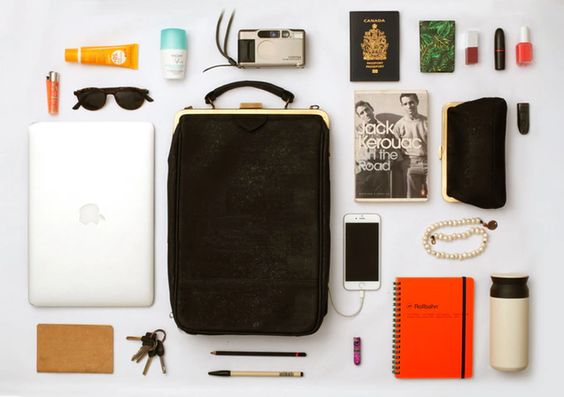 Looking for a unique vegan backpack that really makes a statement? Doshi's Rockstar line is dedicated to bringing unique, inspirational, and creative vegan materials to life. The material used for this model is only available at one factory in the world. We think that's pretty neat!
Another great thing about this bag? It's one of the cheapest vegan backpacks here – but it's great value for money, as the quality is fantastic!
We love Doshi not only for their unique style, but also for their commitment to give 5% of their revenues to charities benefiting animals, people and the environment.
Best for: Unique style; city living.
Price: $99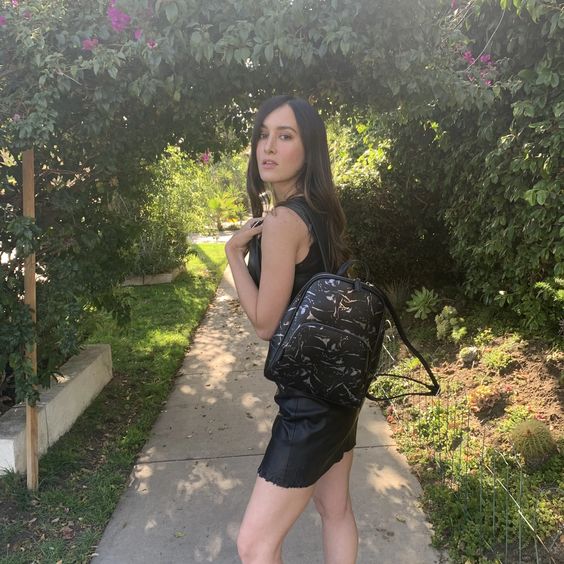 This backpack ticks a lot of boxes. It's elegant, practical and it's constructed from FRUMAT: an innovative leather like material made from apple skins. It feels as smooth and luxurious as kid leather. But without the cruelty!
A 13″ laptop, phone, documents, reusable water bottle and other daily essentials neatly fit inside, and the external, zipped pocket gives you easy access to your credit cards and phone.
Best for: The upwardly mobile, hardworking urban professional.
Price: $455
The Maxine by Miele Bianco is one of the sweetest bags in town. It's got a classic backpack shape, is small and light, perfect for carrying with you on hikes or nights out. Not only is this vegan backpack a sweet, Barbie pink, but its interior mirrors the same feminine hue.
Best for: Girly girls!
Price: $109
JORD may be well known for their wood watches, but they make some of the best vegan backpacks around, too!
Take their Maiken, for example. This mini-backpack features clean lines and varied textures. There's a smooth 'leather' combined with vegan 'suede', that's actually made from cork.
We love the leather flap closure with its gold statement hardware. Inside, you'll find a luxurious red velvet interior, and three sections to organise your stuff. The adjustable chain straps give the bag some fierce style, too.
Best for: Going out. This is one seriously elegant vegan backpack!
Price: $189
One of the cutest looks for a vegan backpack is slung low, down the back. But this look only looks great if the bag is a mini, like this one.
Angela Roi's mini vegan backpack in mocha is a sweet little classic. It's just the right size for all your essentials, and it's transformable! Yep, just take off the back straps to create a lightweight purse.
Best for: When you're travelling light
Price: $205
Main image credit here. Next 2 images: Matt and Nat.
Latest posts by Noa Ben-Moshe
(see all)