This article may use affiliate links. Eluxe Magazine only links to products we trust.
By Annie Gillman
While summer lets us get away with using baskets and canvas totes to sling over our bare shoulders, autumn calls for an altogether more serious bag. We need something sturdy for work or school and the gym (which seems to get harder to hit the shorter and darker the days grow).  But finding a bag we love that's also vegan and eco friendly can be a real struggle, especially given how polluting vegan leathers can be.
But never fear – after a long search, I've found 15 vegan bags for fall that suit any colder weather outfit, and occasion.
Betty Draper would be proud to place this in the crook of her arm, and would probably have matching gloves, too. But this bag is actually named after Betty White, for her work as an animal activist, the Miss Betty top handle bag by Gunas makes a beautiful, feminine addition to any closet, and its simple silhouette is so classic that it will never go out of style.
Girls, it could only be one bag under this title – the very most favourite bag of them all for vegans and non-vegans alike: the Falabella. If you're looking for a comfortable, cruelty-free classic that rocks a pair of jeans as well as a work outfit, this is the one. It inspires envy from anyone with eyes, and comes in all kinds of sizes and colours, too.
When I first heard of fur bags, I thought: seriously? I mean, how warm do your credit cards need to be? Of course, it's also repulsive to think that animals are being killed for such frivolity. But when Veganni came up with this fun shoulder bag, I was  sold.  Made from 100% recycled materials including plastic bottles, this is the kind of bag you want cuddled up on your lap whilst you sip coffee in your favourite hangout.
Backpacks are a huge trend this season, and what better way to jet about than with the sleek and sophisticated best-selling backpack from JW PEI? Not only is it practical with its generous size (perfect for your laptop) and adjustable strap, but it's super comfy and made from luxurious vegan leather giving it a buttery soft finish. 100% cruelty-free and lighter than other similar vegan bags on the market, this is as gorgeous as it is practical.
Vegan patent leather is often made of very toxic PVC, but not this glossy  Jill Milan bag.  Chic and sleek, it's just as suitable in the office as it is for after work drinks. With separate interior pockets for money and  mobile, this is a practical purchase that will appeal to fashionistas and animal lovers alike – especially as Jill Milan provides support to animal welfare organisations with a percentage of every sale.
What's more on trend right now than a winged vegan leather bag?   This chic tote gives off such an elegant look with its LaBante logo and gold hardware plaques. Grey may not be a fall colour you would go for, rest assured however, this vegan bag made of recycled materials is a stunning option for day or evening wear. The PETA approved vegan brand, Le Bante, brings out a new collection every single season and only ever uses ethically sourced materials for the bags.
A Matt and Nat cork backpack is perfect for squeezing in all your work and school supplies. Made of cork and 100% recycled nylon lining, this bag proves Matt and Nat's commitment to being sustainable as well as using natural detailing. Founded in 1995 in Montreal, Matt and Nat aren't actually the designers; the name stands for Mat(t)erial and Nature.
Preppies unite! Wilby has created an entirely eco friendly bag with this  V shaped vegan satchel  in a neutral shade. Great for casual wear, it somehow reminds us of one of our fave movie characters ever: Cher from Clueless – sweet!
An 88 handbags vegan friendly shoulder bag that fits all your essentials and more is just what every woman needs. The simple yet sophisticated shape  is a classic, with its gold chain  and geometrically embossed vegan leather. Having released their 2016 fall collection, 88 Handbags, who are PETA approved, have introduced loads of new styles and colours into their ever-growing collections.
If you're at all like me, many times in life, after meeting with friends for a lovely dinner, chatty cafe session or a night out, you've simply forgotten your bag. You've just left it behind. You smack your forehead with your palm and say 'not again!' whilst hoping to God no one has used your contactless credit card to go on a small booze and smokes purchasing spree…
Such things will never happen again with this incredible bag made by Ood, and made of wood! Yes, really. This sweet clutch comes with a bracelet that attaches the bag directly to your wrist. Let the cockail hour begin!
Free People's vegan Bardot tote back is hungry. It wants your books. Your makeup. Your laptop. Your shopping. You name it! It's big, it's basic, and it's in a gorgeously neutral blush. We could totally see passionate vegan Brigitte Bardot, for whom the bag is named, toting this around the cafes of Paris in her heyday.
Fringe  is a huge trend for autumn,  and this stylish Stella McCartney Falabella faux suede  bag embodies it well. Highly skilled manufacturing techniques were used for this bag, and it shows. As for materials, Stella McCartney bags are all of a high sustainable quality- the bags will be made from non-leather cruelty-free materials, the logos will be made from recycled polyester, the cotton will always be organic and the lining is derived from recycled plastic.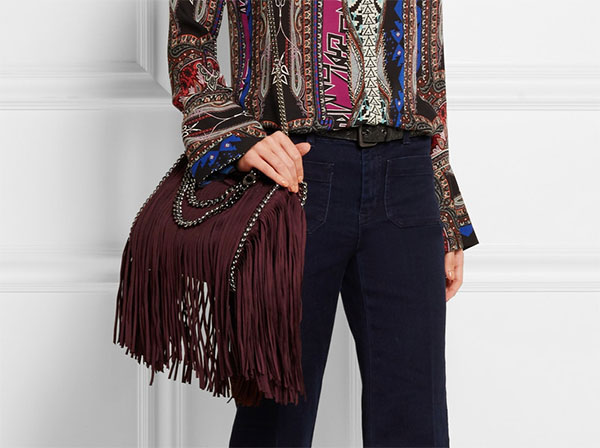 This looks almost exactly like real leather, but never fear – ASOS have made this gorgeous bucket bag from 100% pure vegan-friendly materials. We're particularly enamoured with the braiding detail and the fringed tassels.
We just discovered Sole Society, and tbh, we're freaking out. It's a great site for chic vegans searching for shoes, bags, and accessories. This sturdy, well constructed bag is but one of many, many styles you can choose from on their website – great for the gym or a weekend away.
Say whaaat, right? But yep, it's true – the bum bag is back in a big way, thanks to Hipsters for Sisters. To be fair, they call them  'belt bags' and they're actually meant to be slung around your hips, but the convenience of the good ol' fanny pack is still there. Of course these are 100% vegan friendly, and they're also ethically made in Los Angeles. Perfect for travelling, or a night out – no need to throw your bag on the dance floor; you can wear this whilst you boogie, with no lost keys and credit cards the next day. Perfect!
Related articles across the web