London Fashion Week's ethical highlights are forcing consumers to reconsider how they buy fashion
The truth is, the main reasons Fashion Week was created – namely for buyers to stock powerful department stores and glossy magazines to promote that stock — no longer seem so relevant in today's market. Buyers are going to fewer shows, because many of the runway pieces were created for FROWers to Instagram, and probably won't ever be produced. Besides, many of the looks that are produced are likely to be for sale on the designers' own websites, anyway.
But what's worse: Fashion Week isn't sustainable. Not in terms of materials. Not in terms of human energy (it's exhausting for designers and journalists, believe you me!) And certainly not in terms of CO2.
Wondering just how much CO2 is emitted annually by Fashion Weeks around the world? According to The Cut, it's a whopping 241,000 tons, or enough to power Times Square for 58 years. Ridiculous!
So, what are the organisers of Fashion Weeks around the world planning to do about it?
Well, Sweden has cancelled their Fashion Week completely, citing sustainability concerns. New York has promised to offset the carbon emissions of its fashion week (but that's nothing new. They've been saying they're carbon neutral since 2010). And London has created a Positive Fashion Exhibition that highlighted a limited number of exhibitors with designers and graduates who are focused on a strictly ethical and more sustainable approach to fashion.
But despite what Extinction Rebellion might tell you, the fact is that the fashion industry does and always will exist, in one form or another. And although fashion week definitely needs a makeover, it's really the fashion industry overall we need to overhaul, not just fashion weeks. In fact, it's not even the industry – it's us. Though it seems like a chicken-or-egg situation, the truth is that industry responds to consumption. If we stop consuming fast fashion, they stop producing it.
And yes, we consumers are indeed to blame for much of the waste in the fashion industry. Did you know, for example, that since 2002, the average number of times a garment is worn before it's discarded has dropped by more than a third, and most of that clothing waste ends up in greenhouse gas-producing landfills and incinerators? Worldwide, the equivalent of one garbage truck full of clothes is burned or dumped in a landfill every second. And how do we consumers respond? We just buy more.
Sure, Fashion Week encourages this. But it's a veritable drop in the ocean in an industry of waste. Abolishing Fashion Week or offsetting emissions tied to it won't make the industry even remotely more sustainable, but I personally believe that fashion designers can use this platform to make statements about how the fashion industry is tied to the environment, and how we can make that relationship more circular. It's a good place to keep that conversation going.
In fact, there were several designers at New York and London Fashion Week who took advantage of the opportunity to showcase clothing they believe will change the way we perceive consumption. For example, ethical fashion brands Rachel Comey and Studio 189 demonstrated once again how effortless it is to incorporate eco-friendly fabrics into their collections, while both Chromat and Collina Strada based their whole runway shows around promoting the cause of climate change, and also used upcycled materials, including plastic bottles and even upholstery from old sofas, into their work.
London saw some of the same creative eco-statements being made, of course. Here are a few of London Fashion Week's ethical highlights this year.
Image below: Adam Jones for Positive Fashion Week. Credit here.
London Fashion Week's Ethical Highlights 2020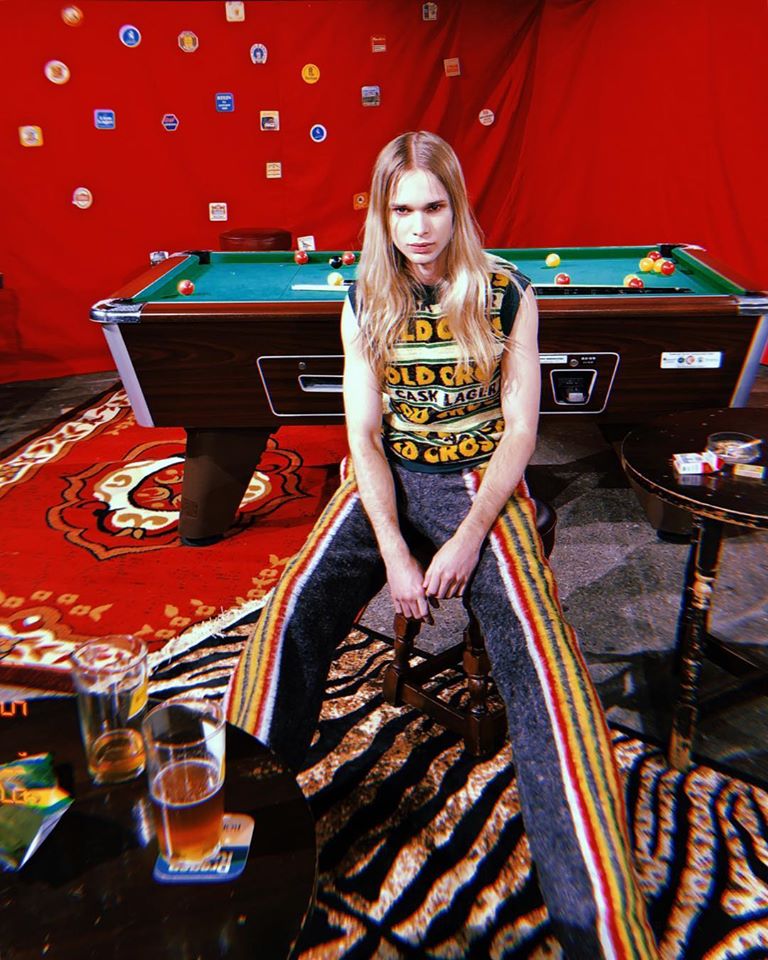 Over at the Graduate Fashion Week stand, a small selection of four designers chosen for this season illustrated the energy and vitality coming out of UK colleges right now— as well as their commitment to ethical and sustainable fashion, which is actually the whole point of this event. For example, Leo John Caligan created a collection made from leather scraps that were upcycled from a sofa warehouse in Manchester. "I used redundant leathers and also pineapple fibres to give a nod to the national costume of the Philippines. I've also made accessories using the woven mats that you use for picnics," he told The Fashion Network.
Other designers at GFW used naturally found materials, such as shells, flowers, and even teeth to make accessories, or handmade garments from upcycled materials including deadstock fabric, straw, Christmas yarn, and bits of discarded friendship bracelets.
L Saha is a London-based womenswear label based on pro-planet, pro-people principles. Designer Laboni Saha uses natural fabrics and also ensures ethical manufacturing practices in her work by mainly making all her garments herself. She opts for textiles that not only make a low impact throughout their lifecycle, but which are also vegan friendly. Each textile is pre-dyed at her textile supplier's mills where evidence of sustainably treating any liquid waste is provided.
This season, L Saha's SS20 Collection showcased five unique pieces that were 100% handmade at her studio in Somerset House. No machines were switched on during this process, and no lights were even turned on. The collection was inspired by the concept of Qi — an invisible force that runs through the Universe and our bodies.
The Qi Collection encapsulates the seen and unseen, the tangible and intangible components that keep all life on Earth flowing. This influence was evident in the colours, shapes, drape and details of each garment: earthy tones, accented by sky whites and draping to represent the fluidity of water.
As Suzy Menkes of Vogue has put it in the past, Christopher is "always with sustainability at the heart" of his work, and this designer always uses LFW to make a statement about the environment. For example, this year he gave a new twist to military uniforms, parachutes and equipment that he reclaimed in a stylish collection for men and women.
As always. Raeburn glorifies the meaning of upcycling, especially through his patchwork army green Raeburn Cut 'n' Shut technique. Functional, funky and hip, Raeburn had a glorious collection at LFW that celebrated his 10th anniversary in the fashion industry.
For her first collection at LFW, twenty three year old designer Anna Roseblade took pre-loved denim (donated from people all over the country) and turned it into new products. She chose to concentrate on this particular material, as extending the life of denim by just nine months can reduce the water footprint by 25-30%. The result was a one-of-a-kind collection named MINED-DENIM, with the intention of making a statement about recycling clothing.
Anna's piece de resistance was an extravagant, bright pink, hand painted tulle dress made from a donated bridesmaid's outfit, paired with a long denim skirt made from 35 pairs of discarded jeans.
She is passionate about helping to inspire and create change in the fashion industry, as her words attest: "I want to raise awareness of sustainability in fashion and be a part of the current Fashion Revolution that is starting to gain momentum. My brand will hopefully encourage younger generations to look for more sustainable options over the high-street-ready available products."
This sustainable brand aims to offer a different perspective in the realm of bespoke clothing by combining artisanal techniques with asymmetric tailoring, to create soulful garments that are both modern and gender-neutral. JUDE only uses natural fibres and luxury deadstock textiles to create these pieces, and also employs zero waste cutting techniques. Any fabric remnants are upcycled into accessories to complement the main collections. As the JUDE team states: "We favour the use of quality natural fibres, rare vintage materials and traditional techniques all reworked in a modern way to create contemporary pieces with soul. Our pieces often feature hand embellishment such as hand dyeing, painting, beading, embroidery and applique, telling the wearer a story of a product which is made with love."  
Latest posts by Nastassja Salem
(see all)