There are loads of ways celebrities are influencing trends in jewelry today, just as they did in the past. Here's how, and what's hot today
By Diane Small
There can be no doubt that celebrities influence trends. Just take a look at Bridget Bardot. The 60's icon is responsible for popularising off-the-shoulder tops, heavy, smokey eyeliner, and ballet flats. Not to mention to messy blonde beehive. 
Jewelry is no different. The most current way celebrities are influencing trends in jewelry would be via bubble rings. These were first seen on celebrities and influencers like Bella Hadid, Miley Cyrus, and Dua Lipa, respectively, and now everyone seems to want one!
As much as we may hate to admit it, celebrity endorsement is still a 'thing' in fashion. To illustrate, an Instore Mag article collaborated comments from various jewelers across the United States to see just how much celebrities are influencing trends in jewelry for their clients. Most of them agreed that their clients are seemingly strongly impacted by celebrity endorsement or trends they notice from browsing Instagram, Pinterest, or Facebook.
And that's nothing new! Let's take a look at how celebs impacted jewelry trends throughout history.
Main image: @haileybieber image by @tyrellhampton Image below: @haileybieber
Past Celebrity Influenced Jewelry Trends 
During the days of Old Hollywood glamor, most celebrities wore jewelry that was out of reach for the average American. Nowadays, luxury necklaces, rings, and bracelets are more accessible to the general public, and costume jewelry can be manufactured for a fraction of the cost.
New Hollywood is attainable for many, as stars tend to wear clothing that isn't custom-made or made by a designer brand. Diamonds, a symbol for luxury, aren't just for the exorbitantly wealthy anymore. Nikki Reed and
Let's look at some vintage jewelry trends that were influenced by celebrities in the past 100 years.
Diamond Jewelry (Marilyn Monroe):

The song "Diamonds are a Girl's Best Friend" almost single-handedly inspired the diamond rush in the 50s that remains to this day. Luckily, however, more and more people are choosing to wear fully ethical lab grown ones!

Sapphire Engagement Ring (Princess Diana):

The oval blue Ceylon sapphire ring set in 18-karat white gold surrounded by diamonds is still a staple of all modern jewelry shops today. As with all jewelry, buying vintage is always best!

Pearl Bib Necklace (Audrey Hepburn):

Audrey Hepburn inspired a nation when she wore the pearl necklace with her little black dress in Breakfast at Tiffany's. Jackie O made the more understated single strand popular with the preppy set. Just take note that while they're natural, pearls are not ethical if you're vegan.

Gold Chains (Modern Rappers): Silver and gold chains for women became a symbol of opulence in the 90s and early 2000s when rappers like 2pac an

d Biggie Smalls started wearing them. Gold jewelry is definitely a great investment in these. unstable times; just make sure you buy recycled gold!
How Celebs Impact Trends In Jewelry Now
A-list celebrities aren't the only focus of Millenial and Gen Z culture. Social media and the rise of influencers has made selling products way easier, and technology is to thank. Now, consumers can buy a product immediately thanks to eCommerce.
So how are celebrities influencing trends in jewelry today? Well, these accessories are hot items right now, for celebrities, consumers and social media influencers alike.
Bubble Rings
A blast from the 90s, bubble rings are made from plastic, jut out from your hand and come in many colors. This celebrity favorite often costs less than $10. Which is great! But since these are plastic, be sure yours is vintage 90s so you're not contributing to the global plastic crisis with your purchase.
Layered Pieces
As celebrity jewelry designer, singer and actress Nikki Reed knows, layering delicate rings, necklaces and bracelets is beautifully feminine. That's exactly the kind of handmade stuff she designs for her ethical brand, Bayou With Love. Celebrities are influencing trends in jewelry don't get more ethical than her!
Image: @NikkiReed
Hoop Earrings
This is a Latina favourite that was popularised by JLo and has never really gone away. Everything from delicate thin hoops to larger, 'tribal' looks go! Hoop earrings are easy to accessorize and fit with most clothing options. Just make sure yours are made from recycled metals.
Image: @dinarijewels
Pearls
The classic pearl necklace never seems to go away. In 2021 pearls can be found on everything from bracelets to earrings and in all colors, shapes, and sizes. But just remember: as mentioned above, pearls do come from living animals, so if you're vegan, that's off the table. Instead, why not buy vintage, or perhaps a piece from Washed Ashore, such as the tiny pearls in these earrings, below?
These pearls are irregular shapes or are too tiny for most jewelers to sell, so they're discarded. Washed Ashore rescues them to make their sustainable pieces.
Image: washedashore.co on Pinterest
Fake Bling
Love an outfit that really makes a statement? Go for the fake bling look! This is one of the biggest ways celebrities are influencing trends in jewelry today. And this look is really easy to source in thrift shops. The blinger, the better!
Image: @dualipa
So, these are but a few ways celebrities are influencing trends in jewelry. They're fun styles, for sure! But of course, you should always stick to looks you feel comfortable with!  And also: always keep it ethical!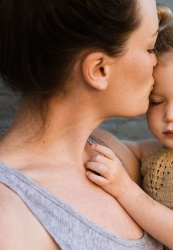 Latest posts by Diane Small
(see all)