The difference between an OK meal and a great one? Sauces! These vegan sauce recipes will up your cooking game really easily
By Lora O'Brien
What's the secret to a tasty vegan diet? Well, for one thing – fresh produce. Since we're talking about plant-based dishes here, if your plants aren't fresh, flavour will likely be lacking. But there's something else that makes a huge difference to vegan cuisine: must-have vegan sauce recipes.
I mean, a cauliflower is a cauliflower is a cauliflower (to paraphrase Gertrude Stein), but add some vegan cheese sauce, and damn – that's a whole other thing! Any good cook needs to know how to not only make the basic sauces (like that aforementioned cheese sauce), but also some that are more complex and on the gourmet side, like Hollandaise or pesto.
But there are other good reasons to learn how to make your own sauces: they're going to be a lot healthier since you'll not be including the usual chemical preservatives and colourings, and also, they'll be guaranteed to be vegan-friendly, absent of all cream, milk, eggs and other animal products. You can store some of these in jars for months, and even give away beautifully packaged sauces as tasty gifts.
Of course, the most important reason to have these vegan sauce recipes on hand is that they'll bring some life to even the dullest of salads or plates of steamed veggies! Now, let's get cooking…
30+ Must-Make Vegan Sauce Recipes
1. Vegan Hollandaise Sauce
Bet you thought you'd never see this in a list of vegan sauce recipes, right? Hollandaise is usually rich with egg yolks, but you can bring brunch to life with this rich, creamy vegan version. It's ideal for adding to tofu scrambles, or chickpea-based omelettes at brunch!
Get the recipe here.
2. Vegan Toast Dipping Sauce
Remember when you used to dip toast soldiers into egg yolks as a kid? I know I sure do! I actually loved the combination of rich, hot yolk with the salty, buttered toast. But now, as a grownup vegan, I make this healthier version – which tastes just as good! It's one of the best vegan sauce recipes for making breakfast memorable.
Get the recipe here.
3. Vegan Piri Piri Sauce
Get exotic with your cooking! This picante, Portuguese inspired Piri Piri sauce goes perfectly on homemade pizzas, in stir fries, or with tofu. It's probably one of my favourite vegan sauce recipes, thanks to it's spiciness!
Get the recipe here.
4. Vegan Ranch Dressing
Dressing? This is so rich, it can be used as a dip for carby things like pita triangles, crackers or toast, too. If you'd prefer to use it as a salad dressing, just add a bit more cider vinegar to thin it up a bit. The best part? It only uses 8 ingredients!
Get the recipe here.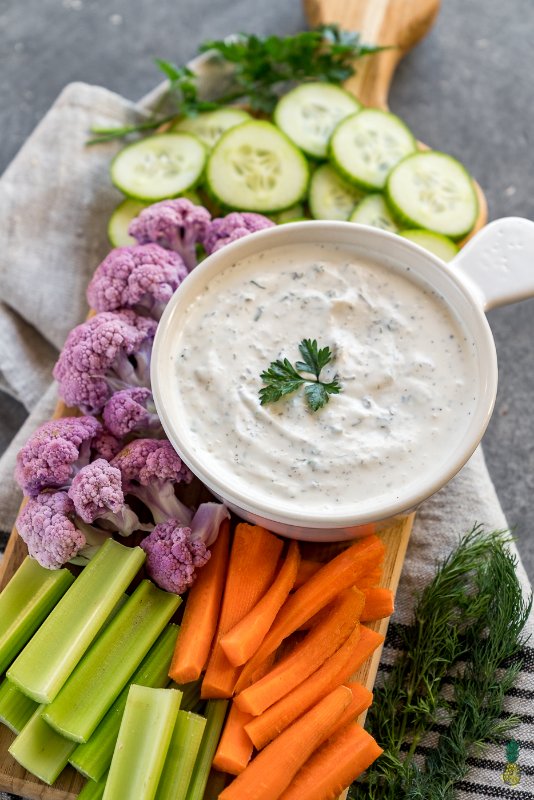 5. Cashew Cheese Sauce
This is one of those vegan sauce recipes that you must have in any vegan kitchen! It goes beautifully with not only broccoli, cauliflower and other veggies, but of course, stirred into macaroni, it brings a bit of heaven to your table.
Get the recipe here.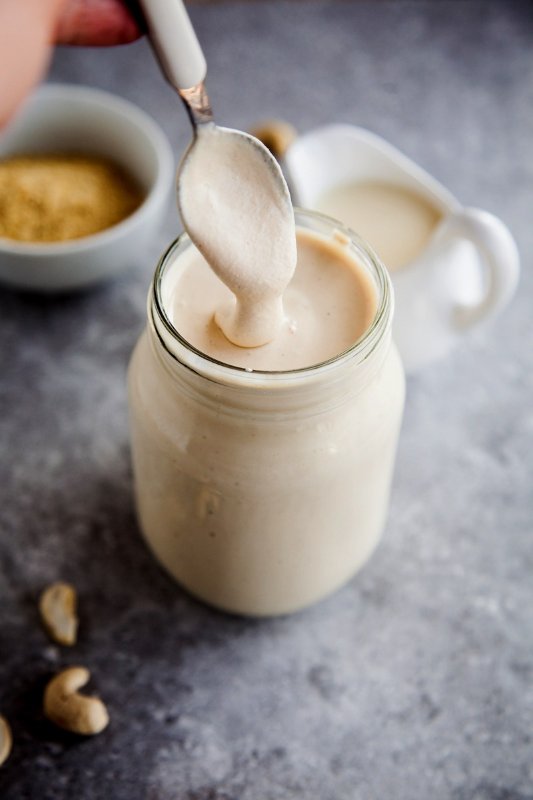 6. Creamy Vegan Avocado Dressing
This is one of the healthiest vegan sauce recipes. It's easy to make, too! It works wonderfully as a salad dressing, but can also be used on pasta, or as a dip.
Get the recipe here.
7. The Best Vegan Aioli
Ooh, garlic! How I do love thee! It simply adds the perfect punch to anything, be it pasta, a sandwich, or a steaming plate of veggies. This sauce is probably my desert-island choice; if I could only pick one sauce to eat for the rest of my life… (And with the amount of garlic I'd put it, it's probably best that I would be alone, on a deserted island!)
Get the recipe here.
8. Green Goddess Dressing
Calling all green goddesses! This is one of those vegan sauce recipes that helps you get in touch with your Pachamama roots and pay homage to the health of your beautiful body. It's Paleo-friendly and deliciously rich, but healthy, too.
Get the recipe here.
9. Vegan Wild Garlic Pesto
Call me stupid, but I was pretty shocked when I learned pesto wasn't vegan (cheese! Duh! I forgot…). Since pesto is one of my very favourite flavours ever (I even dip crackers into it), but vegan versions aren't readily available in the supermarket, I was thrilled when I found this. Another of those must-make vegan sauce recipes!
Get the recipe here.
10. Vegan Nacho Cheese
The secret to a good nacho cheese isn't actually the cheese – it's the spices and chilis! The cheese just provides the ooey, gooey texture. But here? It comes from potatoes. Though you'd never guess it… Definitely one of the most unique vegan sauce recipes!
Get the recipe here.
11. Raw Vegan Caesar Dressing
I once asked for vegan food in a restaurant in Texas. They told me I could have the chicken caesar, without the chicken. I explained that the dressing was made of anchovies, cream and eggs, so basically, they were offering me a plate of Romaine lettuce! Now, we vegans can also hail Caesar with this totally plant-based dressing – one of the tastiest vegan sauce recipes, and it still has all the flavour of the traditional version, too.
Get the recipe here.
12. Vegan BBQ Sauce
It seems that BBQ sauce is one of those things that only comes in bottles or packages. It's like some corporation owns the rights to making it or something! But nope, it's easier (and healthier) to make at home than you'd think, and you can bottle this up in your fridge for months to come. This is one of the best vegan sauce recipes for spreading on grilled aubergines, tofu or even using on your vegan burgers.
Get the recipe here.
13. Healthy Sweet and Sour Sauce
I had no idea sweet and sour sauce wasn't vegan friendly until recently, so I was pleased to find vegan sauce recipes for the stuff. As an added bonus, you can control the sweetness of your sauce yourself with this, and of course, it doesn't come with the usual MSG and weird chemical colourants.
Get the recipe here.
14. Vegan Worcestershire Sauce
As a Brit, I was disillusioned to learn that this is yet another sauce that's not usually vegan, due to the fishy ingredients. This is my new go-to version, which I dump onto my weekend English breakfasts – especially on the vegan sausages! But you can also use this in drinks, if you're a fan of the Bloody Mary.
Get the recipe here.
15. Whiskey BBQ Ketchup
As with BBQ sauce, ketchup seems to be one of those things that Heinz invented. But that's simply not the case. Ketchup was known for yonks as simply 'tomato sauce' (and still is, in some parts of the UK), long before Italian immigrants brought us the stuff we now put on pasta. Ketchup is easier to make at home than you'd think, and adding a touch of whiskey makes it one of the most adult-like vegan sauce recipes, too.
Get the recipe here.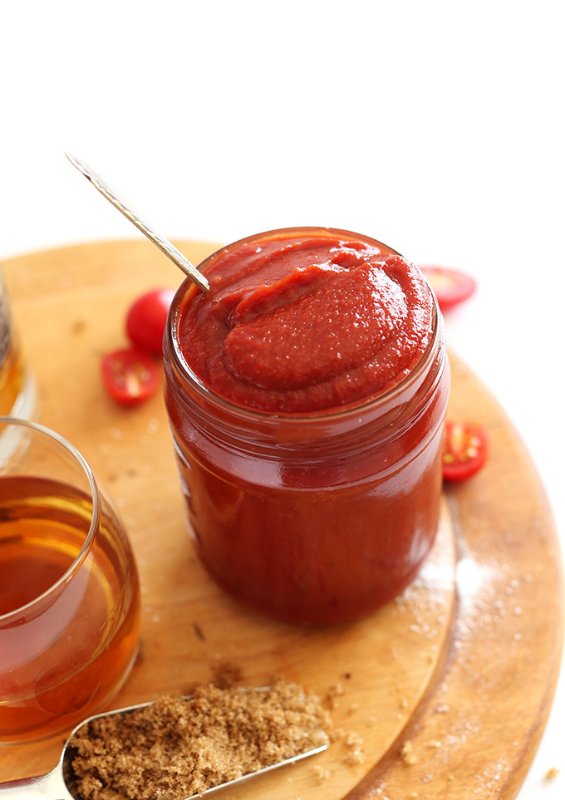 16. Vegan Gravy
The best sauce of all is this hot one: gravy! It's perfect for drizzling all over everything from mashed potatoes to vegan meatloafs and more! Me? I love mine on my vegan perogies!
Get the recipe here.
17. Vegan Sweet and Spicy Chili Sauce
Into Chinese food? Love a bit of kick with your food? This is one of those vegan sauce recipes you should always have on hand, then! It stores in the fridge for months, and also makes a great, exotic gift. Get dipping those spring rolls!
Get the recipe here.
18. Raw Vegan Mayonnaise
A vegan mayo should be a staple recipe in any plant-based kitchen. Not only can you use this nut-based sauce on the obvious things, like sandwiches, but it also forms a great foundation for building new sauces and dressings, like Green Goddess or Ranch.
Get the recipe here.
19. Best Ever Salsa
Ok, I know that salsa is vegan anyway, so there's no need for a vegan version, per se. But as my loyal readers will know, I'm such a huge fan of Mexican food, I just couldn't leave this one out! Make some vegan nacho sauce alongside this, and have yourself a food fiesta with some organic tortilla chips. Or take it to a picnic or BBQ – it's bound to be a hit!
Get the recipe here.
20. Vegan Tartar Sauce Four Ways
If you're not eating fish, it's still nice to have a tartar sauce recipe (or four, since there are four versions offered below). Seriously! There are lots of dishes you can use this for: wraps, sandwiches, burgers, and 'fishy' vegan dishes like these.
Get the recipe here.
21. Vegan Fish Sauce
Love Thai or Vietnamese food? You'll need this! Fermented fish sauce is a staple flavour in those cuisines, so if you're planning to make some authentic tasting pad thai or pho, for example, you'll need to get cooking. It also lasts for ages in jars, and makes a great gift for your favourite foodie.
Get the recipe here.
22. Vegan Bechamel Sauce
Ah, Italians! They really do make beautiful food, but there's a whole lotta dairy in there, unfortunately. Nut now, you can enjoy authentic tasting lasagne, cannelloni and other pasta dishes, thanks to this vegan version of the popular European sauce.
Get the recipe here.
23. Peanut Dipping Sauce
Sure, peanut sauce sounds vegan, right? But there's often some fermented fish sauce in South East Asian versions. This one, of course, is 100% vegan, and has all the sweet-and-salty savouriness that we love! Great for stir frys.
Get the recipe here.
24. Mushroom Masala Sauce
Indian food is sooo tasty! But it can be really rich, due to the amounts of ghee and cream they put into their sauces. This Masala offers all the flavours of the subcontinent, but the creaminess comes from plants, not animals.
Get the recipe here.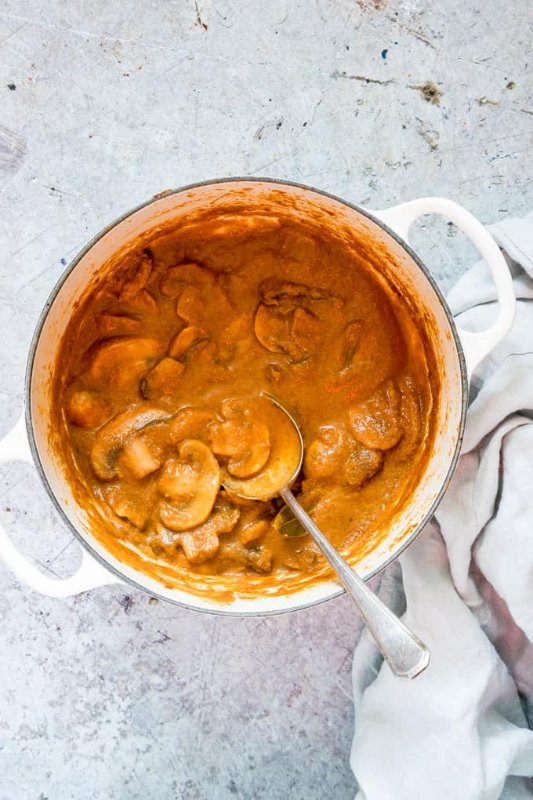 25. Hearty Bolognese Sauce
Bored with runny, watery tomato sauces on your spaghetti? This is one of the best vegan sauce recipes for pasta lovers! It offers the chunky goodness of a Bolognese, but without the dead cow. The best part? The 'meaty' stuff is just aubergine, not nasty, chemical ridden fake vegan beef.
Get the recipe here.
26. Mushroom Stroganoff Sauce
My editor, Chere, made me include this one. Her roots are a mix of Italian and Eastern European, and she said this reminded her of her childhood. I've never tried Stroganoff, to be honest, but she says it's all about the meaty, mushroom goodness, given a creamy texture, piled onto steaming hot noodles. Sounds good to me!
Get the recipe here.
27. Vegan Alfredo Sauce
Have I mentioned my love of garlic? Well, this classic Italian pasta sauce has it, in spades, along with that hot, comforting combo of salty and creamy flavours that many of us crave when colder weather or cravings for home cooking come calling. This is my fave of all the vegan sauce recipes to drizzle over noodles…yum!
Get the recipe here.
28. Salted Coconut Caramel Sauce
Sweet vegan sauce recipes are just as important as savoury ones, and salted caramel is a classic. You can make jars of these as gifts, and keep some on hand to dump deliciousness onto everything from popcorn to pancakes.
Get the recipe here.
29. Cashew Whipped Cream
Ok, so it doesn't really fit in vegan sauce recipes, since it's more of a topping. But hey, let's not nitpick – all dessert lovers need to have a whipped cream recipe on hand! While making one from coconut milk is probably the easiest pick, this is a great option for those who aren't all that fond of tropical coconutty flavours.
Get the recipe here.
30. Vegan Double Chocolate Sauce
A super classic, this is one of those vegan sauce recipes that jars well to make a fab gift for your friends with a sweet tooth! They can pile it on ice cream, cakes, and even waffles or pancakes.
Get the recipe here.
31. Vegan Dulce de Leche
Dulce de leche means 'sweet milk' in Spanish, and it's a super-classic in Argentine dessert making. Now, you can make this gorgeous, caramel-like sauce with vegan mylks, and use it as a filling in cakes, on pancakes, ice cream, and even on toast!
Get the recipe here.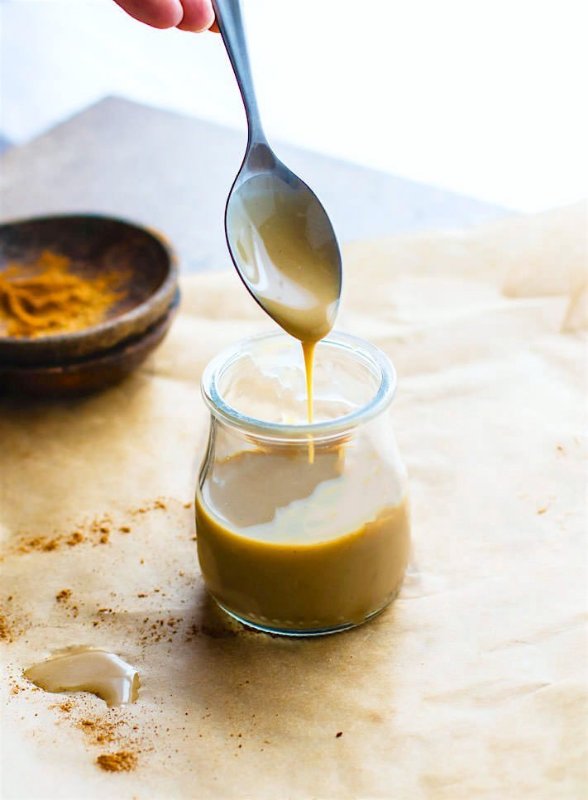 Main image credit and recipe here.
Latest posts by Lora O'Brien
(see all)