Whether you've got a party coming up, or just have the munchies, you'll love these vegan dip recipes!
By Lora O'Brien
Summer's slipping by, but that means lots of fun is on the way: kicking through autumn leaves, perfect jogging weather, and of course, lots of dinner parties!
If you're planning to have a few friends over for drinks or dinner, a good dip is the perfect base for entertaining and adding variety and flavour to your usual nibbles. While most dips are full of bad fats (think cream and mayo) and served with even more junk food like potato chips, we've found some perfectly healthy recipes that you can serve with sliced vegetable sticks, organic tortilla chips, toasted triangles of whole wheat pita bread, mini-rice crackers, you name it!
But that's not all! These vegan dip recipes can also serve as spreads for sandwiches, sauces for veggie burgers or falafels, and as something to moisten up a vegan bowl dinner.
They're all pretty easy to make, and are tastiest when your ingredients are fresh. But that being said, they're also great recipes to use up leftovers with, and if you feel they could use a little flavour boost, just stir in a teaspoon of a vegan soup base, and it will jazz things up to their tastiest!
Whether you're looking for guac, hummus or a vegan bean dip recipe, here's our selection of 20+ vegan dip recipes to make your appetisers even more appetising.
Main image recipe here.
Vegan Dip Ideas For All Occasions
1. Avocado Salsa Verde  
For anyone who hasn't tried salsa verde before, you're in for a treat with this tasty Mexican dip. Only 7 ingredients go into making this quick yet flavoursome recipe, and it will go super well with some tortilla chips for the perfect fiesta.
Get the recipe here.
2. Broccoli Guacamole
This is one of the healthiest vegan dip recipes! It puts a fresh twist on the classic guacamole by adding in broccoli. It provides texture and is a great way to sneak in the greens, particularly for those who aren't normally huge vegetable fans. All you need to do to keep this creamy is add in whatever you fancy, from silken tofu to cashew cream.
Get the recipe here.
3. Vegan Tzatziki  
Greeks love this yogurt-and-cucumber based dip! But if you don't do dairy, never fear. You can also make traditional tzatziki with some natural yogurt cultures and soy milk, which tastes just as yummy. Or, of course, you can sub in a natural vegan yogurt for the dairy.
Get the recipe here.
4. Carrot Miso Butter
This carrot miso butter dip will work sooo well smeared on some freshly made bread, or even savory muffins. The tahini is rich and salty, whilst the carrot and ginger gives that vibrant hue and delicate spice. Definitely one of the more unique of all these vegan dip recipes!
Get the recipe here.
5. Homemade Domino's Pizza Garlic Herb Dip
If you've ever mourned Domino's garlic herb dip since going vegan, I feel you. I was a huge fan of this dip. My pizza crusts were often dunked and smeared in this sauce. So life without it was hard – until now! This recipe is vegan and tastes JUST like the real deal. Hallelujah!  
Get the recipe here.
6. Spicy Vegan Spinach & Artichoke Dip  
If you like your vegan dip recipes with a kick, you'll love this recipe! This dip is usually SUPER rich, and feels like a meal alone. But dips are meant to be fun, not overly filling, so I'm loving this lighter version. The cheese and sour cream have been substituted for cashew cream. It adds richness and a natural sweetness to this dip without you feeling sluggish after a few helpings. And did I mention: it's delicious hot OR cold?
Get the recipe here.
7. Healthy Buffalo Chickpea Dip
Inspired by Superbowl Sunday,this vegan friendly take on the classic Buffalo Chicken dip uses chickpeas instead. The hummus-like dip has the same creamy texture as the traditional recipe without all of that yucky cream cheese, ranch dressing blue cheese and God only knows what else.  
Get the recipe here.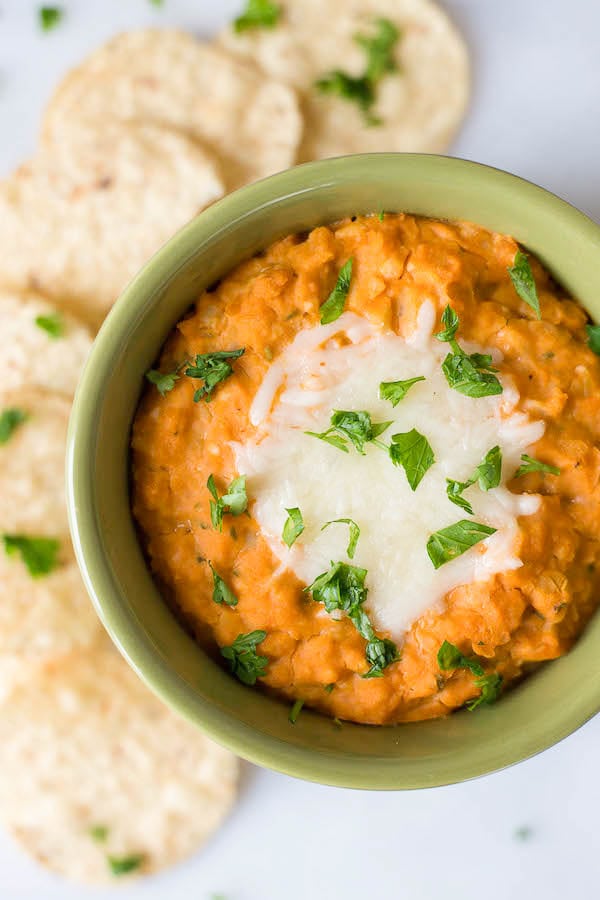 8. Vegan French Onion Dip
This wonderfully rustic-looking French Onion dip takes 40 minutes to make, but it's worth it. Caramelised onions, tofu and crunchy cashews make a great substitute for sour cream in this recipe. Ideal for taking to your next social gathering!
Get the recipe here.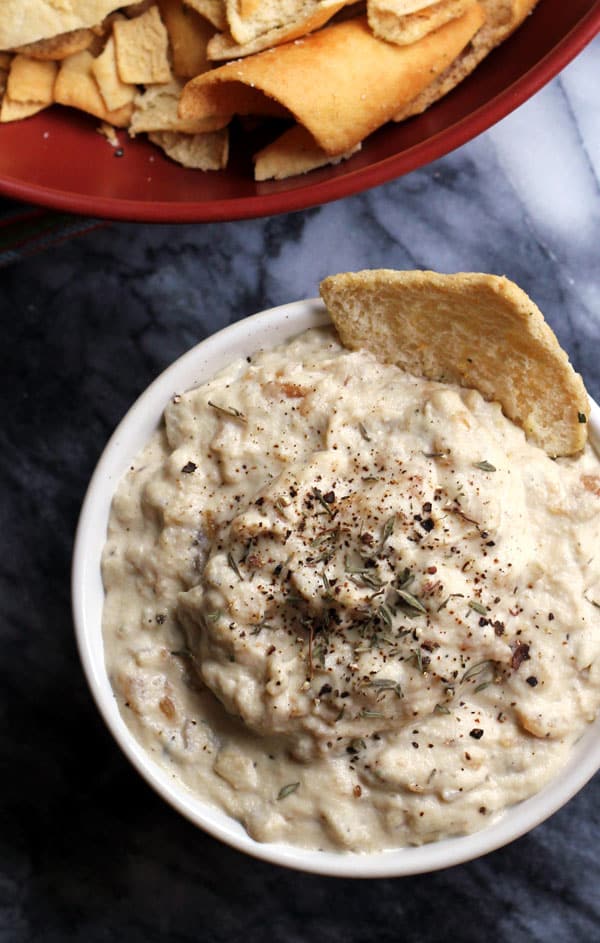 9. Vegan Queso Dip 1
In Spanish, 'queso' means 'cheese'. But you won't find that in this vegan dish! Surprisingly light in calories, this queso dip is made with pureed cauliflower and carrot (as well as the usual nutritional yeast and cashews) for an extra little boost of healthy goodness.
Get the recipe here.
10. Lebanese Baba Ganoush 
Baba Ganoush is one of the Middle East's favourite vegan dip recipes. Made from roasted aubergines and tahini, it can take some time to prepare, but never fear: The Minimalist Baker makes an easy one, and you can serve this baby up hot or cold.
Get the recipe here.
11. 7 Layer Mexican Dip
Feeling fancy? Try this fantastic 7 layer Mexican dip! It looks great at parties, and is full of flavour. Top this tasty vegan snack off with some chopped olives and peppers for added appeal. Serve with lots of crudites or blue corn chips when you have some guests over and watch them all go wild for this fun, full-on dip.  
Get the recipe here.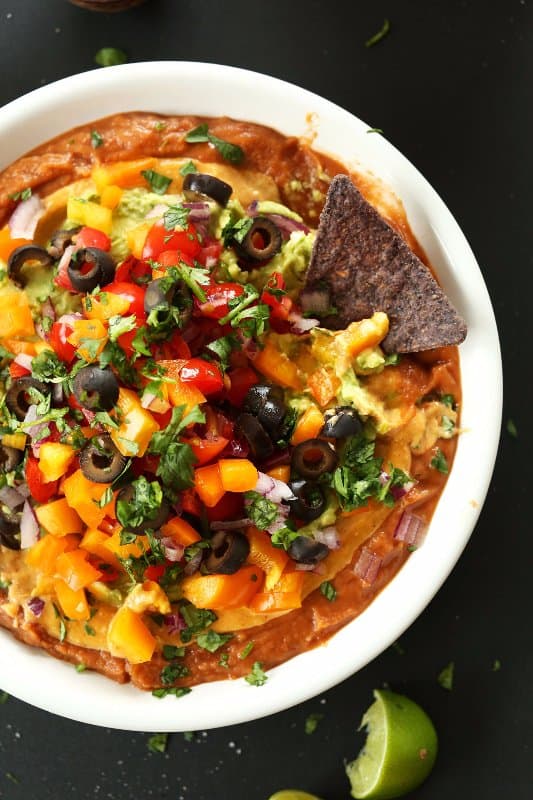 12. Pineapple Sweet Chili Sauce  
Sweet chili sauce is such a fabulous condiment to have on hand. Dip some vegan bacon or chicken strips into some for added sweetness and kick! This has pineapple added into it which works super well with the spiciness of the chili. Palm sugar is used here, but since it's killing the rainforest (and the orangutan!), use a sustainable alternative like coconut sugar instead. Please!
Get the recipe here.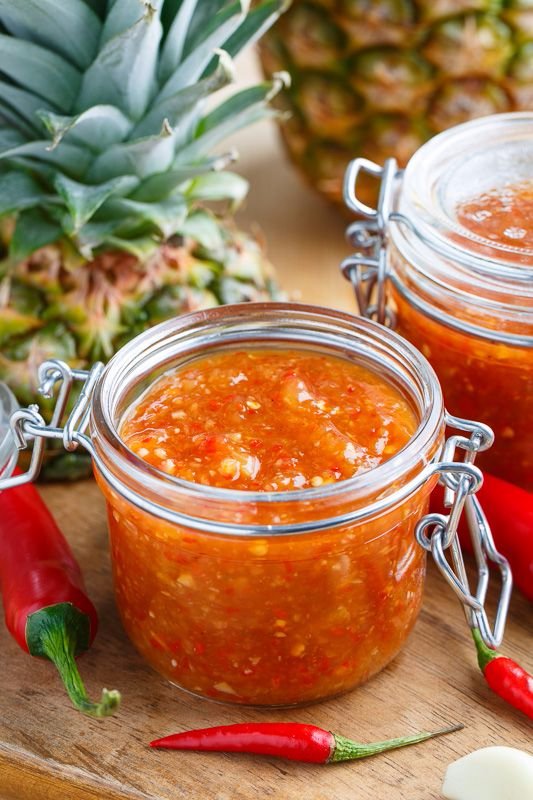 13. Beet Hummus
This is one of the most vibrant vegan dip recipes! I love hummus, so I'm always excited to try any variation of it. Beetroot gives this a bit of a sweeter, earthier flavour, and also adds an extra dose of good health. Did you know beets are seriously powerful antioxidants?
Get the recipe here.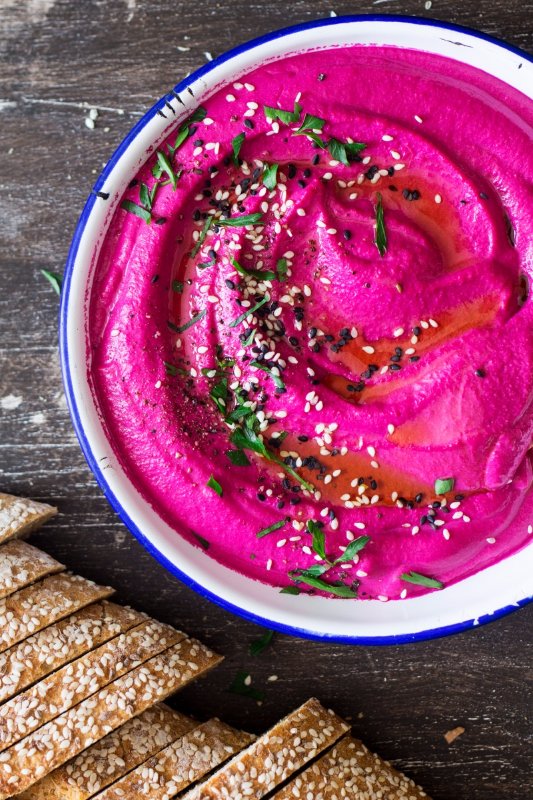 14. Pizza Hummus
Allergic to sesame or dairy? Or just adore pizza? This is one of the best vegan dip recipes for you! It's essentially a hummus that tastes like pizza thanks to the blend of oregano, basil, tomato and garlic cloves. You can eat it as a dip, or spread on vegan crackers or in a sandwich. Versatile and tasty! Did I mention that it tastes like pizza?!
Get the recipe here.
15. Vegan Crab Dip
Crab dip is a restaurant fave, but what's a vegan to do? Whilst some of the ingredients may seem a little out there, it's worth visiting a health shop to make this recipe if you're missing seafood since going vegan. Vegan mayo makes it super creamy, whilst hearts of palm are used to replicate the meatiness of the crab. One of the best retro recipes here, too!
Get the recipe here.
16. Smoky Cauliflower And White Bean Dip
You want healthy? This is one of the most nutrient-packed vegan dip recipes! It's loaded with veggies and protein! You can use this as part of a vegan bowl, or even as a spread on sandwiches. It's incredibly rich and really brings ingredients such as cauliflower and white beans to life. Garnish with lemon and a drizzle of avocado oil and it's all set to serve up!
Get the recipe here.
17. Fully Loaded Vegan Queso Dip
This vegan queso dip may look totally decadent, but it's made with healthy stuff. That includes gooey potato, as well as other veggies, and plenty of nutritional yeast. And just look at the end result; it's one of the richest, most tempting of vegan dip recipes, ever!
Get the recipe here.
18. Kale Walnut Pesto Dip
Pesto is one of the best vegan dip recipes to have on hand because it's SO versatile. You can add it to pasta to make a flavoursome dinner recipe, use it to garnish a vegan burger, or, of course, use it as a dip! This recipe is super clean. It contains kale, walnuts, garlic, nutritional yeast, lemon juice, olive oil and a little salt and pepper.
Get the recipe here.
19. BBQ Tahini Dip
Ah, that American favourite! BBQ sauce goes with just about anything: potatoes, pizza, burgers, you name it! I'm loving this tangy and healthy recipe made using rich, creamy tahini as it's base. It's the perfect dip for crudites, crackers, toasted pita triangles, or tortilla chips.
Get the recipe here.
20. Easiest Ever Vegan Bean Dip Recipe
No time? No problem! This is one of those vegan dip ideas that can be thrown together in minutes. Frankly, it looks so good, it's tempting to eat this vegan bean dip recipe as a dish on its own! It's also one of the most versatile of the recipes here – you can add this to tacos, quesadillas or just use it to dip tortilla chips into.
Get the recipe here.
21. Pistachio, Pea and Parsley Dip
Well, here's something a bit different! It's packed with unique flavours, has a super rich texture, and the pistachios give it a great green colour. In fact, I'm thinking this would be a pretty good spread for toast, am I right?
Get the recipe here.
22. Walnut Lentil Dip
This is one of the most elegant vegan dip recipes. It's so very refined that one could say it's pretty much the vegan equivalent of foie gras – but you know, without the animal cruelty! Perfect for serving up at cocktail parties.
Get the recipe here.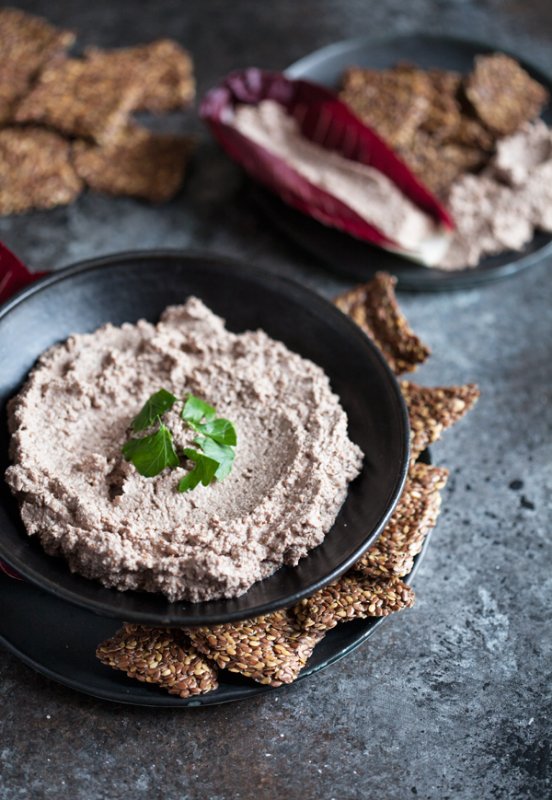 23. Vegan Salsa
Ok, it's true: salsa is pretty much already one of the most common vegan dip recipes! But this one is sooo tasty, thanks to the use of loads of coriander, lemon and of course, spices. Serve yours up with veggies, chips, or even falafel balls, as given in the recipe.
Get the recipe here.
24. Spicy Piri Piri Hummus
Ok, I simply could NOT leave this list of vegan dip recipes without adding at least proper hummus dip, am I right? And this is the best recipe I know. I've personally served this up with bowls of crudites, chips and toasted bread, as a shareable main at an informal dinner, and it was a huge hit! Not a fan of spicy food? Leave it out – the base is just 'regular' hummus.
Get the recipe here.
25. Vegan Refried Bean Dip Recipe
This is one of my favourite vegan bean dip recipes! I mean, refried beans are a Mexican food, and that's just one of the best world cuisines, like, ever! But sadly, refried bean dips normally involve animal fat for frying. Not this recipe, though! Served up with nachos, this is pure heaven.
Get the recipe here.
Latest posts by Lora O'Brien
(see all)