Who needs sweets when these tasty savoury vegan snack recipes will see you through the day?
By Lora O'Brien
Confession: I'm not that keen on sweets.
Believe me, this comes with its issues. If I go out for high tea, I only eat the sandwiches. If I'm out with friends, they're always disappointed when I refuse to share a dessert with them. And don't even get me started on birthday cakes….
So when snack cravings come on, I want something packed with tons of savoury flavour. But without having to eat fat and salt laden junk food that will make me feel crappy ten minutes later. If I'm out, that usually means grabbing a bag of nuts or healthy popcorn.
That being said, with a little creativity and planning, there are plenty more healthy snack options to keep hunger at bay.  These savoury vegan snack recipes below are packed with plant-based ingredients that can sustain you throughout the day. And in most cases, they can even act as great party foods, too!
Savoury Vegan Snack Recipes For Any Time Of Day
1. Curry Nut Bars
Love a hint of spice? These nut bars infuse curry powder to make a treat that will give you a nice boost of energy. Packed with savoury flavour, this recipe gives granola bars a new lease on life. Note: to make it fully vegan, switch the honey for malt rice syrup.
Get the recipe here.
2. Cheesy Kale Chips
The first time I ever tried kale chips, I was so damn happy! Finally, I'd found a great alternative to potato chips; one that's even healthier and with half the calories. Happy days! Bake these with nutritional yeast for a great cheesy flavour.
Get the recipe here.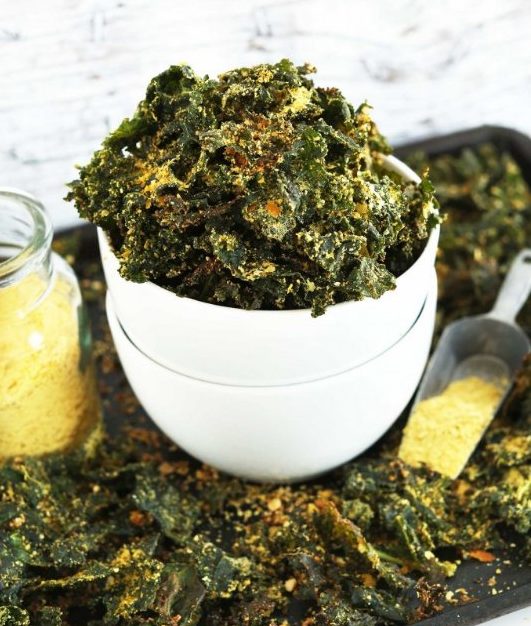 3. Home Baked Vegetable Crisps
Crisps, or chips if you're American, are a popular snack for many of us, but who wants to binge on deep fried potatoes when these veggie crisps exist?! Once baked, the parsnips, sweet potato and beetroot become deliciously crisp and a tiny bit sweet.
Get the recipe here.
4. Homemade Vegan Doritos
Doritos were a huge part of my childhood, but they're not only bad for our health (thanks to MSG), they're terrible for the environment (thanks to palm oil)! But now, it's possible to revive those childhood flavours with these guilt-free 'Doritos'.  The best part? There are three flavours to try: spicy taco, cool ranch and nacho cheese – yum!
Get the recipe here.
5. Vegan Quesadillas
I know you're thinking: "What? Quesadillas without cheese? Damn, those are gonna be dry!" But no, my friends – these are made tasty and moist by mashed sweet potatoes, cilantro, lime and other Mexican flavours.
Get the recipe here.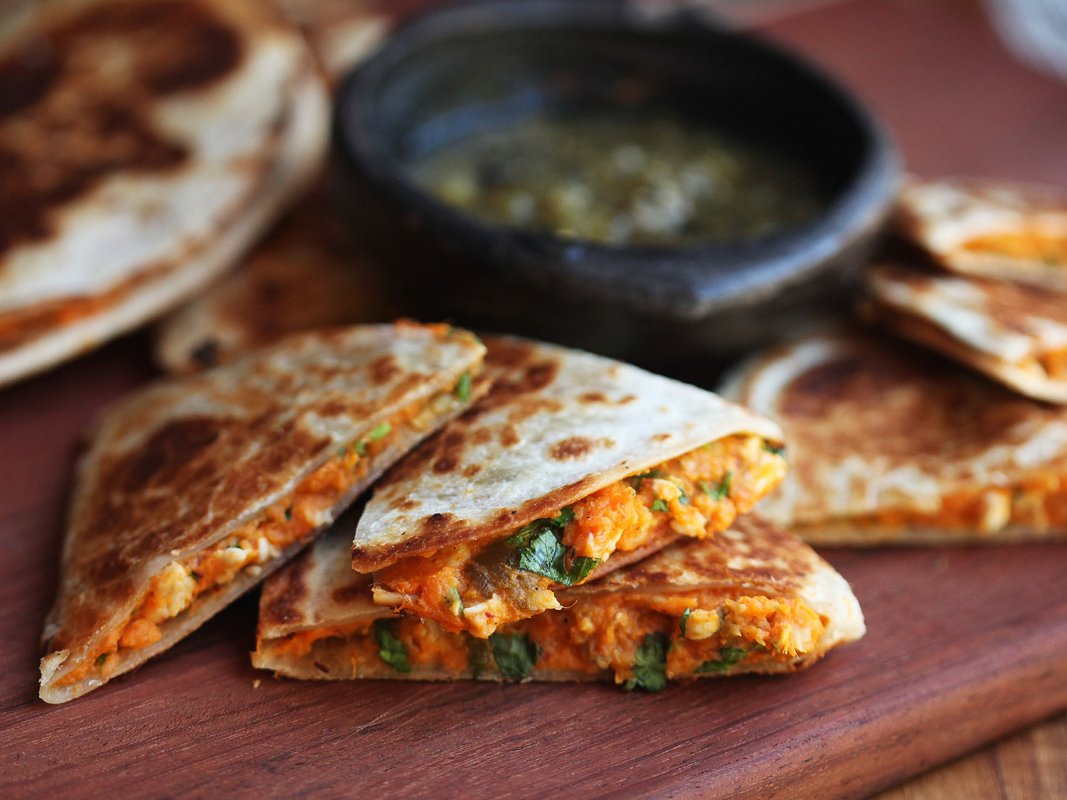 6. Pine Nut & Olive Tapenade Stuffed Dates
Forget stuffing dates with nut butter, this recipe stuffs them with a kalamata olive tapenade. They're a little salty, a little sweet and packed with fresh herbs and crunchy toasted pine nuts, making them not only a perfect snack, but party food, too.
Get the recipe here.
7. Vegan Cheesy Crackers
Since going vegan it's become nearly impossible to find a brand of cheese flavoured crackers that doesn't use some form of animal ingredient. So, I thought: why not make your own? I did, and I can tell you these are super addictive – and they're also gluten free, bonus!
Get the recipe here.
8. Vegan Cheese Ball
Following on with the cheesiness theme, this cheese ball makes a great snacking option if you're vegan and looking for your daily dose of savoury flavour. Enjoy a slice on its own, crumble it onto a salad or smear it on a cracker. This is one of the best savoury vegan snack recipes for parties, too.
Get the recipe here.
9. Savory Garlic Cumin Zucchini Chips
If you're not a fan of potatoes, then you need to try these chips! Once infused and popped into the dehydrator, the zucchini become spicy and loaded with flavour. Pop them into a reusable container and carry them round for a quick fix snack.
Get the recipe here.
10. Roasted Jalapeño Hummus
Sure, I love hummus. But sometimes I look for new and exciting ways to reinvent it so that I don't get bored. And this recipe uses simple, wholesome ingredients to create a super creamy jalapeño hummus that is both savoury and subtly spiced.
Get the recipe here.
11. Vegan Cheddar, Scallion & Bacon Scones
When it comes to scones, I always preferred the savoury variety over sweet. So these are right up my alley! Fluffy, buttery and flaky, they're packed with different textures, like creamy 'cheddar' and crunchy 'bacon'. One of the best savoury vegan snack recipes to serve up at brunches!
Get the recipe here.
12. Vegan Cheese, Chilli and Mustard Straws
Consider yourself lucky if these stick around once they're out the oven! Yes, they're that good. Warm, 'cheesy' flaky pastry is infused with chilli and mustard for a subtle kick. These make a great snack, or you could even dip them in some soup.
Get the recipe here.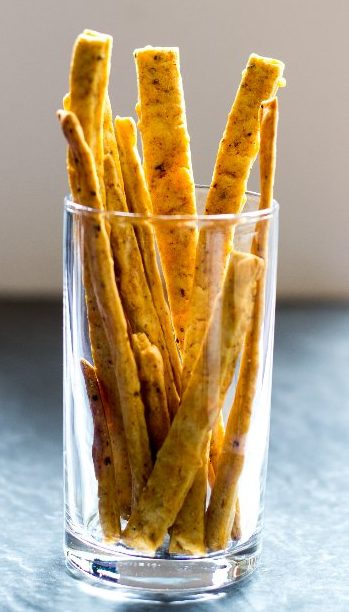 13. Herb and Garlic Amaranth Crackers
I can't wait to make these herb and garlic amaranth crackers and dip them in some guacamole! Make a batch of these at the beginning of the week and store in a lock tight container so you have an easy snack on hand throughout the week.
Get the recipe here.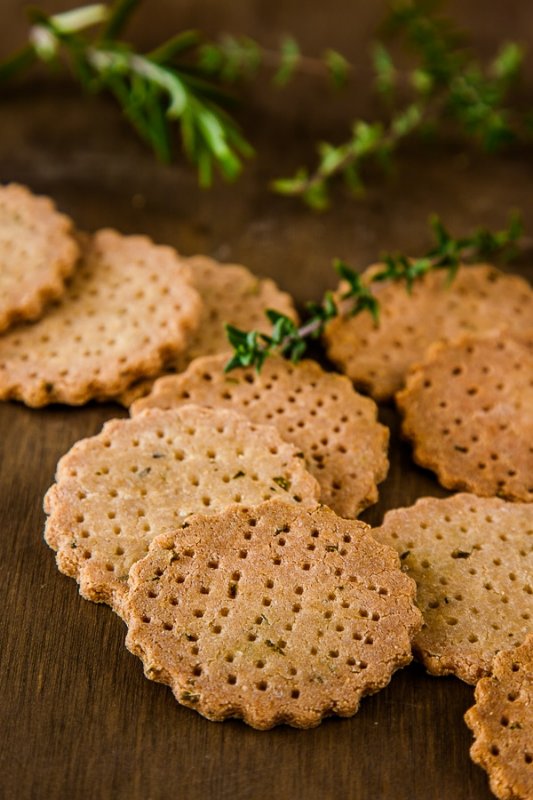 14. Tofu Spring Rolls with Peanut Sauce
Light, tangy and easy to make, these spring rolls can be packed with whatever veggies you love most. The blend of herbs and crispy tofu make them super delicious, though. And mmm…that peanut sauce!
Get the recipe here.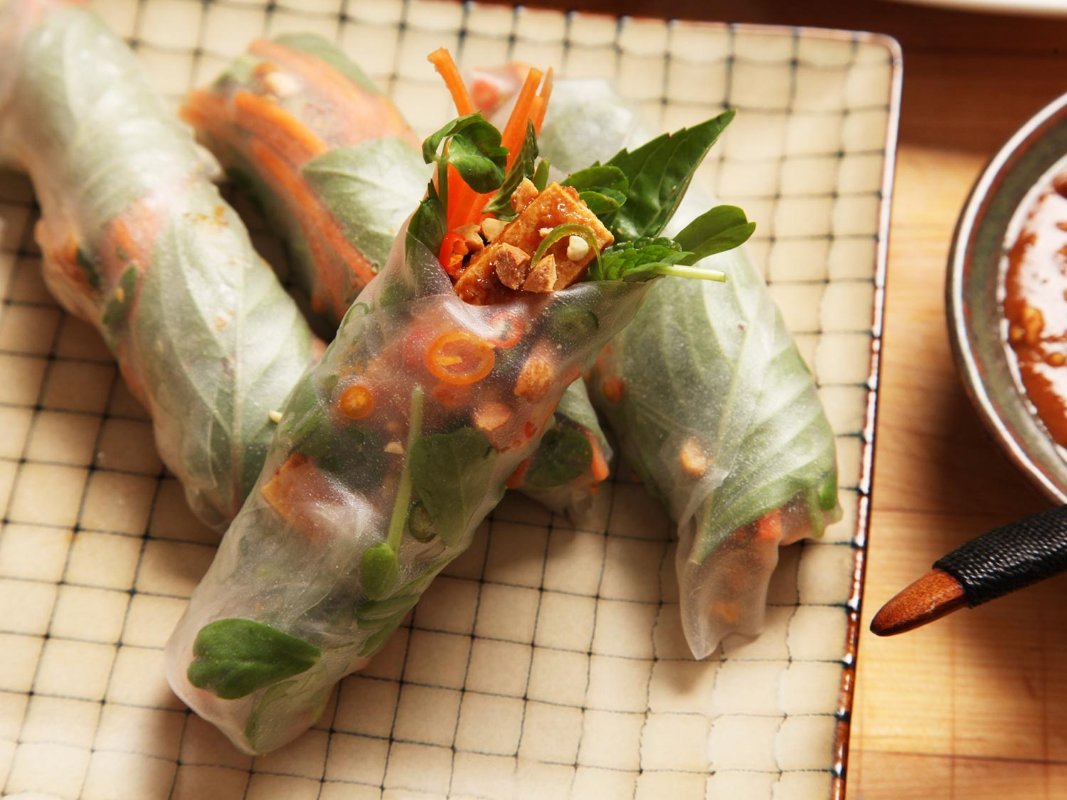 15. Sweet Potato & Herb Savoury Muffins
Who needs sugary, cake-like muffins? The sweet potato really makes these super soft and moist, whilst the savoury flavours of parsley, thyme and black pepper make these almost taste like a sandwich!
Get the recipe here.
16. Vegan Cauliflower Hash Browns
There's something so satisfying about chowing down on some warm hash browns! Soft and savoury on the inside, crisp and salty on the outside. But unlike potatoes, which can be a little heavy, these are made from something healthier: cauliflower! Definitely one of the most surprisingly healthy savoury vegan snack recipes.
Get the recipe here.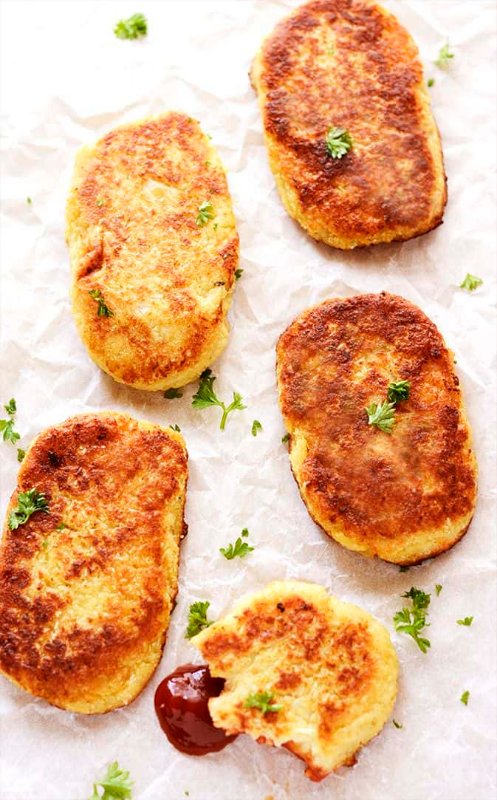 17. Easy Mini Nacho Pizzas
What do you fancy more: nachos or pizza? No need to decide! This is one of the best savoury vegan snack recipes for infusing the two flavours.These make a great snack. Simply toast some whole wheat English muffins and top them with all the goodies before devouring them!
Get the recipe here.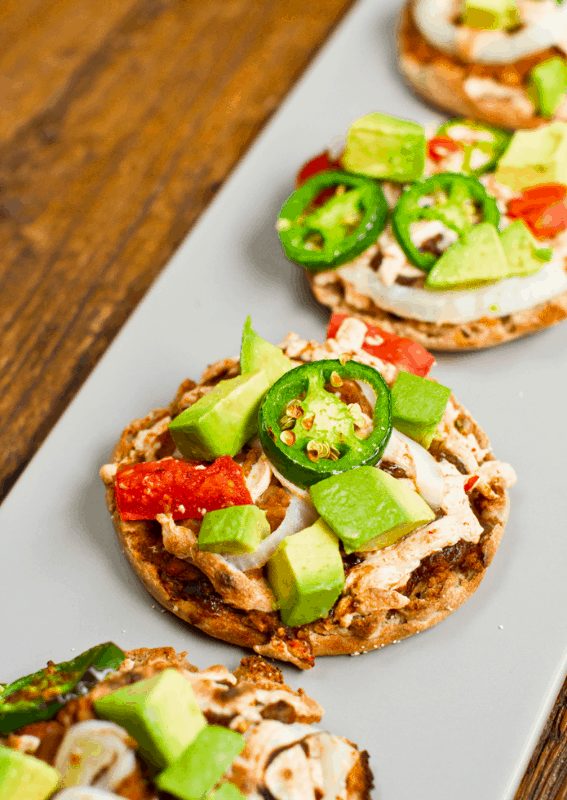 18. Savoury Corn Pancakes with Cilantro Cream
If you've never tried them before, corn pancakes are the bomb! topped with a cilantro sauce, these are seriously moreish. You can even make a batch and freeze them so you always have some in your freezer, ready to go.
Get the recipe here.
19. Samosa Pinwheels
If you love Indian flavours, this is one of the best savoury vegan snack recipes for you! Expect to taste tamarind, chutney and mint in these hot little potato snacks. They're super easy to make, and great for entertaining, too!
Get the recipe here.
20. Spicy Bean Balls In 3 Flavours
Nope, they're not bliss balls! These are spicy bean balls, and they're one of the best savoury vegan snack recipes when you find you're craving something simple, savoury and healthy. Great for packing in lunches or for vegan picnics, too!
Get the recipe here.
21. Vegan Cheese Popcorn
Super quick, easy and healthy popcorn is one of the best savoury vegan snack recipes for kids to help you make! Just make sure the popping part is well-supervised, of course.
Get the recipe here.
22. Vegan Spinach Pinwheels with Cream Cheese
They may look pretty fancy, but these vegan spinach pinwheels are literally just creamy cheesy spinach dip smeared onto puff pastry, rolled, sliced and then baked. Simple, quick, and they make great lunchbox snacks, too.
Get the recipe here.
23. Spiced Chickpeas with Mushroom & Garlic
Love roasted chickpeas? Why not quick things up a notch with these mushroom and garlic infused ones? If you tend to snack during the day to keep hunger at bay, chickpeas will keep you fuller for longer, and even give you a boost of energy throughout the day – not to mention a protein fix.
Get the recipe here.
24. 7 Layer Taco Dip
Whether you've got a huge snack attack coming on, or a few friends coming over to hang out, this is one of the best savoury vegan snack recipes to have on hand. Just add some tortilla chips, crudites or pita triangles and get dipping!
Get the recipe here.
25. Basic Hummus
Hummus is one of my go-to savoury vegan snack recipes. If I don't know what I want for lunch: hummus and crackers. If I get a bit peckish during the day: hummus and crackers. Friends popping by for drinks? Break out the hummus and crackers. In short, every vegan needs a great hummus recipe to have on hand!
Get the recipe here.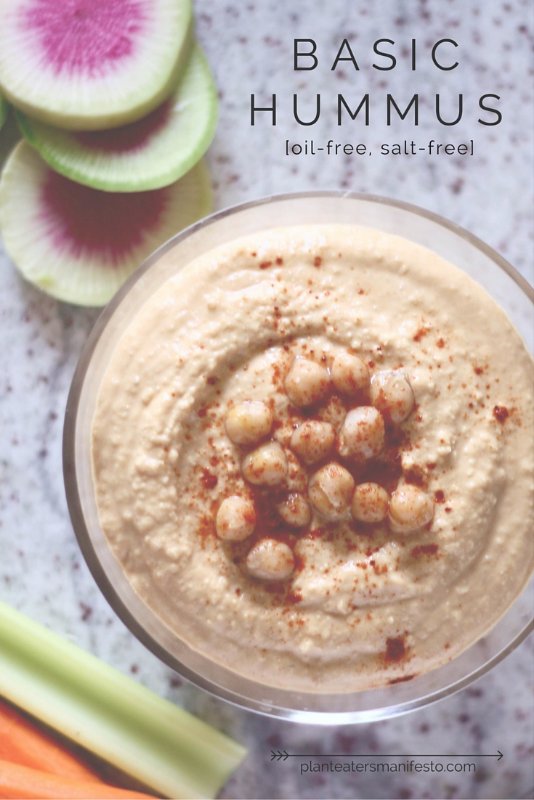 26. Spinach & Artichoke Spanakopita Triangles
Spinach and artichokes flavour these Greek inspired bites. You'll need cashews, artichoke hearts, frozen spinach, coconut milk, lemon juice and garlic powder. Stuff that blend into phyllo sheets, and you've got one of the tastiest savoury vegan snack recipes in minutes!
Get the recipe here.
27. Vegan 'Egg' Cups
These may look eggy, but the vegan secret here is chickpea flour! Omelette muffins are super healthy, thanks to their mix of shallots, red pepper, carrot, olives and kale. This is one of those savoury vegan snack recipes you can freeze these to have them on hand when hunger strikes, too.
Get the recipe here.
28. Vegan Savoury Donuts
Forget sickly sweet donuts; these round, baked basil and sun dried tomatoes are real winners! Smear some vegan cream cheese over one when you're craving savoury vegan snack recipes. You won't regret a thing.
Get the recipe here.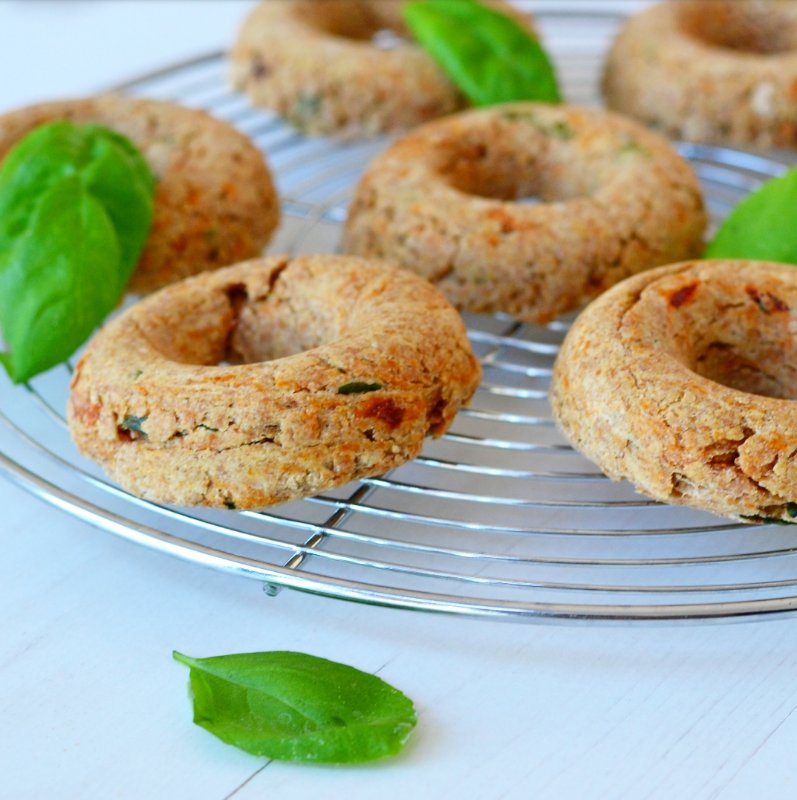 Main image: get the recipe here.
Latest posts by Lora O'Brien
(see all)