It's the one thing most vegans miss. But there's no need to say goodbye to cheese when these vegan cheese recipes exist!
By Lora O'Brien
Ah, cheese. The creaminess, the cheese sharpness, the gooeyness of melted cheese…no wonder a lot of vegans have been asked: 'but…how can you live without cheese?' And the truth is, for some of us, it's not easy! We do miss pizza, mac'n'cheese and cheese toasties.
But by making an effort to ditch the dairy, you'll be doing wonders for your body and significantly lowering health risks, as the casein found in cow's milk has been linked to not only breast cancer, but prostate, ovary and testicular cancers.
Secondly, most dairy, especially that in the USA, is packed with antibiotics and growth hormones. For many of us, our bodies really aren't equipped to digest milk and dairy products anyway. Which is why many of us get bad tummies and inflammation after eating it.
Why Dairy Is Cruel
But there's another factor that may make you swap to vegan cheese recipes: cruelty. Just like human mothers, cows are not magical milking machines and must give birth to begin lactating. Cows produce breast milk to feed and nourish their young. But their babies are torn away from them, and are killed before they even have a chance to enjoy life if they're males, since they're not 'economically viable.' Both mother and calf find their early separation very distressing.
Cows can live up to 20 years. But because dairy cows' milk production drops as they age, the food industry typically only allows cows to live for 4.5 to 6 years total.  Cows that are used for milk today often live in unhygienic, cramped, and unnatural spaces. They live a life of forced reproduction, only to have their babies removed from them once born. They are forced to repeat this process so that humans can keep consuming their milk.
In short, dairy is much more cruel than most people – especially vegetarians – think.
DIY Vegan Cheeses – Better Than Bought!
What really sucks is that most commercial vegan 'cheeses' that we turn to in lieu of the real thing are pretty much junk food, just as bad for your health as dairy. They're made of all kinds of processed ingredients; in fact, here's a list of the ingredients from one popular brand: Water, Coconut Oil, Starch, Modified Starch, Sea Salt, Vegan Flavour, Olive Extract, Colour: B-Carotene Vegan flavours, Maltodextrin, Modified Starch E1450, Silicon Dioxide E551, Acetic Acid E260, Sugar, Arabic Gum, E414, Xanthan Gum E415. Wow. Sounds almost as appealing as the cow varieties, right?
But no worries – still missing  the gooeyness and warmth of melted cheese? Luckily, as with everything in the land of vegans, there's a healthier substitute for anything you may be hankering for. Making dairy-free cheeses and cheesy recipes has never been tastier, trust me. But don't just take my word for it. Give some of these vegan cheese recipes a try for yourself!
Some of them are for actual 'cheeses' themselves, while the others are dairy free cheese based, like pizza. All are simply delish!
Vegan Cheese Recipes You Gouda Try!
1. Vegan Baked Spiced Cashew Cheese
You may have  dabbled with cashew cheese recipes, but have you thought of baking it? It's a serious game changer. The final product kind of reminds me of a Camembert type of cheese. It has a hard rind outside, but inside it's a bit runny and super creamy. Perfect to bake and serve up to guests with a plate of crudites  or crunchy crackers.
Get the recipe here.  
2. Baked Vegan 'Goat' Cheese with Spiced Cranberry
If you didn't think you could find vegan goat cheese recipes, think again. This recipe is for a creamy cheese that's easy to spread over a fresh French baguette, like a soft goat's cheese. But if you're more of a fan of the harder version of chevre, then you can bake this for longer to create a cheese that you can slice.
Get the recipe here.  
3. Homemade Vegan Tofu Feta Cheese
If you were ever a fan of feta, then you probably loved the saltiness of that cheese. And it is replicated perfectly in this recipe! But if you're thinking this has a shedload of salt, think again. Miso, my friends is the ingredient that brings a 'salty' taste, whereas nutritional yeast gives it that 'cheesy' tang.
Get the recipe here.  
4. Easy Garlic & Herb Vegan Cheese
Personally, the cheese I miss most is Boursin, the garlic and herb cream cheese. I grew up consuming pots of the stuff. I'd have it with fresh bread, crackers – hell, I'd even eat it on its own! So I was stoked to find this amongst the vegan cheese recipes. And it's pretty easy to make, too! Just soak cashews, blend with seasonings, wrap in cheesecloth to absorb liquid and pop in the fridge to chill. Cool, huh?
Get the recipe here.  
5. Cashew Dill Mozzarella
This dill mozzarella is perfect to make and enjoy as a snack! Especially if you sub in basil for dill. Chopped up with tomatoes in a fresh salad or even on top of a lasagna, this is a true delight. It's creamy from the cashews with a little sweetness from the herbs and it even stretches a bit like real mozzarella, thanks to the addition of tapioca.
Get the recipe here.  
6. Vegan Macadamia Nut Brie En Croute
This is a dish for the real cheese lovers among us. Macadamia nut brie encased in flaky golden pastry with a vibrant maple cranberry sauce is practically a side dish on its own. Fancy, and one of the best vegan cheese recipes to serve up at parties. Now just wait for the onslaught of praise when you inform your dinner companions that you made the brie yourself.
Get the recipe here.  
7. Spicy Vegan Cream Cheese
Who doesn't love a cream cheese bagel? There's something about the combo of textures that just works. But I've tried lots of various vegan cream cheese recipes, but none compare to this. It's just like cream cheese, but with a spicy little kick! This will taste great smeared across a toasted bagel, but will also be great on crackers.
Get the recipe here.
8. Vegan Cheese Sauce
It always helps to have a go-to cheese recipe on hand. Some things just go so great with ooey, gooey runny cheese. Think cheesy fries. Nachos. Mac and cheese. This is another of the easiest vegan cheese recipes to make, too. And the main ingredients? Potatoes and carrots. Surprise!
Get the recipe here.
9. Smoky Vegan Cheddar Recipe
For some, the best cheese ever is cheddar. It's the flavour of nachos, of cheese sandwiches, and of course, it's a classic pairing with crackers and apple pie. This sliceable block is the perfect companion for an after-dinner cheese board.
Get the recipe here.
10. Raw Cheese Tarts
The recipe for the base of this tart is similar to that you'd use to make a raw cheesecake. However, sun dried tomatoes replace the dates to carry on with the savory element. The cheesy filling is cashew based, making it both incredibly rich and creamy. Serve with a leafy salad for a light side dish.
Get the recipe here.
11. Mouthwatering Cheesy Tofu Scramble
Whether you miss the taste of scrambled eggs or are looking for a way to incorporate tofu into your diet in a new and inventive way, you just have to give this cheesy tofu scramble a try. It makes the perfect breakfast, lunch or even dinner. All you'll need are four ingredients and about five minutes to whip this up. Once scrambled, tofu can replicate eggs, and with a little added turmeric, it can even look like them, too!
Get the recipe here.
12. Cheesy Vegan Corn Muffins
Savory muffins are officially a thing. And sometimes a cheesy muffin is just what the palette calls for. These babies are filled with shredded vegan mozzarella, which gives them a delicious cheesy topping. There's also a vegan chive and garlic cream cheese, which provides a rich, moist texture inside.
Get the recipe here.
13. Cheesy Quiche
Quiche is perfect for all occasions. It's especially delicious fresh out of the oven when it's crispy and warm, but it's also nice when it's cold. You can make this quiche at the beginning of the week and enjoy it for dinner or on the go at work. It goes so, so well  with a crisp leafy salad topped with a balsamic dressing. It's a dairy free cheese recipe that will have you saying: Ooh la la!
Get the recipe here.  
14. Broccoli Cheese Bake
Broccoli and cheese are the perfect marriage. And in this recipe, they work together to make a delicious, shockingly cheesy dish. With broccoli, rice and mushrooms in a cheesy base of potatoes, carrots and dairy-free milk, this is the perfect meal to make. Often!
Get the recipe here.
15. Cheesy Vegan Potato & Broccoli Casserole
This casserole dish reminds me of good old fashioned comfort food. You know, the kind your grandparents would make for you. It is the perfect dish for when you're looking for a hot yet filling dinner. Thinly sliced potatoes are topped with a vegan bechamel sauce and sliced broccoli, then it's all  finished off with a herb and garlic bread crumb topping, It toasts up beautifully when baked!
Get the recipe here.
16. Butternut Squash Mac & Cheese with Sage
Mac and cheese is a fave for many of us. But the traditional recipe comes with a helluva lot of calories, not to mention a tonne of dairy. So dairy free cheese recipe has all of the appeal of mac and cheese – but with a healthier edge. Butternut squash gives us this brilliant cheesy colour whilst delivering a rich and creamy base for the sauce. But mac and cheese with…no cheese? Nutritional yeast, my friends, is a quick and easy vegan way to add that cheese factor into your dishes!
Get the recipe here.
17. Vegan Lentil Bolognese with Cashew Parmesan
This is one of those vegan cheese recipes that's a slightly healthier take on the traditional spag bol recipe. The majority of ingredients in this recipe are staple household ingredients so you can throw this together at a moment's notice. Lentils are used instead of meat. But the best part? That tangy, cheesy Parmesan! So easy to make, too.
Get the recipe here.
19. Vegan Cauliflower Cheese
Whilst mac and cheese is a go to comfort food for many of us, it's also loaded with calories. Even when dairy free cheese is used! So reduce the calorie count but keep all the comfort by subbing in that hardest working vegetable, cauliflower, instead. Bonus: this has more vitamins and minerals than regular mac and cheese, too!
Get the recipe here.
20. Vegan French Onion Soup with Vegan Mozzarella
Call me naive, but I never knew that French onion soup contained meat. I thought it was simply made from onions and cheese. Luckily, this recipe omits the beef broth and dairy and still manages to taste great. Perhaps even better than the original Gallic classic? Just sayin'.
Get the recipe here.
21. Broccoli & Cheeze Soup
Broccoli and stilton soup has been a favourite for years now. Whilst it may be popular, it's not always healthy, thanks to all the heavy cheese and butter that goes into it. So I like to think of this dairy free cheese recipe as a healthier version of that popular soup. This is a flavourful combination of broccoli and vegan cheese that's all finished off with toasted garlic bread. Yum!
Get the recipe here.

22. Tortilla Soup & Cheesy Taquitos
Soups are delicious, but sometimes they're just not very filling. So I'm raving over this Mexican inspired tortilla soup! It's absolutely bursting with healthy ingredients from black beans and tofu to corn and peppers. And if that alone isn't enough to both warm and fill you up, then there's the side of crunchy, cheesy taquitos. Yum! One of the best vegan cheese recipes ideas, ever!
Get the recipe here.
23. Vegan Chili Cheese Fries
This dish is comfort food at its finest! Warm, hearty chili mixed with crispy fried and then covered with runny nacho cheese. This recipe has my mouth watering, seriously! I can't wait to whip this bad boy of a recipe up. Preferably with the girls round, a bottle or two of wine opened, and a great boxset on the TV.
Get the recipe here.
24. Vegan Mozzarella Sticks
Oh, mozzarella sticks, how I love thee! Dairy free cheese melted inside of breadcrumbs and dunked into some delicious tomato sauce – so good! Instead of being deep fried, these vegan friendly sticks have been cooked in some coconut oil. This allows the cheese inside to melt whilst giving the outside a slight crisp. That combination of crispy outside and gooey, melting cheese inside is what culinary dreams are made of! And guess what forms the 'cheese' here? Well, it's a surprise. Click the recipe to find out!
Get the recipe here.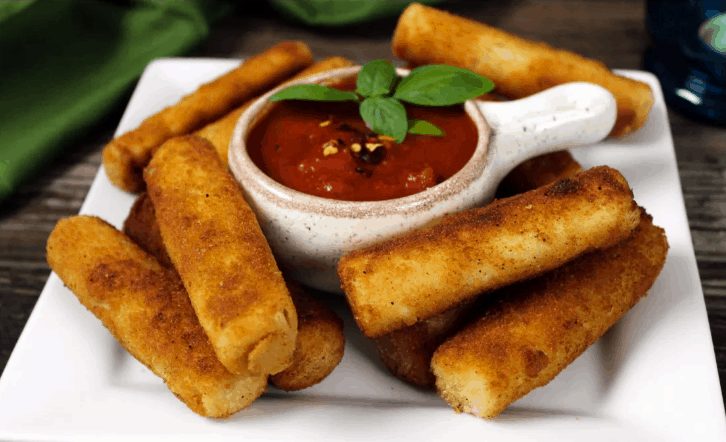 25. Vegan Cheesy Quesadillas
Craving a takeaway? Save yourself the money and make these easy quesadillas instead! Super tasty with extra cilantro, if you ask me, and a salsa or vegan sour cream dipping sauce, like the one pictured below. Another of my fave vegan cheese recipes!
Get the recipe here.
26. Fancy Cheesy Leek Quiches
Ok, let's move away from Mexico and go back to the original home of cheese – France! These little quiches replicate the flavours of the most classic cheese and egg combo – that of cheese and leeks, I mean. But of course there is no egg. Or cheese. A miracle, really. These are so fancy, too! This is is one of the best vegan cheese recipes to whip up for company.
Get the recipe here.
27. Gooey Grilled Cheese Sandwiches
Vegan cheese recipes don't get nicer than this! Grilled cheese was my favourite sarnie for after school. My dad made the best ones ever, and I loved dunking his buttery versions in some ketchup. These vegan versions give a healthier twist to the classic grilled cheese, adding options like spinach, jalepeños or sweet beetroot. You choose! You will need a store bought cheese though – I'd recommend this.
Get the recipe here.
28. Cheesy Potato Skins with Coconut Bacon
Just about everything in this recipe is fake – the bacon, the cheese – but the deliciousness is real! Tangy, crunchy, salty and a bit creamy, thanks to the baked potatoes' insides. A roadhouse restaurant favourite, gone vegan! This is one of the best vegan cheese recipes for serving up as snacks to guests, too.
Get the recipe here.
29. Vegan Lasagna with Puttanesca Sauce
I couldn't do a list of vegan cheese recipes without lasagna! A bit heavy, yes, but just what you crave on a cold winter's day. Bursting with flavour from the tender aubergines and tangy, spicy tomato sauce, you can use one of the better commercial varieties of vegan cheeses to layer into this dish. Dairy free cheese dishes don't get more comforting than this!
Get the recipe here.
30. Vegan Cheesy Popcorn
Popcorn is such a great snack, and is super easy to make. But if you think healthy popcorn has to be bland and boring then think again! This cheesy popcorn will satisfy that savory tooth, but without all the nasty MSG and other chemicals commercial popcorns normally have. Plus, have you ever seen a commercial cheese popcorn brand that's vegan? Didn't think so!
Get the recipe here.  
31. Vegan Cheesy Kale Chips
These kale chips are one of the easiest vegan cheese recipes to make! And if you have trouble getting your little ones to eat more greens, just try feeding them these kale chips. Once baked and seasoned, they'll never suspect this is so healthy!
Get the recipe here.
32. Vegan Eggplant Parmesan
This is an Italian classic, and also one of my favourite vegan cheese recipes! I mean, what's an eggplant parmesan without a ton of cheese, after all? This one features not only that, but a creamy vegan sauce as well.
Get the recipe here.
33. Zucchini 'Pepperoni' Pizza
Looking for a GF and dairy free cheese pizza? This gluten free recipe is easy to make, and best of all, you can use any commercial vegan cheese you like. Of course, vegan mozzarella would be best, but why not try getting creative and making some chevre or mozzarella yourself, with the recipes above?
Get the recipe here.
34. Vegan Cheezy Fondue
I love a good, luxurious fondue. And whether you have guests visiting or you're just looking for a fancy snack, recipe is a real winner. Once the base is made, all you have to do is chop up things to dip into it and arrange them on a platter and voila! Plus this recipe is 100% nut free – so great if you're hosting and not too sure of allergies. My tip? Add white wine. Always, white wine!
Get the recipe here.  
35. Raw Vegan Pumpkin Cheesecake
I couldn't do a list of vegan cheese recipes without considering some cheesecakes! This one is one of my favourites because I adore pumpkin, but also because I love the spicy flavours of autumn. All year round! Not a fan of those flavours? Click here to see a wide variety of vegan cheesecake recipes!
Get the recipe here.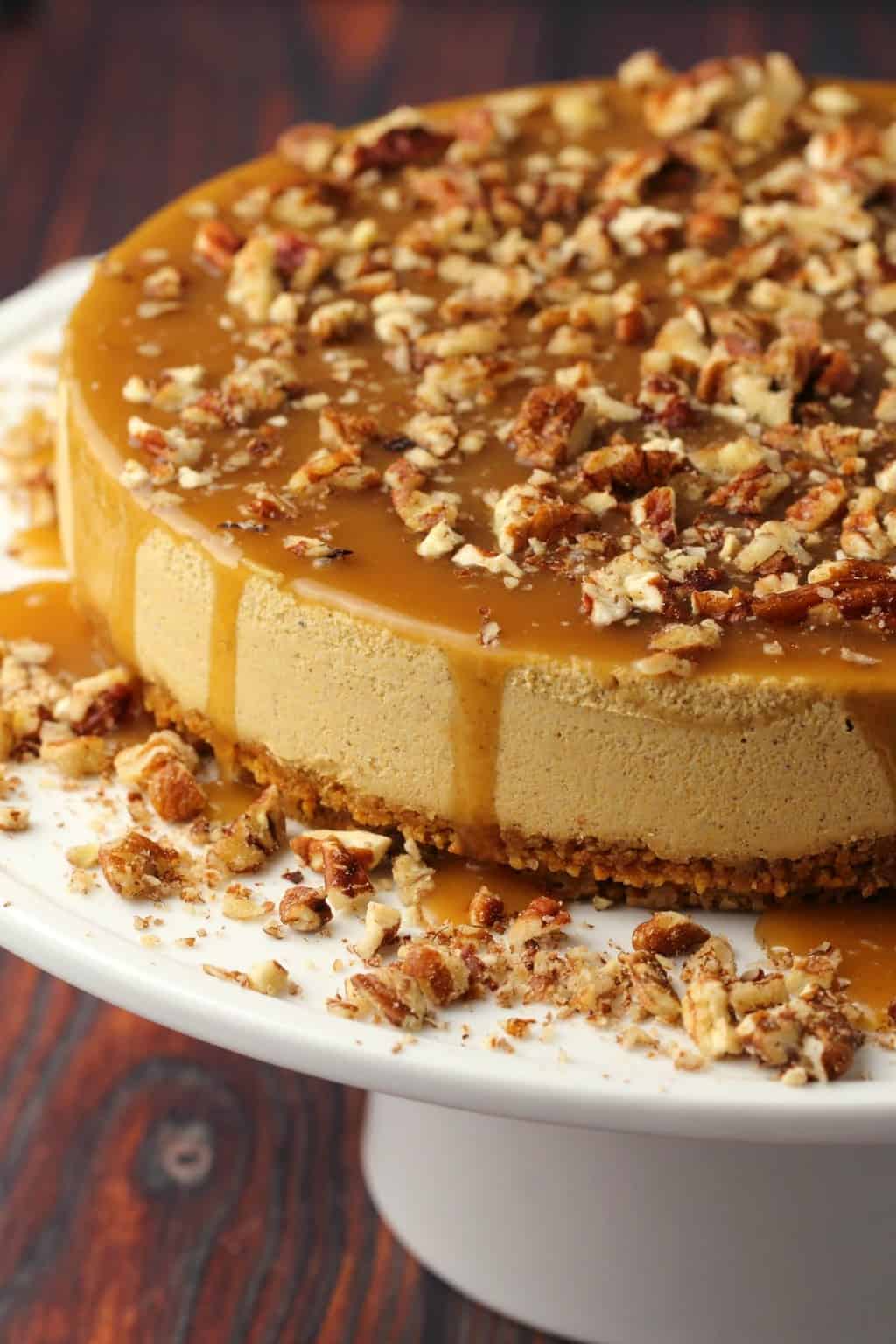 Lead image source: Three Girls Vegan Creamery/Facebook
Latest posts by Lora O'Brien
(see all)