Whether you like 'em sweet or savoury, you'll love these vegan pancake recipes!
By Lora O'Brien
Did you know that Shrove Tuesday is kinda the world's first zero-waste food days? Yep, that's right! The idea behind the day was to get rid of all the food in the house – say, eggs, milk, butter and flour – and use it up before the fast of Lent.
It's one of my favourite food-themed days on the calendar, and once more I'm collecting an array of elaborate pancake recipes to try out. But when you've gone vegan and no longer consume eggs or milk – two traditional pancake recipe ingredients – you may be wondering, as I did: how am I gonna do this?
Well, making vegan pancakes is easier than you think with a few tweaks. Instead of adding eggs, substitute a flax egg. Simply mix 1 tbsp of flaxseed meal to 2.5 tbsp water, mix and wait to form a gel-like texture and add to your pancakes as you would eggs. Chia seeds can also bind your batter!
Instead of using milk, use a dairy-free alternative such as almond milk. And in place of buttermilk make your own milk by combining plant milk with vinegar – it will ferment slightly to give the same taste and texture to pancakes. Looking for some other tips to make vegan pancake recipes? Read on!
Key Steps For Making Vegan Pancakes
Use fresh baking powder: Baking powder is what's going to 'lift' your pancakes and make them nice and fluffy, so make sure your baking powder is fresh and in date. Using baking powder that's a little old will result in a flatter pancake and a weird taste.
Use a fat: The majority of pancakes require a fat such a coconut oil or vegetable oil for both the batter and for frying. While coconut oil will lend a delicate sweetness to your pancake, vegetable oil won't add any flavour.
Rest the batter: ALWAYS try and rest your batter before making pancakes. I know, pancakes are life, and we're all eager to make a batch ASAP, but giving your batter time to rest will not only allow the flour to absorb the nut milk and break down any lumps, but it also gives the baking powder time to make air bubbles that will lift the pancakes. So make the batter ahead of time!
Keep your pancakes warm: Some pancakes can lose a little life as they cool, so they'll become a little flatter. As you make them, try to keep them warm to maintain their fluffiness. Plus, who doesn't love a warm stack of pancakes?!
Make a batch and freeze 'em: Pancakes freeze incredibly well, and here's a secret: you can literally pop them in the toaster for a quickie brekkie!
There are soooo many different ways to make vegan pancake recipes! Whether you prefer thin, crepe-style ones or thicker American versions, you can make bomb recipes without the need for dairy. Need proof? I've got some delicious vegan pancake recipes below to inspire you. Happy Pancake Day everyone!
Image credit below: Minimalist Baker. Get the recipe here.
Sweet and Savoury Vegan Pancake Recipes
1. Fluffy Pancakes With 'Bacon,' Banana & Pecans
Americans love the combo of bacon, maple syrup and pancakes – and no wonder! That  sweet and savoury combo is a winner. Don't knock it until you've tried it; the drizzle of sweet syrup compliments the salty vegan bacon rashers perfectly. Why not serve these up to someone you love for breakfast in bed?
Get the recipe here.
2. Ombré Berry Pancakes
Looking for the perfect stack of pancakes that not only taste great, but are also aesthetically pleasing? (cue cheeky Instagram post!) These ombré pancakes are super pretty in pink and are dyed using berry puree. Stack them high, top with fruit and edible flowers and snap, snap, snap away! (Oh, but be sure to use organic berries. Did you know berries and soft fruits are some of the most heavily sprayed foods for pesticides?)
Get the recipe here.
3. Caramel Chocolate Pancakes
This is one of the best vegan pancake recipes for pleasing ANY chocoholic! A stack of chocolate pancakes stuffed with a gooey caramel centre and topped with banana slices and chocolate sauce…YUM! Believe it or not, these are also refined sugar-free. They get their sweetness from cacao, coconut sugar, banana and maple syrup. (PS: Are you a bit of a serious chocoholic? You'll love these recipes!)
Get the recipe here.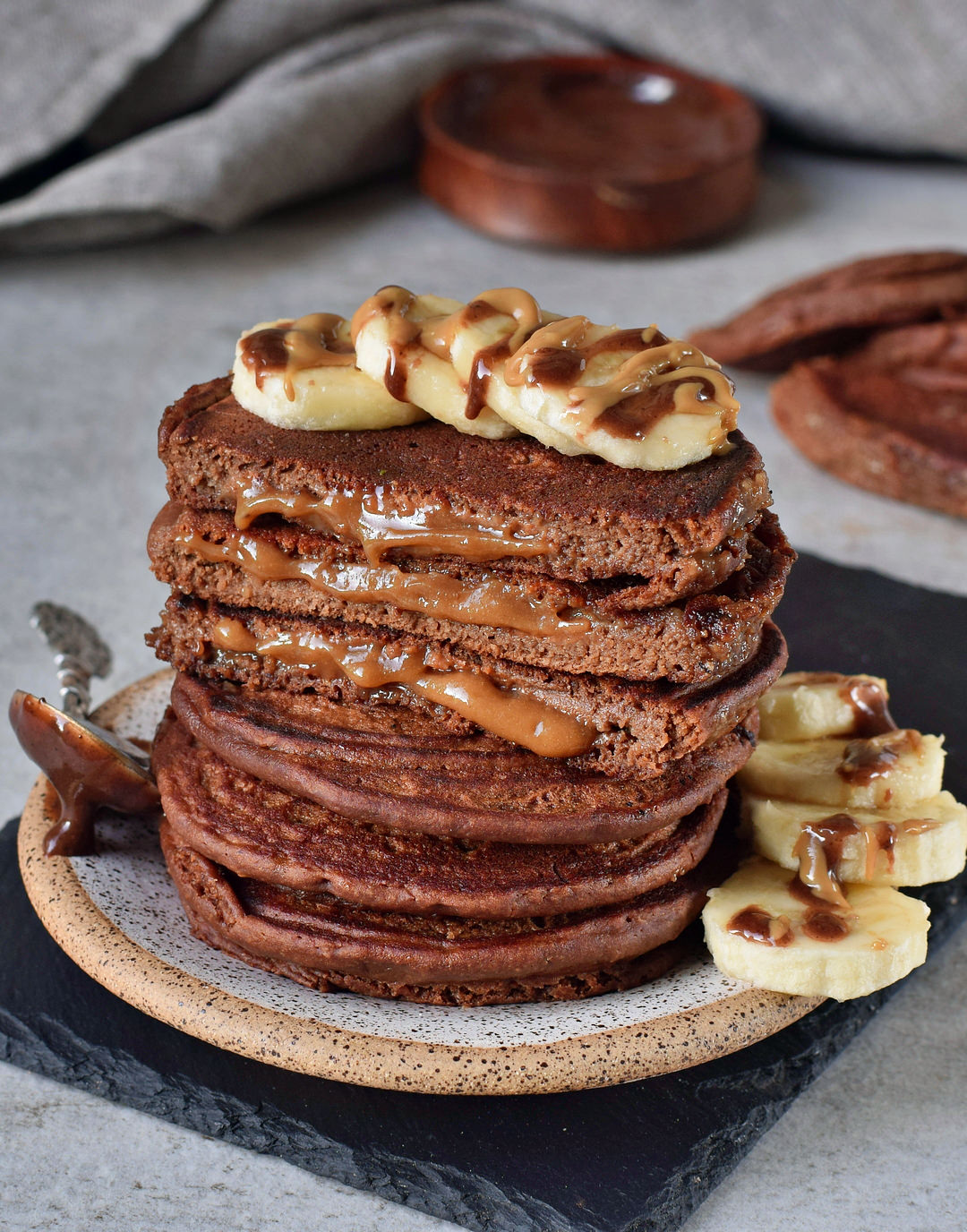 4. Carrot Cake Pancakes with Coconut Cream
I love carrot cake and I love pancakes, so when the two combine it's pretty much my idea of sweet tooth heaven! These fancy carrot cake pancakes are super moist with freshly grated carrots, giving then plenty of flavour. You'd never guess they were healthy! Perfect for breakfast or brunch served alongside a warm mug of tea – bliss!
Get the recipe here.
5. Vegan Peaches & Cream Pancakes
Mixing almond milk with vinegar creates a sour milk that has the same tang as buttermilk. It also makes the pancakes nice and fluffy! Make a stack and then drizzle with fresh slices of peach and whipped coconut cream. One of the best vegan pancake recipes for using up summer peaches!
Get the recipe here.
6. Vegan Berry Sheet Pancakes
This is one of the best vegan pancake recipes to make if you're hosting a brunch! These are easy to make and to serve up to guests. The baking soda combined with the apple cider vinegar causes the batter to lather up and become super fluffy. Garnish with fruit, syrup and serve up!
Get the recipe here.
7. The Fluffiest Vegan Pancakes
If you're looking for a decadent breakfast vegan pancake recipes, then these will do the trick. They're light and fluffy, and are flavoured with cinnamon and orange. They're then topped with jammy fresh figs and gooey date syrup – yum! All you need to go with them is a hot coffee.
Get the recipe here.
8. Foolproof Vegan English Pancakes
Pancakes in my household are pretty standard. Our go-to recipe is sugar and lemon. As much as I love fancier variations, sometimes there's nothing quite as this! The tart lemon juice works well with the sugar. But if you wanted to use a healthier alternative to refined sugar, you could ditch it for coconut or cane sugar.
Get the recipe here.
9. Vegan Chocolate Crepes
Calling all chocoholics: this is the pancake recipe of your chocolate dreams! These fancy chocolate crepes are stuffed with a nut nougat cream, peanut butter and selection of berries and then rolled and stacked. Garnish with more berries and a dribble of chocolate sauce. These are a super indulgent and decadent treat!
Get the recipe here.
10. Fluffy Gingerbread Pancakes
If the transition into spring still has you nostalgic for the warming flavours of winter spices such as ginger, cinnamon and nutmeg, then this will be one of the best vegan pancake recipes for you! Topped with blueberries, maple syrup and a vegan cream cheese icing, these warming pancakes will hit the spot!
Get the recipe here.
11. Apple Cinnamon Crepes with Caramel Sauce
If you want your kitchen to smell AMAZING without burning a candle, then this is one of the vegan pancake recipes you need to make NOW! The warming scent of the apple and cinnamon will not only have your home smelling nice, but you'll be drooling, too! These crepe style pancakes make a fab breakfast or dessert and are loaded with sweet apples, cinnamon and a caramel sauce, but you could also vamp things up a bit by adding in a little rum extract and some juicy raisins.
Get the recipe here.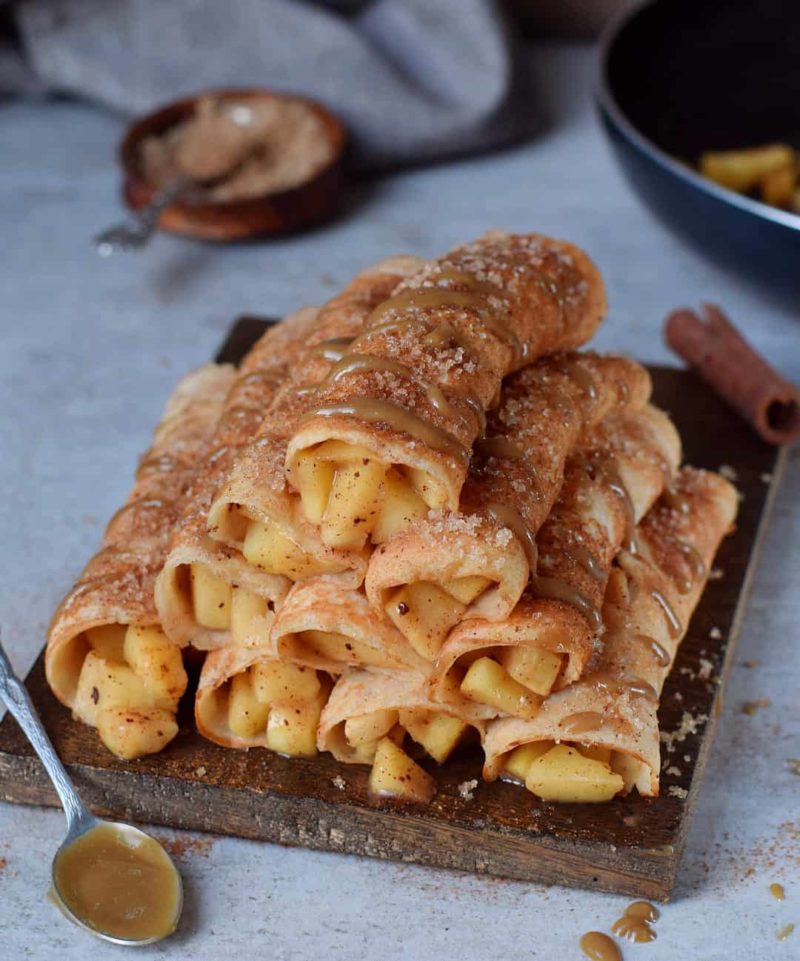 12. Vegan Gluten-Free French Crepes
I've said it before and I'll say it again; sometimes, the best vegan pancake recipes are those that are simple and easy. And this is a quick and easy recipe that even those who hate cooking can make. They make soft, delicious crepes that are delicious solo or smeared with vegan chocolate spread or a nut butter.
Get the recipe here.
13. Green Vegan Chickpea Pancakes
Combine chickpea flour, water, salt and herbs to make these snazzy green pancakes. Once cooked, top with them mashed avocado, pesto, red cabbage sauerkraut, lettuce and tomato. But you could fill these with whatever you have on hand. A dollop of cashew cream cheese would go well, too.
Get the recipe here.
14. Vegan Cheesy Savory Pancakes
Start your day with these cheesy vegan savoury pancakes. They're loaded with cheddar 'cheese' and green onions. Serve with some vegan bacon and a dollop of vegan sour cream for a flavoursome and satisfying meal. This is one of my favourite vegan pancake recipes for dinners!
Get the recipe here.
15. Vegan Masala Dosa
This is one of the best vegan pancake recipes for those who love a good curry! Masala Dosa is a popular South Indian dish where fermented crepes are stuffed with lightly cooked potatoes, fried onions and spices. This vegan version is super yum and the coconut chutney finishes this dish off perfectly.
Get the recipe here.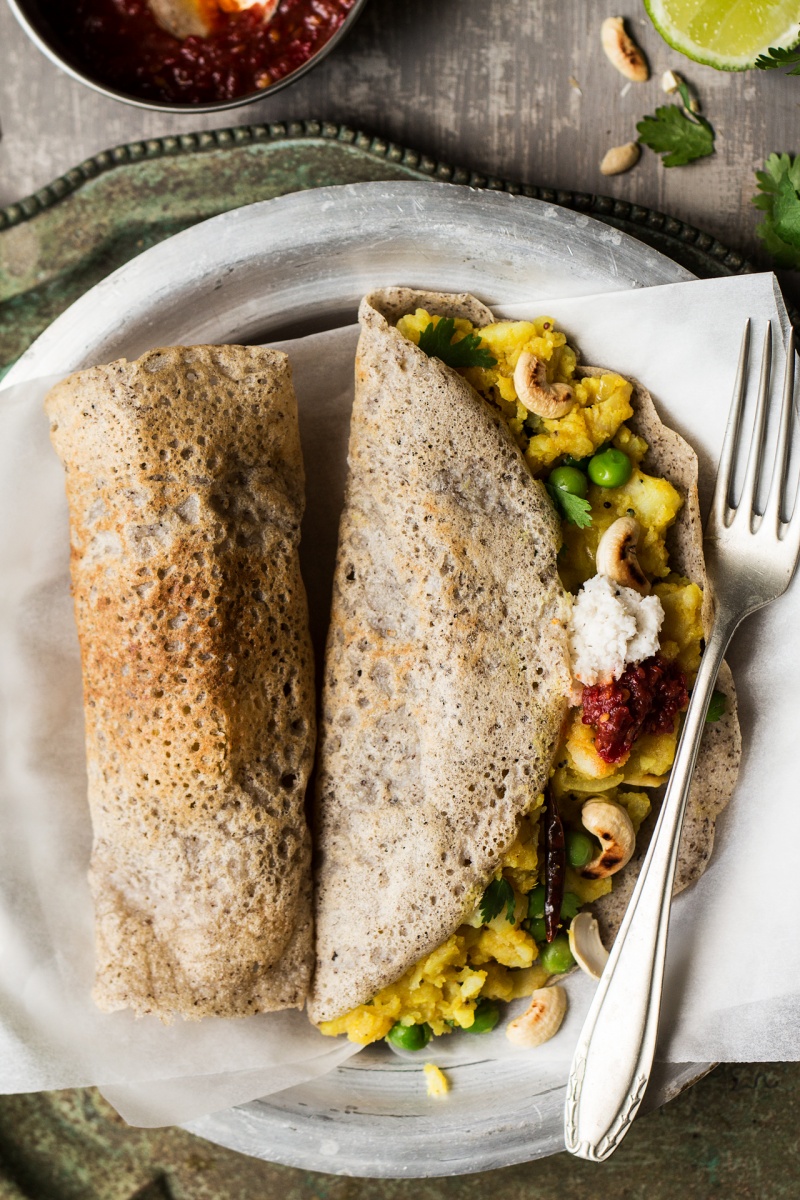 16. Mushroom & Cashew Cream Crepes
Looking for one of the best vegan pancake recipes to make a quick lunch? These savoury crepes will hit the spot every time. The thin pancakes are filled with portobello mushrooms and cashew cream, (a great source of plant protein). This is a dish that will and leave you full of energy.
Get the recipe here.
17. Green Vegan Protein Pancakes
This is one of the best vegan pancake recipes for hiding veggies for the kiddies! Made with chickpea flour and plant-based protein powder, these can be whipped up in a blender and require just a few simple ingredients. Serve with maple syrup, almond butter and banana and then you're ready to go make some plant-based gains.
Get the recipe here.
18. Crepes w/Leek Fondue & Coconut Bacon
This is one of the best vegan pancake recipes for a healthy, hearty and wholesome lunch. Instead of making a sandwich or wrap, why not try making these nutty buckwheat crepes filled with melted leeks and topped with hummus and coconut bacon? It's easy, and super flavourful!
Get the recipe here.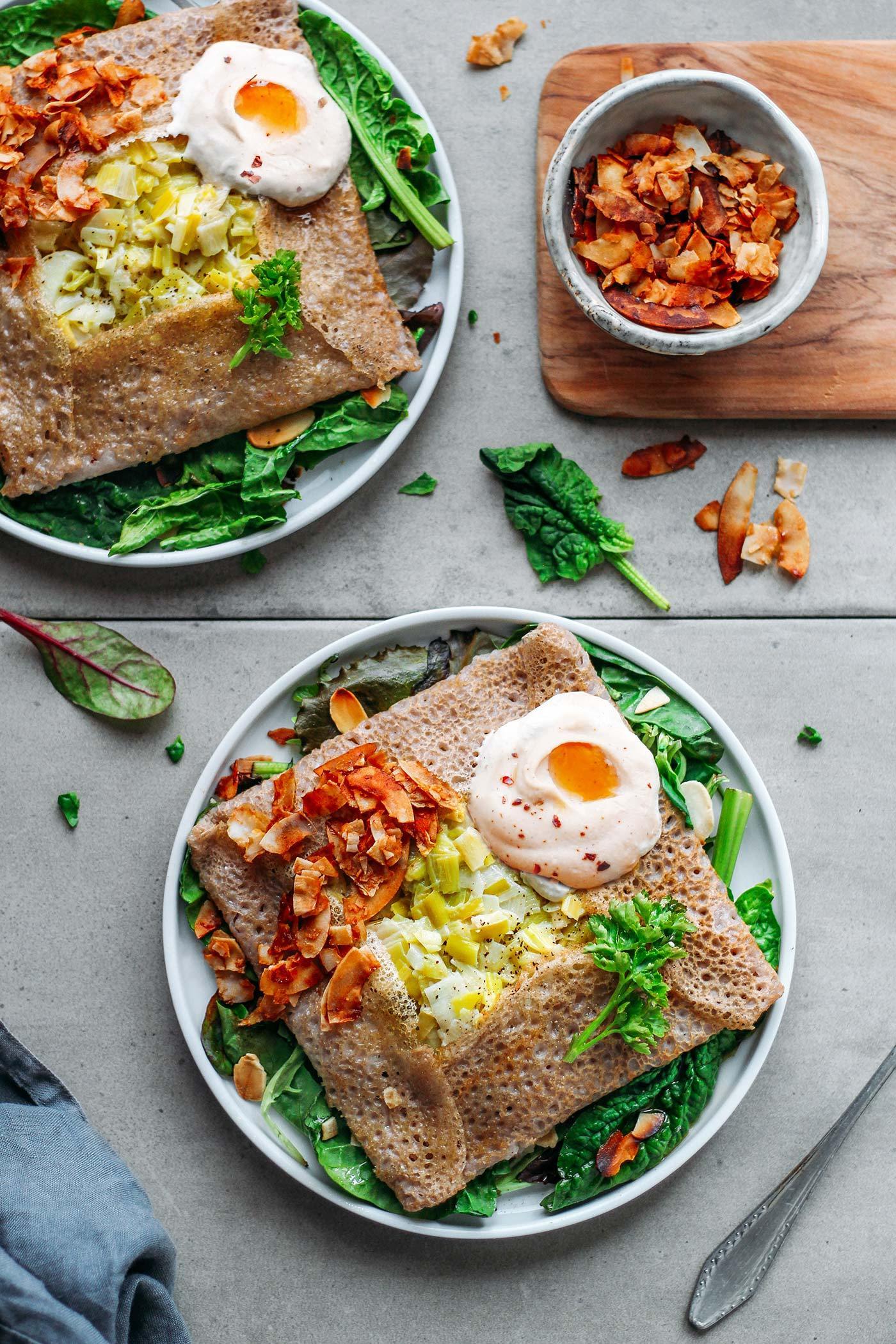 19.
Indian Crepes and Tomato Chutney
Go grab some chickpea flour and let's make some Indian crepes! The batter for these can be made ahead and stored in the fridge, perfect for weekend cooking. The tomato chutney is rich in flavour and drool-worthy smeared across these babies. It's quick and easy to make – simply toast spices and cook down tomatoes before blitzing it in a food processor.
Get the recipe here.
20. Beetroot Crepes
with Mushrooms, Pesto & Tahini 
Savoury crepes are just as tasty (if not tastier) than the sweet variety. If you've never dabbled with buckwheat before, you should know that using buckwheat flour not only adds an earthy flavour, but high amounts of nutrients, too. It's also naturally gluten-free! Pair these crepes with leafy greens such as spinach or rocket, and stuff with fat, juicy oyster mushrooms and a classic basil pesto.
Get the recipe here.
21. Vegan Kimchi Pancakes
Got a jar of kimchi sitting in your fridge? Well, go get it and turn it into these super fluffy savoury pancakes! They taste incredible dipped in an Asian condiment such as a vegan soy sauce, or a sweet and sour and taste just as good cold. This is one of the best vegan pancake recipes for those who like their food on the spicy side!
Get the recipe here.
22. Savoury Chickpea Crepe Cake
How scrummy does this crepe cake look? This is one of the best vegan pancake recipes for dinner. It's made from layering lots of crepes with three delicious spreads: white bean and tahini, wild garlic and zucchini, and avocado and artichoke. Unlike cake which is usually a sweet treat, this savoury crepe cake is loaded with vitamins, nutrients and a fabulous hit of protein.
Get the recipe here.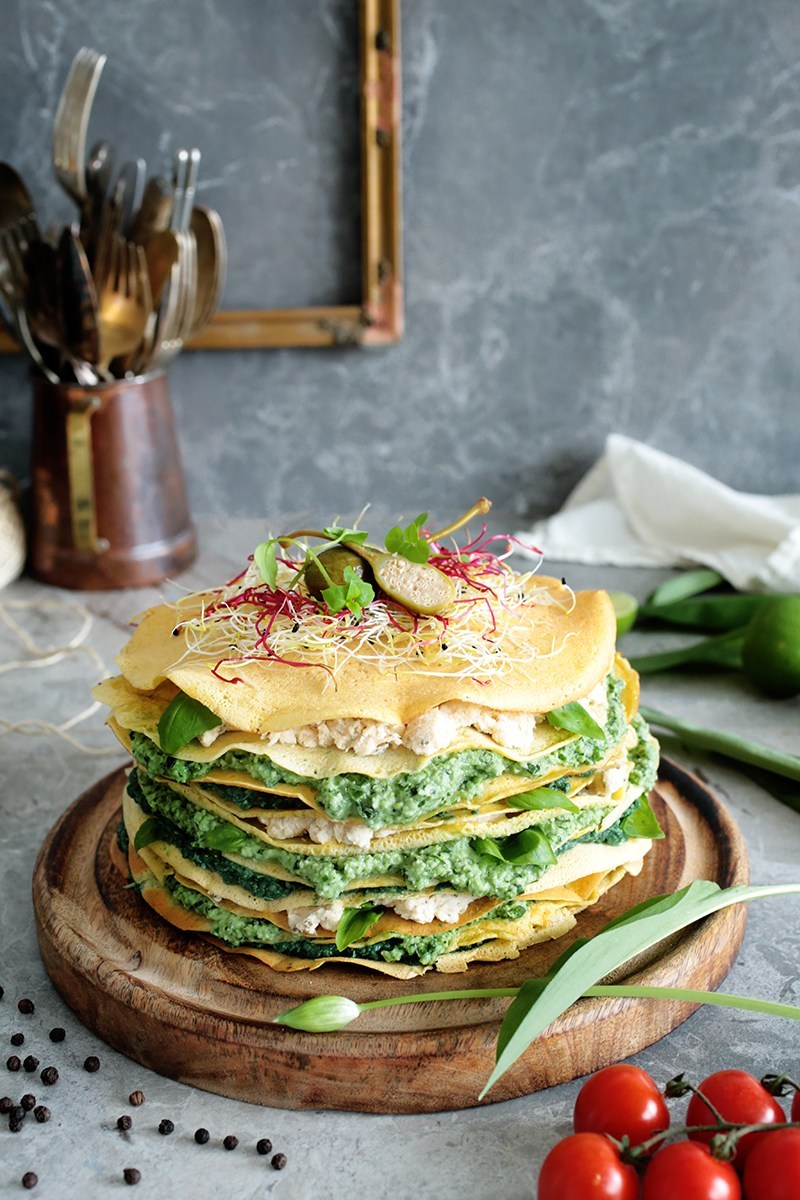 Latest posts by Lora O'Brien
(see all)