These vegan chocolate dessert recipes include everything from hot drinks to ice creams!
By Lora O'Brien
Chocoholics, look away right now. This page is your pusher. This page is 'the man' you've been waiting for. It's full of richly delicious, creamy, gooey chocolate recipes that you simply won't be able to resist. But don't worry – this may be pure, hardcore stuff, but there's very little in the way of comedown crashes after eating these. These vegan chocolate recipes are mostly relatively low or even free of sugar, some are raw, and some are gluten free, too.
Actually, in the right doses, chocolate can be good for you! Dark chocolate contains properties that can reduce your heart attack and stroke risk, lower 'bad' LDL cholesterol, improve blood flow, help your skin create collagen, and of course, boost your mood.
So creating this list of vegan chocolate recipes was a no brainer. Addictive or not, chocolate is a global favourite, for good reason. For an extra health boost, we recommend using organic, vegan chocolate brands wherever possible (see a list here).
Here below, I've come up with a variety of vegan chocolate dessert recipes. They're hot cold, sticky and cakey, smooth and crunchy. Everything you've ever dreamed of, really. There's really no better way to celebrate Valentine's Day, a birthday, Christmas, or well, Monday!
Get the recipe for our main image here.
20+ Vegan Chocolate Dessert Recipes To Die For
1. Espresso Chocolate Chip Cheesecake
Special occasions require special cakes, and this one ticks a lot of boxes. Delicious? Yep! Vegan? Yep? Healthy? Yep? Packed with a zillion calories? Also yep – so don't eat this in one sitting, as tempting as it may be. Plus, who doesn't love a coffee-chocolate combo?!
Get the recipe here.  
2. Raw Chocolate Molten Lava Cakes
How can something raw also be molten at the same time? That's the secret of this unique recipe. If you like your chocolate healthy as heck and with gooey, creamy textures, this is one of the best vegan chocolate dessert recipes for you.
Get the recipe here.  
3. Raw GF Fudge Chocolate Cake
I love the feeling you get when you sink your fork into a thick, rich chocolate cake. You know, the kind that leaves your fork all sticky with its sweet goodness? This cake is exactly like that! Extra brownie points for the fact that as there's zero baking involved, you won't have to wait long after making this to chomp into it…
Get the recipe here.  
4. Raw Hazelnut Chocolate Cakes
Whoa. This is some serious food porn! The chocolate here has almost a caramel-like texture in the middle, and is fudgy on the outside, with some nuts for added crunch. This is one of those vegan chocolate dessert recipes that's a veritable symphony of textures!
Get the recipe here.  
5. Raw Wagon Wheels
Remember those stale 'wagon wheel' cookies you'd get in your packed lunches as a kid? Well, don't. Forget about them, right now. These are a whole world away from those chemical cookies! Instead, they are full of real, healthy chocolate, nuts, all set off with a berry tang.
Get the recipe here.  
6. Raw Brownie Recipe
There are all kinds of brownies. Cookie-like ones, chewy ones, cakey ones, and these. This is one of my favourite vegan chocolate dessert recipes! I'd like to say these are exactly how a brownie should be – more moist than a cake, but not as dry as a cookie, of course. And because brownies are prone to drying out a bit the next day, the icing here ensures they stay just right. That is, assuming these last till the next day!
Get the recipe here.
7. Chocolate Nice Cream
It wouldn't be a list of vegan chocolate dessert recipes without some ice cream on the menu, am I right? 'Nice Cream' (or 'ice cream' made from a banana base) is super simple to blend up. No ice cream maker needed! And doesn't this look amazing? Serve yourself a scoop of this with any of the cakes on this list, or if you feel like jazzing it up a bit, add some salted chopped nuts. Yum!
Get the recipe here.
8. Hazelnut Hot Chocolate
Hazelnut and cocoa are such a great combo that there's a whole industry built around it (thank you, Nutella!). This recipe is raw and can be served kinda warm, but if you really want to go for it and really heat it up on a cold winter's day, we won't judge you. Go ahead!
Get the recipe here.  
9. Dark Chocolate, Coconut & Macadamia Nut Tart
I adore the richly oily and crunchy edge of macadamia nuts, so I jumped all up on this delicious, gluten-free vegan chocolate recipe! A rich, decadently chocolate tart with crunches macadamia nuts? I'll have two slices, please.
Get the recipe here.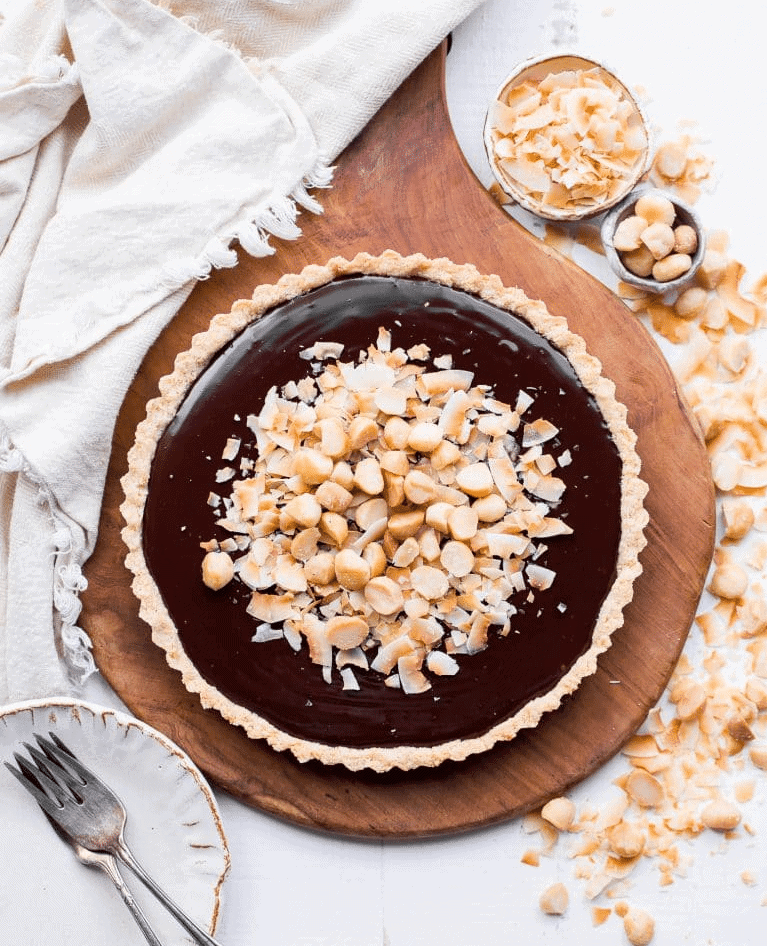 10. Chocolate Banana Tart
Another GF chocolate banana tart that requires no baking? Heck yeah! This is one of the easiest vegan chocolate dessert recipes to make, and is a great way to use up those nana's that are sitting in your fruit bowl getting nice and ripe.
Get the recipe here.  
11. Double Chocolate Frosted Cupcakes
How cute are these cupcakes? The moist sponge is topped with lashings of thick, creamy frosting. These would be fun to let kids decorate if you can stand their chocolate fingers afterwards. Topping them would be even more fun – think chocolate sprinkles or even vegan marshmallows!
Get the recipe here.
12. GF Vegan Chocolate Pancakes
Ok, it's not one of the most typical vegan chocolate dessert recipes, but I had to add this. Because chocolate pancakes are life! Even more so when there's a stack of them topped with a river of melted chocolate and frozen raspberries. You can enjoy these for a super decadent breakfast OR as a dessert. Why not? And did I mention these are also gluten-free. Woohoo!
Get the recipe here.  
13. Raspberry Chocolate Tart
Of all the vegan chocolate recipes here, this may be the most sophisticated, thanks to the delicate raspberries. The slight tartness of the berries works so well against the richness of the chocolate. And then there are crunchy hazelnuts to add some texture. Anyone else drooling?
Get the recipe here.  
14. Gluten-Free Vegan Chocolate Cupcakes
Got a party coming up? These just look so beautiful topped with vegan frosting and shaved chocolate. I guarantee you'll be asked where you bought these from, they look so perfect. Enjoy looking smug when you tell guests they're homemade.
Get the recipe here.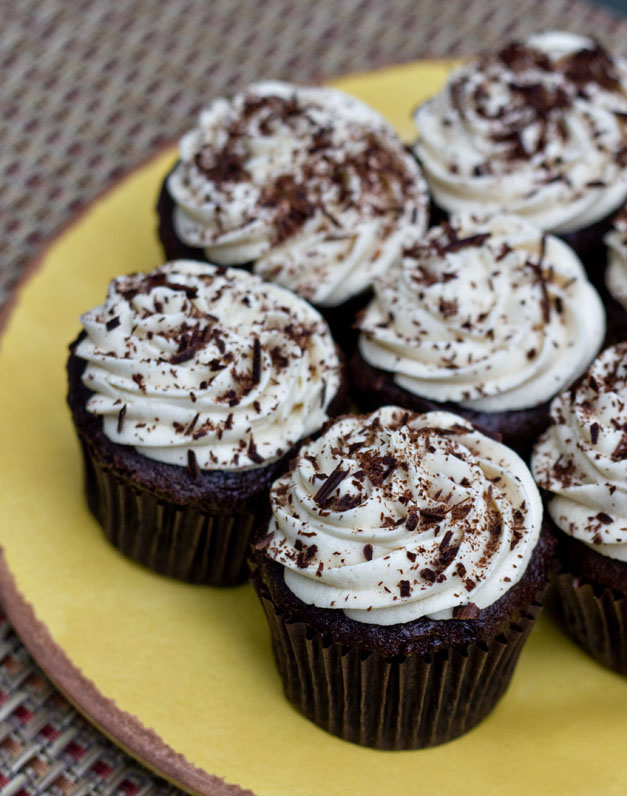 15. Sugar Free Oreo Cake
Turn your love of Oreos into cake, literally. And with eleven real, wholesome and healthy ingredients, this is an Oreo cake you can get stuck into and abandon the guilt. I highly recommend to eat this along with a warm mug of coffee of tea.
Get the recipe here.  
16. Vegan Chocolate Cake With Poached Pears
This looks so fancy, and I was intrigued by the addition of the wine-soaked pear! The cake is dense and gooey, and the pears are soft and sweet. And that chocolate drizzle just takes this to another level altogether!
Get the recipe here.  
17. Dark Chocolate Coconut Bites
Boy, chocolate and coconut is literally bliss. Remember Bounty bars? I was HOOKED on those coconut based gems for years. And this recipe kind of reminds me of that childhood favourite, which is a bonus! And the sweetener used? Just maple syrup and naturally sweet coconut.
Get the recipe here.  
18. Caramel Popcorn Bars
When cravings strike and all you can think about is chocolate, chocolate, chocolate – keep this recipe on hand. These healthy caramel popcorn bars are tahini caramel slices of heaven with bursts of salted popcorn. They're refined sugar-free, too!
Get the recipe here.  
19. Chocolate Dipped Pretzels

Did someone say chocolate dipped pretzels? Count me in! The crackly, salty and chocolatey one-biters are one of my favourite sweet and savoury snacks. Who would have thought that salty pretzels and chocolate would work? Well, they do.
20. Inside Out Chocolate Chip Cookies
These cookies are so rich, so chewy and so chocolatey, you'd never guess they were vegan! The 'inside out' part refers to the white choco-chips that stud these babies. And did I mention this is one of my favourite vegan chocolate recipes for dipping into a cup of coffee?
Get the recipe here.
21. Vegan Snickers Bars
Forget sugar or artificial sweeteners – these 'Snickers' bars use the power of dates to make their ooey, gooey caramel! It's all set on a crispy oat base, and is then drizzled with high quality chocolate. And of course, they're packed with crunchy, salty peanuts, just like the 'real' thing!
Get the recipe here.  
22. Chocolate Peanut Butter Fudge
Chocolate peanut butter that is loaded with chocolate and is still good for us? Sign me right up for these fudge bites! They are packed with chocolate and yet dense, smooth and creamy with the perfect amount of crunch from the peanut coating. This is seriously like the Holy Grail – a fudge that is healthy, sugar free, high in protein and vegan, of course.
Get the recipe here.  
23. Vegan Chocolate Mousse
How could I create a vegan chocolate dessert recipes list without a creamy mousse? Light and fluffy, it's pretty hard not to scarf this all down in one go. And even if you do – don't feel bad about it. There are a lot of healthy ingredients here!
Get the recipe here.  
24. Vegan Ferrero Rocher
I have always loved Ferrero Rocher chocolates. I remember the adverts at Christmas would make them feel like such a treat. So this vegan version was such a great find, as it's a much healthier recipe using dark chocolate and chopped nuts. Serve these to your friends and family as a sweet treat and they'll feel very loved indeed!
Get the recipe here.  
25. Choco Peanut Butter Pie
This is one of the most decadent vegan chocolate dessert recipes! Salty, creamy, sweet and crunchy – what more do you want? Actually, it makes me wonder why I don't include more pies in my articles. Hmm…prepare to see more pies in Eluxe soon. And you'll know what inspired that!
Get the recipe here.
Latest posts by Lora O'Brien
(see all)