Why should women get all the clean beauty products? The best organic skincare brands for men make a great gift for him, any time!
By Lora O'Brien
As many women who share a bathroom with a guy know, men do care about their skin. Whether you've noticed that your skincare products are 'mysteriously' disappearing fast, or that there's a proliferation of guy stuff fighting for space with your own beauty products, it's pretty apparent that most men no longer believe a bit of shaving cream and aftershave is all they need in their toiletry bags.
But sadly, dudes are often pretty clueless about the fact that whatever we put on to our bodies is just as important as what we put into them. Whatever you put onto your skin ends up directly in your body, so you only want to use products that are going to be kind to your skin and your health.
It's  pretty easy to get your guy into organic skincare brands for men by switching their usual products for kinder versions. They'll definitely thank you for pointing out – or even buying –  healthier, cleaner products for them.
And the best part?  You can always help yourself to a dab here and there, too!
The Best Natural & Organic Skincare Brands For Men
At the very least, every guy needs a cleanser and moisturiser, and Lyonsleaf makes both. Using gentle, natural ingredients like calendula and aloe vera, their cleansers never strip the skin of natural oils, which we need to seal in moisture to keep us looking fresh and youthful. And to lock in natural moisture, their all natural creams and beauty balms work a treat on everything from elbows to the face.
One of the best organic skincare brands for men because: It offers a widely comprehensive range of products. Think: cleansers, toners, balms, creams, you name it!
The packaging for this brand just oozes testosterone! And rightly so, as John Masters Organics now has a range just for men that takes away the effort behind maintaining their appearance. With the fresh scent of eucalyptus and  a healthy dose of vitamin E, these products – which include shampoo, skin cream, shaving cream, and more – are a great value due to their multifunctional qualities. For example, the facial wash also works as a shaving foam, whereas the moisturiser also doubles as an aftershave.
One of the best organic skincare brands for men because: The entire men's range is not only clean, but also cruelty free and vegan.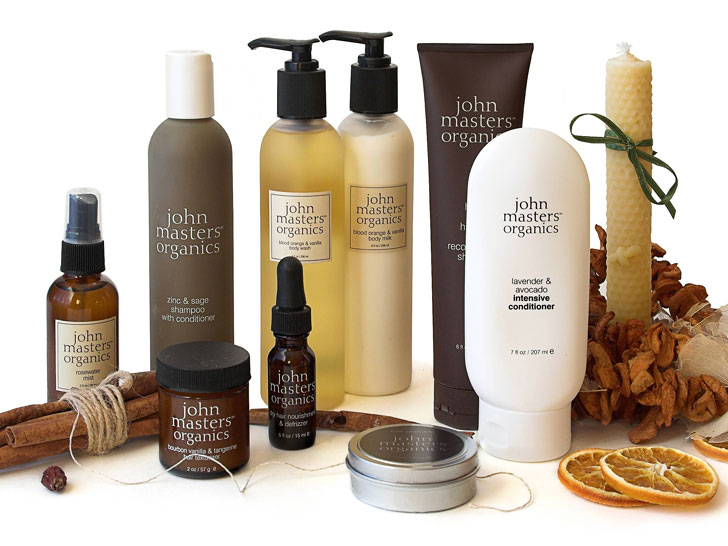 The ethos behind Dr Alkaitis's seriously pure brand is: 'If you can't eat it, don't put it on your skin.' And in fact, Dr. Alkaitis products are so natural, you could  actually eat them, although I don't recommend you telling that to the man in your life (we just know he'll put it to the test…LOL). These gender-neutral products are suitable for literally anyone: babies, children and adults. It's  always a little bonus when you can steal a little bit of your boyfriend's face cream!
One of the best organic skincare brands for men because: Dr. Alkaitis fuses science with a holistic approach, creating one of the most biodynamic, organic and high-quality skin care lines available on the market.
Founded by Australian brothers Keston and Jeremy Muijs, Grown Alchemist is a 'grown-up' brand that uses organic ingredients specifically selected for their high count of antioxidants and vitamins.
Their range of anti-aging skin and bodycare is informed by the duo's thorough knowledge of cell renewal, and will drastically improve skin texture for both men and women.
We particularly love the green, 'manly' scents of Grown Alchemist's creams, body washes, soaps and serums: think sage, cedar, eucalyptus and green tea, for example.
One of the best organic skincare brands for men because: The packaging looks amazing in any bathroom!
Of all the natural and organic skincare brands for men, this one may be the easiest to find around the world!
Bulldog was one of the first ranges of skincare to be certified cruelty free by Cruelty Free International. They're proud to fight back against animal testing and part of the campaign to man it worldwide. Not only are their ethics great, but their products are just as wonderful. They don't contain any of those chemical nasties or synthetic fragrances, and absolutely nothing inside of Bulldog products is derived from animal products, making them 100% vegan friendly.
There are moisturisers that fight back against aging, face scrubs to keep their skin nice and smooth, and there's even a roll on eye cream making the work to maintain perfect skin pretty easy.
One of the best organic skincare brands for men because: It suits even the lowest of budgets.
Native Atlas is a clean beauty brand founded by esthetician Alexia Wambua. All products are gender-neutral and are formulated with slow-sourced natural botanicals and essential minerals. The intent is to provide simple and effective skincare that is free from harsh chemicals, parabens and synthetics oils.
Each product uses wildcrafted or certified organic plants and cold-pressed or unrefined oils. Whether you need to help tired muscles recover with their Misuli Recover Body Balm, or you treat your skin with the Zahara Enzyme Mask, you can be assured you're using quality ingredients each and every time.
One of the best organic skincare brands for men because: The product sizes and collections make these products perfect for travelling.
Many of us already know how awesome Neal's Yard Remedies are by now, so if you're a fan of NYR in general, don't hesitate to check out the new NYR Men's range for the guy you love.
NYR Men is packed full of organic herb extracts and oils, and there's everything he'll need to maintain great skin. Whether he needs a face scrub, body cream or a calming shave balm, he'll find it. And did I mention that Neal's Yard's Frankincense Cologne is totally swoon-worthy? It also makes the perfect gift! Not part of this range, but worth checking out, nonetheless.
One of the best organic skincare brands for men because: The use of frankincense in these products makes them smell sooo good! These also make a great gift.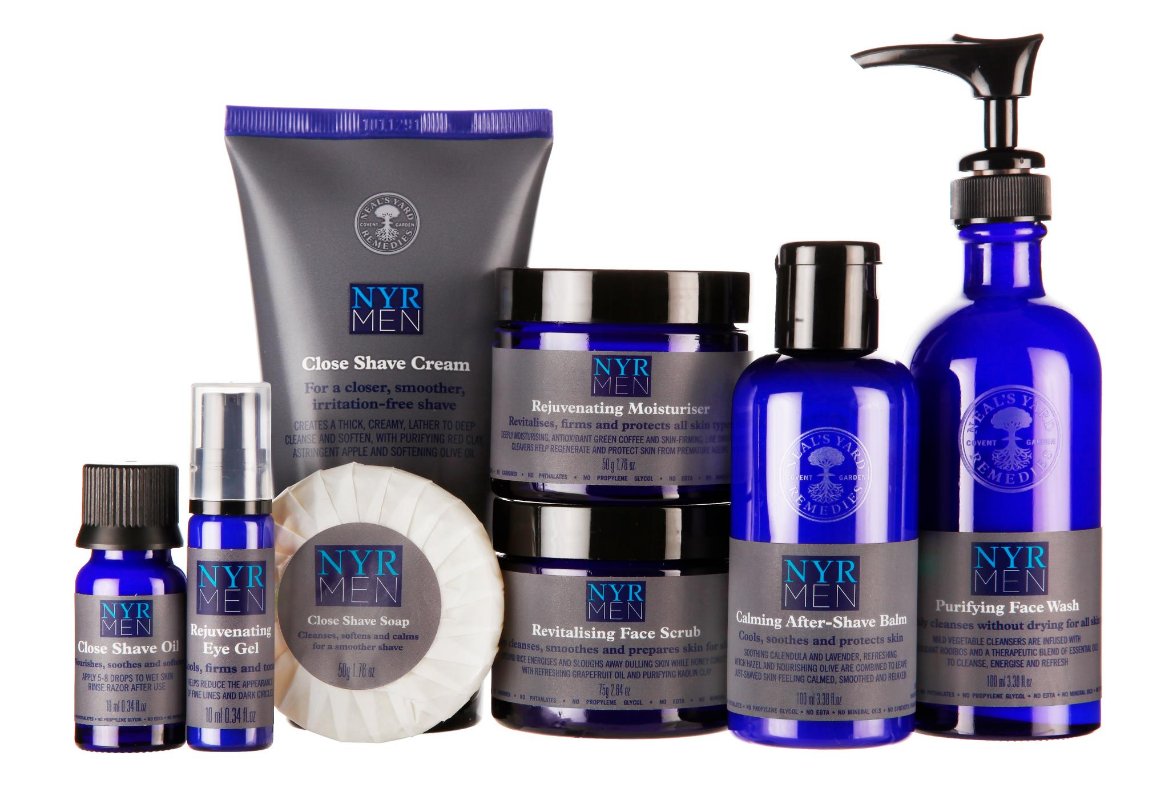 Just as women need skincare brands to cater to different skin types, so do men. Organic Male OM4 was the first complete skin type and condition-specific men's line to launch in the US back in 2008, blasting the myth once and for all that every man's skin is created equal. Believing  that the science behind great skincare exists within nature, OM4 has developed a range with the mantra of 4 products, 4 steps, 4 minutes, 4 men.
These products come discreetly colour-coded for each individual skin type, and are completely easy fuss free to use. The four steps take you from a gentle gel face wash and onto a soothing mineral splash, followed by a serum and topped off with a moisturiser.  With a 71%-98% certified organic content, this is a natural brand whose proof is in the  products!
One of the best organic skincare brands for men because: It's so perfectly targeted towards different kinds of skins.
Ooh, we do love the packaging of this brand! It's a little bit 'Olde Fashioned' mixed with 'memento mori' (just check out those skull soaps in our main pic!). But the mission at Rebels Refinery is actually much softer and sweeter than their packaging would suggest. They aim to help make people  look good, feel good and raise money for charity.
The brand has created a comprehensive line of natural skin care specifically for men as an alternative to chemical mainstream products that probably do more harm than good to your guy's skin – and health.
Rebels Refinery uses only the highest quality natural ingredients, of course. This includes 90% organic content, which is guaranteed to outperform the synthetic crap pervasive in the grooming industry.
One of the best organic skincare brands for men because: A percentage of every purchase goes towards Prostate Cancer Foundations.
This organic British brand has it all! They've included everything from shampoos and body washes to styling gels in their comprehensive range for men. We particularly love their deodorants, which are 100% free of harmful chemicals and heavy metals like aluminium.
One of the best organic skincare brands for men because: This is another of the most comprehensive skin care ranges for men. You'll find all of the essentials – and more! We also love that their packaging is made from bioplastic.
Latest posts by Lora O'Brien
(see all)