These raw vegan dessert recipes include everything from cakes and cookies to pies and mousse!
By Lora O'Brien
Hands up if you love cake! Now I bet most  of those hands would stay up if I also asked who feels at least a bit guilty when eating it. Well ladies, the time has come to have our cake and eat it, quite literally.
Yep, that's right. These raw vegan dessert recipes are actually good for us! They're packed full of ingredients that are healthy, whilst remaining deliciously full of flavour.
And the best part? There's absolutely no baking involved, which means no more standing in front of the oven praying the cupcakes will rise. That's because every single one of these recipes is  raw and vegan. Almost all are gluten free, too!
We used to think that raw foods meant eating boring salads, and bowls of carrot batons. But mainly thanks to a bunch of highly creative bloggers, we've learned that raw foods are perfect for all meals. And they never have to compromise on flavour or texture.
When heat at a certain temperature is applied to most foods, vital and beneficial nutrients are lost. But by eating foods in their raw, untouched form, all of that goodness is going straight into our bodies. No wonder people have claimed that upon following a raw diet they have increased energy levels and the ability to focus more.
I'm now on a mission to bring to you a range of the most delicious raw dessert recipes. Whether you're craving something sweet, are on a health kick, or are just looking to make someone a special treat, make it raw!
Raw Vegan Dessert Recipes To Die For
1. Gooey Caramel Bars
I kicked off our list with one of my favourite raw vegan dessert recipes. Just looking at these bars makes us drool with envy at mega-blogger Emily's ability to create such delicious looking raw treats! That ooey, gooey vegan caramel topped with decadent chocolate is just divine.
Get the recipe here.
2. Raw GF Raspberry/Blackberry Tarts
Gluten free? Check? Vegan? Yep! Raw? Of course! These raspberry tarts work for gluten-sensitive vegans, sure. But who wouldn't want to chow down on these tangy, sweet, creamy bites of deliciousness? Perfect for summer!
Get the recipe here.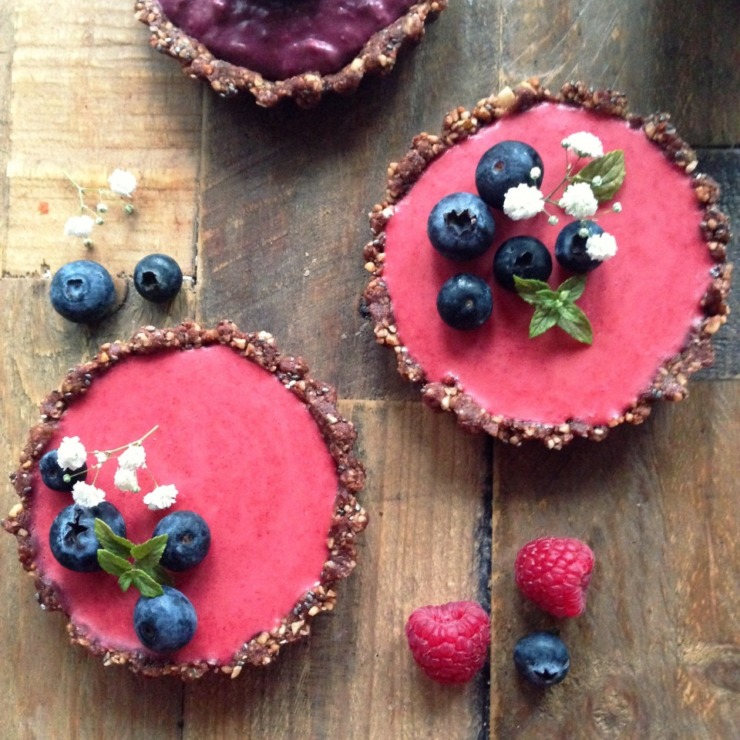 3. Raw Vegan Carrot Cake
If you think having a healthier lifestyle means no delicious treats, this proves. you wrong beyond a doubt! This raw vegan carrot cake recipe is nutritious, requires absolutely no baking, and you won't remember tasting a carrot cake better that's better than this one, I'll bet!
Get the recipe here.
4. Raw Chocolate Superfood Tart
If you're looking for raw vegan dessert recipes that will really make an impression, look no further! Perfection has been created here! This raw tart is packed full of chocolatey goodness, is easy to make, and the perfect treat for you to enjoy alone, or as the end to a fancy gourmet vegan meal.
Get the recipe here
5. Salted Caramel Peanut Butter Truffles
Empty your cupboards of all those nasty artificially made boxes of chocolates, and try one of the best raw vegan dessert recipes for chocolate lovers. Being able to make your own chocolate and candy has never before been so easy to make, and recipes so readily available. And this one from married couple John and Dana is one of our absolute faves!
Get the recipe here.
6. Raw Cashew Dreamcake
Cheesecake is usually a firm favourite when it comes to raw vegan dessert recipes. And this blueberry version is packed full of flavour! With the tartness of the berries and the sweetness of the coconut combining to create perfection, it'll be hard to not sit and eat the whole thing. But if you do, don't feel too guilty! This is packed with goodness and nutrition. (and calories, it must be said).
Get the recipe here.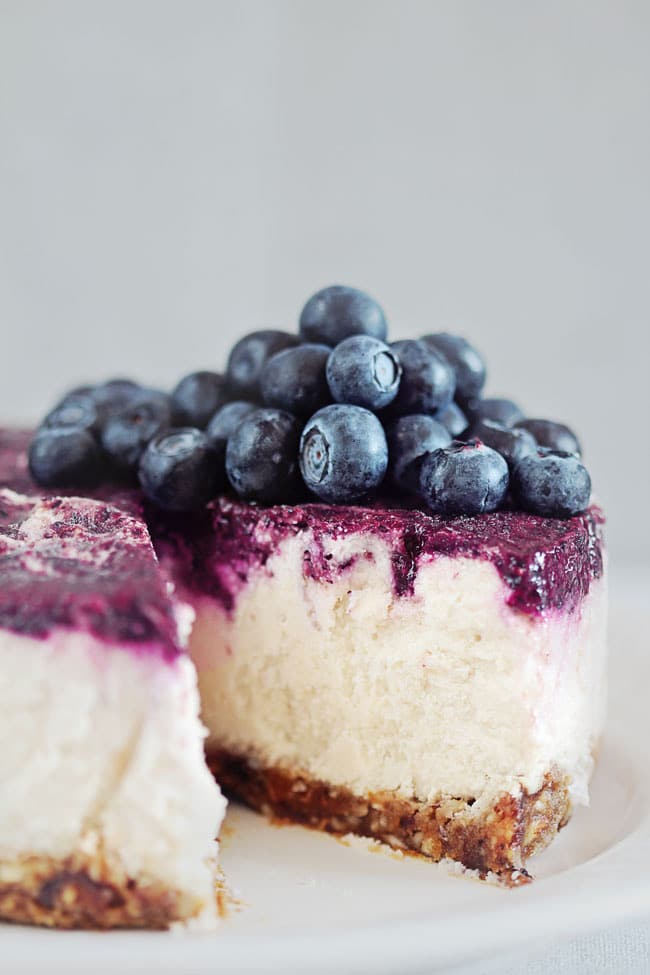 7. Raw Orange Chocolate Torte
I don't know why, but the combination of chocolate and orange is just heavenly. And this raw orange chocolate recipe for us all to enjoy. It's the perfect afternoon pick me up with a mug of your favourite tea.
Get the recipe here.
8. Raw Chocolate Donuts Recipe
Think donuts need to be heavy and deep fried? Think again! This is another of my favourite raw vegan dessert recipes, because it's donuts. But healthy!
Get the recipe here.
9. Raw Banoffee Pie
Who doesn't love their banoffee pie dripping in a sweet, runny caramel sauce? This is one of those raw vegan recipes that's a bit of a miracle. It's better than the 'real' thing, yet is only made with thoroughly wholesome ingredients like dates, almond milk, pecans and of course, bananas.
Get the recipe here.
10. Raw Chocolate Brownies
Who's drooling, just looking at this image below? If you like your brownies chewy and a little bit creamy, you'll love this recipe! It's got two chocolatey textures going on here: the denser brownie, and the lighter chocolate ganache that tops this raw vegan dessert.
Get the recipe here.
11. Raw Strawberry Cheesecake
How could we leave out strawberry cheesecake in a list of raw vegan dessert recipes? This much healthier version packs a serious explosion of flavours, and tastes fresh and light. Just six ingredients, too!
Get the recipe here.
12. Raw Avocado Chocolate Mousse
Not only does this creamy, velvety chocolate dessert taste utterly decadent, it's made of wholesome, natural ingredients, too. Plus, it's so easy to make, even kids could do this one. And the secret ingredient? That healthy food we're all obsessed with: avocados!
Get the recipe here.
13. Raw Vegan Apple Pie
Looking for a truly healthy vegan dessert recipe? Look no further! Sure, you may associate apple pie with being hot, fresh out of the oven. But this version tastes just as good (it's all down to those tart apples, and warming spices), and has a crunchy strudel crust, too!
Get the recipe here.
14. Raw Pumpkin Pie Cheesecake
The best way to enjoy pumpkin pie when the temperatures go up? Raw, of course! This one has a distinctive, spicy flavour that's pretty addictive. It's sweet, creamy, gluten free, sweetened with maple syrup, and since it uses canned pumpkin puree, you can make this at any time of the year.
Get the recipe here.
15. Chocolate Mini Tortes
I don't know about you, but I'm partial to a slice or three of anything dripping in chocolate. And these mini tortes have already got my mouth watering! Just look at how moist and gooey these bites are! Hard to believe they're not laden with cream and butter, but voila! Thanks to their mini size, these are vegan treats that are perfect for serving up at parties.
Get the recipe here.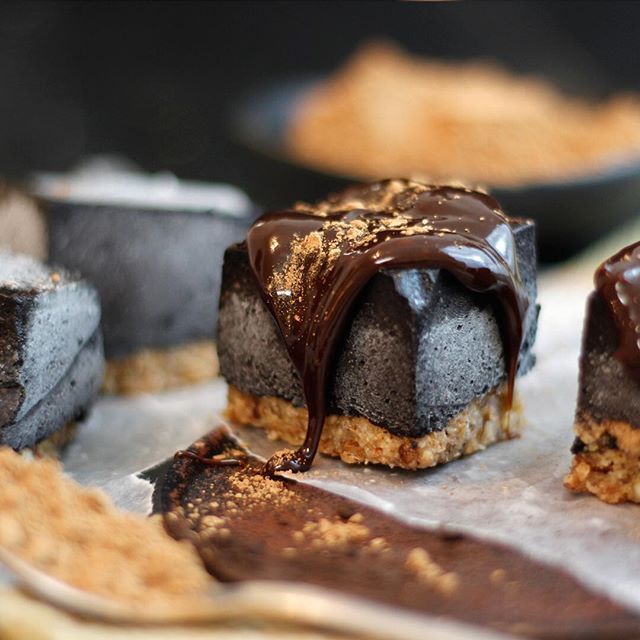 16. Raw Chocolate Chip Cookie Dough
It's time to share one of my favourite raw vegan dessert recipes: cookie dough! As a kid, I used to eat dough raw. Which was kinda iffy, because of raw eggs at the time. But with this vegan version, there are no health caveats whatsoever. Enjoy!
Get the recipe here.
17. Raw Vegan Lamingtons
Not sure what a Lamington is? It's basically a sponge cake covered in chocolate and jam. This raw vegan dessert features an aerated cashew 'sponge' covered in chocolate ganache and coconut with a cashew cream and raspberry chia jam filling. And it all tastes like the 'real' thing!
Get the recipe here.
18. Salted Fig Tart
My favourite summer food? FIGS! By far! When they're plump and jammy and warm from the sun, there's just nothing better! This tart takes full advantage of the summer fruit. To make the recipe fully vegan, simply swap honey for agave syrup or maple syrup. Done!
Get the recipe here.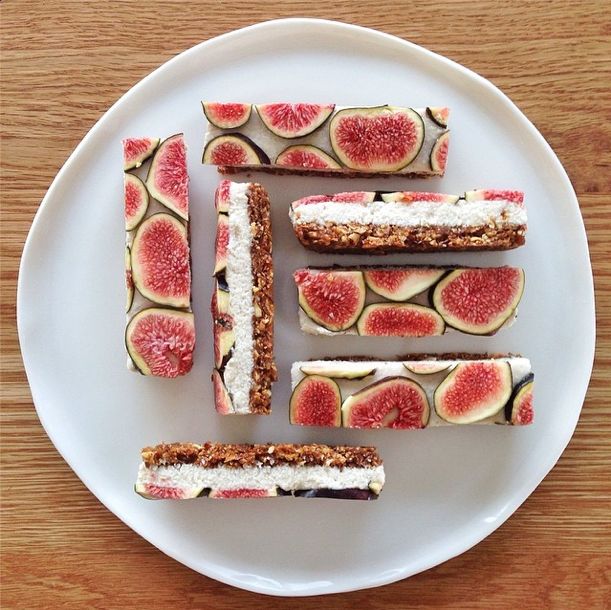 Main image sourced from: mynewroots.org.
Latest posts by Lora O'Brien
(see all)