Ice cream is not the only dessert! We've got over 20 rich, creamy vegan dessert recipes for summer and beyond
By Lora O'Brien
Think of creamy vegan summer desserts and one thing probably comes to mind: ice cream. While it's true that most people scream for ice cream, vegans (and the lactose intolerant) have a problem with this tasty treat. But never fear: there are plenty of vegan alternatives out there.
Even Ben & Jerry's are in on the vegan ice cream game, and that's a great thing. But what about other creamy desserts? Unfortunately, those are in shorter supply in general, so it's time to hit the kitchen and make your own.
Using coconut milk, cashews and sometimes even avocados as a base, we've found over 20 of the tastiest recipes from the best vegan food blogs on the internet to help you indulge in some (relatively) healthy desserts this summer.
There is a bit of ice cream thrown into this mix, of course. But thanks to a plethora of established and budding bloggers, there are plenty of creamy vegan dessert recipes for summer that go far beyond what you'd expect.
Creamy Vegan Dessert Recipes for Summer
1.

Healthy Salted Caramel Pretzel Ice Cream

Salted caramel? Pretzels? Ice cream? There's no way this could possibly be healthy, right? Wrong! Stevia and tofu keep the sugar and 'bad' fat calories at bay, and combine with maple syrup and coconut to make this decadently delicious treat. One of the most unique creamy vegan dessert recipes, for sure!

Get the recipe here.
2.

 5 Minute Coconut Cream Dessert

Pressed for time? This is one of the simplest creamy vegan dessert recipes to make in case guests have dropped by unexpectedly. It just needs a few key ingredients and a few warm spices like nutmeg, cinnamon, and cloves. That's it!

Get the recipe here.
3.

 Passion Fruit "White Chocolate" Mousse

Recipe by Vegan Divas

Ingredients
1 cup plus 3 Tbsp (200 g/7 oz) cacao butter
1 ¼ cups (300 g/10.6 oz) passion fruit puree
3 Tbsp (22 g/0.8 oz) arrowroot
2 (12.3-oz) packages (697 g/24.6 oz) silken tofu, drained
1 ¼ cups plus 2 Tbsp (250 g/8.8 oz) raw sugar
1/8 tsp (0.8 g/0.03 oz) sea salt
1/2 tsp (2 g/0.07 oz) vanilla extract
1 pint (288 g/10 oz) fresh ripe strawberries, washed, hulled and sliced
Place the cacao butter, passion fruit puree and arrowroot in a small pot and cook over medium heat, stirring frequently, until the cocoa butter is melted and the mixture thickens slightly. Remove the pan from the heat.
Place the silken tofu, raw sugar, salt and vanilla in the bowl of a food processor. Add the hot cocoa butter mixture and process until smooth and creamy, about 1 ½ minutes. Divide the mousse among 8 parfait glasses or bowls and refrigerate for at least 4 hours, or overnight.
Before serving, top each serving of mousse with sliced strawberries. Makes 8 servings
4.

No Bake Lemon Dream Bars

There's nothing quite as refreshing on a hot day than a cool glass of lemonade, and something sweet, like these lemon-crumble bars! The crunchy biscuit base is topped with a super creamy coconut cream topping. Just pop in the fridge during summer to prevent them melting and you've got one of the yummies creamy vegan dessert recipes for citrus lovers.

Learn to make them here.
5. Coffee Chocolate Nice Cream
6.

Simple Chia Seed Puddings

Almond milk and chia seeds form the basis for this trendy, tasty treat. It's super creamy, super healthy and absolutely loaded with protein, fibre and omega-3s. Enjoy as a satisfying breakfast or snacking option.  

Get the recipe here.
7.

Vegan Blueberry Cheesecake Ice Cream

Plant milk and creamy cashew nuts replace dairy in this tasty recipe. Fresh blueberries and black grapes give it a natural sweetness and a gorgeous lilac hue. This is one of the best creamy vegan dessert recipes to keep you cool and hydrated during the hotter months.
8.

Vegan Blueberry 'New York' Style Cheesecake

Firm, creamy and not too sweet – that best describes this delicious cashew based cheesecake with a summery blueberry topping. But the best part? The crunchy graham cracker crust!

Get the recipe here.
9. Matcha Nice Cream
Grab your blender, some frozen bananas and matcha powder and you can be tucking into a bowl of this matcha ice cream in seconds! It's super healthy and loaded with delicious flavour AND goodness! And it only requires 4 ingredients.
Get the recipe here.
10. Raspberry Rose Vegan Macarons
The outside may be crunchy, but the inside is ultra creamy – thanks to a gorgeous raspberry and rose ganache. These are made vegan thanks to aquafaba, and if you're not sure what that is – just take a look at the recipe below and be prepared to have your mind blown!
Get the recipe here. 
11. Vegan Rice Pudding
For me, this is a childhood favourite – and it's delicious hot or cold. I like mine with apple bits, cinnamon and raisins (a classic, right?) but you can add blueberries, strawberries, mango or any other fruit you like.
Get the recipe here.
12. Black Sesame and Ginger Ice Cream
Grown up flavours come together in this fully vegan ice cream, which makes for the perfect dessert after an Asian spiced meal. I love the idea of serving this in a cone, too.
Get the recipe here. 
13. Fruity Chocolate Chia Puddings
It looks really decadent. But this raw dessert recipe is so healthy, if you make this for breakfast, you've got a great start to your day. Make this chia based dish for dessert, and you have an excuse to have seconds!
Get the recipe here.
14. No Bake Cherry Cheesecake
No bake. No dairy. No gluten. Not even any refined sugar! Just a whole lot of goodness from maple syrup, coconut, chocolate, pecans and of course, cherries! And how pretty is this vegan cheesecake?
Get the recipe here.
15. Vegan Key Lime Pie
It really doesn't get creamier than this dreamy vegan key lime pie! Everything from the silky smooth mousse to the wonderful mix of sweetness and the tart limes is absolute perfection. Plus, it's one of the most refreshing of all the creamy vegan dessert recipes here.
Get the recipe here.
16. Mango Mousse Parfaits
Mint and mangoes make this a sweet but refreshing treat. This is one of the best creamy vegan dessert recipes to serve up after an Indian meal – it would be a wonderful contrast to all of  those hot and spicy flavours.
Get the recipe here.
17. Vegan Tiramisu
Yes, people, this is happening! I was so excited to find this recipe – it's the summer dessert of my dreams. Cold, creamy, and infused with a bit of an adult treat: Kahlua. The secret of the creaminess is in the cashew based 'mascarpone'. Perfect!
Get the recipe here.
18. The Big Vegan Banana Split
This creamy vegan dessert recipe is every five year old's dream. Or, every pregnant woman's dream. Ok, it's basically everyone's dream! You can top it off with nuts, chia seeds, granola, fruit…just about anything you fancy, really.
Get the recipe here.
19. Vegan GF Banana Cream Pie
Of all the creamy vegan dessert recipes for summer, this may be one of the best! It's kind of packed with calories, but this is one indulgence you won't want to miss out on. It's got a wonderfully tropical vibe, and it's gluten-free, too.
Get the recipe here.
20. Vegan Pumpkin Mousse Parfaits
Why save pumpkin for autumnal creamy vegan dessert recipes when you can enjoy it all year round, thanks to the magic of canning? This will give you the rich, creamy vibes of a PSL, all year round.
Get the recipe here.
21. Creamy Vegan Mini Fruit Tarts
A juicy handful of fresh berries tops a sweet, buttery, vegan fruit tart packed with vegan custard. Is there anything more summery than that? These are perfect for taking to picnics, or serving up to guests at dinner parties.
Get the recipe here.
22. Vegan Custard Slice
This is a French patisserie classic, and one that is highly versatile – you can add a dash of orange oil, lemon zest or even a bit of rum to change the flavour if vanilla's not your thing.
Get the recipe here.
23. Vegan Creme Brulee
Yep, it's another French dessert, because the French rock at creamy vegan dessert recipes! But oh my – the burnt caramel flavours and and thick creamy textures….whoa! And who doesn't want to have an 'Amelie' moment smashing that glassy sugar off the top?
Get the recipe here.
24. Vegan Rasmalai Cake
Looking for creamy vegan dessert recipes that are a bit different? This rich and creamy Bengali dessert fits the bill! It's typically served for Diwali, and is comprised of nutty cake squares immersed in a rich 'cream' that's scented with saffron and cardamom.
Get the recipe here.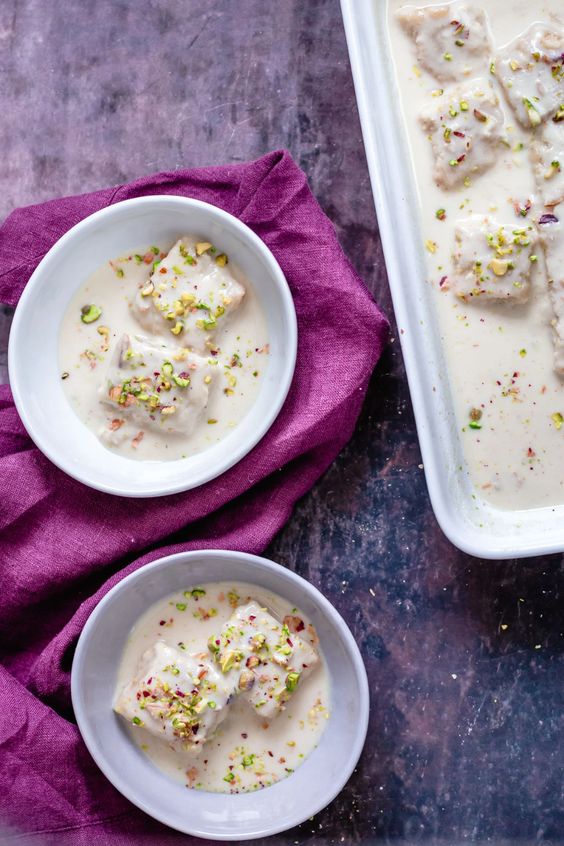 25. Coconut Cream Pie
If you don't like coconut, look away right now: every part of this is covered in the stuff. The crust contains dried coconut, the filling contains coconut milk and coconut sugar and shredded coconut, the topping is whipped coconut cream, and the decoration is toasted coconut! And…it's one of the most heavenly of all the creamy vegan dessert recipes!
Get the recipe here.
Latest posts by Lora O'Brien
(see all)