Beat the heat without the dairy with these 25+ mouth watering vegan ice cream recipes
By Neesha Gill
Ask anyone around the world how they like to cool off in the summer heat, and chances are they'll answer one of two ways: swimming, or ice cream. But what to do if you're vegan or lactose intolerant? Or, just find dairy kind of gross?
Luckily, vegan ice cream is now 'a thing', and thank goodness for that! It's more refreshing, isn't full of hormones and antibiotics, usually has less sugar, and still has all the flavour.
In fact, it's getting so popular that Ben & Jerry's are even making vegan ice cream, and you can even get it delivered to your home through services like Deliveroo!
But if you'd rather make your own, you're in luck: we've found over 25 dairy free vegan ice cream recipes, ranging from cooling sorbets to decadent, creamy indulgences, so you can still enjoy one of life's greatest pleasures, but without the guilt.
25+ Dairy Free Vegan Ice Cream Recipes To Beat The Heat
1.  Vegan Almond Chunky Monkey Ice Cream
The Simple Veganista has created an alternative to everyone's favourite Ben and Jerry's Chunky Monkey creation… and no doubt a much healthier version too, since it's packed with fruit and nuts!
Get the recipe here.
2. Sugar Free Watermelon Sorbet
No sugar added! The goodness of watermelon is enough to make this tasty, easy recipe. Seriously, this couldn't get simpler! Want to make this now?  Just watch the video, below.
3. Cherry Pie Ice Cream
This vegan recipe by the Minimalist Baker seriously belongs in an ice cream parlour. It's proper decadent, packed with coconut and cherry flavours, and even has chunks of real pie crust in the mix!
Get the recipe here.
4. Vanilla Bean Coconut Milk Ice Cream
This recipe is exactly what it says on the tin and it could not be simpler. Edible Perspective's Ashley McLaughlin created a simple, velvety coconut ice cream recipe will leave you hankering for more after the first bite.
Get the recipe here.
5. Fresh Lemon Sorbet
Think making lemon sorbet is tough? Think again! You actually don't need an ice cream machine to do this -just freeze the mixture overnight, thaw a little bit the next day, blend with a hand blender and serve it up!
Want the recipe? Just watch the video below.
6. Vegan Peach Ice Cream
Oh, peaches! What other flavour just screams 'summer' as much as this soft fruit? And speaking of soft – you can keep this recipe from getting rock hard in the freezer thanks to a secret ingredient….vodka! (just a wee bit!)
Get the recipe here.
7. Vegan Cookie Dough Ice Cream
You can't beat a good cookie dough dessert – all those chunky textures offset by the creaminess of the ice cream…yum! The healthy twist to this vegan friendly recipe? The fact that the 'cookie dough' is based on walnuts and dates.
Get the recipe here.
8. Vegan Salted Peanut Butter and Honey Ice Cream
Peanut butter and honey is usually a winter staple – smeared all over hot toast. But this rich and delicious recipe from Cookie and Kate puts a summery twist on that childhood classic, and it is incredibly easy to make.
Get the recipe here.
9. Vegan Snickers Ice Cream
This is pure decadence at its finest, perfect for those of you with a sweet tooth. You can be as generous as you want with the caramel and chocolate, but personally, I think it's best when it's just a little bit salty…
Get the recipe here.
10. Vegan Pumpkin Pie Ice Cream
Taking a traditional sweet dessert that's normally popular in the autumn and creating a summery ice cream instead is a genius idea. This pumpkin pie ice cream is packed with all the sweet spiciness you'd expect from the pie: cloves, ginger and cinnamon blend together with coconut milk and pumpkin puree to create what's now my favourite ice cream flavour.
Get the recipe here.
11. Nutella Ice Cream
It may sound fancy, but it's super easy to make a simple, healthy ice cream that tastes just like the popular Italian spread. Mainly because it has Nutella in it – as well as a mere two other ingredients!
Get the recipe here.
12. Vegan Creamy Chocolate Avocado Ice Cream
Healthy chocolate ice cream you say? We never thought that was possible – until we stumbled across Jessica Hylton's chocolate avocado ice cream recipe. Whilst the two may not seem like a typical combination, this wonderful creation really works.
Get the recipe here.
13. Refreshing Mint Chocolate Chip Ice Cream
This ice cream is made creamy by coconut milk. And for anyone who says 'aw, but it's so high in fat' – just remember it's a heck of a lot better than dairy cream! It's also got highly antioxidant cocoa pips, and is the perfect ending to a garlicky meal.
Get the recipe here.
14. Dairy Free No Machine Ice Creams
Gemma's Bigger Bolder Baking uses homemade, condensed coconut milk in place of cream to create truly indulgent ice creams. Once you've got the base, you can add your  favourite flavours, be they chocolate, berry or matcha.
Want the recipe? Watch the video below!
15. Vegan Chai Ice Cream
Turn your morning cuppa into a tasty, dairy-free dessert! This ice cream has all the exotic, spicy flavour of a steaming cup of chai tea, but without, you know, the heat!
Get the recipe here.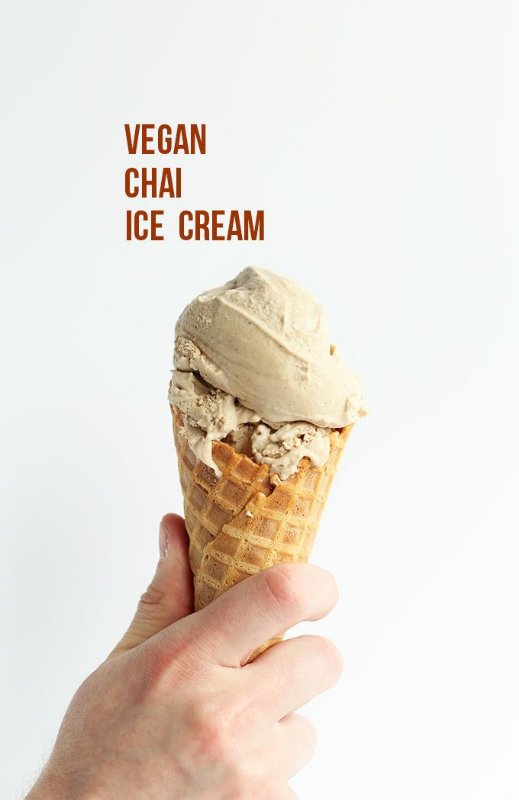 16. Green Tea Coconut Ice Cream
Yet another tasty ice cream based on a tea. This one is packed with all the goodness of Japanese matcha, and has a mildly earthy taste, mitigated by the sweetness of the coconut foundation.
Get the recipe here.
17. Best Ever Chocolate Ice Cream
Best ever? Hmmm!! That's quite a claim for this universal favourite. But given that this recipe has a few secret ingredients up its sleeve that make this super rich and creamy, it may well be true!
Get the recipe here.
18. Peanut Butter Chocolate Chip Ice Cream
PB and C is such a classic combination, and this recipe by hot for food really makes the most out of these decadent flavours by blending them with the fruit that best suits them both: banana!
Get the recipe here.
19. Grapefruit Sorbet
The tanginess of grapefruit is super refreshing on a hot summer's day, and this sorbet will be the perfect way to cool off. Easy to make, too!
Get the recipe here.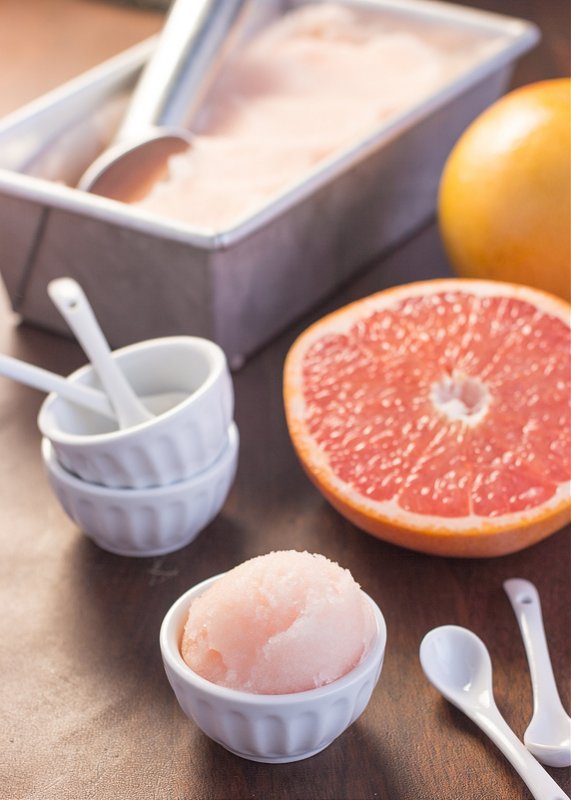 20. Salted Caramel Apple Pie Ice Cream
Apple pie is always best with a hit of ice cream, so why not just combine the flavours of the two desserts into one? That's basically what this recipe does, with delicious results.
Get the recipe here.
21. 10 Minute Strawberry Ice Cream
Strawberry ice cream is one of the easiest vegan concoctions to make, ever. And this recipe proves it beyond a doubt – all you need are three ingredients and ten minutes, and voila! Just be sure your berries are organic – did you know strawberries are one of the most heavily sprayed food crops? Sad but true!
Get the recipe here.
22. Rose Petal Ice Cream
Looking for something special to serve up to guests? This is bound to impress them! All you'll need are some basic kitchen ingredients, plus some food grade rose buds, which you can buy here.
Get the recipe here.
23. Vegan Pistachio Ice Cream
Salty and creamy – it's pretty much the perfect combination, which is probably why pistachio is a favourite ice cream flavour for many. It's adult-like, it's elegant, and it's easy to make!
Get the recipe here.
24. Rum & Raisin Ice Cream
Here's another grown up flavour that's packed with texture! This is a pretty boozy version, so you may want to keep that in mind if you're thinking of serving it up to little kiddies.
Get the recipe here.
25. Vegan Blueberry Ice Cream
Blueberries are possibly the most delicious of all the super foods, and are made all the sweeter when you know their season is pretty short. As it involves some cooking, this recipe may be a bit more complicated than most vegan ice cream recipes, but just look at the result!
Get the recipe here.
26. Salted Caramel Swirl Ice Cream
Whoa, right? This is not your typical salted caramel recipe, thanks to the myriad suggested toppings – these include all kinds of goodies, from figs to chocolate chunks. What I love most about this recipe, though, is how super healthy maca powder is used to get that caramel flavour going. Not sure where to get it? Just click here.
Get the recipe here.
27. Almond Milk Ice Cream, 5 Ways
Not a fan of avocados and coconut? Never fear – vegan ice cream recipes can use almond milk, too! Chocolate Covered Katie offers 5 different (and very tempting!) flavours you can make with commercial or homemade almond milk. Oh, and btw – these are all keto friendly, too!
Get the recipe here.
Latest posts by Chere Di Boscio
(see all)
This site uses affiliate links with brands we trust, and if you make a purchase using a link, we may receive a commission.
Did you enjoy this post? Want to show your gratitude? Please support us on Patreon!