Looking for some insanely creative vegan sandwich recipes? Check these ideas out!
By Lora O'Brien
Is there ever a time when a sandwich doesn't seem like a great idea? Road trip? Pack a sandwich! Going on a picnic? Pack a sandwich! Feeling ravenous and not sure what to eat? A sandwich hits the spot every damn time!
In fact, sandwiches so popular, they even have their own week dedicated to celebrating them every May. Yep, British Sandwich Week is officially a thing in the UK, and it makes perfect sense, given that the sandwich was actually invented here.
The story goes that the food was named after John Montagu, the 4th Earl of Sandwich, who was an avid gambler. Too busy playing cards to sit down to dine, it is said that he ordered his valet to bring him some meat tucked between two pieces of bread so he could nosh without leaving the gambling table. The idea caught on, and others began to order "the same as Sandwich!"
Today, a slab of meat between two chunks of bread doesn't sound too appealing, and of course, there are a few secrets to a good sandwich, vegan or otherwise:
fresh bread (I prefer mine toasted, or grilled
tasty spreads and sauces (see some recipe ideas here)
a medley of flavours and textures
great garnishes
But sometimes, we need a bit of inspo. I mean, it can get all too comfortable just smashing some avo on toast, right?
So here, I've found 30+ insanely delicious vegan sandwich recipes that make it easier than ever to create masterpieces in your very own kitchen. Oh, and if you're planning to take these to work, school or on a picnic, puhleeze don't even think about wrapping them up in plastic! Especially when such awesome, eco friendly alternatives like good old-fashioned Kraft paper exist. Thank you.
30+ Insanely Creative Vegan Sandwich Recipes
1. Vegan Breakfast Sandwiches with 'Eggy' Tofu
Who said vegan sandwich recipes were for just lunch? This vegan breakfast recipe is a great way to start your day. When tofu is pan-fried, its spongy texture mimics scrambled egg. It even tastes like egg thanks to the addition of black salt! Mix it with some smashed avocado, melty vegan cheddar cheese and tomatoes and you'll want to make this every day.
Get the recipe here.
2. NY Style Bagels with Tomato Lox
The good news is that most bagels are fully vegan. The lox and cream cheese that usually tops them, not so much. But you can replicate the texture of salmon by using finely sliced tomatoes, and the creamy cashew cream cheese is a great sub for the dairy stuff.
Get the recipe here.
3. Vegan Breakfast Bagel Sandwich
If you wake up hungry, try this recipe – a toasted bagel is stuffed with tofu 'egg', potato 'bacon' and melted vegan cheese – yum! If this doesn't keep you going until lunchtime, nothing will!
Get the recipe here.
4. Vegan Breakfast Sandwich
This sandwich option may be a little odd to some, due to the addition of almond butter, but give it a go – the ingredients really do work together. Creamy avocado, almond butter and kale provide a healthy and satisfying sandwich that even non-vegans will love.
Get the recipe here.
5. Dressed Up Spring Salad Open Faced Sandwiches
Keep your sarnies lighter by making them go topless! And these spring vegetable open faced sandwiches are made with toasted sourdough slices, topped with herbed cream cheese, garlicky kale, spring vegetables and drizzled with a creamy spring onion dressing – delish!
Get the recipe here.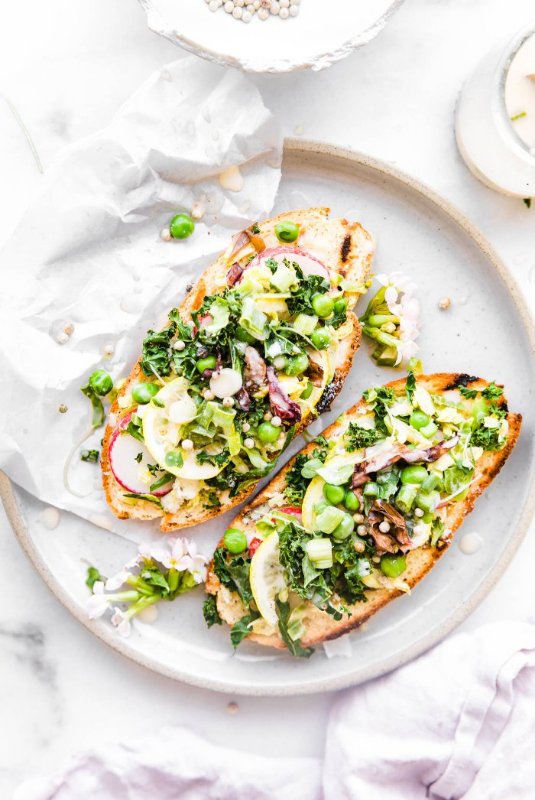 6. Avocado Green Goddess Sandwiches with Havarti
This is one of the healthiest vegan sandwich recipes, as these green goddess sandwiches are packed full of green goodness! The creamy dill havarti goes hand in hand with the fresh cucumber, shaved zucchini and sprouts. Healthy, full of flavour, and oh-so-satisfying.
Get the recipe here.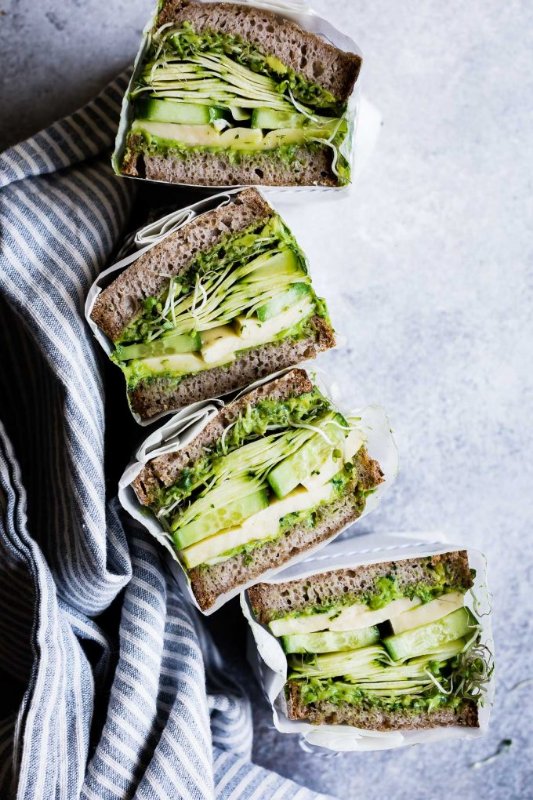 7. Toasted Vegan Veggie Crunch Sandwich
This sarnie has got it all going on! Crisp and crunchy veggies are thinly sliced and piled high on toasted bread. They're then slathered in vegan tzatziki sauce and a subtle drizzle of balsamic reduction. The flavours are so fresh and just go to show you don't need meat to make a damn good sandwich!
Get the recipe here.
8. Bagel Thin Pesto Sandwiches
These bagel thin sandwiches are super quick and easy to make, you can enjoy them for breakfast, lunch or as a simple snack. Bagels are sliced, toasted and topped with pesto and hummus with some fresh tomato slices. Sometimes, simplicity really is the best.
Get the recipe here.
9. Veggie BLT with Coconut Bacon, Caramelized Leeks & Roasted Tomato
A lot of vegans may miss the salty tang of a BLT sandwich – but you can still enjoy those flavours with this idea!  The 'bacon' in this sandwich is made from coconut marinated in maple syrup, tamari and smoked paprika. Want even more of a smoky flavour? Liquid smoke works perfectly.
Get the recipe here.
10. Veggie Reuben Sandwich with Cashew Cheese
When you think about a Reuben sandwich, the main flavours are salty corned beef, creamy mayo and tangy sauerkraut. Here, the latter is intact, but cashew cheese replaces the mayo, and is topped with sauerkraut, basil leaves and tomato slices.
Get the recipe here.
11. Vegan Fish Finger Sandwich
Ah, yes – a  fish finger sandwich is a guilty pleasure for many. It goes so well with tartare sauce, which is easy to make from scratch so that it's vegan friendly. When looking to give vegan dishes that 'fishy' element, your secret weapon is seaweed –  it tastes great, is super healthy and works wonders!
Get the recipe here.
12. Vegan Club Sandwich Number 1
Forget chicken and fried bacon – this vegan club just goes to show you can pretty much make any sandwich vegan. Tofu and coconut bacon replaces the meat, whilst smashed avocado is used instead of rich mayo. If you don't like avo, you can feel free to use a vegan mayo, of course.
Get the recipe here.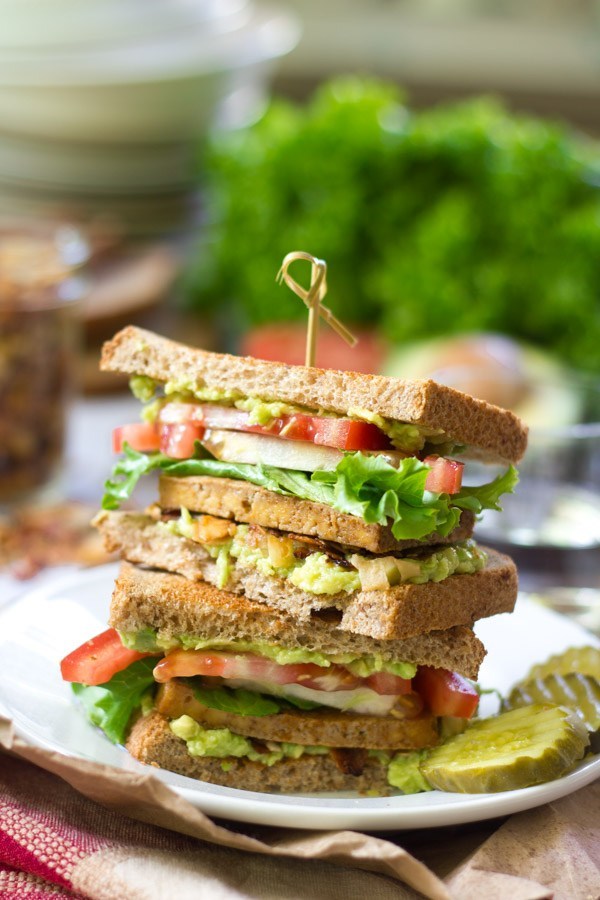 13. Vegan Un-Chicken Salad
This 7-ingredient vegan un-chicken salad sandwich is pretty much similar to the real deal, just made vegan! Whilst many vegan recipes use chickpeas to replicate meaty textures, this recipe has a secret ingredient: artichokes. When pulsed in a food processor, the artichokes become flaky in texture, reminiscent of shredded chicken.
Get the recipe here.
14. Roasted Vegetables And Pesto Focaccia Sandwich
If you're looking to add flavour to a sandwich yet don't want to rely on mayo or spread, pesto packs a whole lot of flavour and a little really does go a long way. The eggplants and mushrooms give a meat-like texture, and once roasted, the eggplants are super creamy, while the Portobello mushrooms incredibly flavourful.
Get the recipe here.
15. Vegan Balsamic Grilled Cheese Sandwich
This magic of this recipe truly lies in its sweet and salty vibe. Roasted sweet potatoes and balsamic reduction are perfectly balanced by the salty vegan cheese and peppery greens. You only need a handful of ingredients to make this sandwich, and every single bite is pure deliciousness!
Get the recipe here.
16. Vegan Spinach Pesto Swiss Grilled Cheese Sandwich
Who doesn't love a grilled vegan cheese sandwich? The gooey cheese….the crunchy bread…it's food porn at its finest! The Swiss style cheese works well with the vegan pesto and spinach. Eat this alone, or pair it with some soup for a super delicious lunch or dinner.
Get the recipe here.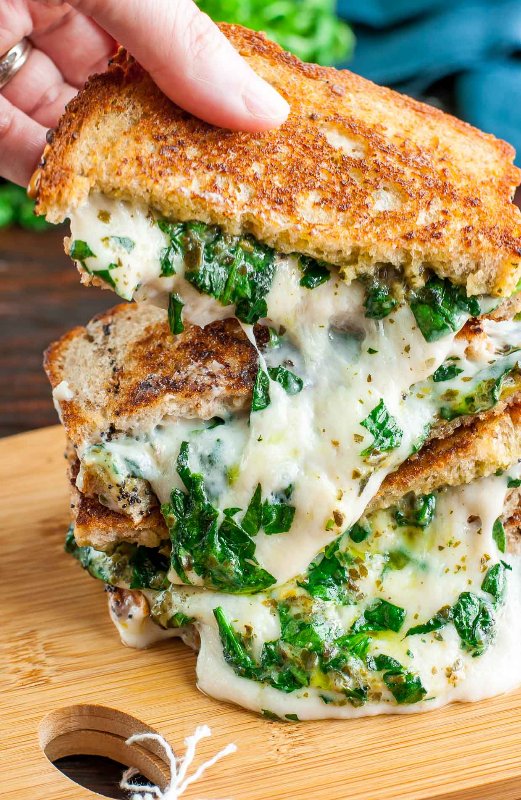 17. Seitan Sauerkraut Sandwich
Seitan has the perfect texture of meat which works well in sandwiches if you're looking for that meaty element minus the animal ingredients. The acidic mustard, warm sautéed mushrooms and onions against the cool sauerkraut and the savory seitan brings on an absolute explosion of flavours.
Get the recipe here.
18. Green Peanut Butter Sandwich
Another recipe that infuses greens and nut butter. And you know what? It totally works. It's also a great way to add in some greens to your sandwich if you struggle to get enough of them. Lettuce doesn't hold much flavour, but it does have a wonderful crispiness that works so well against the creamy peanut butter.
Get the recipe here.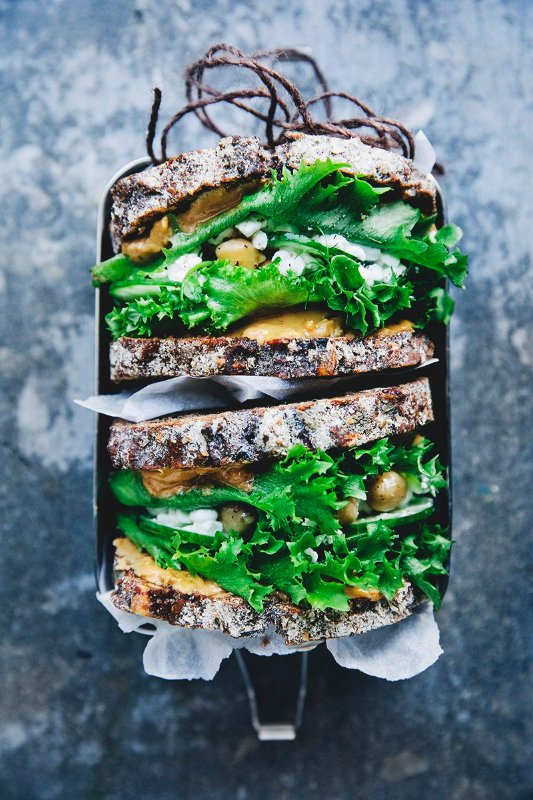 19. Cacciatore Chickpea Sandwich
Not quite sure how to use chickpeas? Turn them into a delicious sandwich! This cacciatore chickpea sandwich infuses rustic vegan flavours between two slices of bread and is quick and easy to make. And many of the ingredients are pantry ingredients many of us already have lying about, such as chopped tomatoes, garlic and herbs.
20. Vegan Meatball Sub
Hearty and hot, this vegan meatball sub is so filling and packed full of flavour, it will well and truly hit the spot every single time. The 'meatballs' are based around mushrooms and have a deep, meaty flavour.
Get the recipe here.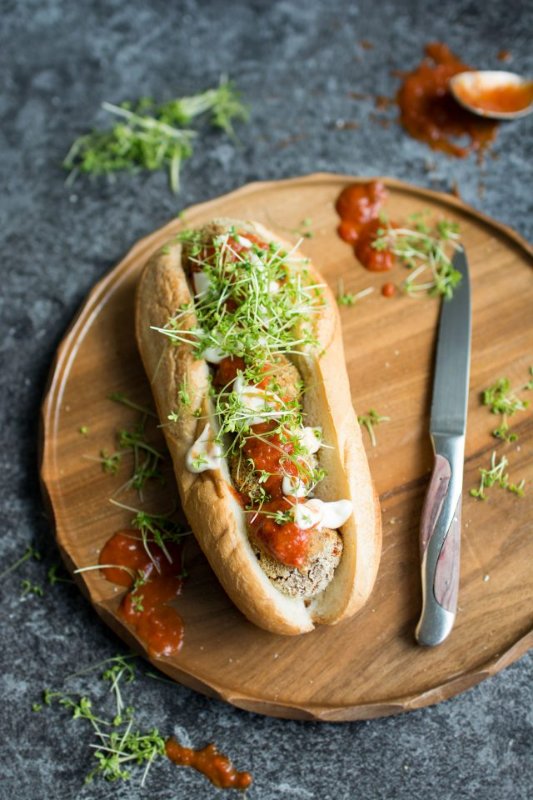 21. Avocado Club Sandwich
This recipe gives the very heavy club sandwich a healthy and lighter overhaul. There's no bacon, ham or chicken, just loads of veggies, like thinly sliced beets, shredded carrots, almond milk cream cheese and so much more. Every single bite of this mega-sandwich is packed full of goodness.
Get the recipe here.
22. Italian Pressed Sandwich
If you don't own a panini press, no worries – just press this sandwich overnight in the fridge with something heavy like a cast iron skillet. This infuses all of the flavours so that it becomes even more delicious! And this recipe is packed with healthy goodies; roasted eggplant, red bell pepper, garlic, greens, artichoke hearts and a mouth-watering olive tapenade. Voila! PS: This is definitely one of my favourite vegan sandwich recipes!
Get the recipe here.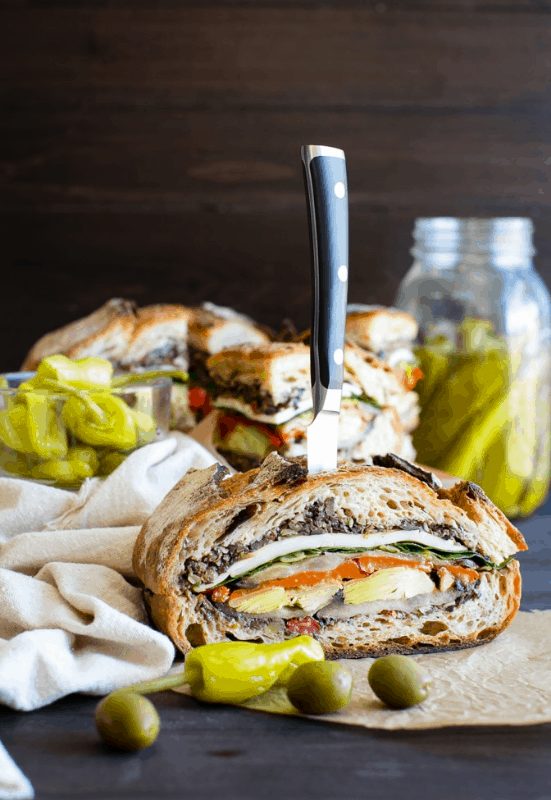 23. Eggless Salad Sandwich
Confession: Egg mayo sandwiches have haunted me my entire childhood. From school trips to work canteens, I was always gagging whenever someone unleashed the deathly eggy odour of an egg sarnie! But these 'egg' sandwiches have zero nasty smell, and 100% delicious flavour. The secret ingredient? Tofu!
Get the recipe here.
24. Smoky Tempeh, Apple and Arugula Sandwich
If you've never thought of adding apple to your sandwiches, you may want to give it a go! The crunchy slices work super well with the smoky tempeh strips, peppery arugula and finished off with a layer of caramelized onion and safe aioli.
Get the recipe here.
25. Crispy Pan Fried Tofu Sandwich with Chai Cranberry Sauce
Wishing you could enjoy your festive favourite sandwich all year round? Well, now you can! Crispy pan fried tofu is paired with a subtly spiced chai cranberry sauce, making every lunch feel a bit like Christmas. Served on toasted raisin bread, this is pure perfection!
Get the recipe here.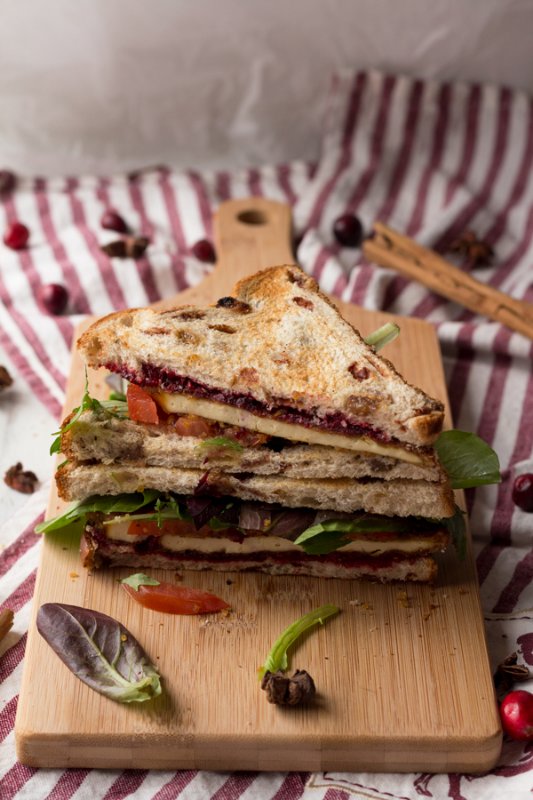 26. Asian Crispy Tofu Burrito
Looking for something tangy and flavourful? These bad boys are filled with crispy breadcrumb tofu, apple and lime infused slaw and creamy guac. Wraps also make a great alternative to bread; they're not only lighter, but easier to pack for lunch, too.
Get the recipe here.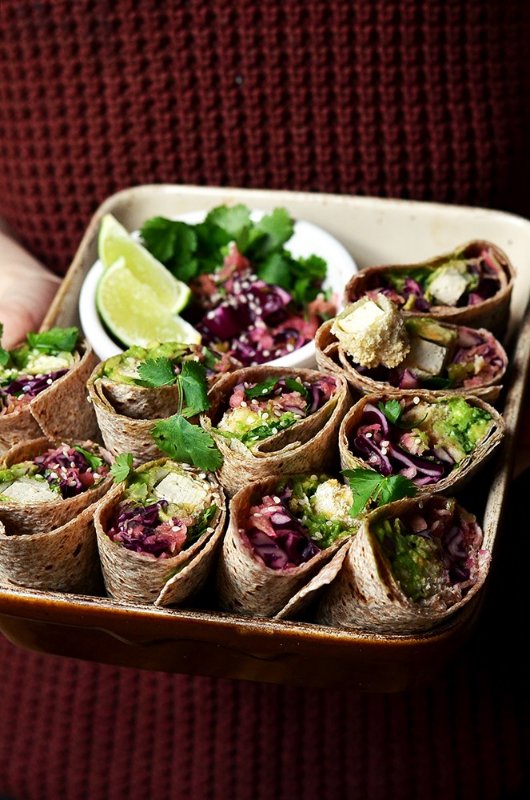 27. Vegan Blackberry, Basil and Ricotta Pressed Sandwich
Some may not think that fruit and cheese go well together, but somehow, they do – especially when the 'cheese' is vegan! The sweetness of the blackberries works so well with the tangy vegan ricotta and basil. It's then drizzled with agave to add a little sweetness before being pressed to perfection.
Get the recipe here.
28. Lemon Edamame Avocado Sandwiches
What's better than avocado smashed on some sliced bread? Smashed avocado placed between soft seedy bread with a lemon and edamame filling, crunchy cucumber slices, tons of sprouts and tangy pickled onions, that's what! As sandwiches go, this is one helluva green monster!
Get the recipe here.
29. Vegan French Dip Sandwich
I love my sandwiches dripping in sauce, but I'm just as happy to dip them into a sauce like this French dip sandwich recipe. The sandwiches are packed with sautéed portobellos dressed in a spicy horseradish mustard. It's pretty fun dunking them into this savory vegan jus.
Get the recipe here.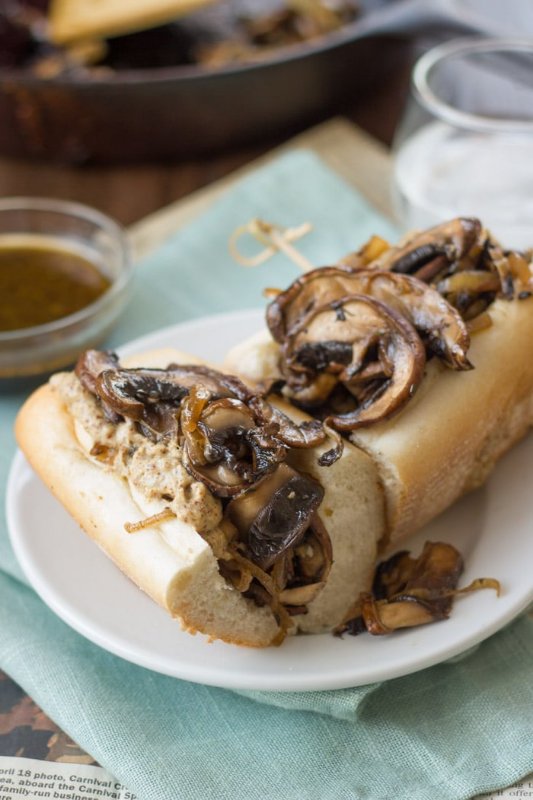 30. Quinoa Falafels
With their mix of herbs, tahini and chickpeas, falafels are usually pretty healthy enough. But blend in some quinoa, bake the balls instead of frying, pack your pita full of fresh veg, and you pretty much have a superfood sandwich.
Get the recipe here.
31. Open Faced Beetroot Hummus Sandwich
Beets and avocados team up to bring a blast of vitamins to these open faced sandwiches, whilst a squeeze of lime and some cress add some tangy and spicy flavours. Perfect for anyone watching their weight, or who wishes to bring a glow to their skin – these veggies pack tons of antioxidants!
Get the recipe here.
32. Vegan Chocolate Bananas Foster Sandwich
What the heck is a list of vegan sandwich recipes without a sweet one? I mean, we all know that almond butter and banana sandwiches are the bomb, right? This recipe kicks things up a level by adding dairy-free chocolate ganache and a simple caramel sauce. O-M-G!! It's practically dessert.
Get the recipe here.
Main image: Basil grilled vegan cheese. Get the recipe here.
Latest posts by Lora O'Brien
(see all)