By Noa Ben-Moshe
So, we prepared our legs for summer, and now we have a great excuse to treat ourselves with a cute pair of vegan slides, because, who doesn't love slides? They're so easy to wear, comfy, chic and practical (especially when you're on the beach!)
I have to admit: when I first saw vegan slides on the runways a few years ago, I thought: ugly. I mean, I have a soft spot for heels, so I thought the only way you'd ever see me in a pair of these was maybe on my way to the shower at the gym.
But since then, I've noticed how great they can look when styled with jeans, long dresses, jumpsuits, shorts, bathing suits….well, almost anything! Just look at how Stella McCartney paired her slides with a positive-messaged tee and maxi-skirt, below, whilst Nanushka chose a minimalistic black jumpsuit and sassy ankle bracelet. All different, all gorgeous!
If you're on the hunt for some vegan slides this summer, I wanted to share a few cute options with you- not only they are they all ethically made and vegan, but super stylish, too.
10+ Vegan Slides For The Beach Or The City
Those slip-on sandals by Nae Vegan Shoes are a true everyday must have. They're basically a more stylish version of flip flops, and they come in three colours: pink, silver and white. And the best part? These are made ethically in Portugal from upcycled car airbags and tires. Brilliant!
Price: $125
This pair of vegan slides comes in not only black and olive, but also one of the Pantone colors of the year, vanilla custard white. I love feminine gathers to the fabric straps, the trendy square-toe shape and the glam golden buckles. Wear them with a midi dress, jumpsuit, bathing suit…basically anything, but I'd save them for something fancy.
Price: $200
Looking for a minimalist, sporty slide? Look no further! Native Shoes are made from innovative materials including Liteknit fabric and injection-molded EVA foam, which is light weight, washable and odour-resistant. It also comfortably molds to your feet, so they always fit perfectly!
This brand is also 100% "beast free"—not a hair nor hide of any animal anywhere is used in the creation of its shoes.
Price: $30
This pair of vegan slides was designed for comfort. They're well padded to care for your tooties tenderly, and the multiple straps ensure they stay put! Wear them with a white floaty dress for your next summer vacay – the fact that they've got a therapeutic sole means they're great for walking around and sightseeing for hours. Oh, and if you're not keen on white, they come in copper and gold, too!
Price: $80
This pair of cotton cloth-based sandals are perfect for the beach, the city, weekends, work – everything! Matt and Nat are known for their minimal, classic and current designs, so you can be sure this style of vegan slides will remain chic for decades to come. 
Price: $75
Want a bit of height with your slides? These Elyse shoes by Stella McCartney add it in spades! Pair them with a simple pair of jeans, white button down shirt, and pop on some bright red lipstick for the perfect clean, sophisticated look.
Price: $425
Silver, strappy and sustainable, these slides are great for the bold, urban girl: they'll complement any outfit, from denim to summer dresses, and can be worn everywhere from a picnic to a dinner date. The cork inner sole is super comfortable, breathable, and is also odor-resistant!
Price: $149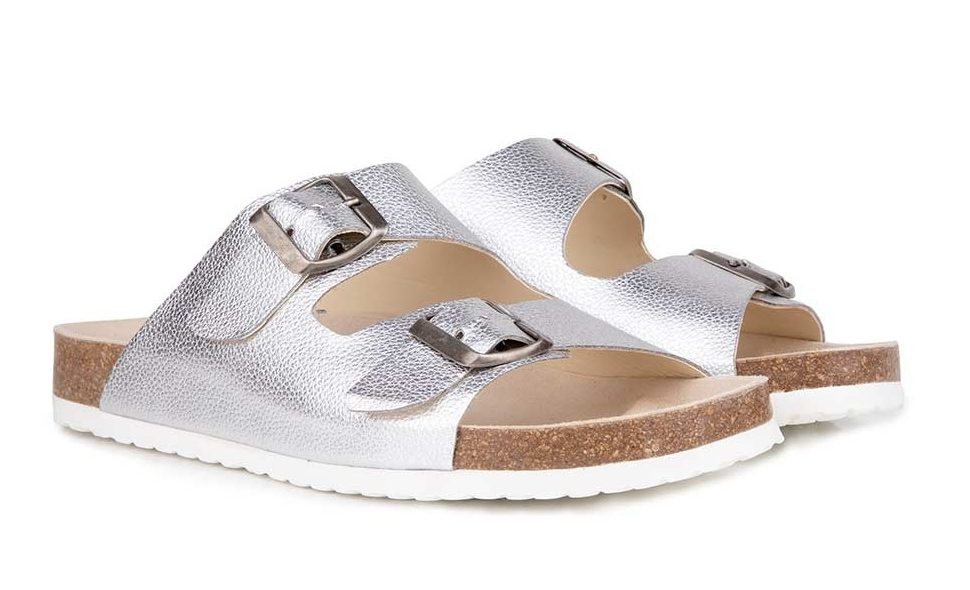 While Adidas a lot to improve and change in their labor and sustainability, the brand has done amazing things to rid the world of ocean plastic with its projects with Parley for the Oceans, and now they're using another eco-friendly material to create shoes: cork! These are perfect for when you're by the sea or pool because they're water-resistant, and if they blow away, they'll just float back to you!
Price: $127
This pair of slides was made for walking! With a sculpted heel cup and premium arch support, you can be sure that you'll stay comfortable all day long. I love that Okabashi donates a percentage of each sale to keeping indigenous Hawaiian culture alive, too.
Price: $18.99. Bargain!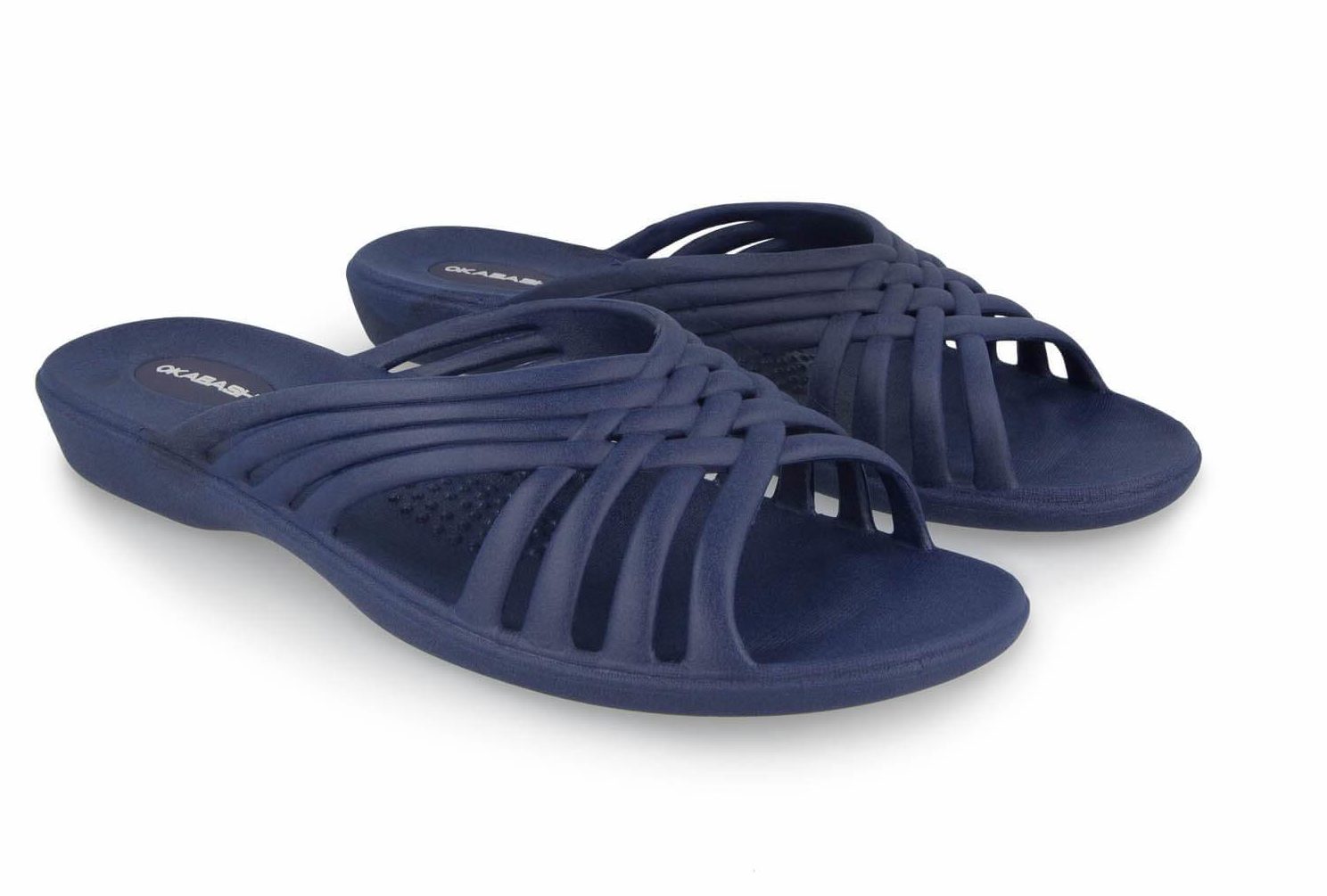 Toms is famous for its espadrille-style shoes, as well as for its one for one policy: for every purchase of shoes you make, they also give a pair to a shoeless child.
We love the ethnic-woven cloth upper of this perfect summer shoe, and the feel-good factor of knowing new shoes for you means new shoes for a child in need!
Beach bonfires are even better with Lulu's Kamala Beige Embroidered Slide Sandals! Colourful pink, orange, blue and teal embroidery are accented by teeny tiny mirrors that cover the wide, vegan leather toe band on these easy-to-wear slides.
Price: $21
Soft vegan suede shapes a wide toe band with a cheeky leopard print design, whilst a circular gold buckle adds some extra flair in these fun vegan slides. They're perfect with a pair of tights, jeans, or shorts.
Price: $19
PS: For more outfits, inspiration, and updates, follow me on my blog, Instagram, Facebook, or Twitter
This site uses affiliate links with brands we trust, and if you make a purchase using a link, we may receive a commission.
Did you enjoy this post? Want to show your gratitude? Please support us on Patreon!