Look cool and save the planet by supporting these sustainable wood sunglasses brands this summer!
By Chiara Spagnoli Gabardi
As proven by the fact that Armani's Canaletto Walnut Wood sunnies have now completely sold out, it's pretty clear that wood sunglasses are definitely a 'thing' for this – and every – summer.
But buyer beware! Just because they're made of wood doesn't mean your sunglasses are eco-friendly. In fact, many wooden shades – such as Armani's, in fact – are made of endangered woods.
Which woods are ok for your sunglasses?
Always look for FSC certified woods in sustainable wood sunglasses brands. The FSC aims to ensure that the companies the harvest the woods they certify:
Comply with all applicable laws and regulations
Enhance the quality of life of workers
Identify and uphold Indigenous Peoples' legal and customary rights of ownership
Enhance the quality of life of local communities
Maintain, conserve, or restore ecosystem services and environmental value
Have a management plan consistent with its policies and objectives and proportionate to the scale, intensity, and risks of any wood harvesting activities
And more!
Good stuff, right? But you should also try to pick sustainable wood sunglasses brands that use woods that are fast-growing, not endangered and responsibly managed.
Some of the most sustainable woods include:
pine
bamboo
white ash
maple
On the other hand, some of the most endangered woods in the world must be avoided!
These include:
rosewood
zebra wood
teak
ebony
merbau
mohogany
Whilst some brands use recycled hardwoods to make their accessories, most don't. That can only mean one thing: more deforestation. Not good!
The most eco-friendly pair of sunnies would probably be vintage models found in secondhand and vintage stores. But if you want to go with the tree-based trend, check out our pick of the best eco friendly wood sunglasses brands, below. All are highly conscious about their ethics, environmental sustainability, and of course, style.
What to look for when buying sustainable wood sunglasses
Lens Tint
You can find wooden sunglasses with a range of lens tints. For the most part, different coloured tints are simply for there for aesthetics. However, some shades work differently with the light. For example, green lenses provide excellent contrast in low-light conditions, and pink lenses reduce eye strain and improve visual depth. In general, darker tints are best for the brightest, sunniest conditions. Lighter tints are best for low-light or hazy conditions. And if you can find lenses made from recycled plastic – bonus!
Polarisation
Polarised lenses have a special type of filter that blocks glare. Not only is this easier on your eyes, but colours are not affected as they are with say, tinted lenses. In addition, objects look crisper and clearer. If you're wearing sunglasses as you drive, it's safer and easier to manager the car with polarised lenses.
UV Protection
Sunglasses shouldn't just shade your eyes. They should also protect them from damaging UV rays. Ideally, opt for sustainable wood sunglasses brands that offer 100% UV protection.
The Best Eco Friendly Wood Sunglasses Brands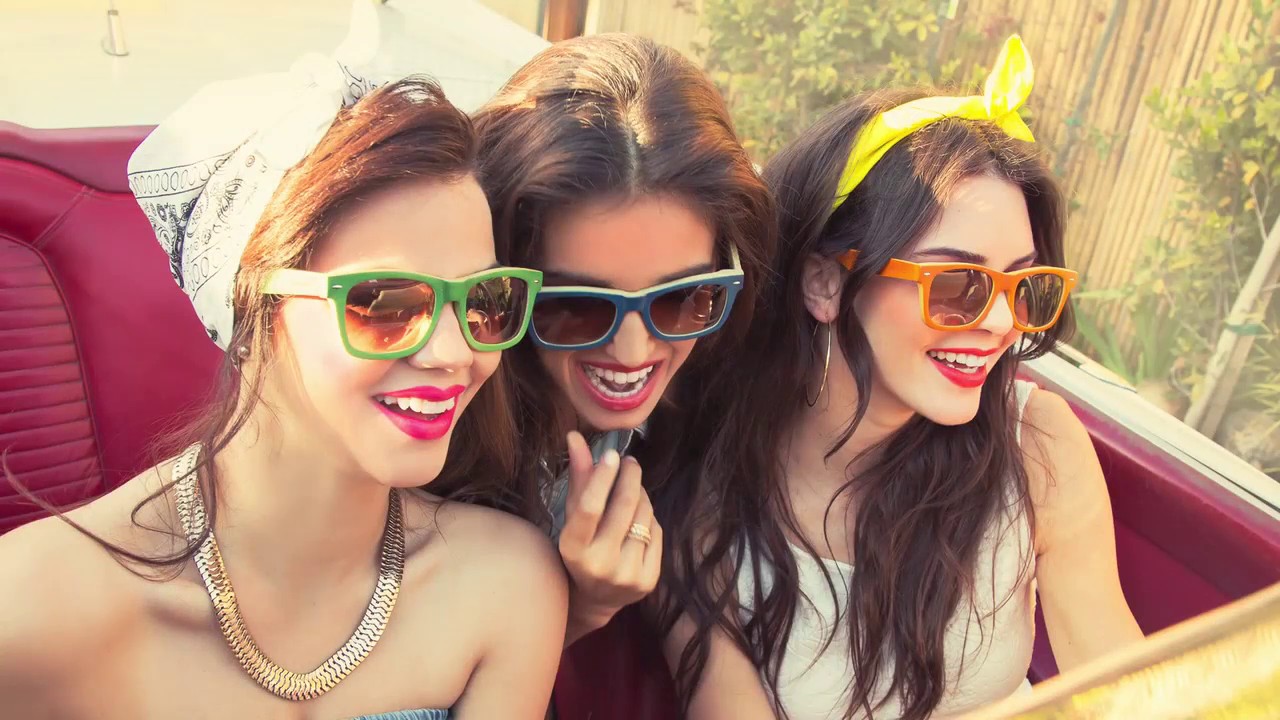 Proof Eyewear is always handmade from sustainably sourced woods. These include  re-purposed skateboard decks, making this one of the best eco friendly wood sunglasses brands for the thrasher in your life!
And as 'proof' of its dedication to sustainability, the brand gives back 12% of their profits back to non-profit organisations in developing countries, including India, El Salvador, Nepal, the Philippines, and Uganda.
Best for: Social responsibility
Price: $90-$150
Most sustainable option: Almost anything! Proof provides handcrafted products made from sustainable materials including sustainably-sourced wood, biodegradable cotton-based acetate, and recycled metals.
This sustainable wood sunglasses brand offers frames that are hand crafted from bamboo. These are then fitted with  polarised lenses that make them the  perfect pair for driving. Cloudfield shades give 100% protection from harmful UV rays, while still looking super stylish. Plus, they come in a reusable sustainable bamboo tube. Why not fill it with pens, or your toothbrush and paste?
Best for: Those on a budget
Price: A bargain! Around $40
Most sustainable option: Bamboo frames
Woodies was started by a young guy, Cory Stout, who makes wood sunglasses that bring effortless style to any beach trip. His simple, classic designs feature incredibly lightweight wooden frames that don't leave marks on your cheeks! And with Kendall Jenner and other celebs giving them their seal of stylish approval, who are we to disagree?
Best for: Light frames
Price: Incredibly cheap! Only around $35
Most sustainable option: Bamboo frames
A pioneer in the world of wooden sunglasses, Shwood's Canby flagship model evokes classic Wayfarer styling. They boast the refined aesthetics that laid the groundwork for an entire wooden eyewear revolution! This wood sunglasses brand is always coming up with new, sustainable materials, too. For example? Stabilised seashells (below), ethically sourced walnut wood and even pine cones. How cool is that?
Best for: Unique style
Price: From $149 to $350
Most sustainable option: Ash frames
Woodzee believes in recycling as much wood as possible. It makes sense, since the brand was founded in what's called the 'City of Trees' – Chico, California. The intention of the brand was to make shades that are as green as can be. And they sure do that! Check this out: if you're a proud owner of any Woodzee shades and want to change your style, you can send your product back to the company, and they will upcycle them for you, with a new design.
But that's not all! All Woodzee's packaging is made of  50% recycled paper. And it's printed with soy ink. Oh, and did I mention that for every pair of sunglasses you buy, Woodzee plants a tree? What more could we ask for?
Best for: Overall eco-friendliness
Price: From $45-$200
Most sustainable option: Recycled skateboard wood
Perhaps one of the most eco friendly wood sunglasses brands around is Panda. Made of 100% sustainable bamboo and encased in a natural bamboo case, these shades come in black, brown and blonde frames. There's basically one to match just about any hair colour! With both UV and UVA protection, the lenses will ensure your eyes are shielded from any harmful rays, too.
In terms of giving back, Panda partners with Optometry Giving Sight's Gift of Vision Project. This great NGO helps fund eye operations on the blind.
Best for: High quality polarised and UV/UVA protective lenses
Price: Around $120
Most sustainable option: Bamboo frames
If you're looking for a brand that really gives back, Grown wooden eyewear quite literally pays it forward by gifting someone less fortunate their sight. Wanting each purchase to have a deep and meaningful impact on the planet, for each sale made, they fund sight-restoring eye surgery for 1 person or provide diagnostic eye examinations for 12 children.
And the glasses themselves are mindful of the planet, too. All materials used are organic, renewable and free from harmful toxic elements. Each pair has its own unique grain pattern, so no two pairs are ever identical.
Best for: Stylish glasses with a rewarding pay it forward programme
Price: From around $99-$200
Most sustainable option: Maple frames
One thing we love about this sustainable wood sunglasses brand is that they made sunnies from upcycled boat wood. The other thing we love is that they want you to wear their glasses forever! If anything should happen to your sunnies and they break, just send them to Zyloe, and they'll fix them for free. Definitely one of the most responsible and eco friendly wood sunglasses brands around!
Best for: Customer service and satisfaction
Price: Around $200
Most sustainable option: Anything! They're all made from recycled boat parts
Get outdoors with Vilo Wood Sunglasses! They're all handmade from sustainably sourced woods, like henna and ash. But that's not all! The Polarized and UV400 lenses are made from recycled materials. And they make the perfect sunglasses for alpine skiing and water sports. Vilo also offers an option to add a custom personalised engraving to make your pair truly unique!
Best for: Sports enthusiasts
Price: From around $150-$275
Most sustainable option: The henna wood frames.
Ok, so it's not actually wood. But these stone-cold cool accessories are even more sustainable!
Hemp Eyewear is the concept of designer Sam Whitten. He came up with the idea after researching hemp for his final design project at uni. Sam realised how beneficial the material was, and that there were many applications hemp could be used for. After finding a gap in the market for hemp sunglasses, Hemp Eyewear was born.
Currently located in Edinburgh, all Hemp Eyewear sunglasses are handmade by a team of dedicated, well-paid artisans.
Best for: Great ethics
Price: Around $325
Most sustainable option: Anything! I mean, c'mon….hemp!
Do you know of any sustainable wood sunglasses brands we missed? Let us know in the comments, below!
Latest posts by Chiara Spagnoli Gabardi
(see all)