Want to give a young friend a plastic-free gift? Don't want your kids playing with plastic toys? Check out some of the best wooden toys for kids of all ages!
By Lora O'Brien
Before I became a mum, I used to daydream about all the ways I could revisit my own childhood when the time eventually came. I couldn't wait to buy my daughter Barbie dolls, Polly Pockets, board games and all those other toys I would pass in shop windows.
And then I actually became a mum. And all those toys lost their appeal!
Seeing my daughter play with plastic toys, with their bright, garish colours, flashing lights and obnoxious sound effects, was a new kind of hell. For me, my kid, and the planet! I decided it was essential to look for some of the best wooden toys to replace all that crap.
Why toys made from wood are better than plastic
It's a sad fact that since the 1950s, the key ingredient of children's toys, as well as children's toy packaging, has been plastic. And that's despite its notoriously negative impact on the environment, and knowing that plastic is toxic for kids when they (inevitably) put it in their mouths.
Luckily, a number of toy manufacturers have taken a stand against using the unsustainable, toxic material in the name of saving our kids' – and the planet's – health. Most are using old-school wood instead.
I'd always thought toys that are made from wood were adorable, but I wasn't convinced a child would really play with them. They seemed a little old fashioned. But oh, how wrong I was!
Now, in my home, our toy shelves feature more wooden toys than anything else, and my daughter loves playing with them. Her quality of play is even better, too! Without those flashing lights and grating sounds taking over, I found that she now gets lost in her own little world of play. The wooden toys allowed her imagination to grow, especially with the open-ended toys. It was amazing to see the world she would create for these toys I'd previously dismissed.
What to look for in the best wooden toys
Just because there's no need for batteries and they're not made from plastic doesn't automatically mean that wooden toys are planet-friendly. As with anything, you get what you pay for. Yep, some of the best wooden toys can be more costly than plastic toys, but don't let this discourage you. The term 'quality over quantity' really does apply here.
When buying wooden toys, do a little research into the brands you can trust. Look for toys that are made of wood from FCS-certified forests, recycled wood and other sustainable materials. You'll also want to choose wooden toys that use no formaldehyde or toxic glues. Look for colouring that comes from water-based paints or organic pigments, instead of chemical paints.
This is especially important if you're buying a toy for a baby since they tend to put everything in their mouths. Most toys, even painted wood ones, can actually be quite toxic!
Greener toy companies
Not into wood, or looking for plastic-free toy companies that make toys from other materials? Try Eco-Dough produces an all-natural alternative to Play-Doh (and really, who doesn't love that?). Meanwhile, Apple Park makes a wide variety of stuffed animals and dolls from GOTS-certified organic cotton. They're stuffed with corn fiber fillers, and dyed with GOTS-certified low-impact fabric dyes.
Ready to discover some of the best wooden toys for kids of all ages? Read on! These all make wonderful gifts!
20 Of The Best Wooden Toys For Kids Of All Ages
When I was a kid, I had a Fisher Price walking dog. His head would bob as I pulled him. But guess what? It was made of plastic. A much better choice? This little ducky is made from sustainably harvested birch wood. It's painted with natural milk paint and finished with linseed oil. And when he 'walks', his wheels make a 'flap flap flap' sound. Cute!
Age range: Toddlers
Price: $56
Any parent knows how little ones are continuously on the go. Which is why they'll love this 3-in-1 Convertible Glide Bike by Lil' Rider! It grows with your child, with its three convertible modes and an adjustable seat.
The bike starts out as a three-wheeled tricycle that allows your child to walk and scoot around. It also has two different 2-wheeled modes to teach balance to toddlers who aren't quite ready for a real bicycle. It's a glide bike without pedals, so it helps strengthen your kiddo's legs as they play.
Built to high-quality specifications with FSC-certified wood and child-safe finishings, this is one of the best wooden toys for toddlers.
Age range: 12 months – 3 years
Price: $99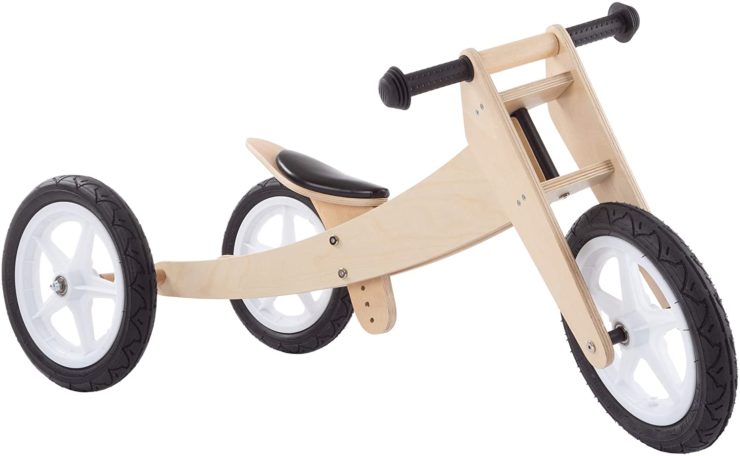 Parents may hate them, but it's a childhood rite of passage to be gifted a musical toy. And oh, what fun they are for little hands to play with!
This wooden musical llama toy has a lot to offer. There's a xylophone, 2 clacking saddle blankets that double as drums and detachable wooden mallets on the head. Other activities include spinning gears and blocks. The tail of this wood llama can be removed and double as a maraca, too!
The toy has passed CPSC, ASTM, EN71 and Health Canada safety standards, and was painted with water based colours and non-toxic finishings.
It's a pleasure to watch as your little one develops their hand-eye coordination by bashing the stick along the musical instrument, their face morphing into delight as they make a little tune. They're also a really great way to reinforce children's natural sense of harmony and rhythm.
Age range: 12 months – 5 years
Price: $40.00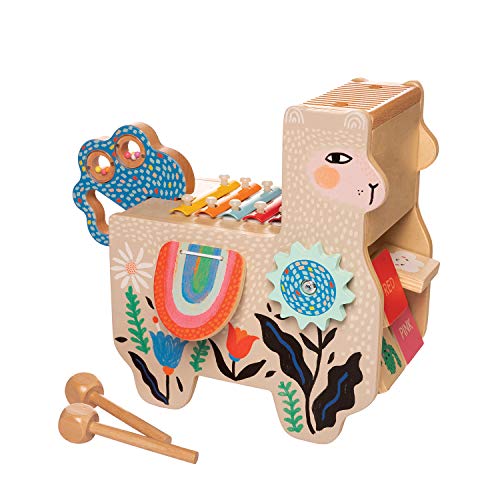 Learning is fun, especially when kids are given the right tools. And one brand that makes the learning process fun is wooden toy brand Janod. Not only is this sweet dog super fun for toddlers, but it will also allow them to learn shapes and colours as they play. And as they get older, they can turn the wheel to align the identical shapes and colours, making a fun game for them.
The dog also has springs on his head and tail for lots of bouncing fun!
Part of the Sweet Cocoon collection, this delightful dog is made with a delicate range of colours which will gently help your child's first learnings, without being overstimulating.
Age range: 18 months – 2 years
Price: Around $40.00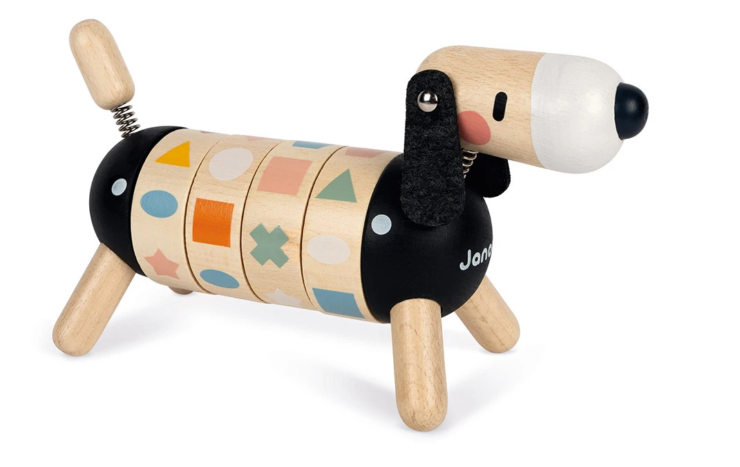 Choo choo! One thing is for sure: kids seem to love toys that have wheels. And for this reason, train sets have stood the test of time. And when they're this whimsical and fun, who can blame them?
Your child will become immersed in creative and social play with the 30-piece Wild Pines Train Set. With train carriages, logs, bears, boulders, trees, and so much more, it provides kids with hours of play. It will encourage your little one to problem-solve, and the loader vehicle can magnetically pick up logs, building fine motor skills.
Age range: 3+
Price: Around $99.99
Babies and toddlers love a shape sorter – and who doesn't get a real sense of pride watching their little one get the shapes in the correct holes?
More than just a shape sorter, this Noah's Ark can be wheeled around for extra fun. Introduce your young ones to this classic story and teach them the names of the animals. It will be the perfect entertainment for inquisitive little minds.
The chunky wooden animals help to stimulate the imagination and encourage both problem-solving and fine motor skills.
Age range: 18 months – 3 years
Price: Around $19
My daughter and I love doing puzzles together. Nothing beats the joy of seeing her little face light up as she declares 'I did it!'  While it will be quite a while before she's able to put something this complex together, I know she would love to have this in a few years!
This 3D puzzle comes with instructions, non-toxic paints, and a paintbrush. Though the manufacturers say it's great for kids 5 and up, I'd say 7 and up is a more suitable age range. The best part is that after they paint and assemble the pieces, kids have actually created a toy for themselves they can play with again and again.
Age range: 7+
Price: $45
Looking for the perfect place to house your children's play food? A wooden kitchen is a must-have toy, and Tender Leaf Toys has created an adorable one, featuring lots of cool stuff! It includes an oven with a shelf and a 4 ring hob with clicking dials; 2 handcrafted rattan baskets with plenty of storage space; 3 racks of herbs; a printed mini chef tea towel, and much more!
The kitchen is made of natural FSC-certified wood and TSCA-compliant composite wood and is painted with non-toxic, water-based paint.
This kitchen is guaranteed to provide hours of endless role play for both boys and girls!
Age range: 3+
Price: $249
Looking for one of the best wooden toys to promote balance? One that's fun, sturdy, and designed for active kids? The Original Wobbel can be all kinds of things! It's a bridge, a fort, a foundation for a rainbow tower, and above all, a fun thing to try to balance on.
This toy was designed to increase fitness through play. With sustainability at their core, Wobbel boards are made of pressed FSC European beech wood and treated with water-based paints and varnishes. The EKO wool felt and sustainably sourced cork are natural products, while their pressed felt mainly consists of recycled PET bottles.
Age range: 2-8
Price: $149
A dollhouse offers hours of entertainment for children! And this beautiful cottage is a fantasy home they'll cherish for many years to come. The Tender Leaf Toys Cottontail Cottage is comes equipped with a natural wood roof, shutters, and a retro-style set of furniture.
Made from renewable and fully recyclable rubber wood, the house is painted with non-toxic, water-based paint. Tender Leaf also make a range of wooden rolls to add to your wooden home.
Age range: 3-10
Price: $150.00
Made of FCS certified wood, the Spark Create Imagine Wooden Alphabet Blocks set updates the classic toy set that introduced generations to the alphabet.
This set adds animals, shapes, numbers and other objects to basic letters on the blocks, making it one of the best wood toys for teaching and interacting with kids. The blocks also help to foster creativity in children – after all, they'll not only learn about letters, colours, numbers and animals, but they can build stuff and spell words with these blocks, too!
Age range: 18 months to 3 years
Price: $17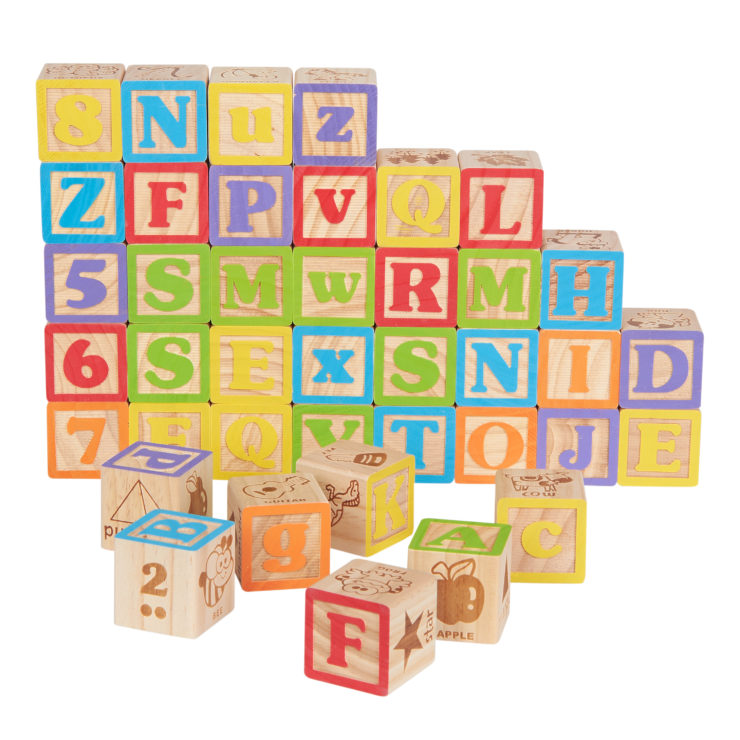 Don't you just hate buying something you think your kid will love, only for them to lose interest after a few months and for it to sit in a corner, unplayed with and sad looking? Well, this is a toy that they'll really want to play with for years to come!
Wishbone has created the perfect range of wooden activity toys for kids. Whether you want a bike or a wagon, these wooden toys are designed to grow with your child, morphing with them as they learn to walk. run and ride! The wagon is my personal favourite. Not only does it look fabulous, it's a multi-functional 3-in-1 toy that is a wagon, foot-to-floor car and a gravity-racer all in one! Vroom, vroom!
The best part about shopping with Wishbone is that, even if your kid does outgrow the wagon and you have no one to hand it down to, they help you to re-sell their items. With the belief that every Wishbone product was designed to last, they'll help you to pass it on to another family through the pre-loved section on their site.
Age range: 1-10 years
Price: $399.99
Before you see the price and scoff, hear me out: this is well worth every penny! I bought this exact gift for my daughter for her second birthday, and it has been used every single day. We follow the Montessori style of learning through play. I was anxious as to whether I could justify the cost. But seeing my daughter's delight when she could easily climb over the rungs made it worthwhile.
The Lily & River Birch Climber is a fully modular climbing triangle with endless playtime combinations! And it will grow with your children, as it can be used as a crawler and walker for little ones, and still amuse bigger kids as they build self-confidence, motor skill development, balance control, and muscle growth.
Another fun way to enjoy the climber? Turn it upside down, drape a blanket over the top and you've got a makeshift tent in seconds!
Age range: 6 months – 5 years
Price: $350-$535
We all remember rounding up our teddies and dolls for a pretend tea party, right? This is one of the best wooden toys for children to experience hours of imaginary play. Plan The set includes a teapot, 2 teacups, a sugar bowl, pitcher and two wooden tea bags.
Pretend play is a fantastic way to stimulate children's imagination while also inviting them to practice their social and communication skills. Additionally, the tea set helps to stimulate fine motor skills and hand-eye coordination as little hands hold the pieces and pour, serve and taste.
Now, who's up for some pretend cake?
Age range: 3+
Price: $34.99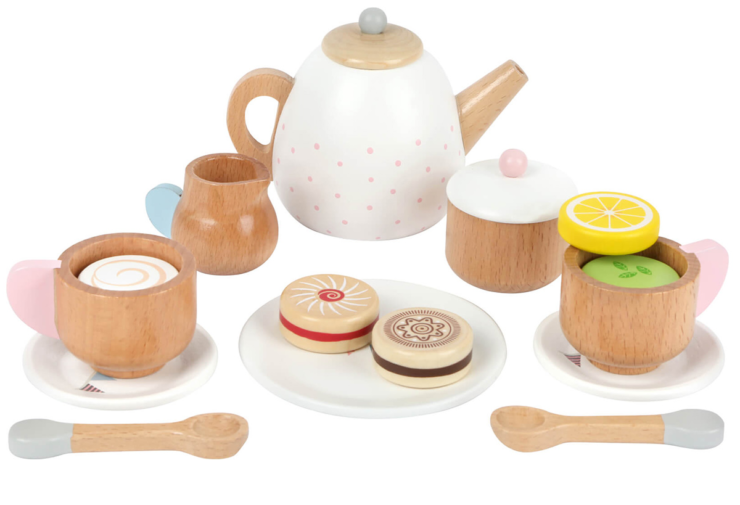 Ditch the plastic for this wooden truck toy! It's handcrafted from safe ecologically clean wood, and is sturdy enough to be be handed down to the next sibling – or even generation! The hinged back lets your little one play with it like a dump truck or farm truck and lift up the back.
This is one of the best wooden toys for personalising, as you can have it engraved with your boy's or girl's name to make it extra special as a gift.
Age range: Safe for all ages
Price: $55
This fun game is a unique twist on puzzle games. Made from high-quality materials, the wooden game invites the player to arrange beautiful hardwood towers and stairs to create a path for a knight and his princess to be reunited.
The puzzle: the Knight and princess can only walk up stairways or along the top of walls, they cannot jump down or climb up walls! Camelot Jr will provide children and parents hours of brain-challenging fun, all while helping to develop logic and spatial reasoning skills.
Age range: 4-9 years
Price: $35
This is one of the best wooden toys to teach kids about nature!
Kids aged five and up can attract birds into the garden by building and decorating a 6 inch tall birdhouse. The kit includes wooden pieces, a chain for hanging, four paint pots, paint brush, nails, glue and instructions.
It's a great way for kids to learn to recognise different species of birds, and to learn what they eat and how to help feed them. Of course, the whole set is made from high quality, sustainable, non-toxic materials.
Age range: 5+ years
Price: $25.00
Whether you have a garden or not, this bowling game will delight your kids for hours and hours!
It's the perfect size for toddler hands and is a fun way for your little one to work on balance, concentration, hand eye coordination, turn taking, and if you choose to get it personalised, letter recognition. It's made of sustainable birch wood, and comes in a cotton muslin bag.
Best for: This is the perfect gift for all those ages 3 and up
Price: $45
Latest posts by Lora O'Brien
(see all)