By Chiara Spagnoli Gabardi
The most important accessory in your warm weather wardrobe has got to be a great pair of sunglasses – sunnies that go with any outfit, that protect you from the sun, and lend you that mysterious air of glamour. Sure, there are hundreds of styles to choose from, but if you select a pair with wood frames, your choice means you're putting less plastic out there in the world, and as a bonus, wood sunglasses are far more durable and are less likely to snap or crack as plastic will.
Maybe for those reasons, wood sunglasses are kind of trending now – it seems that all designers from Armani to Prada are even including wood in their ranges. But some brands absolutely specialise in wood frames and are more focused on sustainability than the big luxury conglomerates. Here's our roundup of the best wood sunglasses that we know of!
Woodzee believes in recycling as much material as possible, which makes sense as the brand was founded in what's called the  'City of Trees' – Chico, California. The intention of the brand was to make the enterprise as green as possible – even its packaging is made of  50% recycled paper, printed using soy ink. In case you are a proud owner of Woodzee shades and want to change their style you can send the company your product and they will recycle them for you. And bear in mind that for every pair of sunglasses you buy, Woodzee plants a tree.
Woodwear Style wants to make it really easy for their customers to look good, and make the sustainable choice.  Their range of wooden sunglasses come in the Wayfarer style, with polarized lenses, and a choice of bamboo, walnut or maple wood harvested from sustainable sources. They offer free delivery worldwide, and a lifetime guarantee.  Their timeless designs for both men and women speak for themselves, like all true classics do. Woodwear Style is a proud supporter of Stand for Trees, and a portion of each sale goes towards saving rain forests across the globe.  
This summer choose a bold, intelligent style that lets the world take notice, and make a fashion statement worth making.
Sunglasses by Tower is a new division of Tower Paddle Boards, a beach lifestyle company that exploded in growth after airing on ABC's Shark Tank. What makes Sunglasses By Tower unique is their Shop-In-A-Box program: Customers receive 5 pairs of sunglasses in the mail to try on for a week, order their favorite pair online, and send the box back free of charge. Made with designer frames and polarized lenses, SBT sunglasses are shipped manufacturer direct eliminating the retail mark up. Customers get a designer pair of shades for $59-$95 compared to brands charging $200 or more for the same exact quality.
Handmade frames and designer, polarized lenses are what defines this bamboo based brand. The super light bamboo means no nasty marks on your nose, and we love the eco-friendly carrying case, too!
Retro styling make these flattering on just about every face shape. The brand makes their glasses in sustainable woods and uses a variety of wood stains and lense colours to ensure there's the perfect shade for your skin tone.
Don't you hate when you've been wearing your sunnies all day, and you go to take them off in the evening and they've totally imprinted your face? Well, with Woodies Wayfarers, that will never happen! These are light on the nose (around 50% lighter than Ray Bans, apparently) and way lighter on your wallet, too! But of course, they look just as stylish, and are better for the planet. No wonder Kendall Jenner is a fan!
Bamboozz was conceived with the aim of providing high quality, handcrafted consumer goods for individuals who are environmentally conscience. The variety of bamboo sunglasses have a positive, nurturing effect on the environment, since the cultivation of this wood helps in the balancing of the gaseous system in the environment.
Wood Fellas is not a pun on  Martin Scorsese's iconic gangster movie,  it's an homage to Mother Earth through puns. In fact, the brand's statement is that it "celebrates Holy Wood instead of Hollywood." The label from Mà¼nchen makes  sustainability undeniably chic – we especially adore its gorgeously colourful lenses.
Panda sunnies are the gift that keep on giving – mainly to those who need glasses themselves! In  addition to using eco-friendly bamboo to make their stylish shades, they have also partnered with Optometry Giving Sight so that every pair of sunglasses purchased gives the Gift of Vision to someone in need. Oh, and did I mention they also make watches, too? In fact, each  Panda Bamboo Watch provides the Gift of Education for developing communities around the world with every purchase.
This company was started in 2009 by a small team of true outdoorsmen and action sport fanatics who wanted to create the best wood optics for the active lifestyle, while maintaining a low carbon footprint. The label's focus on quality is carried over into the development of the lens and frame technology, resulting in the highest quality wooden shades you can find.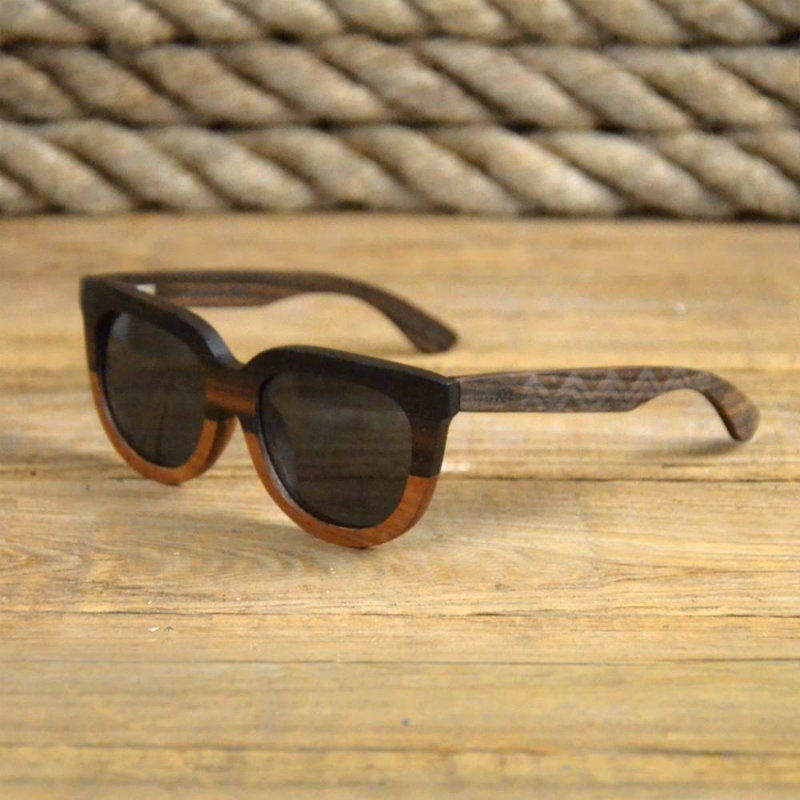 The name suggests the exclusivity of the brand's products, that are grown in nature and made in Los Angeles. Sires Crown Eyewear makes all of its wooden eyewear in-house. Founders, Chris Erven and CJ Thomason, spent the last 10 years developing eco-conscious eyewear. Their mission was to create unique masterpieces, so that you will enjoy your wooden eyewear years from now. That in itself is an act that creates less waste, sending out a wave of positive change. Each pair of custom eyeglasses is hand crafted out of exotic and sustainable woods, and the designs are based on classic eyewear from the 1950s, 1960s, and 1970s.
Abari Abdulhamid Damilola, born in 1989 in the Lagos State of Nigeria, after majoring in Mechanical Engineering, began his enterprise as the founder of Abari Bamboo sunglasses. His eco-friendly shades come in a variety of different models from creamie coloured ones to coffee brown. Their common denominator is that they come with Wayfarer style, TAC polarised lenses providing full sun protection for your eyes from UV rays and strengthened flex-steel hinges. Abari sunglasses are eco-friendly, water resistant, that float on water and each pair comes in a hard bamboo case with a silk lens cloth and silk bag.
Woodnaz creates exceptional classic minimalistic pieces for wood lovers and eco-enthusiasts. These shades are made out of bamboo and come with classic frames and polarised lenses that keep away the glare and offer 100 percent UVA/UVB protection. You can get the Wooden  Sunglasses in two colours – either as a light natural bamboo nuance or a dark stained bamboo shade. The brand's design philosophy concentrates on emphasising what is essential and editing out excess, without neglecting the benefits of bamboo touching your skin, as opposed to the plastic that traditional sunglasses are made of.
In the heart of the Philippines Bayod came to life to make 100% bamboo, waterproof, polarised, eco-friendly eyewear. Their handcrafted sunglasses are 100% sustainable and come with a natural coloured bamboo frame and temple, black polarised lens and a spring hinge action. The nature loving shades come in a beautifully inclusive bamboo cylinder case.
If you need some eco-love in your life get Wooed! All wooden shades are equipped with high quality 100% UVA/B blocking polarised lenses and the frames are made out of renewable material. As a totally natural product it is also recyclable, biodegradable, energy efficient and non-toxic.  The hand made sunglasses receive a minimal treatment, so that each pair showcases the unique natural wood grain patterns.
One thing we love about this brand is that they made sunglasses from upcycled boat wood. The other thing we love is that they want you to wear their classes forever: if anything should happen to your sunnies and they break, just send them to Zyloe and they will fix them for free.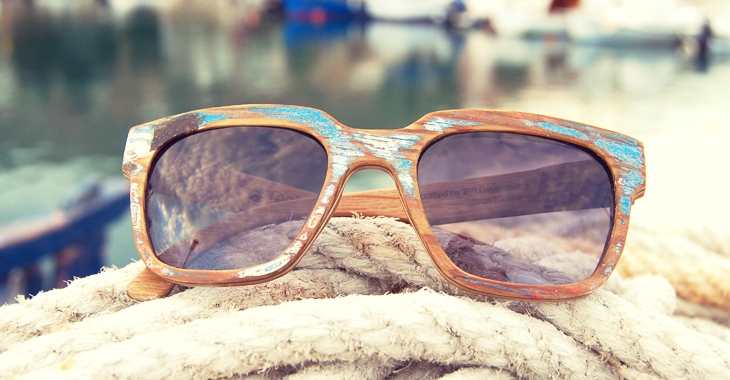 Bà´hten uses all kinds of sustainable materials to create great glasses: reclaimed precious woods like ebony and zebrawood, and compressed compost materials including barley, wheat, and straw, to name a few. But the brand gives back to Africans in need, too: its founder was determined to establish an eyewear manufacturing supply chain on the African Continent. Today, the brand has changed the face of Africa with a vision that advocates education, sustainable employment, social responsibility and environmental awareness.
Proudly Britain's only manufacturer of Wooden Sunglasses, all Moat House frames are crafted by hand using only certified & up-cycled exotic hardwoods. Devotion to quality and sustainability puts these frames in a league of their own. Winners of Glastonbury Festival's Green Trader Award 2016, Moat House Plant a tree in the rainforest for every pair sold.
These stone cold cool sunglasses are the brainchild of  designer Sam Whitten, who came up with the idea after researching hemp for his final design project. Sam realised how beneficial the material was and that there were many applications hemp could be used for. After finding a gap in the market for hemp sunglasses, Hemp Eyewear was born. Located in Edinburgh, today all Hemp Eyewear sunglasses are handmade by a team of designers & makers.
Related articles across the web
This site uses affiliate links with brands we trust, and if you make a purchase using a link, we may receive a commission.
Did you enjoy this post? Want to show your gratitude? Please support us on Patreon!