Tense WatchesThe best wood watches are sustainable, ethical and vegan friendly. Just like our selection, below!
By Chiara Spagnoli Gabardi
Wood watches were once a cheap, hippy/beach bum staple. They adorned the wrists of surfers who – ironically – probably didn't really care much about what time it was. But lately, wood watches have become far more refined. In fact, they often use Swiss watch makers for the mechanisms.
Wood is also far more sustainable than other mined materials used to make timepieces. But that being said, of course not everything is made from trees. The mechanics of movement will be quartz or metallic, so you'll never wear 100 percent tree on your wrist.
Still, wood is a great and versatile material for watches.
Especially when it's sourced from easily renewable materials like bamboo. But if you get a wood watch made from ebony, sandalwood or zebrawood, make sure that wood is reclaimed. Because, of course, those trees are endangered!
Perfect for summer
Wood watches come with yet another benefit: they're designed to handle a bit of light water contact. Sure, they may not be as watertight as diving watches, but they don't die if they're submerged in a shower every now and then. Upkeep is easy, too! Just wearing them on your wrist gives the wood some natural oils from those that are on your own body.
And finally, the natural, neutral colours and grains of wood mean that these watches go beautifully with just about any outfit, any time.
Here's our pick of the best vegan friendly wood watches for conscious fashionistas – both male and female.
The Best Wood Watches For Men & Women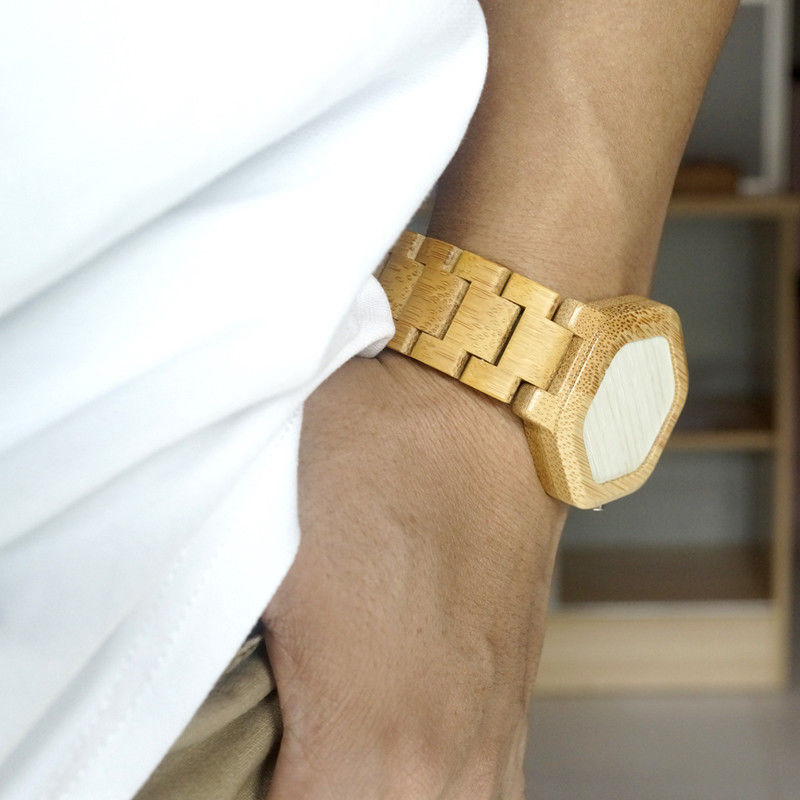 Top American wood watch brand Jord makes some of the most luxurious sustainable timepieces around. Their refined, sophisticated designs employ top quality materials in a thoroughly eco-friendly manufacturing process.
These modern watches are stylish enough for the wrists of CEOs and executives, and yet sustainable enough for activists and environmentalists.
Prices: From $139 and to $650 for limited edition pieces
This brand originally caught our attention as selling some of the best wood watches, because of their distinguished wood watch designs. But when we looked a little closer, we realized that they also have a social mission that really puts them on top!
In addition to using scrap wood pieces that would have otherwise be discarded, Lux also demands that all of their suppliers source from places that ensure the wood was sustainably harvested, and where trees were replanted.
They also actively partner with Plantabillion.org, whose mission is to plant a billion trees by 2025, and feedthechildren.org, whose mission is to end global childhood hunger.   We  appreciate a company who has such high attention to detail, and a commitment to leaving the world better than they found it.
Price: From around $79 to $99
TruWood was conceived by two university friends who wanted to challenge the status quo in everything they created to help you stand apart from the crowd. With a heavy belief in the natural balance of our planet's resources combined with their genius ideas to make bold and adventurous watches, TruWood is for other fellow nomads straying away from the crowd to pave their own unique path.
Prices: From around $96 to $184
These stunning, elegant timepieces look great with a pair of jeans, a chunky sweater, or a basic tee. The perfect combination of quartz technology and sustainably sourced woods sums up to make watches that are both classic and sophisticated.
Any of Original Grain's styles would make the perfect gift, whether the watch is brand new, or passed down through the generations.
Price: From $179 to $449
Launched in 2017, SVENN is fairly new to the world of wooden watches. But this ethical brand has already made a huge impression in the world of eco-friendly accessories. The Dutch watchmaker has perfected a range of modern yet elegant designs for men and women. And they're romantic, too! They even offer a couple's selection of watches so you and your other half can match in truly sustainable style.
Each wood watch features high-quality materials that make investing in a wood watch for yourself or a loved one an effortless decision.
Plus, you can write your message of choice in your own handwriting, take a photo and include it with your order. The message – featuring your own personal 'font' – will then be engraved onto the back of the watch.
All watches come encased in a stunning handmade wooden box, giving a real rustic vibe to your gift, too.
Price: From $225
The perfect gift for the whiskey lover! Whiskey connoisseurs will love this wearable work of art, handcrafted from upcycled whiskey barrels. Aged wood is combined with stainless steel links to create a handsome wristband, punctuated by a classic black dial face with a cork-shaped oak crown.
This elegant timepiece produces a delicate balance between minimalist and rustic design.
Price: Around $270
Handcrafted from reclaimed Asian hardwoods including teak and ebony, as well as fast-growing bamboo, Bobo Bird's eco-friendly watch designs are some of the best wood watches around!
We love not only the fact that these are ethically handcrafted, but also the chic way Bobo Bird incorporates high-tech LED technology into their designs.
Price: From $145 up
Check this out: for just $29, you can own an eco-friendly timepiece! Uwood makes theirs from from 100% natural and hypoallergenic wood that's sustainably sourced. Mainly, walnut.
And underneath the watch faces made by Uwood, you'll find precision mechanisms. Namely, a Japanese Miyota movement concealed by a screwed-in wooden caseback. These are definitely the most economical of all the wooden watches on our list!
Price: From $29
Bewell is a brand that has been making some of the best wooden watches since 2004. But not only do they do wood watchmaking – they make other wood accessories, too, like sunglasses.
Bewell ensures that each wooden wristwatch is 100% natural and varies in looks due to each wood's differing grain patterns. They make a great gift, since they offer engraving on the boxes the watches are housed in. And of course, you can also have the back of the watch face engraved, too.
Price: From $49
Launched in 1971, tense was one of the first ever – and best wood watches brands. With dozens of different models and woods to choose from, it's no surprise they're still one of the most popular, too.
From vintage to modern, minimalist to Baroque, there's a style to suit everyone here. All the watches are ethically handcrafted in Canada, made from sustainably grown Canadian woods.
Price: Around $270
Latest posts by Chiara Spagnoli Gabardi
(see all)