These healthy smoothie recipes are vegan friendly and are a great way to start the day!
By Lora O'Brien
I think it's fair to say the smoothie's fame is thanks to the internet. Most people would have just called a smoothie 'juice' until Instagram practically created this drink: there are entire accounts dedicated to shining a spotlight on Nutribullet babies of all colours and consistencies.
Whether you decide to drink them from a glass, eat them from a bowl, have them as a breakfast or make them as an afternoon snack, smoothies are  quick, easy, and most importantly – they're a super convenient way of smashing in those greens when you're in a rush. And the best thing? You can't even taste that you're eating stuff like chlorella.
It would seem pretty easy to make a smoothie, but if you're not careful, you either end up with something that tastes like a cold soup, or has the consistency of something you find in your gutters around March.  So  I scoured the internet to find smoothie recipes that not only taste amazing, but will keep you healthy and glowing throughout the year, too.
20 Healthy Vegan Smoothie Recipes
1. Cherry Revitalizer Smoothie
Firstly, can we take a sec to appreciate the hue on this bad boy smoothie? It's so gorgeous! Okay, now let us get down to the taste . . . packed with tons of juicy, ripened cherry flavour it's mixed with creamy banana and coconut water giving this smoothie the pick me up you'll need upon waking.
Get the recipe here.
2. Blueberry Coconut Super Smoothie
For a quick and easy smoothie that is still packed full of nutrients, try out this blueberry and coconut based smoothie from Green Kitchen Stories. The ruby red colour is so pretty, but also indicates that you'll be drinking in loads of anti-oxidising phytonutrients!
Get the recipe here.
3. Blueberry & Hazelnut Chocolate Hemp Smoothie

I mean, is this a smoothie . . . is this a dessert?! Do we even care when it looks so damn good?! The vegan protein power in this smoothie makes this ideal for a pre/post workout smoothie, but you could still just make it and either sub the protein power for cacao, or keep it in for a little protein boost. If you're feeling extra indulgent, use vanilla ice cream instead of a banana to really treat your taste buds.
Get the recipe here.  

4. Rise and Shine Skinny Coffee Smoothie  
Struggle without your morning coffee but want to be a little healthier? Why not turn your love of caffeine into a smoothie. You won't be tempted to sweeten it with sugar due to the fact it's mixed with bananas and coconut milk to make it super duper creamy!
Get the recipe here.
5. Dragonfruit Smoothie
I will never get tired of the way dragonfruit entirely transforms everything it comes into contact with the most vibrant and appealing shade of fuchsia! You'll be needing a few switches in this recipe to make it vegan but that's pretty easy; simply use almond milk and either leave out the honey or swap it for a little maple syrup.
Get the recipe here.
6. Avocado Strawberry Smoothie
A perfect cool-down drink in summer! If you're still not convinced by the  avocado base in a smoothie recipe, just give it a whirl. It really does transform the texture of your smoothie to being so creamy and delicious.
Get the recipe here.
7. Stress Buster Orange Smoothie
So far, most of the recipes here have focused on summer fruits, but oranges are great because they're available all year round. De-stress with this vibrant citrusy smoothie and feel your woes slip away.
Get the recipe here.
8. Crazy Healthy Smoothie
The name of this smoothie says it all. It's packed full of all things good for you, from hemp seeds, carrots, bananas, beetroot, almond milk and more. Every single sip of it will have you bursting with energy and vitality. Great for your skin, too! Just nix the bee pollen to keep it vegan.
Get the recipe here.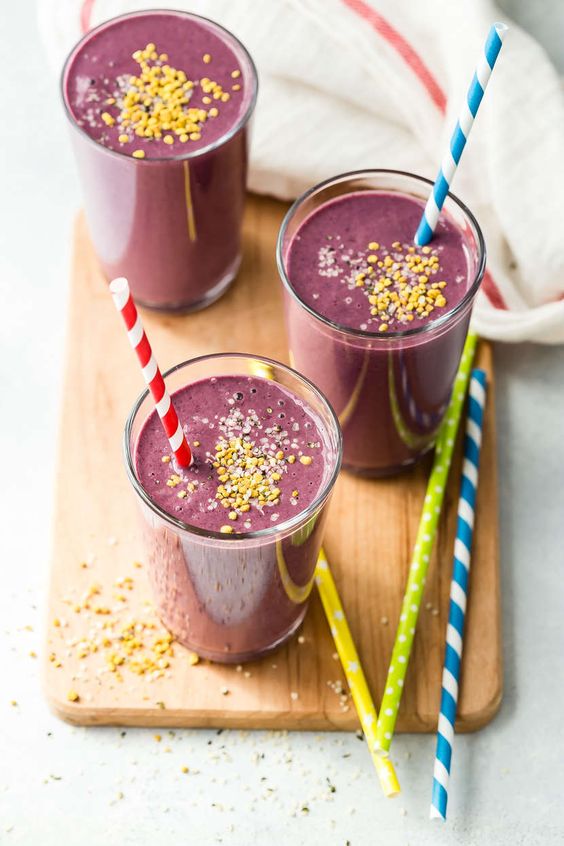 9. Peanut Butter & Banana Smoothie
Who wants a healthy milkshake!? This one is rich, cold, and full of goodness, from cacao powder, almond milk, peanut butter, and of course, ripe bananas. It's practically lunch in a glass!
Get the recipe here.
10. Dairy-free Strawberry Smoothie
This recipe is a fabulous one to keep on hand. Why? Because it has just four ingredients! Plus, it boasts all the texture and flavour of a rich, tasty strawberry milkshake.
Get the recipe here.
11. Cucumber Melon Smoothie
Summer in a glass! Cucumber mixed with melon  creates a fresh, yet incredibly sweet smoothie that we think you'll really love. Again – ensure your cuke is organic, as these are one of the most pesticide sprayed veggies out there.
Get the recipe here.
12. Peanut Butterscotch Maca Smoothie  
Creamy bananas, peanut butter and vanilla go into this smoothie and are then welcomed by maca. Not sure what that is? Maca is a superfood that helps balance hormones, and brings tons of energy to you, too! What are you waiting for? Just try this!
Get the recipe here.
13. Salted Caramel Peanut Smoothie
Why not turn your morning smoothie into this sweet and creamy treat? Packed with nuttiness, its nourishing and full of caramel goodness thanks to the medjool dates. A little tip: adding in a little mineral-rich sea salt will help to draw out your dates full potential, making them even sweeter and the caramel flavour that bit richer.
Get the recipe here.
14. Carrot Sunshine Smoothie
Not everyone is a fan of the sweeter based smoothies, and that's okay because you can use a selection of veggies to boost your smoothie into a cup of creamy perfection. And this smoothie is bursting with plant-based proteins and healthy fats all thanks to the hemp seeds and flax oil,
Get the recipe here.
15. Fennel Smoothie
Fennel is an acquired taste; granted. But in this otherwise sweet smoothie the earthiness of the fresh fennel works superbly. The sweetness comes from the pineapple and fresh lemons which counter balance the fennel with their tanginess. Flax seeds are then added to thick it up and you're ready to go!
Get the recipe here.
16. Layered Strawberry & Peach Smoothie
If this isn't summer in a glass then I don't know what is. Strawberries and peaches are reminiscent of my childhood when I'd spend the summer months gorging on these deliciously ripe fruits! So I'm super excited to turn my love into this tasty and pretty smoothie!
Get the recipe here.
17. Mango Lemonade Smoothie Parfait  
Lemonade can be especially thirst-quenching during those warmer months but hello, sugar! Bring your love of homemade lemonade to this smoothie for a fun and exciting way to bring the fizzy lemon to life in a healthy and tasty way.
Get the recipe here.
18. Supergreen Spirulina Smoothie
If you're going to make a green smoothie, why not go to town and make it really, really green?! And you know when it's THIS shade that there is some seriously potent forms of healthy greens, such as spirulina! If you struggle to chow down on the algae usually then try this smoothie; once blended with sweet bananas, fresh cucumbers and creamy coconut it'll really transform the way you view it.
Get the recipe here.
19. Kombucha Smoothie
If you're a fan of the booch then you'll know it can be pretty damn tart, so why not turn your love of kombucha into a smoothie form? Once blended with citrus juice like lemon and creamy banana and sweet mango you'll have a rich and decadent smoothie that is just the right amount of sweetness.
Get the recipe here.
Main image:  Blueberry Beginning Smoothie from 365 Vegan Smoothies Cookbook.