Not sure what to make for a healthy breakfast – or dessert? These vegan smoothie bowl ideas will inspire you!
By Lora O'Brien
A meal in a bowl is such a beautiful thing. It's easy to make, packed with variety, and you can usually toss in whatever takes your fancy.
And one of the best bowl foods ever? It's not ramen. It's not donguri. It's…the vegan smoothie bowl! (in my humble opinion, anyway).
If you've never beheld the gorgeousness of a vegan smoothie bowl, I can only assume you don't have  an Instagram account then – they're all over social media! I can't scroll through my feed without seeing dozens of bright, vibrant bowls, and of course I give them all a big LIKE: after all, they're pretty much edible works of art, brimming with plant-based goodness. Basically, they're like a smoothie, but with more stuff you need to chew, like granola, nuts, seeds…you name it.
If your morning breakfast or dessert routine is getting tired and you're looking to try something fresh, tasty and healthy, just take a look at these vegan smoothie bowl ideas. They're definitely different, they'll help you detox, and there's surely one or two here you'd never have imagined existed.
Vegan Smoothie Bowl Ideas That Will Blow Your Mind
1. Pumpkin Spice Smoothie Bowl
Oh yum! Delicious almond butter, coconut milk, and maple syrup combine to make this warming and sweet whilst the pumpkin spice and cinnamon will give it a delicate warmth. Topped with chia seeds, a great boost of protein and omegas, hemp seeds and pecans, this is for sure going to get your day off to an energized bang.
Get the recipe here.
2. Green Smoothie Bowl #1
All good things come to us in the shade of green, am I right? This green smoothie bowl is one of a few I'd like to feature. It's creamy and thick, and thanks to the frozen bananas, cold so it'll be like eating a bowl of ice cream. Topped with crunchy granola, goji berries, raw cacao nibs and coconut, this is bursting with plant based goodness.
Get the recipe here.
3. Acai Smoothie Bowl
Acai is such a wonderful superfood, and a smoothie is the perfect way to introduce it into your diet. This bowl is really going to kick start your day, and it's really easy to make, too.
Get the recipe here.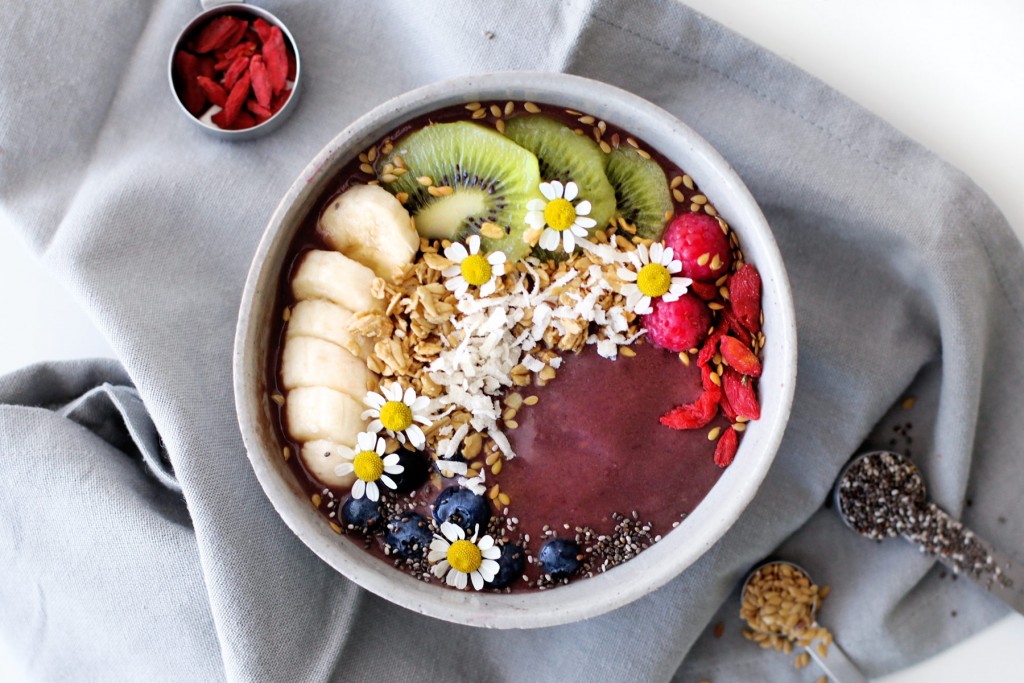 4. Carrot Cake Smoothie Bowl
At last! A truly guilt free way to enjoy all the rich flavours of carrot cake. Yep, you heard me sister! What else can I say besides go make this deconstructed cake-in-a-bowl, like now!
Get the recipe here.
5. Apple & Spirulina Smoothie Bowl
Spirulina is a great superfood if you're looking to either detox or just give your health a boost. Green apple is high in vitamin C and almond butter is a healthy fat packed full of beneficial minerals. So if you've over indulged lately, or just feel like your body deserves some TLC, this smoothie is for you! (PS: If you're really into algae and spirulina, you'll love these recipes.)
Get the recipe here.
6. Chocolate, PB & Banana Smoothie Bowl
This recipe is heralded as a bowl whose nutrients will help boost your hair's health. Yes, really! But from the banana, to the peanut butter to the dark chocolate chips, I just wanna eat this until I look like Chewbacca!
Get the recipe here.
7. Antioxidant  Smoothie Bowl
Kick start your day with a tasty boost of antioxidants. This smoothie may be simple, but it contains so much goodness in just one recipe: the berries are immune-boosting, and the bananas and almond milk make it rich and smooth. Then, it's sprinkled with nuts and seeds which are so great for protein and Omega 3 oils.
Get the recipe here.
8. Strawberry & Peach Smoothie Bowl
Forget strawberries and cream – strawberries and peach is the way to go! It's smooth, it's creamy, it's 100% delicious, and it looks pretty, too.
9. Green Smoothie Bowl #2
Yes, another green smoothie – because they're just so damn healthy, and a great way to sneak in your veggies! This one in particular is supercharged with great oils from seeds, coconut and avocado, vitamins from spinach and kale, and even more nutrition from fruit. I could live on these!
Get the recipe here.
10. Pitaya Smoothie Bowl
That colour, though! In case you didn't know, pitaya is just a fancy name for dragon fruit. If you happen to be lucky enough to live in a country where this is abundant, take advantage of it and pack it into this gorgeously pink smoothie bowl!
Get the recipe here.
11. Hazelnut Hemp Smoothie Bowl
Think of Nutella in a smoothie. Are you drooling yet? This is definitely a bowl for those of us with a sweet tooth – yet the sweetness isn't sugar-derived, yay! The proof that healthy eating can taste amazing is most definitely in the pudding with this recipe. Or, y'know, the smoothie.
Get the recipe here.
12. Caramel Apple Pie Smoothie Bowl
It's a deconstructed apple pie in a bowl! Apple and cinnamon is always a winning combo, but the addition of caramel (in the form a pitted date combo) takes this recipe to the next level.
Get the recipe here.
13. Honeydew  Smoothie Bowl
If you've never before tasted honeydew melon in a smoothie, oh my, you're in for a treat! It's truly refreshing. Honeydew is pretty light, but the oats in this smoothie bowl are going to make it heartier than you'd expect.
Get the recipe here.
14. Dark Cherry Smoothie Bowl
How I love cherries! And this recipe calls for frozen ones, so you can make this all year round. And with just three simple ingredients, this is super simple to make, and packed with flavour. Oh, and if cherries are in season, throw a load on top and enjoy it all even more.
Get the recipe here.
15. Matcha Peach Smoothie Bowl
Matcha is an acquired  taste, I know that. But it's so good for you, why not add it to a smoothie bowl? You'll barely know it's there, especially with the addition of peaches and frozen bananas. Almond milk will make this creamy, and just replace the honey with agave syrup to make it sweetly vegan.
Get the recipe here.
16. The Girl Boss Super Smoothie Bowl
Hey, girl bosses! This is going to get your day off to a positive start. It's packed with superfoods like hemp hearts and maca, and just like fierce females, it may look at sweet on the outside, but inside? It's seriously kick ass powerful!
Get the recipe here.
17. Chocolate Mint Smoothie Bowl
Mint and chocolate were made to go together, and when something works why change it? Just make it a healthier, maybe! The green comes not from mint, but spirulina, but if you're not too fond of this superfood, you'll barely be able to taste it with the addition of coconut milk and the essences of peppermint and vanilla.
Get the recipe here.
18. Wild Blueberry Cheesecake Smoothie Bowl
Honestly, just the title of this recipe has me drooling! If you're wondering how this recipe can be all 'cheesecakey' if it's vegan, the answer to that is: cashews and lemon. Seriously. Try it and thank me later!
Get the recipe here.
19. Summer Smoothie Bowls: 3 Ways
What tickles your fancy? Blueberries? Peaches? Strawberries? Blackberries? We've got vegan smoothie bowl recipes for you! These three 'ways' feature summer flavours, and loads of nutrition. Take your pick!
Get the recipe here.
20. Rose & Raspberry Smoothie Bowl
I may have left the prettiest bowl till last. It's delicate, it's fruity, and it's easier to make than you'd think! You'll just need a bit of rose water, which you can buy here.
Get the recipe here.
Latest posts by Lora O'Brien
(see all)