These surprisingly delicious vegan seaweed recipes are not only tasty, but healthy AF!
By Lora O'Brien
When it comes to eating seaweed based dishes, I will admit, I was more than a little dubious at first. I mean, I've been to the seaside a lot. I've seen the seaweed on the shore, and there's no way I ever looked at the slimy grass-like stuff under the water and thought: 'Mmm, lunch!"
But then two things happened: I tried vegan sushi. And it was good. And someone offered me a roasted seaweed snack from GimMe – and I swear, that stuff is damn tasty! Like, potato chip level tasty. And no, I was totally not paid to write this – just try their seaweed crackers or roasted strips and trust me, you will want more. You're welcome.
But I digress. Apart from being surprisingly yum, there are loads of health benefits from seaweed based foods. So if  there's one food you need to try and learn to love then it's definitely seaweed, my friends. Oh, and btw, seaweed isn't just that slimy stuff found at the seaside. You may have been eating seaweed or that other superfood from the sea, algae, without knowing it as there are various types. For example:
Chlorella and Spirulina: Deep green algae superfoods that have been popular for some time now, these comes with a whole heap of rewarding benefits, such as protein, vitamin B12 and iron, and and are beneficial to maintaining a healthy brain and keeping our digestive system, heart, lungs and liver healthy.
Kelp: Kelp noodles have begun to get increasingly more popular lately, and no wonder why. It's super beneficial for our thyroid due so the high iodine levels it contains, and if you're more concerned about your waistline, kelp has an incredibly low calorie count, and will keep you fuller for longer unlike more starch based foods.
Dulse: Dulse doesn't look like much, but it's packed with minerals that work to keep bones strong and healthy. It's also great for lowering blood pressure. Eat dulse a lot? You're probably getting a great hit of potassium, too. Dulse is a really easy type of seaweed to use, and if you've never tried it before now then you may want to use it to add a saltiness to dishes. It's great for sprinkling over a salad for a little extra flavour, and it's used a lot in soups, stews and dressings.
Hijiki: Like dulse and other sea vegetables, hijiki contains high levels of calcium, so it's great for vegans shunning dairy. In fact, it contains 14 times the amount of calcium that you'd find in milk, which is why the dairy-avoiding Japanese rarely get osteoporosis, and it holds significant levels of fiber, vitamin K, iron, magnesium and iodine. Hijiki needs to soak before you eat it as it has a pretty tough texture to it, so it's perfect in soups and stews where it naturally softens.
Kombu: This is a popular seaweed used in savory sauces, stocks and soup recipes and has a briny, almost mushroom-like taste. The benefits? Kombu can increase digestion whilst also preventing weight gain due to the pigment fucoxanthin, which helps metabolize fats into energy instead of storing them as fat in the body.
Wakame:  Wakame is another popular form of seaweed, and one that is typically used in  salads, such as vegan 'Caesar' salad, or added into savory dishes for flavour. Wakame will spike your dishes with a  briny taste it's rich in protein, magnesium, chlorophyll, iron, calcium and zinc. Pretty impressive for a humble seaweed, right?
Agar-Agar: You may have heard of agar-agar before  or have seen in listed in recipes as it's commonly used in vegan baking, as it works to thicken up dishes. Agar-agar is rich in both fiber and iodine, and it's way better for you than other chemical thickeners.
See? There are loads of easy ways to get goodness from the sea into your diet! And now let's get to the vegan seaweed recipes….
30 Surprisingly Delicious Vegan Seaweed Recipes
1. Green Seaweed Smoothie
We should all know by now that a green smoothie is typically filled with an abundance of goodness, and this seaweed smoothie is no exception. Not only is it brimming with celery, ginger and apple it's also blended with seaweed. Seakura make these seaweed drops which you can just blend into smoothies which is great if you're on the go or you have no clue how to incorporate seaweed yet are wanting to. Plus, the medjool dates add a delicate balance of sweetness to this smoothie so it won't taste like fishies were all up in that.
Get the recipe here.  
2. Spirulina Lemonade
Granted, this may look like swamp water, but it most definitely won't taste like it. Lemon is the perfect flavour to pair with spirulina – it definitely dominates, and the stevia adds a touch of sweetness. Basically, this is just lemonade with extra health rewards.
Get the recipe here.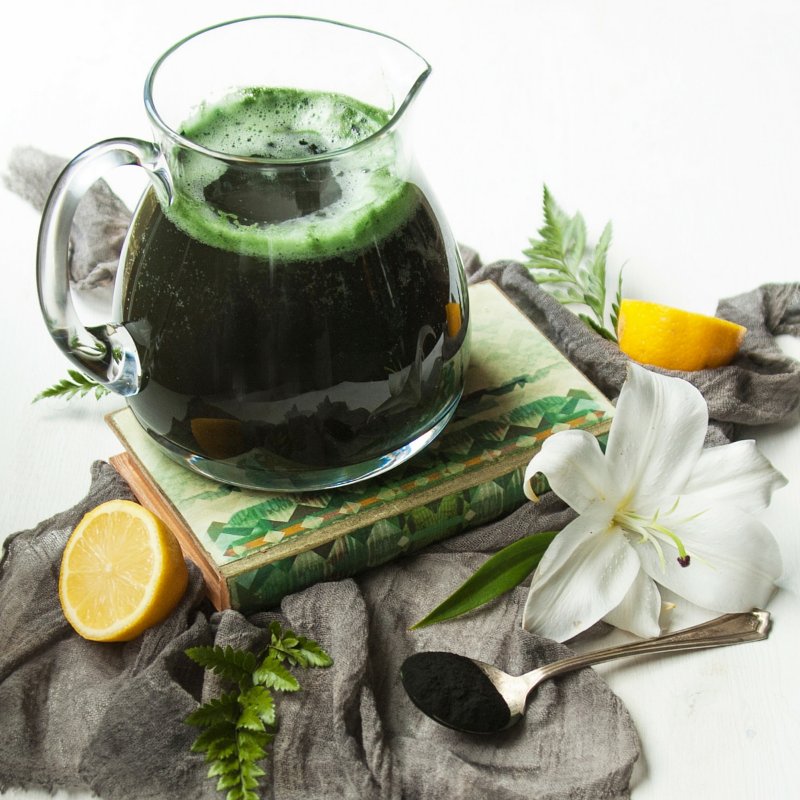 3. Spirulina Chia Pudding
How wonderful does this chia pudding look? That minty fresh colour  looks so pretty, but it also means that it's packing some serious health benefits too with thanks to the added greenness of spirulina. Once mixed with creamy bananas, almond milk and a little mint, this transforms  into something that tastes as good as it looks!
Get the recipe here.  
4. Spirulina Smoothie  Bowl
Smoothie Bowls are having a moment now, and no wonder: the deliciously creamy, sweet smoothie base is the perfect foundation for popping your favourite fruits and cereals on top. It's basically the most nutrient dense way to start your day, and it's one of the easiest vegan seaweed recipes to make. No cooking!
Get the recipe here.  
5. Raw Lemon & Coconut Spirulina Balls
Energy balls are such a fab little treat to have on hand when you either fancy a snack or are wanting a little bite of energy. They're usually made from raw ingredients so there's zero baking involved – which is a bonus. These healthy treats are made from natural sweeteners such as coconut and dates, and are given a delightful crunch from the nuts.
Get the recipe here.  
6. Raw Hemp Algae Bars
I love having some form of healthy 'treat' on hand that won't cause my sugar levels to rocket and then crash an hour or two later. These bars tick all the right boxes, and they get bonus points for being my favourite colour; green! They're raw bars so no baking, and they're made from a mixture of healthy fats from the nuts and  shredded coconut.
Get the recipe here.
7. Squash & Seaweed Pancakes
If you follow my food articles then you'll know that basically, I can find a pancake for just about any food theme, and this one is no exception. These savory babies make for a great lunch, and there are loads of textures and flavours here, too. Stack 'em up!
Get the recipe here.  
8. Sesame & Garlic Nori Chips
Snacking can sometimes me a downfall for many of us. We feel those simmering rumbles of hunger and then we're cleaning out our cupboards in an attempt to satisfy it. Well, put down the potato chips! Seaweed crisps are one of the easiest vegan seaweed recipes to make and are what you need when the munchies come  round. Not only are they cholesterol-free and high in vitamin A, they're pretty darn tasty, too.
Get the recipe here.  
9. Seaweed Sesame Crackers
It's always great to have a go-to cracker recipe. I used to spend a small fortune on 'healthy' crackers before realizing I can just as easily make them myself and be satisfied. Once made, store them in a lock tight jar or container and they will last you for a week or two. I love using them to dip into homemade hummus!
Get the recipe here.  
10. Cucumber Sesame Seaweed  Snacks
These little cucumber and seaweed sliders are a really great way to introduce seaweed into your diet. Top them with some tangy pickled onions and  delight in the variety of flavours and textures on such a tiny little mouth-sized morsel.
Get the recipe here.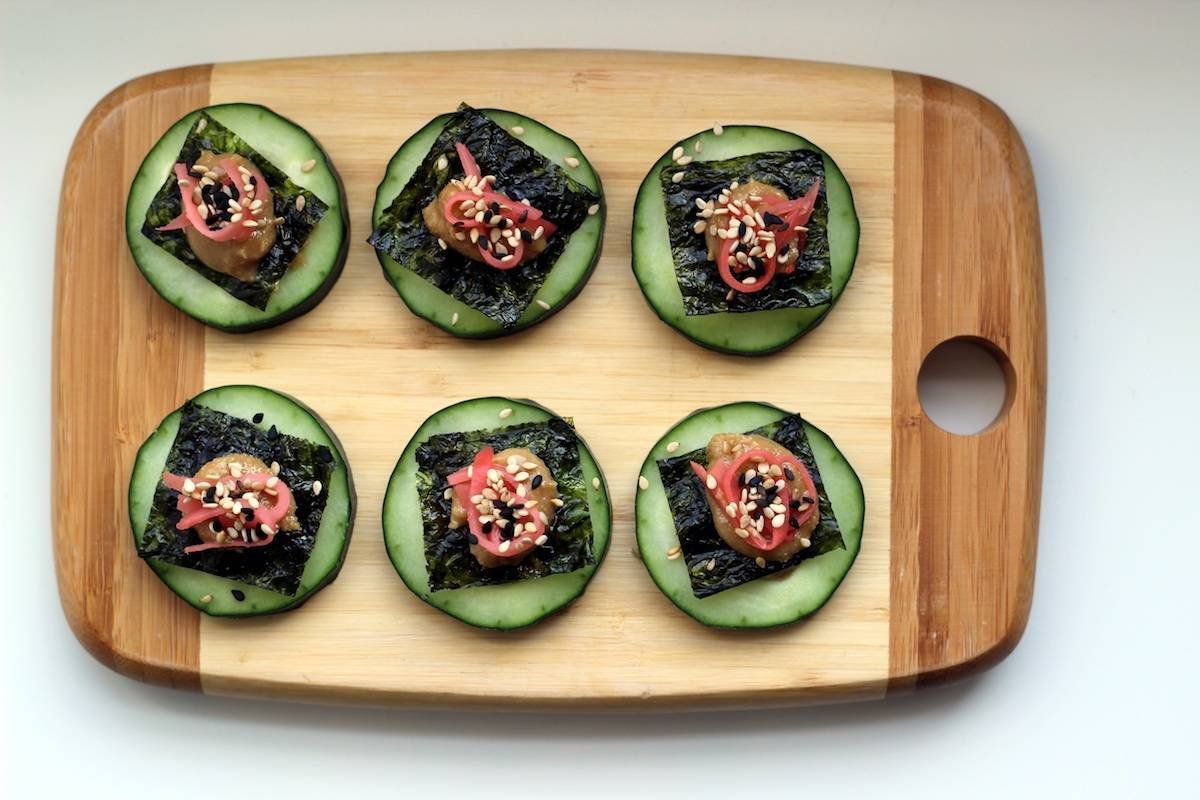 11. Seaweed Pesto
I'm sure you've probably never thought about putting seaweed into pesto – but it works! I'm not a fan of basil and have steered pretty clear of pesto for this sole reason, yet now I'm all about that pesto life thanks to seaweed. It's so delicious! I have all kinds of plans for this. Like, over my pasta, spread on my sandwich and even smeared across crackers. Basically, I will binge eat this deliciousness until I get sick of it. Which will be never.
Get the recipe here.  
12. Avocado & 'Weed Hummus
Obviously the 'weed element of this hummus is of course seaweed, and it brings a refreshing change to the traditional hummus recipe. Whilst chickpeas are still the base, there's also seaweed lettuce, lime juice, coconut milk and a whole other heap of ingredients to really make a creamy and yet distinctively different type of hummus – which we all need now and then, right?
Get the recipe here.  
13. Vegan  Sushi Rolls
I think most of us have tried sushi, and have therefore been eating seaweed in the form of nori and barely noticing it. I love sushi because you can really make it with whatever grains and veggies you like. You can use brown rice but, like in this recipe, I prefer to use quinoa.
Get the recipe here.  
14.  Hijiki with Carrots
Hijiki seaweed and carrots are a classic Japanese combination in cooking, and it's easy to understand why – the combination of salty seaweed and sweet carrots works really well together. This is such a great side dish, but if you prefer to make it a little more filling, you could add in some tofu, edamame beans or even some soba noodles.
Get the recipe here.  
15. Brown Rice & Arame Seaweed Salad
If you're fairly new to cooking with seaweed and a little dubious, start with an easy recipe like this. It uses arame seaweed, which is a thin, stringy and not too pungent kind of seaweed, which mixes really well with the brown rice and veggies. Tuck into this dish or serve as a side, either way – welcome to seaweed heaven!
Get the recipe here.  
16. Rainbow Kelp Noodle Salad w/Lemon & Ginger Dressing
Whoa, talk about eating the rainbow with this dish. Who doesn't want to eat pretty food, knowing it's super good for us too? Lots of crispy, raw veggies are cut and then tossed with a tangy lemon, almond and ginger concoction and then mixed with kelp noodles.
Get the recipe here.  
17. Kelp Noodle Salad with Avocado & Pistachio Pesto
I love using kelp noodles. They're a bit strange at first, but stick with them, and you'll fall in love with them, too. They're especially great in this salad recipe. Sometimes salads can be far from filling so you need to bulk them out with healthy options, and kelp noodles work so well. They're covered in an avocado and pistachio pesto, which creates a gorgeous, nutty flavour.
Get the recipe here.  
18. Green Superfood Salad
This  green superfood salad is packed full of vitamins and each and every mouthful will truly nourish your body. The base is made from kale and seaweed and then topped with creamy chunks of avocado, lemon, cucumber and sprinkled with sesame seeds. You could enjoy this on its own or topped with a bed of quinoa for a more filling dinner option.
Get the recipe here.  
19. Vegan Caesar Salad
Unlike the typical Caesar that includes fish and eggs, this salad is kind to both sea creatures and animals and is both creamy and delicious. Nori gives a wonderful saltiness whilst the dressing is made from tofu plus lots of other yummy flavours and dresses this salad perfectly. Throw in some breaded croutons or even chop up some tofu for a heartier salad.
Get the recipe here.  
20. Soba Noodles & Tofu Poke
Poke, typically a raw fish, is reinvented in this recipe. The sashimi  is replaced by tofu, which has been cubed, pan fried and then tossed in a delicious sesame sauce. Pile it with  brown rice noodles and lots of fresh veggies for a healthy fish-less bowl.
Get the recipe here.  
21. Sushi Sandwiches
In the UK, there are sandwich shops on every corner, and frankly, they're boring. I mean, white bread and animal based fillings are probably the most tastebud numbing combo around. So when  I saw these 'sandwiches', my heart sang! Loads of veggies and rice, all with a nori and rice 'bread'.
Get the recipe here.
22. Vegan Miso Soup
Usually a popular Japanese recipe made using dashi, this vegan friendly simply will not disappoint. This miso soup instead relies on the subtle flavours of sauteed ginger, garlic and scallions.  You can make this soup and sip it at anytime of the day, it's so incredibly light and delicious. However, if you are craving something more substantial, you could throw in some udon or soba noodles.
Get the recipe here.  
23. The Best Faux Tuna Salad Sandwich
Hands up if you've ever unleashed a tuna sandwich and cleared the room due to the horrendous fishy smell? I feel ya, I do. Well, I kind of liked tuna, but not the smell and I also don't miss the mercury, either. This vegan 'tuna' is creamy and goes so well in a sandwich, you really won't miss the fishiness because the dulse seaweed flakes give it a slightly fishy flavour.
Get the recipe here.  
24. Baked Falafel with Seaweed
The wonderful thing about falafel is that you can pretty much throw anything you fancy or have on hand into them. And I'd never thought of using seaweed in them before now, but it does work really well. Make a batch of these and use them up in wraps, tossed in with a salad or simply devoured as a healthy snack.
Get the recipe here.  
25. Vegan Crab Cakes with Sweet Balsamic Mayo
Whilst the name itself might give you the heebie jeebies if you're vegan and no longer like to think of your food as once having a pair of eyes, these 'crab cakes' are entirely vegan and they're actually crafted from garbanzo beans. Plus, some of us may be vegan but that doesn't mean we don't miss a fishy aspect to our food, so this is a great way to incorporate some of that flavour into your diet.
26. Superpowered Quinoa Vegan Risotto
I'm not a huge fan of the taste of spirulina, but it's well hidden in this recipe among the flavours of garlic and a whole heap of seasonings such as rosemary, oregano and basil. Plus, spirulina, brown rice and quinoa? This is truly superfood risotto. Get the recipe here.  
27. Spicy Seaweed Popcorn
We  don't always want sweet, and when it comes to popcorn my favourite kind is definitely of the more savory type. Sometimes I like it salted, sometimes I like a little kick, and this is the perfect recipe for when those cravings come knocking which is usually during movie time which is, like, weekly. Do I feel guilty? Nope! This popcorn is super healthy and makes a healthy snack packed with fiber.
Get the recipe here.  
28. Chocolate Superfood Matcha Mint Slice
How fancy do these mint slices look? The base of this is made up of a crust of crunchy walnuts and and bound with gooey medjool dates. The second late is a decadently rich and ever so slightly bitter chocolate ganache. A layer of minty matcha mousse is the final layer, and is split into two layers; the darker of the two contains spirulina giving it a delicious sea green colour – but zero seaweed flavour.
Get the recipe here.
29. Raw Spirulina Chocolate
I hate chocolate, said no one ever. Especially when the chocolate is super healthy. What. A. Time. To. Be. Alive. And don't worry if you're not too keen to be feasting upon seafood chocolate;  the spirulina is well hidden!
Get the recipe here.
30. Spirulina  Ice Cream
I'm always happen to find recipes that are not only healthy but are super easy to make. Coconut milk gives this recipe its creamy texture, whilst agave syrup gently sweetens it and spirulina gives it not only a superfood boost, but that lovely mint colour.  Top it off with a smattering of cacao nibs and you're good to go!
Get the recipe here.
Main image: Raw vegan cheesecake with raspberry, mint and chlorella. Get the recipe here.
Latest posts by Lora O'Brien
(see all)